Daniel Minor Jr.
(1813?-1868)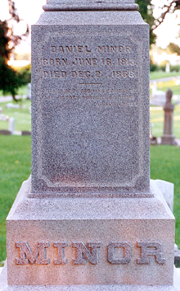 Greenlawn Cemetery, Columbus
Daniel Minor Jr. was born on June 18, 1813, or June 10, 1814, in Perry County, OH, the son of Daniel and Mary Minor Sr.
He became a successful businessman in Columbus, OH, and has the largest grave monument found to date in the clan.
His mother died when Daniel was an infant, and his father married Margaret "Peggy" Fluckey. In 1835, when Daniel was 22, his parents moved to Cardington, Morrow County, OH. He remained behind and migrated to Columbus, Franklin County, the capitol city of Ohio, likely around the same time.
On Christmas Eve 1835, when he was age 22, Daniel married his first wife, 20-year-old Harriet Jewett (1815-1842). She was the daughter of Elam and Lucy (Rice) Jewett, of Berkshire, Franklin County, VT.
Harriet's sister Eunice Jewett (1819-1890) married Daniel's future business partner, Ezra Booth (1814-1894).
The marriage of Daniel and Harriet is recorded in the book Jewett Genealogy, published in 1908 by Dr. Frederic Clarke Jewett. Harriet's father Elam Jewett (1770-1824), a prominent public official, is profiled in the volume, as follows:
Mr. Jewett was prominent in Berkshire, was active and efficient in conducting the business of the town, filling in succession most of the town offices, discharging that of Magistrate, and occasionally serving as Representative in the Legislature. He later removed to Ohio, where he died Sept. 9, 1824; was buried in the Olentangy Cemetery, Franklin Co., Ohio. His widow married Dr. Benjamin Pratt of Columbus, Ohio.
The Minors' only child, born in Columbus in 1838, was Lucy E. Wydman.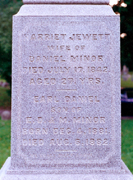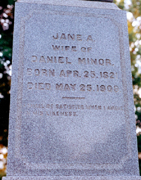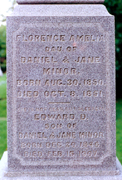 Other sides of the tall Minor obelisk in Greenlawn Cemetery, L-R: 1st wife Harriet (1842) and grandson Earl Daniel Minor (1882); 2nd wife Jane (1909); daughter Florence (1851) and son Edward (1907).
~ Carriage Manufacturing ~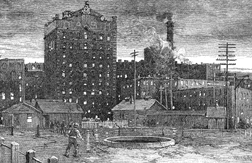 "Buggy Factories" in Columbus
The Minors resided in Columbus, where Daniel was a carpenter, trunk and box manufacturer, and prominent carriage maker in partnership with his brother-in-law, Ezra Booth (1814-1894).
The manufacture of buggies was once the third largest industry in the city, behind coal and iron. Research of city directories shows that the factory was located on the corner of Gay and Third Streets for at least 35 years.
A manuscript history of Ezra Booth states that in 1841 the two men "established the BOOTH and MINOR Carriage Factory."
Heartache rocked Daniel's world after just seven years of marriage, when Harriet died, on July 17, 1842, at the age of 27. The young mother was laid to rest in Columbus's prestigious Greenlawn Cemetery. On one side of the tall Minor family obelisk is inscribed: "We shall meet again."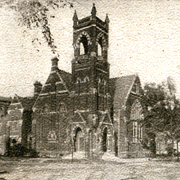 Wesley Chapel
Despite Harriet's untimely death, Daniel and Ezra continued in business together, and were named in a Columbus city directory in 1844 (later reprinted in the 1909 book, Centennial History of Columbus, by William Alexander Taylor). They both were listed as "coachmaker" with the firm of "Booth & Minor." At the time, Daniel lived at East South Third near spring, and Ezra resided at West South High near Broad Street.
Why Daniel and Ezra parted ways in business is not known, though it could have been a fallout from Harriet's passing. Ezra's biographical manuscript states that "When Mr. MINOR retired, Ezra brought his brother Henry F. … into the business as a partner" where they "employ forty men … and make all varieties of buggies and light carriages, of first-class quality and style of work." By 1853, the factory was known as E. & H.F. Booth, and employed 45 people who earned wages of $2 per day. The factory manufactured 200 buggies, about one for each working day of the year. The 1892 book, A History of the City of Columbus, reported that the Booths' sales in 1853 were $40,000, and that in 1865 they "erected a new factory building of four stories."
Daniel and Ezra are mentioned in the History of Franklin County and in 1857, they served together as trustees of the 150-member Wesley Chapel near Columbus. It's believed that Daniel's brother Francis Miner and Ezra were involved in the construction of Wesley Chapel, according to the 1892 History.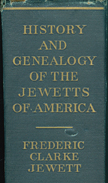 Book naming the Minors
Both Daniel and Ezra are listed in a 1908 book about the genealogy of their wives' families, entitled History and Genealogy of the Jewetts in America, authored by Frederic Clarke Jewett, and published by the Grafton Press of New York. Daniel is mentioned briefly in a line about his wife Harriet, with no further mention of his fate or their daughter. Ezra's more expansive entry states that he "was a carriage manufacturer and resided in Columbus, where he died Nov. 17, 1894."
~ Daniel's Second Marriage, to Jane Ann (Duff) Langdon ~
After the untimely passing of his first wife Harriet, Daniel was left alone to raise their four-year-old daughter. He later married widow Jane Ann (Duff) Langdon (1821-1909), a native of Scotland who had come to America at about age four. Jane's first husband had been William Lacey Langdon ( ? - ? ) -- a grandson of Revolutionary War veteran Benjamin Langdon -- and she brought two children into the marriage with our Daniel -- Byron William Langdon and Matilda Ann Hayden.
Daniel and Jane went on to have six more children of their own -- Edward D. Minor, Florence Amelia Minor, Flora E. Miner, Daniel Minor III, Mary "Eva" Perry and Charles "Herbert" Minor. Sadly, three of their children died young -- Florence in 1840, Flora in 1851 and Daniel III (date unknown), and they are buried in the family plot in Green Lawn Cemetery in Columbus.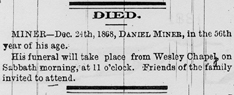 Columbus Daily Ohio State Journal
Daniel owned property at 38 North Broadway in Clinton Twp., Franklin County, OH. At some point Jane purchased a town lot in South Chicago, IL. The lot later was willed to daughter in law Elizabeth Minor, widow of Edward D. Minor. Jane also held shares of stock of the Hayden Stone Block Machine Company, one of the companies owned by her son in law, Columbus multi-millionaire William Buck Hayden.
On Christmas Eve 1868, Daniel passed away at the age of 55. The only clue to the cause of his untimely death is an index card at the Greenlawn Cemetery in Columbus -- it says he died from "Injury from limb." In a brief obituary, the Columbus Daily Ohio State Journal noted that he was "in the 56th year of his age. His funeral will take place from Wesley Chapel on Sabbath morning, at 11 o'clock. Friends of the family invited to attend."
Daniel's panel on the four-sided marker is inscribed with his name and dates of birth and death, along with this inscription: "Thanks be to God which giveth us the victory through our Lord Jesus Christ."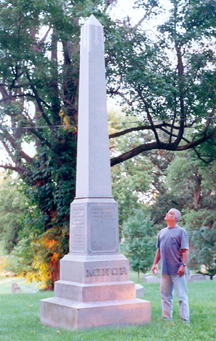 The Minors' grave, Columbus
Daniel and both of his wives and several children and grandchildren are buried underneath a tall, prominent marker in Greenlawn Cemetery in Columbus, OH. The obelisk was visited and photographed in 1995 by cousin and longtime family researcher Eugene Podraza in company with the founder of this website.
(Note -- Booth and his wife and several children also are buried in the Minor lot.)
In her widowed years, Jane resided at the Great Southern Hotel in Columbus, with her daughter and son in law Eva and O.H. Perry. The hotel was widely advertised to be "Fire Proof."
On May 25, 1909, Jane passed away at her residence in the hotel. Records show that among the expenses in her final illness were Western Union telegrams to son Byron and daughter Matilda, informing them of her condition.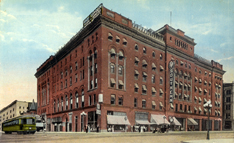 Jane's home, the Great Southern Hotel
Jane's side of the tall grave marker includes this verse from the Psalms: "I shall be satisfied when I shall see His likeness."
In her will, Jane bequeathed not only property, stock and thousands of dollars in cash but also a writing desk, gold watch, "pansy" picture, garnet pin, "Autumn" landscape picture and a set of books titled Beacon Lights of History.
Stepson Byron Langdon became a lawyer, judge, Indiana congressman and delegate to the 1880 presidential convention, a man of many "firsts" in our family.
Stepson in law William Buck Hayden was a multi-millionaire businessman who later retired to New York City and the Thousand Islands of upstate New York.
Son in law Oliver Hazard Perry was treasurer of the famed Columbus Buggy Company and later president of the Columbus Board of Trade (forerunner to the Columbus Chamber of Commerce) in 1909.
Copyright © 2000-2002, 2005, 2007, 2009-2010, 2019 Mark A. Miner
Sketch of buggy factories originally appeared in Harper's New Monthly Magazine (April 1888).