Edward D. Minor
(1846-1907)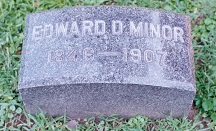 Green Lawn Cemetery, Columbus
Edward D. Minor was born on Dec. 20, 1846 in Columbus, Franklin County, OH, the son of Daniel and Jane Ann (Duff-Langdon) Minor Jr.
When the federal census was taken in 1880, the 32-year-old Edward was unmarried and made his home with his widowed mother and younger siblings Mary Eva and Charles in Columbus. The residence was on North High Street. That year, he was employed as a clerk in a rolling mill. He was eight years older than sister Mary Eva and 15 years older than brother Charles.
Edward married Mary (?) in the early 1880s.
They bore at least one known son, Earl Daniel Minor.
Sadly, son Earl died of cholera at age eight months, on Aug. 6, 1882. His tender remains were placed into rest in his grandparents' lot in Green Lawn Cemetery in Columbus.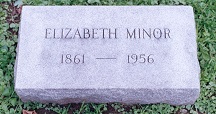 Green Lawn Cemetery
Edward's marriage to Mary ended due to causes not yet known.
On Dec. 22, 1897, at the age of 42, Edward married again, to 32-year-old Elizabeth H. Lane (1861-1956). Rev. J.W. Dillon officiated at the wedding ceremony.
The couple made their home at 33 Cleveland Avenue in Columbus.
The federal census of 1900 shows the couple living alone, after three years of marriage, with no children. Edward had no occupation that year, although his birth year information incorrectly was recorded as October 1857 rather than December 1846.

Obituary, 1907
Edward succumbed to incurable heart disease on Feb. 15, 1907, at age 61. He was buried near his son at Green Lawn Cemetery.
Elizabeth is thought to have survived her husband by 47 years.
When Edward's mother died in 1909, Elizabeth inherited $2,000 plus a town lot in North Chicago, IL.
She passed away on Nov. 6, 1956. He remains were lowered into rest in the Minor plot in Green Lawn.
Copyright © 2001, 2009, 2019 Mark A. Miner