Home

Lucy Ellen (Minor) Wydman
(1838-1917)
Lucy Ellen (Minor) Wydman was born on May 17, 1838 in Columbus, Franklin County, OH, the only daughter of Daniel and Harriet (Jewett) Minor Jr. Her husband, a Methodist clergyman, was a veteran of the Civil War who never fully recovered from wartime sickness.
When Lucy was young, her mother died, and her father married Jane Ann (Duff) Langdon.
Lucy was joined in wedlock with Rev. William Henry Wydman (1842-1890), the son of Samuel and Catherine (Drinkel) Wydman Sr., of Cincinnati, Hamilton County, OH.
They went on to produce two sons -- Howard O. Wydman and Frank Errold Wydman Sr.
At a young age, said a Methodist publication, William "seemed to be instinctively religious. His infantile mind was delicately conscientious and deeply devotional. And close akin to this reference for the Divine, was his tender filial love and obedience." He learned the trade of painting.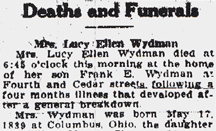 Corning Evening Leader, 1917
At the age of 16, on Feb. 18, 1858, William had a profound religious experience under the guidance of Rev. Lucien Clark of Cincinnati's Park Street Church. It was said to have been "an event of eternal value to him and others [to be] brought under special conviction of sin; and at that time he united with the church and was clearly and joyfully converted." But, said the Methodist publication, "From this advance he never retreated, but steadily 'grew in grace and in the knowledge of the truth.' Not long after his conversion he was profoundly convicted that it would be his duty to preach the gospel. But against these convictions he struggled, and experienced as a result terrible mental and spiritual.
Before the Civil War began, William moved to Columbus and worked for a few months for merchant tailor James B. Berry, and also labored for carriage manufacturers Ezra and Henry F. Booth. The Booth factory was located on the corner of Gay and Third Streets, and once had been co-owned by Lucy's father prior to his death.
William first met Lucy in the latter part of 1864, and during their courtship he also was introduced to Lucy's cousins, Howard L. Booth and Mrs. Hattie L. Hickle. He spent time courting Lucy at the Hickle residence, at 86 North Third Street in Columbus. Wrote Berry: "He had every appearance of good health, was then paying attention to a cousin of my wife, and in this way I became well acquainted with him." He was in stout health, standing five feet, 10 inches tall, and weighing 135 lbs.
William served in the Civil War in two units -- first, for six months as a member of the Benton Cadets, Company D, and for three years as a chaplain and sergeant of the 11th OH Infantry, Company E. He enlisted as a private in the 11th Ohio at the age of 20 on Sept. 1, 1862. Through "all the exposures and dangers of the camp and the field, he held steadily on to his integrity, and his Christian character continued to shine with untarnished luster," said the Methodist publication.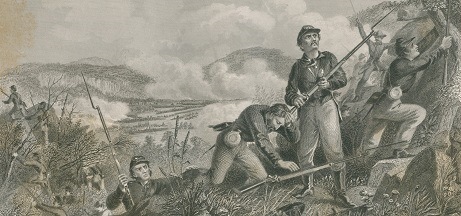 Union troops at Lookout Mountain
One of his fellow soldiers, George W. Schriver, wrote that in January, 1863, while at Summerville, WV, the regiment:
... came to low creek on Kanawha river, and there took steamboat for Nashville, Tenn. Said boat was so crowded we had to sleep on hurricane deck in snow and rain. Stayed at Nashville about two weeks, then took boat and went up the Cumberland river to Carthage, Tenn., which was a very unhealthy place. Some regiments in our brigade burying as many as four or five a day. At this point my comrade W.H. Wydman contracted his disability from which point he was sent to hospital.
William came down with malaria while stationed at Clarksville, TN, in the spring of 1863, and began to suffer from severe loose bowels. He wrote, "This was brought on by water at that place."
He was detached from duty because of his inability to perform active field duty. Then, at Chattanooga and Lookout Mountain, TN in the fall of 1863, he further was stricken with rheumatism, he wrote:
... by carrying my knapsack and accoutrements. I cannot give the time or place but I noticed it while on a march. It was not so severe during the service but that after a night's rest I would be relieved. On two occasions my rheumatism was aggravated by exposure, first while out on a march about one week after the battle of Missionary Ridge, the second time was in the winter of 1863 & 1864 while on the picket line. I was nearly frozen to death. I had to have my overcoat cut off of me.
During the early months of 1864, he spent much time away from his regiment recruiting soldiers in Ohio. Then, in the spring of 1864, he was sent to guard Confederate deserters banished to Fort Jefferson, a brick structure in the Dry Tortugas, a spit of land about 70 miles west of Key West, Florida.
"The vessel would not stop at Dry Tortugas," he wrote, "but did at Key West and I delivered the prisoners to the commanding officer of the port, and while at Key West I contracted the yellow fever." He secured passage northward aboard a two-mast schooner and sailed to a fort at New London, CT.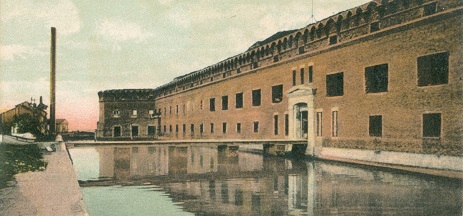 Dry Tortugas, FL, where William was to have guarded Confederate POWs
Upon returning home from Connecticut, William received a transfer on May 21, 1864 to the Todd Barracks in Columbus. Because he was back in his home territory, he and Lucy were married on May 1, 1865, by the hand of Rev. Cyrus E. Felton in Columbus. A month and a half later, William received an honorable discharge on June 16, 1865.
His health broken as the marriage begun, he complained of heart trouble, had a cough of a hacking nature, and continuously cleared his throat. At one point, just before the wedding, he was visiting in the Hickle house, "had a spell with his heart, ... was unconscious a few minutes, and had much trouble in getting his breath," Mrs. Hickle wrote. "He got over this spell in a short time, and I don't think a physician was called ... [but I was] badly frightened."
Immediately after their marriage, the Wydmans lived with Lucy's cousin, Howard L. Booth, for about two years. During this time, he worked for Booth, painting carriages manufactured in the family business. William's brother Byron came for a visit in 1865 or 1866, and spent a month, and watched William use a "gargle of salt and water for his throat."
Cincinnati, 1871
The Wydmans then moved to Cincinnati, OH, where William began to regain his strength, but gave up carriage painting, said Booth, as "paint was poison to him." While in Cincinnati, William resided with his brother's family, studying to enter Christian ministry.
While building a "good and prosperous business" in Cincinnati, said the Methodist publication:
... through all these years the convictions of duty followed and lashed him. His conflicts were sometimes fearful. His companion [recalled] that sometimes these terrible struggles of soul would destroy his rest, and he would cry out in the night, in the irrepressible agony of his soul: "Woe! woe is me, if I preach not the gospel!" This was not to continue. In 1869, at Park Street church, Cincinnati, Ohio, under the pastorate of Rev. Lucien Clark, and Presiding Eldership of James G. Chalfant, he was voted and accepted license to preach. And the following year, September, 1870, at the Conference held at Brookville, he was received on trial into the Southeast Indiana Conference, where, for seventeen years, he prosecuted his ministry.
The Wydmans moved to Indianapolis, Marion County, IN, so that he could begin his first charge. William himself once wrote: "I moved from year to year to my respective appointments."
In 1871-1873, he had an assignment at churches in Henryville and Wooster, Scott County, IN, and in 1873-1874 was serving at Brownsville, IN. By 1875, William was preaching at a church in Lawrenceburg, Dearborn County, IN. He became acquainted with Rev. L.D. Moore at the time. He next went to Elizabethtown, IN in 1875-1876, and became friends with Ezra G. Guard while there. He moved again to Milton, IN in 1877-1878, and befriended Paul Leibhardt. William was assigned to a church in Indianapolis in 1879; Mt. Carmel, IN, in 1880; Milroy, Rush County, IN from 1880-1883, where he worked with his old friend Rev. Moore in a four-church circuit, including a congregation in Whiteland, Johnson County, IN; and Greenwood, IN from 1883-1886.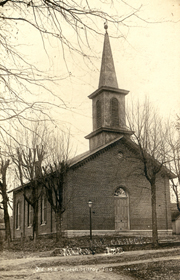 Old church-house in Milroy,
Rush County, Indiana
When the federal census was taken in 1880, the Wydmans resided in Rush County, where William was listed as a " teacher" in the Methodist Episcopal Church, and Lucy worked "keeping house." Seen here is a rare old photograph of the old church-house in Milroy, Rush County -- a simple, small country building that likely was typical of William's assignments.
Despite the distance between Indianapolis and Columbus, the Wydmans are known to have visited with Lucy's cousins, the Hickles, "every year," wrote Hattie Hickle.
At some point, when William was in Hope, Bartholomew County, IN, he was treated by Dr. Charles S. Boynton. Wrote the physician: "He became very much broken down prostrated and I recommended that he go to the seacoast in California. I accompanied him on the trip and this seemed to do him good, but soon after his return to this section of the country he had a relapse and got into about the same condition he was in prior to his trip to the west."
As he aged, William increasingly suffered from his wartime illnesses. His health declined significantly in the fall of 1887, when he caught pneumonia, which then led to typhoid fever. Said the Methodist publication, the typhoid:
... long held him in its relentless grasp, and finally left him with a permanent and fatal wound in his shattered constitution. From that time he was rarely able to go beyond his threshold. Both lungs and heart came ultimately to be involved. And but for his habitual hopeful hopefulness and tremendous strength of will, he would doubtless have been dead long ago.
In 1888, he applied for a federal pension as compensation, alleging malarial fever, chronic diarrhea, rheumatism and yellow fever affecting his heart, lungs and nervous exhaustion. After a special examination of his case, which involved a special investigator interviewing a number of Wydman friends who knew specifics of his life and health, his application was approved. He began receiving monthly payments. As of 1890, he was paid $12 per month.
In 1888, the Wydmans resided at 245 College Avenue; in 1889 at 364 Ash Street; and in 1890 at 338 Bellefontain Street and 364 Ash Street; all in Indianapolis.
When given a medical examination in December 1889, the physician wrote that William suffered "from complete prostration and utter helplessness. He is unable to perform any physical labor whatever. Confined to his bed. He is totally disabled and helpless and he requires the constant aid and attention of another person." Another examining physician at the time stated that William "has lived beyond my expectations, having treated him constantly for three months, Oct. Nov., Dec. & Jan. of '87 & '88." Charles H. Young, Deputy Secretary of State, who lived within 100 feet of William, reported in a letter to the pension commissioner that "He can neither dress nor undress himself. In fact, his death has been looked for at any time during the past year. He is reduced almost to a skeleton."
William's brother, Byron S. Wydman (1849-1931), who eventually became a member of the Ohio State Legislature, came to visit the Wydmans in Indianapolis in December 1887. He saw his brother "prostrated and in a dilapidated condition of health." Another brother, Charles D. Wydman, of Cincinnati, testified to William's physical decline.
In his final days, said the Methodist publication:
... his sufferings were often very great; but they were endured with a patience that seemed to have its "perfect work." He seemed to fulfill the apostolic injunction, after having done all, to stand" -- the hardest trial possible for an earnest, energetic soul -- he said to a friend leaving his bedside: "good-bye; I am going to die this week. Meet me in heaven."

Front page, Indianapolis News, carrying William's prominent obituary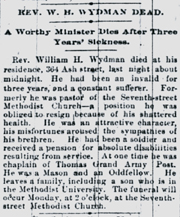 Indianapolis News, 1890
William was relieved of his longstanding agonies with his death on Nov. 7, 1890, at the age of 48. His burial site is not known, but is thought to be in Indianapolis. In a front-page obituary, the Indianapolis News said:
He had been an invalid for three years, and a constant sufferer. Formerly he was pastor of the Seventh-street Methodist Church -- a position he was obliged to resign because of his shattered health. He was an attractive character, his misfortunes aroused the sympathies of his brethren. He had been a soldier and received a pension for absolute disabilities resulting from service. At one time he was chaplain of Thomas Grand Army Post. He was a Mason and an Oddfellow. He leaves a family, including a son who is in the Methodist University.
A lengthy, insightful obituary, quoted throughout this biography, was authored by friends known to use only as "J.G.C." and "W.W.R." and was published in the Minutes of the Forthieth Annual Session of the South-East Indiana Conference of the Methodist Episcopal Church covering the 1891 year.
As a widow, Lucy lived another more than a quarter century. She relocated to Buffalo, NY to make her home with a son. Said the Corning Evening Leader:
Following [her husband's death] she resided for a time in Buffalo with her son Frank E. Wydman and about 15 years ago [in 1902] removed from Buffalo to Corning to make her home with her son, Mr. Wydman being a traveling representative for a National Biscuit Company in this territory. She had since been a resident of Corning, although at occasional periods she spent considerable time in Buffalo. Mrs. Wydman was a member of the Plymouth avenue Methodist Church in Buffalo. In Corning she attended the First Methodist church and she had recently arranged to have her membership transferred from the Buffalo Methodist church to the Corning church.

William's obituary in the annual publication of the South-East Indiana Conference of the Methodist Episcopal Church.
She began receiving her late husband's pension payments, at a reduced amount. In October 1906, she lost her pension certificate, and wrote to the pension commissioner to request a replacement.
Lucy suffered in later years from hardening of the arteries, which shot her blood pressure up to 210/110. By 1916, her family physician in Buffalo said she "is permanently and totally disabled."
When Lucy's step-mother died in 1909, Lucy inherited $100 from the estate. At that time, she was residing in Buffalo. When the federal census was taken a year later, in 1910, Lucy was living with her married son Frank in Corning, Steuben County, NY.
Lucy passed away on Dec. 13, 1917 at her home in Corning, at the age of 78. For her funeral, she was dressed in a grey cloak, with her casket sent to Buffalo, and thence to Indianapolis, for burial. The funeral arrangements were handled in Corning by undertaker F.E. Fletcher, and in Indianapolis by Tutewiler & Son.
At her passing, the Corning Evening Leader eulogized: "She was a devout Christian woman, whose life was given over to many charitable deeds. She was held in very high esteem by her friends and neighbors and her death will be deeply mourned." Her obituary named her late father as "William Miner" of Columbus, OH, but compelling evidence shows that his name was "Daniel Minor Jr."
Copyright © 2001, 2006-2009 Mark A. Miner
Obituary from the Minutes of the Forthieth Annual Session of the South-East Indiana Conference of the Methodist Episcopal Church provided courtesy of the Archives and Special Collections of DePauw University.