Judge Byron William Langdon
(1838-1913)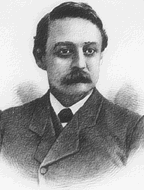 Judge Byron Langdon
Judge Byron William Langdon was born on Aug. 1, 1838 at Jamestown, NY, the son of William Lacey and Jane Ann (Duff) Langdon.
His father apparently died young, and his mother moved to Columbus, Franklin County, OH, where she met and married prominent carriage maker Daniel Minor Jr.
Byron considered Daniel Minor as a father figure, and went on to become a man of many "firsts" in our family.
Spending his entire legal career in Lafayette, Tippecanoe County, IN, Byron was a legal scholar, law firm attorney, Civil War veteran, Indiana representative and senator, and a judge. He is the only known cousin to have been a delegate to a national presidential convention.
At his death, he was eulogized as a "prominent lawyer and citizen [who] served in [the] state legislature and was in many important cases -- [and] was a man of stern and rugged character."
An Indiana legislative directory once said that he "has never been a politician in the accepted sense of that term, but has aspired to be a thorough, well-trained lawyer.... As a reward of his industry and close study, he may point to a successful practice and an enviable professional record."
~ Early Years ~
Portrait, 1888
Byron was a member of the Universalist Church. As a teenager, he completed a preparatory course for college at Capital University in Columbus, and then began his college studies at Middletown, Connecticut at Wesleyan University. He left Wesleyan at the end of his freshman year, and transferred to Union College, New York, in 1858.
While an undergraduate, he "pursued extra branches of study and directed a considerable portion of his time to valuable reading and literary pursuits." He completed the "classical course in 1861, in which year he graduated among the first of a class of seventy-five." Papers from Union College show that his "father" Daniel Minor Jr. paid Byron's tuition, including fines for leaving a dirty room -- but not his room key -- at the end of several terms.
In 1862, Byron moved to Lafayette to begin his legal career. He clerked with the law offices of Huff & Jones and was admitted to practice law in Indiana the following year. He changed firms and in 1863-64 was practicing with his future father in law, Judge Andrew Ingram, who unfortunately died within a few years.
On Aug. 7, 1862, at the age of 24, Byron married 20-year-old Elizabeth Ingram (1842-1932).
They bore one daughter, Lillie Phillips, and for many years lived in a double frame house on North Eighth Street in Lafayette.
~ Repulsing Morgan's Raiders in the Civil War ~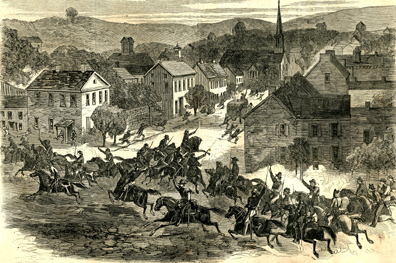 Above: Typical Morgan's Raiders invasion of an enemy town during their famous July 1863 assault into Union-friendly territory.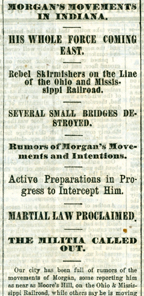 Cincinnati Daily Gazette
Cincinnati Daily Gazette
Byron's legal career was interrupted briefly by service in the Civil War. The conflict in Indiana was marked by a daring Confederate raid in July 1863 led by General John Hunt Morgan. His cavalry unit of 2,500 mounted men, dubbed "Morgan's Raiders," swept into Kentucky and southern Indiana. They pushed eastward rapidly, along a 1,000 mile path. Morgan's Raid led to an outcry for defenders, and Indiana Governor Morton put out a call for volunteers.
The "Invasion of Indiana," as it also was called, caused panic among the population. Newspapers ran many articles about the widespread fear, including those seen here from the Cincinnati Daily Gazette.
Byron joined the 108th Indiana Volunteer Infantry, where he was elected as sergeant major. In Columbus, the state capitol city of neighboring Ohio, his brother in law William Buck Hayden, who a few months earlier had "raised and commanded a company" of Zouaves, offered his unit's services to the United States. His Zouaves were merged into the 46th Ohio Infantry to defend the Buckeye State.
Fortunately, Byron's military service only lasted about a week, until the raiders were stopped. The raid ended in eastern Ohio, when Morgan and about 350 of his remaining troops surrendered, just 12 miles southwest of the home of cousins Jacob and Julianna (Forney) Minor in Columbiana County.
~ A Growing Law Practice ~
Directory listing showing his law office
Byron's lengthy obituary in the Lafayette Morning Journal is the source for much of the information about his legal career, and excerpts appear below. After the war, Byron was a partner with Robert Jones, then Daniel Mace and finally Judge Huff from 1866 to 1874. From 1874 to 1876, "he practiced alone, building up ... a large and lucrative business, and taking high rank as a member of the bar of Tippecanoe..."
His law offices were in the First National Bank Building in downtown Lafayette. He was said to have been an "authority on civil and probate law."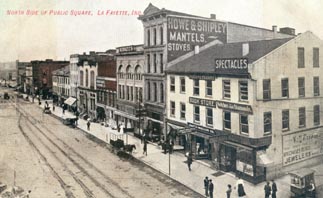 North side of the public square in Lafayette, Indiana, a scene Byron would have known well
~ First Taste of the Indiana Legislature ~
In 1876, Byron was elected by county Republicans to serve as their county representative to the Indiana legislature. During the campaign, he made many stump speeches, including at least five in the span of one week in October of that year, in such places as Romney, Sugar Grove, Culver's Station, Clark's Hill and Montmorency. An Indiana legislative directory reported that upon Byron's election:
…he served with marked distinction to himself and rare fidelity to the interests of his constituents. He was a member of the judiciary committee of the house and chairman of the educational committee. Purdue university found in [him] a zealous and watchful friend, he having introduced no less than three separate and distinct bills in the interests of this institution, among them the bill authorizing the board of commissioners of bench courts in the state to appoint two students to attend the university without tuition and matriculation fee, thus making every county in the state participants in the superior advantages of Purdue. No member of the house or legislature of 1876 -- was more active and vigilant…, and his record was a source of pride to the people of Tippecanoe county.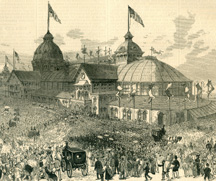 Chicago's Exposition Building
~ At the 1880 Republican National Convention, Chicago ~
In 1878, Byron was elected as an Indiana state senator, beating Colonel W.C. Wilson, who was the National and Democratic candidate. He was in this role for four years. One of the privileges of this office was to serve as a delegate to the Republican National Convention.
On June 2 through 8, 1880, he was in Chicago for the convention, held at the Exposition Building. The ensuing gathering of frenzied Republicans saw a three-way fight between Ulysses S. Grant, James G. Blaine and John Sherman.
Even while the delegates voted 35 different times, no clear leader emerged. Then, on the 36th ballot, James A. Garfield was nominated, and became the "dark horse" nominee.
Garfield eventually won the presidency, only to be tragically gunned down by an assassin in a railroad station, a year after the convention, and then dying in mid-September 1881 after lingering near death for two and a half months.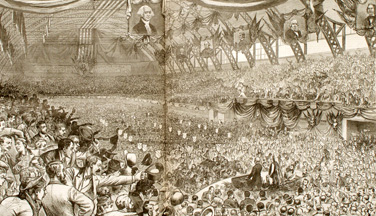 Frenzied delegates at the 1880 Republican National Convention in Chicago, among them Byron Langdon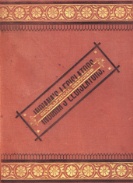 Indiana's Legislators: Biographical Sketches
~ A Brief Setback ~
Byron served in what generally is called the "Fourth Statehouse" of the Indiana General Assembly. The third statehouse, a two-story structure resembling the Parthenon in Greece, was crumbling and condemned the year Byron was elected (1876).
The assembly relocated on an interim basis to an office building where the Indiana Supreme Court already had its chambers. The fifth statehouse, which remains in active duty today, was dedicated in 1888, but by that time, Byron was no longer in the senate.
In 1882, following the conclusion of his senatorial career, Byron was defeated in his bid to represent the 9th District as a U.S. congressman. He lost to Major Charles T. Doxey, but went on to support his rival in the campaign, providing a "voice and influence for the major's election."
He is named and described in short biographical profiles in several contemporary directories of Indiana assembly members, including Indiana's Legislators: Biographical Sketches (1880) and also Indiana's Representative Men (1881). Both of these rare volumes are preserved in the Minerd-Minard-Miner-Minor Archives.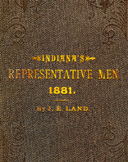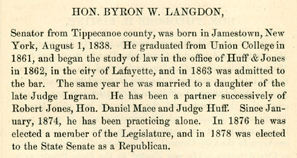 Byron's entry in the 1881 book, Indiana's Representative Men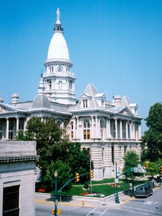 Tippecanoe County Courthouse
~ Election as a Judge ~
Following the retirement of Judge David P. Vinton in 1888, Byron was one of several candidates to replace him as judge of the 23rd Circuit Court in Lafayette. During the campaign, the Lafayette Daily Courier ran a portrait and biography of him, among other rivals, and said admiringly: "He has been a close student and a keen observer and his long experience and acquirements, added to natural ability of high order, serve to complete a man well-fitted for the bench." He was elected after a very close race, capturing 53 percent of the ballots, by a margin of 560 votes.
His chambers were in the elegant and stately Tippecanoe County Courthouse. The courthouse was constructed in 1882, six years before he took office, and today is listed on the National Register of Historic Sites, administered by the U.S. Department of the Interior. The ornate structure was designed in a combination of "Baroque, Gothic, Georgian, Victorian, Beaux Arts, neo-Classical, and Second Empire styles," according to a 2000 self-guided tour booklet.
Of his judicial career, the Lafayette Morning Journal said that he:
…was regarded as one of the best constitutional lawyers in Indiana and that reputation was sustained by his rulings in important cases…. He was methodical and a hard worker. He was a man of positive character and by some was regarded as arbitrary. He had strong likes and dislikes. He was a man of impulsive temperament but he never made a ruling until he had given the questions involved careful consideration. He made rules with the intention of having them observed and issued orders with the expectation of having them obeyed. He took great pride in his position and was conscientious in his efforts to fill it in a manner that would meet the approval of the people. He was exacting in the matter of estates and watched them carefully. Whenever he cited an attorney or an administrator to appear at a certain time to make a report he expected the citation to be obeyed…. While Judge Langdon had the reputation of being stern and severe, and was inclined to deal out justice as it was measured by the statutes, he never passed sentence on a man convicted of crime until he had investigated the character and history of the prisoner.

Byron's portrait hangs today in the jury box in the Tippecanoe County Circuit Court room in Lafayette
He was known for notable rulings in cases involving guardianships and murder trials. He served as a judge until 1894, when he returned to private law practice as a partner with William R. Coffroth. This partnership lasted for nearly two decades, until Byron's death.
The courthouse was restored in 1993, and the Circuit Court room includes beautifully polished oaken woodwork, a reconstructed bench, new doors matching the originals, as well as reconstructed fireplaces painted to look like marble. Today, in the Circuit Court room on the third floor, a pen and ink portrait of the judge hangs prominently above the jury box.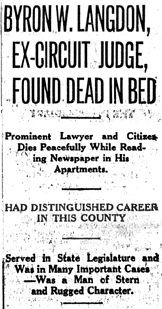 xxx
~ Most Important Case ~
The Lafayette Morning Journal considered his most important case to be one involving the collection of back taxes from the estate of a deceased man. The case took many years of his time and ended up before the United States Supreme Court.
~ Final Years and Beyond ~
In about 1892, after some 30 years of marriage, Byron and Elizabeth separated. She moved to the village of College Corner in Oxford, Butler County, OH, while he stayed in Lafayette, maintaining his position on the bench.
Byron rented rooms at 217 North Sixth Street. On the morning of May 18, 1913, he was found dead in bed, having apparently died suddenly, while reading a newspaper. His death at age 75 made major headlines in the Morning Journal.
The Tippecanoe County Bar Association met at once, presided over by Judge Henry H. Vinton, to honor Byron's memory. The members of the bar agreed to prepare a memorial, and also to meet the morning of the funeral, and march together to the service at St. John's Episcopal Church. He was laid to eternal rest in Greenbush Cemetery in Lafayette.
Elizabeth outlived him by nearly two decades. On Aug. 19, 1932, at age 90, as she was stooping over, she fell, causing a fracture. She died shortly afterward at Oxford at the age of 90. Her remains were sent back to Lafayette for burial beside her husband, in Greenbush Cemetery. The photos of the markers on this page were taken in August 2000.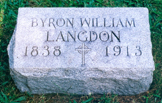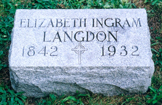 Greenbush Cemetery in Lafayette
~ For Further Reading ~
Combination Atlas Map of Tippecanoe County, Indiana. (Kingman Brothers, 1878)
Indiana's Representative Men in 1881. (J.E. Land, Indianapolis, 1881)
Biographical Sketches of Members of the Indiana Legislature, Elected Nov. 12, 1880
(O.H. Hasselman, Indianapolis Journal Company, 1880)
Biographical Sketches of Members of the Indiana State Government, State and Judicial Officials and Members of the 51st Legislative Assembly, 1879
(Indianapolis Sentinel Company)
A Biographical Dictionary of the Indiana General Assembly, Vol. 1, 1816-1899
(Select Committee on the Centennial History of the Indiana General Assembly in cooperation with the Indiana Historical Bureau, Indianapolis, 1980)
Lafayette Daily Courier,
Oct. 11, 1888
Lafayette Morning Journal,
May 19, 1913