Jacob Minor -- also spelled "Minerd" and "Miner" -- was born in 1810, presumably in Fayette County, PA, (or perhaps in the town of Parker) and is very strongly thought to be the son of John and Mary Magdalena (Kohl) Minard Sr.
As a young man, Jacob moved with his parents to near Scio, Harrison County, OH. He had the name "Minerd" as a young man, but it was shortened over the years to Miner or Minor.
On July 9, 1831, in Columbiana County, OH, Jacob married Julia Ann "Julianna" Forney (1813-1888). She was the daughter of Nicholas and Elizabeth (Sponsailer) Forney. John Shaffer, who performed the wedding ceremony, noted that both husband and wife were residents of Unity Township. A copy of Minor marriage certificate is on file today at the county courthouse in Lisbon.


1851 marriage license on file today in Lisbon, Ohio
(Interestingly, the Miner and Forney families must have been close, as Jacob's brother Joseph married Julianna's sister Elizabeth Forney, and nephew Andrew Miner married Julianna's niece, Margaret Forney.)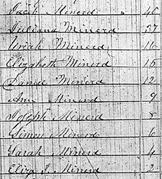 Census of Columbiana County, 1850, with the "d" spelling
Jacob and Julianna had 15 children, beginning in about 1834 – Uriah Minor, Elizabeth Minerd, Daniel Miner, Ann Minerd, Joseph Miner, Simon Miner, Sarah Leiby, Eliza Jane Mathany, Samuel Miner, John Minor, Viola Cox, Caroline Musser and three others not yet identified.
As fate would have it, the couple outlived six of their 15 children.
They resided in Unity Township, Columbiana County when the federal census was taken in 1850.
At that time, the family name was spelled "Minerd." Jacob's age that year was given as "40" and from this we deduce that his birth year was about 1810.
The Minors owned a 10-acre farm in the northeast quarter of Section 16, Township 8, Range 1, located "on the road leading from Unity to New Waterford," said the Palestine (OH) Reveille. The tract was purchased from the McCloskey family in 1883 though the Miners may have lived there for many years previously. Among their neighbors in 1870 (as noted on a county atlas published that year, seen here) were D. McCloskey, S. Longenecker and J. Wilhelm. Their tract is marked "J. Miner" in the lower left-hand corner of this image, showing its proximity to the community of Unity. At top center, the spot marked "Cem - Union Ch." is where Julianna later would be buried.
In 1856, when Jacob's father wrote a will, he directed that Jacob receive $80 in cash payments within six years of the father's death. The father did not die until 1867.
At last three of the Minors' sons and sons-in-law are known to have served in the Union Army during the Civil War.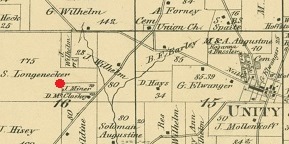 Jacob and Julianna's 10-acre farm (red dot) in Section 16 of Unity Township, directly west of the village of Unity, from the 1870 Atlas of Columbiana County -- note their name spelled with the "e."
During the war, the Minors and their many neighbors, living in what they thought was safe Union territory, received a serious scare. A Confederate cavalry unit of 2,500 mounted men, dubbed "Morgan's Raiders," invaded Ohio in July 1863 after sweeping through Kentucky and Indiana. They pushed eastward rapidly, along a 1,000 mile path. As the rebels headed directly toward Columbiana County, the citizens panicked, fearing the worst. Fortunately, said the Beaver County (PA) Times, "The raid ended in the rolling hayfields of Columbiana County, when Morgan and about 350 bedraggled troops turned over their swords and muskets..." The site of the July 26, 1863 surrender, at present day West Point, OH, was just 12 miles southwest of the Minor home. A surrender monument, marking the most northern point of Confederate invasion during the entire war, was dedicated in 1909 in West Point.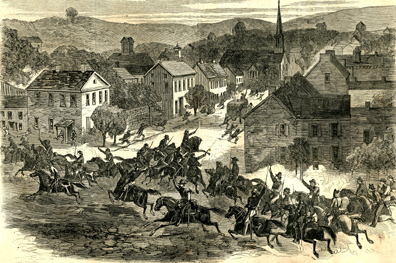 Above: Morgan's Raiders invade Washington, OH, a very short distance from the Minor home. Below: the raiders surrender monument, West Point, OH.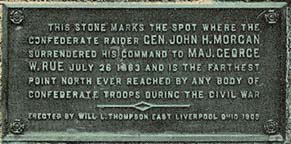 News account of Juliana's death, 1888
In 1885, as their son-in-law Dr. Francis Marion Cox was dying at his residence in East Palestine, Jacob and Julianna are known to have come to the home, along with neighbors and a physician. The morning before he passed, Francis sat with Jacob and Julianna sat at the breakfast table and talked. During the discussion, Francis fell from his chair and became unconscious, and died that night.

Writing in January 1887, their widowed daughter Viola Cox said that "My parents now are both old and childish. Father is 80 & Mother 75 years."

Sadly, Juliannapassed away suddenly on June 22, 1888 at her home. Of her unexpected death, the Reveille said that "She was engaged in washing, and felling as well as usual, when Mr. Miner started to New Waterford. Some parties noticed her lying in the yard as they passed, and on returning she was still there, whereupon they stopped and found her dead. She was quite old, some 70 or 75 years; but quite stout for her years."
The New Lisbon (OH) Buckeye State added that when Jacob returned home from his trip to New Waterford, he "found his wife a corpse. A physician was summoned, and pronounced the cause of her death to be from heart disease." Another local newspaper, the Valley Echo, noted that at the time, she had nine children living, as well as 41 grandchildren and 11 great-grandchildren.
Julianna was buried at the Old Brick Church Cemetery near Unity, Columbiana County. A personal visit by this author in August 2003 revealed that no marker apparently exists for Julianna. However, there are a number of markers there of the Forney family, and several others written with German script in German language, suggesting that the Minors lived in a German-speaking community, and were German themselves (as we believe).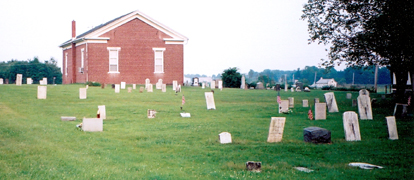 Old grave markers in the vicinity of where Juliana Minor is believed to be buried, in the Brick Church Cemetery near Unity, Ohio.
During the year of her passing, officials noted that five of her children were known, "and other unknown sons and daughters + other heirs…" could not be found. One of the "unknown heirs" had earlier sold his or her interest in the estate to Calvin Hoover. Attorney John H. Logan of East Palestine was appointed administrator of the estate, a notice published in the Valley Echo. In a document to the court, he swore that "the names and residences of the other heirs of Julia A. Minor … are unknown to [me] and cannot with reasonable diligence be ascertained …"
Western Reserve Democrat
At death, Julianna's personal assets were insufficient to pay the cost of administering her estate. The "known" heirs petitioned the court to order that the farm be sold and that the proceeds be paid in cash to widower Jacob. At that time, he claimed he was 80 years old. The case lasted for years, and as of 1902, related paperwork was still being filed with the court.
Jacob moved into the home of son Daniel near Leavittsburg, Trumbull County, OH. He died there at about age 88 in mid-December, 1898. Said the Western Reserve Democrat, he had been "living with his son Daniel, west of here [Leavittsburg], died there and was buried in the German Reformed cemetery in Southington," Trumbull County. An article in the Western Reserve Chronicle in Warren reported that he "had been sick for some time with the infirmities due to old age." The Democrat erroneously reported his age as 92.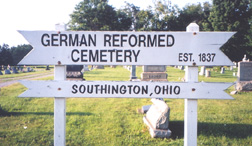 Final resting place for Jacob
Also buried in this cemetery are his brother and sister in law, Joseph and Elizabeth (Forney) Miner, and several of Joseph's children, further evidence of the family connection between Jacob and Joseph.
There is no grave marker today for Jacob at the Lutheran & German Reformed Cemetery. Nor was there one when the cemetery was indexed in 1995 by Jean Veits Highland. However, the stone apparently was in place and readable when the cemetery was indexed in 1928 by researcher/publisher Grace M. Winnagle. Its fate is unknown.
The fates of children Elizabeth and Ann are lost to history.
Great-great granddaughter Carol Serb researched this line some years ago.
Copyright © 2001-2005, 2008, 2014, 2020, 2022 Mark A. Miner