John Minor
Jonathan "John" Minor was born in about 1853 in Unity Twp., near East Palestine, Columbiana County, OH, one of 15 children of Jacob and Julianna (Forney) Minor. He and his wife had a large family, but suffered the tragic coal mining deaths of a son and a son in law.
On Jan. 25, 1872, at about the age of 18, John obtained a license to marry 17-year-old Emma Howell (1854-1951) in Columbiana County. However, there is no marking on the license to show that they actually were married, or who would have performed the ceremony, vital information which typically is contained in such documents.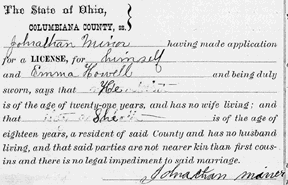 John and Emma's marriage license
Emma was born in Columbiana, Columbiana County, on May 16, 1854, the daughter of George and Esther Howell.
A copy of their original marriage license (seen here) is on file today in the county courthouse in Lisbon, OH. His signature in ink is clearly legible as "Jonathan."
The Minors became the parents of a family of 10 children -- Clifford Minor, John Charles "Jack" Minor, Edward Minor, Jacob Alexander Minor, Sarah Ann Williams Beardslee Warstler, Esther Belle Dillon, Estella Postel, Eva I. Studer and Grace Candle Brain.
Circa 1879-1882, when children Clifford and Esther were born, the family was residing in Washingtonville, Columbiana County.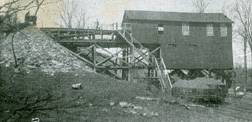 Typical Columbiana County coal mine
John labored as a coal miner for decades. A typical Columbiana County coal mine, at New Waterford near where John's parents lived, is seen here.
In about 1886, the family moved to Sherodsville, Orange Township, Carroll County, OH. The town at that time was a major center of coal mining activity, "prospering with hope," according to The Sherrodsville Standard, a town history prepared by students at the Sherrodsville Elementary School. Emma was a member of the old Methodist Church in Sherrodsville.
There, John also worked as "the proprietor of a grocery and meat market," said the Carrollton (OH) Free Press Standard. John's shop would have been a key source of foodstuffs for the many families of local coal mine laborers. The shop is mentioned in a Sherrodsville history printed in the back of a church cookbook.
Sherrodsville's main business district along Mill Street was built of wood -- with the sidewalks made of plank. The streets were unpaved. On July 19, 1890, fire swept through the town, destroying 15 buildings, including a string of stores where John's meat market was located. The town was "courageously" rebuilt, only to be consumed again by a searing fire on July 26, 1911.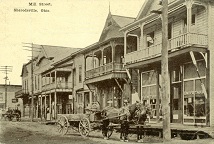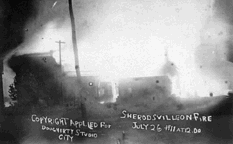 Left: Sherrodsville at the turn of the century. John's meat market is said to have been at the far end of the block. Right: the devastating second fire in 1911.
John's mother passed away suddenly in 1888. At the time, John's whereabouts were unknown by his siblings remaining in Columbiana County. In fact, for accounting purposes in the court papers, he was considered one of several "unknown sons + daughters + other heirs..." Why he was considered missing is lost to history.
When the federal census was taken in 1900, John and sons Clifford (age 20) and Edward (age 15), who were living in the household, all were working as coal miners. Son John and daughter Stella were "in school."
The 1910 census shows the Minor clan making its home in Sherodsville, with John working as a coal miner. Living next door were their married daughter and son in law, Esther and Patrick Dillon, and their brood of five children.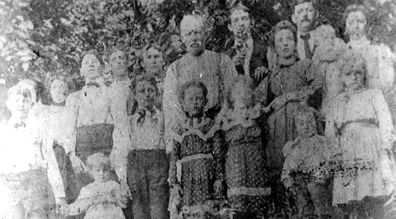 Back, L-R: Sarah & Charles Williams and son Russell; Nellie & Jacob A. Minor; Emma & John Minor; Clifford Minor; Essie & Patrick Dillion and daughter Lizzie. Front, L-R: Clyde W. Minor; Grace Minor; John C. "Jack" Minor; Stella Postel; Eva Studer; Johnny Minor, Treva Minor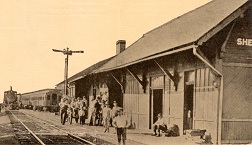 Rail depot in Sherodsville
In about 1915, tragedy rocked the family with the untimely passing of their daughter in law, Nellie Minor (wife of Jacob). To help care for and raise the six motherless children, all under the age of 15, Emma moved into her son's home in New Philadelphia.
She never returned to her husband. According to research by great-granddaughter Carol Serb, John filed for divorce in 1918.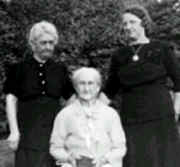 Emma with daughters Sarah
(left) and Eva, circa 1942
Seen here in a family photograph, circa 1942, Emma is seated between her adult daughters Sarah Williams Beardslee Warstler (left) and Eva Studer.
In 1920, when the federal census was taken, Emma was listed as a "widow" and resided with one of her daughters in Canton, Stark County, OH. This entry was in error, as her former husband was alive and remained so for another decade.
After the divorce, John apparently married again. His new wife's name was Sarah ( ? - ? ), but her maiden name, or anything else about her, are unknown, other than she outlived him.
John suffered from an enlargement of the liver, and in October 1930 he wrote his will. In the document, he bequeathed one dollar each to his seven adult children. He also left sons Clifford and John his house and two lots in Sherrodsville, as well as "store and fixtures, household goods, furniture and fixtures, and whatever money and credits I may have at the time of my decease."
About six weeks later, also stricken with gastro-intestinal influenza, the jaundiced John was clearly dying. The New Philadelphia Daily Times reported that his family traveled to his bedside, among them Mrs. Sanford of Wooster and her daughter Verda May of Navarre, Mr. and Mrs. Jacob Minor, Mr. and Mrs. John Minor, Mr. and Mrs. William Studer, John C. Minor and Edward Minor of Tuscarwas, Mr. and Mrs. James Postel of New Philadelphia, Mr. and Mrs. Web Bailey and Mr. and Mrs. Clyde Williams of Mineral Ridge, Mrs. Patrick Dillen and Mr. and Mrs. John Dillen of Roswell, and Mr. and Mrs. Joseph Thema of New Philadelphia. Additional visitors included Mr. and Mrs. Thomas Beamer and sons who traveled from Midvale, OH.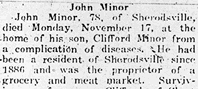 Free Standard Press, 1930
John succumbed at the age of 78 on Nov. 17, 1930 at the home of his son Clifford in Sherrodsville. Burial was made in the Old Sherodsville Cemetery. His obituary was published in the Free Press Standard, which said he had been "the proprietor of a grocery and meat market" and was survived by 25 grandchildren and 21 great-grandchildren.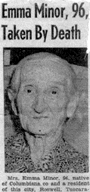 Obituary, 1951
Emma survived her ex-husband by another 21 years. At her 82nd birthday in May 1936, the family held a covered dish dinner on long tables at the Tuscarawas Town Hall. The Daily Times noted that "Out of a relationship of about one hundred, eighty were present." The tables were decorated with blossoms and flowers. The only non-family members to attend were her close friends of 49 years, Mr. and Mrs. Job Marsh of New Philadelphia.
In 1946, said the Dover Daily Reporter, she resided in New Philadelphia, possibly with one of her adult daughters. That year, she entered the first of a series of local nursing homes, where she would remain the rest of her life.
Sadly, Emma passed away at age 96 on March 19, 1951, at Valley Manor Nursing Home. She was laid to rest in the East Avenue Cemetery in New Philadelphia. Her obituary was carried in the New Philadelphia Times, and a marker was placed at her grave.
Descendants of this family have held "First Cousins Reunions." In 2003, the event was held in Strawsburgh, near New Philadelphia. For more information, contact great-granddaughter Carol Serb.
Copyright © 2003-2004, 2007, 2009, 2012, 2018 Mark A. Miner