Grace (Minor) Candle Brain
(1898-1996)
Grace (Minor) Candle Brain was born on Dec. 2, 1898 in Linden Tree, Carroll County, OH, the daughter of John and Emma (Howell) Minor.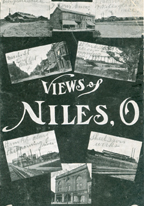 Grace was twice married. At the time of her first marriage, in 1915, she made her home in Mingo Junction, Jefferson County, OH.
Her first husband was Francis "Frank" Candle (1889- ? ), a native of Ashtabula, Ashtabula County, OH, but a resident of New Philadelphia. The ceremony was held on Oct. 28, 1915, when Grace was age 19 and Frank 26. Justice of the peace W.D. Downer performed the nuptials in Steubenville, Jefferson County.
Frank was of medium height and build, with dark brown eyes and black hair. His parents were Italian immigrants Steve and Oscella (Pretrela) Candle.
They lived in Washingtonville, Columbiana County, OH and New Philadelphia, OH, where Frank was employed as a coal miner.
The Candles had at least two known sons, Frank Candle Jr. (1916-1924) and John E. Candle. Son Frank tragically died of pneumonia on Oct. 21, 1924, at the age of eight. The boy was laid to rest in New Philadelphia.
During World War I, with the threat of American involvement looming, Frank was required to register for the military draft. He disclosed that he and Grace lived at 115 West Front Street in New Philadelphia, and that he was a coal miner for the Goshen Central Coal Company.
How their marriage ended is not known.
Later, Grace wed Floyd L. Brain (1901-1962) and lived in Niles, Trumbull County, for 35 years. Said the Warren Tribune Chronicle, she was a member of the Army-Navy Post 252 and Amvets Post 106 Auxiliary and the Niles Senior Citizens.
She died of respiratory failure at the age of 97 on Feb. 21, 1996. Burial was in Pineview Cemetery.
~ Son John E. "Johnnie" Candle ~
Son John E. "Johnnie" Candle (1917-2010) was born on Dec. 27, 1917 in New Philadelphia. He served in the U.S. Army during World War II, and was involved in the invasion of Normandy, France, otherwise known as D-Day.
John married Mary Oana (1923-1997), daughter of Mathew and Maria (Trombitas) Oana. The ceremony took place in Columbiana County, OH, when John was age 23 and Mary 19. Rev. George D. Keister of Salem performed the service on June 28, 1941.
The Candles had four children -- J. Frank Candle, Jacqueline Nichols, Mary P. King and Johnnie Candle. Tragically, son Johnnie died at a young age.
The Candles lived at 10876 Western Reserve Road in Salem, Columbiana County. John was employed as a machinist for 38 years with Deming Pump Company.
Sadly, Mary died on July 17, 1997, at the age of 74.
John outlived her by 13 years. He also endured the death of grandson Donald Kuntzman. In his final years, he resided at the Shepherd of the Valley Nursing Home in Boardman, Mahoning County, OH. He died there age age 92 on Oct. 17, 2010. He was laid to rest in Grandview Cemetery, in a military honors funeral involving the Salem Veterans of Foreign Wars Post and the Salem AmVets Post. His obituary was published in the Warren Tribune-Chronicle.
Copyright © 2003-2004, 2007, 2009 Mark A. Miner