Sarah Ann (Minor)
Williams Beardslee Warstler
(1873-1966)
Sarah Ann (Minor) Williams-Beardslee-Warstler was born in 1873, presumably in Columbiana County, OH, the daughter of John and Emma (Howell) Minor.
Sarah was married three times. Her first husband was Charles Williams (1871-1911). They had three children -- Russell Williams, Clyde Williams and Treva Bailey.
The family resided at Mineral City, Tuscarawas County, OH, where Charles was "one of Mineral City's best known residents," said the New Philadelphia Daily Times. He also was a member of the Knights of Pythias, Sherrodsville (OH) Lodge.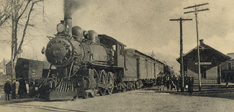 Seen at right is the Baltimore & Ohio Railroad Station in Mineral City, at around the time the Williamses lived there.
Charles was was "a most experienced miner," said the New Philadelphia Daily Times. In about June 1911, he joined the Reeves Coal Company at or near New Philadelphia, Tuscarawas County. He and a co-worker apparently lived away from home, and rented a residence near the mine, during the term of their labors.
Tragically, Charles was killed in a mine accident, struck by falling rock in Mine #2, on Nov. 23, 1911. He was just 41 years of age. A front-page story in the Daily Times reported:
His neck broken and body crushed by over three tons of rock, [he] died at 3 o'clock Thursday afternoon, before help could be given by his companions. Williams' body was doubled up like a jack knife, his head touching his feet. He lived long enough to implore of his partner to aid him... Thursday afternoon he was working in a room with his partner in a remote part of the mine. He was shoveling coal into a car when without a second's warning a huge rock fell from the roof, striking him on the back. He was flattened on the ground... The unfortunate man lived only a few minutes. As he lay pinned under the mass of rock he spoke only [four] words. They were spoken to his partner: "Can't you help me?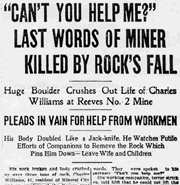 Charles died before help could arrive. It took co-workers half an hour to remove his corpse from the rubble. His body was placed in a mine car and taken out of the mine to the blacksmith shop to wait for the arrival of an ambulance.
Sarah and her children were "prostrated over the husband and father's sudden death." According to the Daily Times:
Shortly after he had died friends in this city telephone his family in Mineral City. The Williams family has no telephone in its home and it was necessary to call the members to a neighbor's phone. Learning that there was a call from New Philadelphia, Mrs. Williams became frightened and refused to answer the call, fearing something had happened to her husband. Friends prevailed upon her to answer the call and her fears proved not to be unfounded.
Charles' mangled remains were laid to rest at the Mineral City Cemetery. He is one of an alarming number of our cousins and their spouses who have lost their lives in coal, coke and steel accidents in the workplace, and who are honored on our website.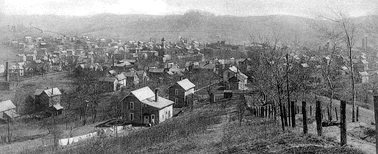 Mineral City, about the time Sarah and Charles Williams lived there
Sarah thus was widowed at age 38, with three young children to feed and care for.
Later, Sarah wed her second husband, Arthur C. Beardslee (1871-1919), the son of John and Elizabeth Beardslee. He operated a grocery store in or near Canton, Stark County, OH, and they made their home at 2420 Clyde Place Southwest.
They had one daughter, Verda Mae Frank.
Arthur suddenly died on July 28, 1919, at the age of 48. He was buried in West Lawn Cemetery in Canton.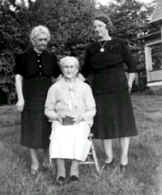 Seen here, Sarah (standing, left) poses with her mother and sister Eva Studer in the 1940s
Sarah married her third husband, Sanford Elmer Warstler (1874-1939), who was a laborer at a railroad freight house. They resided in Navarre, Stark County. Sanford died on Jan. 21, 1939, and is buried at Crossroads Cemetery near Navarre.
At the age of 93, Sarah passed away in Canton on Feb. 5, 1966. She is buried with her first husband, but under the name of "Warstler," in the Mineral City Cemetery.
Son Clyde served as Mayor of Mineral City for several years.
For more information, contact grand niece Carol Serb.
Copyright © 2004, 2007, 2009, 2012 Mark A. Miner