Clifford Minor
(1880-1967)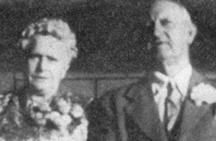 Mary and Clifford
Clifford Minor was born on Jan. 28, 1880 in Washingtonville, Columbiana County, OH, the son of John and Emma (Howell) Minor. He was of medium height and build, with grey eyes and brown hair.
When he was age five, Clifford and his parents and young siblings moved to Sherodsville, Carroll County, OH. He remained in the area the rest of his life.
On Oct. 25, 1909, at the age of 29, Clifford married 23-year-old Mary Harriet Fuhrer (Jan. 28, 1886-1968), a native of New Cumberland, OH, and the daughter of Henry and Ella (Everett) Fuhrer. The ceremony was held at her parents' home, with Rev. Hughes officiating.
They together bore three children -- Geneva Mildred Minor, Clifford Mearl Minor and Norwood E. Minor.
Sadness enveloped the young family when daughter Geneva, age 20 months, contracted spinal meningitis and pneumonia and died on Jan. 27, 1912. The child's tender remains were placed into rest in Grove (?) Cemetery.
During World War I, in September 1918, Clifford was required to register for the military draft. He was age 38 at the time. He declared to the registration officer that he was a coal miner with what was a family-owned enterprise, "Minor Bros.," of Sherrodsville. (He and his brothers Jacob and Edward appear to have been partners in Minor Bros.) He also disclosed that Mary Harriet was his nearest relative.
Clifford was a coal miner in and around Columbiana County and Carroll County. When the federal census was taken in 1930, the Minors made their home in Sherodsville, Carroll County, east of Route 39. Both Clifford and his elder son Clifford were coal miners that year. At some point later in 1930, Clifford's aged father, who was divorced, came to live in their home in Sherrodsville. The father passed away there on Nov. 17, 1930.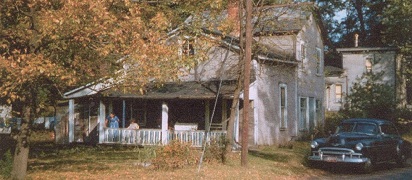 The Minors' home in Sherodsville, 1959
Their house is seen here, on a beautiful sunny October day in 1959. The Minors were members of the Sherodsville Calvary Methodist Church. In their leisure time, they enjoyed sitting on their front porch, drinking coffee, waiting for their grandchildren to come home from school.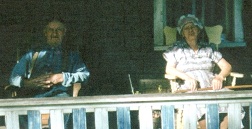 Clifford and Mary on their porch
The Minors celebrated their 58th wedding anniversary in October 1967 with a gathering at the Sherodsville Town Hall. Their photograph and a story were published in the Dover Daily Reporter to mark the happy occasion. Among those attending were Mr. and Mrs. Edward Weber and sons Jeffrey and Terry and Mr. and Mrs. Herman Dischinger and daughter Phyllis Ann. The Daily Reporter observed that Mrs. Weber and Mrs. Dischinger were grand-nieces of the happy couple.
Sadly, Clifford died at the age of 87 on Nov. 12, 1967. His death occurred within several days of surgery. He was laid to rest in the Zion Cemetery in Sherodsville, with Rev. Paul Greenwood leading the funeral service.
At the time of Clifford's death, son Clifford resided in Carrollton, OH, and son Norwood in New Philadelphia.
Mary survived him by a year. She passed away in mid-April, 1968. Her obituary was carried in the Free Press Standard.
Their home later was burned to the ground for training purposes by the local fire department.
~ Son Clifford Mearl Minor ~
Son Clifford Mearl Minor (1913-2003) was born on Nov. 23, 1912 in Tuscarawas County.
Clifford married Doris R. Gunder (1923-2007), daughter of George and Alma (Webster) Grunder on May 8, 1943. He was age 30 at the time and she 20. They were a decade apart in their ages.
They had one son, Gary Minor.
He resided in 1967-2003 in Carrollton, Carroll County, OH. Their home was on 12th Street. Clifford is believed to have developed Minor's Trailer Court at 12th Street Northwest in the Dover area.
Doris, said the Canton (OH) Repository, was "retired from J.C. Penney Company and Carroll Lanes Restaurant.... She was a member of Harsh Bible Church." Clifford and his son were managers and coaches with the Farmer's Exchange baseball team.
He died in Aultman Hospital in Canton, Stark County, OH on April 12, 2003, at the age of 90.
Doris outlived her husband by four years. She passed away in Aultman Hospital at age 83 on March 10, 2007. Rev. Gordon Warner officiated at her funeral, followed by burial in Westview Cemetery. At her death, said the Repository, she was survived by two grandchildren and four great-grandchildren.
Son Gary Minor married Mary Lou (?) and resided in Carrollton, Carroll County. During the Vietnam War, he served as an airman first class and was stationed in the Philippine Islands.
~ Son Norwood E. Minor ~
Son Norwood E. Minor (1915-2007) was born on May 12, 1915.
He was married and had a son Thomas E. "Tom" Minor.
He lived in New Philadelphia in 1960-1967 at the address of 23 Ray Avenue. At some poitn they were in Columbiana County, OH, where Norwood was employed as a laborer by the Ohio Department of Transportation.
Norwood passed away at age 91 in a long-term care facility in Columbiana County on March 26, 2007.
Son Thomas E. "Tom" Minor (1948- ? ) was born in about 1948. At the age of 17, he underwent open heart surgery in University Hospital in Columbus. To support the operation, the New Philadelphia Veterans of Foreign Wars donated funds and held a blood drive.
Copyright © 2004, 2010, 2012, 2018 Mark A. Miner