Estella (Minor) Postel
(1893-1977)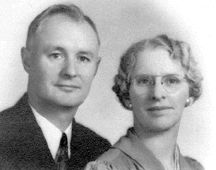 James and Estella Postel
Estella (Minor) Postel was born on June 20, 1893 in Sherrodsville, Carroll County, OH, the daughter of John and Emma (Howell) Minor. She and her husband are remembered as "very well known and respected, active in their community and church."
On May 3, 1912, at the age of 18, Estella married 18-year-old James George Postel (1893-1973), a native of Somerdale, Tuscarawas County, OH, and the son of Duffet and Mary (Corbett) Postel. The marriage took place at Wheeling, Ohio County, WV. James was of medium height and build, with blue eyes and dark hair.
They had two daughters -- Gretchen Postel and Dorothy Postel. Heartache struck the family in 1920, when young Gretchen died at the tender age of 5.
The Postels resided for many years in New Philadelphia, Tuscarawas County, OH. They eventually built a home in 1935 at 870 Orchard Avenue, and resided there for the rest of their lives.
Early in his working career, James was employed on the railroad, until he seriously injured an arm. With World War I looming on the horizon, in June 1917, James was required to register for the military draft. He disclosed that he was employed as a yard clerk for the Pennsylvania Railroad Company in Dover, OH. He also said he had a wife and two children to support. The registrar noted on James' card that he had "a defective or crippled arm."
He later worked as Marsh Lumber Company's sales manager, and retired in 1961.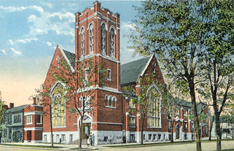 First United Methodist Church
Estella and James were active members of the First United Methodist Church, which they joined in 1929. She took part in its circle groups and Bible classes, and he was chairman of the board of trustees, among other activities. He also was a leader with the Knights of Pythias and was Secretary of the Pythian Castle Company.
Reflecting their mutual love of gardening, the Postels belonged to the New Philadelphia Garden Club. Estella won many ribbons in various flower shows over the years.
They also loved to fish, and built a summer waterfront home on Atwood Lake near Dellroy, OH, circa 1942-1943. They spent nearly every weekend fishing there as weather permitted, often taking their three grandchildren. There was no telephone at the cottage. In preparation, they would hunt for night crawlers on Thursday nights, leave on Friday night after work, and return on Sunday night. They would stop at the bait shop in Mineral City and get a block of ice for the ice box.
James passed away of congestive heart failure on Oct. 5, 1973, at the age of 80. His obituary was carried in the Times-Reporter.
Estella survived him by four years. She passed away at age 84, on July 21, 1977, in Ravenna, OH. She rests with James and daughter Gretchen at the East Avenue Cemetery in New Philadelphia.
~ Daughter Dorothy (Postel) Jones ~
Daughter Dorothy Postel (1912-1996) was born on Nov. 22, 2912.
She wedded Robert Kenneth Jones (Aug. 11, 1911-1992), a native of New Philadelphia, Tuscarawas County and the son of Evan William and Pearl Philippina (Lantz) Jones.
They produced at least two children, Carol Serb and James Evan Jones.
Robert earned a living over the years as a state highway patrolman based in Warren, Trumbull County. After three decades of service, he retired as first sergeant. In retirement, he worked for Robinson Memorial Hospital in Ravenna, Portage County and created a security department.
Robert died two days before Christmas 1992 at the age of 81.
Dorothy survived her husband by about four years. She passed away at the age of 83 on Oct. 21, 1996. She rests beside her husband in Maple Grove Cemetery in Ravenna.
Inscribed on their red barre granite grave marker is the phrase, "Til we meet again."
Daughter Carol Jones wedded (?) Serb. In the early 2000s, she contributed significant amounts of knowledge for this biography.
Son James Evan "Jim" Jones (1945-living) was born on Sept. 8, 1945. On Aug. 11, 1968, he wedded Gara Elaine French (Feb. 15, 1945-living), daughter of Kenneth George and Bessie Laveral (Slack) French. They were the parents of Robb Jones and James "Jim" Jones. James attended Lindsey Wilson College in southern Kentucky and then Mount Union College in Alliance, OH. For 30 years, he was a teacher and administrator in Lorain City (OH) Schools, retiring in 1998. He then worked as operations coordinator and assistant superintendent for the Vermilion School District, retiring again in July 2007 and then was a part-time teacher circa 2009 in another school district. He has been a lay minister in a Congregational Church. He wrote that among his most memorable memories was when he survived a fall from a 60-foot cliff in a state park and was held hostage at gunpoint and saw another student get shot during the incident.
~ More ~
For more information, contact granddaughter Carol Serb.
Copyright © 2004, 2010, 2018 Mark A. Miner