Joseph Miner was born in about 1812 in Fayette County, PA, the son of John and Mary Magdalena (Kohl) Minard Sr.
As a young man, Joseph carried the name "Minard" and would have moved with his parents to near Scio, Harrison County, OH. Later, the spelling of his name was simplified to "Miner."

Joseph's larceny conviction, Harrison County
In 1829, when he would have been 17, Joseph pleaded guilty to charges of larceny in the Court of Common Pleas of Harrison County. The judge ordered him to pay a fine of $5 plus court costs, and that he "be imprisoned in the cells of the County Jail for the Term of twenty days to be fed on bread & water only." In the case papers, still on file at the Harrison County courthouse, his name was spelled "Mineard."
On July 5, 1832, possibly in nearby Beaver County, PA, Joseph married Elizabeth Forney (1814-1886). She was a native of Ohio, and the daughter of Nicholas and Elizabeth (Sponsailer) Forney. (The Miner and Forney families must have been close, because Joseph's brother Jacob married Elizabeth's sister Julianna Forney, and Joseph's son Andrew married Elizabeth's niece Margaret Forney.)
The Miners produced a baker's dozen of children – John Miner, Mary Jane Alderman, David Miner, Samuel Miner, Albert Miner, Lucy Ann Kincaid, Cornelius Miner, Andrew Miner, William Henry Miner and Ella Guessman, and three others who are not yet identified.
At some point, Joseph migrated to Champion, near Warren, Trumbull County, where he built "a two room log cabin … on the hill in what is now known as Meadowbrook," said an article in the Warren (OH) Tribune Chronicle, written more than a century later (in 1939). He owned about 50 acres of land, which a neighbor once called "not the best land but fairly good land."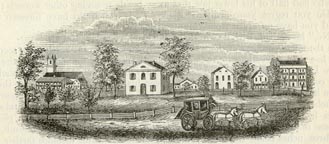 Warren's public square, sketched in 1846
As an occupation, Joseph worked as a carpenter. When the federal census was taken in 1850, the family name was spelled "Miner."
It's possible the Minors were members of the German & Reformed Lutheran Church at Southington. According to a published cemetery index, "This graveyard adjoining the German … church was laid out about the time the church was built in 1837. The church was disbanded in 1929 but the cemetery is still intact." In fact, the cemetery is where Joseph (presumably), his wife Elizabeth and brother Jacob are buried.
Joseph and Elizabeth kept family records in their Bible. Many years later, a government official observed the Bible, stating that he had found birth and marriage inscriptions "upon the blank page made for family records, which blank pages are between the old & new testaments..." The Bible was said to be:
A large book, and from its appearance, evidently printed as early, and might be even many years prior to the year which said book shows the marriage of the said Jos. Miner & Elizabeth Forney... The bible on the index page shows it to have been published by Kimber & Sharpless, at their bookstore, No. 8, South 4th Street, Philadelphia. Stereotyped by E. White, new York. The book is in a good state of preservation [circa 1891]; none of the leaves, so far as I can discover, lost or removed, and evidently has every appearance of being an ancient family bible...

1868 article naming Joseph and his father
In 1856, when Joseph's father wrote a special deed, he directed that Joseph receive $80 in cash payments within seven years of the father's death. The father did not die until April 1867, in his 101st year of age. After a delay of more than a year, word of the father's death reached Joseph in Champion.
A short obituary of the father was published in the Sept. 16, 1868 edition of the Western Reserve Chronicle. There was a major "typo" in the Chronicle article, referring to the father's age at death as "111," when in reality it was "101," but the article provides important confirming proof of the connection between the two men.
--Mr. John Minor, residing in Harrison Co., this State, father of Joseph Minor, of Champion, died a short time since, at the very advanced age of one hundred and eleven years.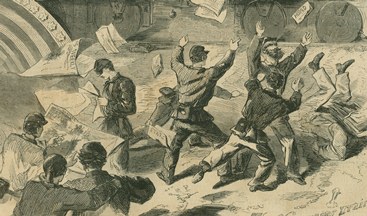 "News from the War," by Winslow Homer and published in Harper's Weekly, captures the sense of frantic anxiety the Miners and other families at home must have felt in relying on newspapers and letters to know the fates of their loved ones away at war.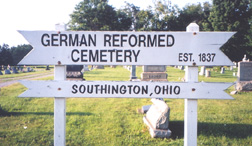 Cemetery where the Miners rest
During the Civil War, sons Samuel and Albert joined the 19th Ohio Volunteer Infantry, Company C. If they were receiving news from the battlefield, they learned that their son Albert was taken prisoner by the Confederate Army. Albert was held in the notorious Libby Prison in Richmond, VA. He left Libby and was taken to a converted warehouse-turned- hospital at Danville, VA, where he died on either Feb. 20, 1864 or March 17, 1864. The worry the Miners must have felt about the fate of their son, and anxiety of not knowing the facts of his death for a long time, must have been overwhelming.
Many years later, an article in the Western Reserve Chronicle in Warren, OH, named Albert among 31 members of the regiment who had lost their lives during the war. In 1890, Joseph was awarded a federal pension as compensation for the loss of his son. The amount of the pension was $12 monthly, in addition to a $100 bounty payment.
Son David, a house painter, died at age 32 on Sept. 28, 1870, of causes unknown. He was laid to rest in the family plot at the German & Reformed Lutheran Cemetery east of Southington, Trumbull County. Grief-stricken, his father placed an advertisement in a local newspaper, stating that:
The undersigned, father of David Miner, … hereby gives notice that he will settle all claims against the estate of said dec'd, and collect all debts that may be due said estate. Persons knowing themselves in any way indebted are requested to call on JOSEPH MINER.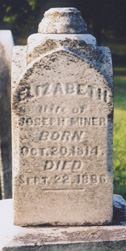 Elizabeth's grave
In mid-September 1872, reported the Western Reserve Chronicle newspaper, Joseph captured honors at the annual fair of the the Trumbull County Agricultural Society, in the categories of "best breeding sow" and "large breed shoats." Daughter Lucy, not yet married, won an award for her work decorating a chair.
Just three years after they lost son David, and nine years after the wartime death of son Albert, heartache struck again in 1873 when the Miners' married daughter Lucy Ann Kincaid died at age 27. The cause of her untimely death is unknown. She was buried beside her brother David in the German & Reformed Lutheran Cemetery.
In about 1880, said neighbor Charles Diehl, Joseph "Fell from an apple tree ... and never recovered from the fall but has been a cripple ever since..."
Elizabeth passed away on Sept. 22, 1886. She is buried beside son David and daughter Lucy at the German & Reformed Lutheran Cemetery. Her grave marker (seen here) was legible during a visit in August 2003, especially when the sunlight hit it just the right way.
Joseph outlived his wife by nine years. By 1891, said their neighbor, he had:
... been for many years an invalid entirely helpless, not able to do any work of any kind... The house is poor, not a valuable house. His son and daughter live with and take care of him. They are under no legal obligation to do so, but do it out of affection for him, especially is this true of the daughter for she takes good care of him. I deem him a worthy man, a quiet peaceable citizen.
Joseph died at Champion on March 3, 1895. Despite a diligent search of Trumbull County newspapers, no obituary has been found. He presumably is buried with his wife, but no grave marker is known to exist.
Copyright © 2001-2005, 2012, 2020 Mark A. Miner
Sketch of Warren from Historical Collections of Ohio (1888) by Henry Howe.