Samuel Miner was born in 1842 in either Pennsylvania, East Palestine, Columbiana County, OH or near Champion, Trumbull County, OH. (There are differing accounts.) He was one of 13 children of Joseph and Elizabeth (Forney) Miner. He was a veteran of the Civil War.
Samuel stood 6 feet high, with brown hair and blue eyes. During the Civil War, he and his brother Albert both served with the 19th Ohio Volunteer Infantry.
Sadly, while Samuel ultimately survived his wartime experience, his brother Albert died as a prisoner of war after incarceration in the Confederacy's notorious Libby Prison in Richmond, VA.

Western Reserve Chronicle, 1898
Samuel himself suffered from bronchitis while in the Army, and his lungs began to trouble him in January 1864, when his regiment was stationed at Strawberry Plains, near Richmond, VA. George M. Hull, sergeant major of the regiment, later recalled:
On the march to Strawberry Plains and during our stay there our men were [in] need of suitable clothing for their comfort and were poorly supplied with shoes. Many of them contracted severe colds as the weather was cold and stormy. Among those who took hard colds I well remember [Samuel Miner] as being one of their number. When we reenlisted for three years more service, [Samuel] did not reenlist as he was not in a fit condition of health. but remained behind when the Company went on furlough.... I can testify that [he] was as good a soldier as ever handled a gun...
Samuel was treated in the spring of 1864 at New Hope Church, a facility which appears to have been serving as a makeshift field hospital.
During the Battle of Big Shanty (Kennesaw), GA on Sept. 24, 1864, during the Atlanta Campaign, Samuel was captured by the enemy. (Two years before, Big Shanty was the site of a famous Civil War escapade -- the Union Army's capture of The General railroad engine, later made famous in the Walt Disney film, The Great Locomotive Chase.)
Samuel was held as a prisoner of war at the Confederacy's other horrible prison, Andersonville. He continued to suffer from a "severe" cold while in prison and, in his own words, "have coughed more or less ever since. When I have a cold I raise a great deal of dark colored matter and mucous filled with small lumps."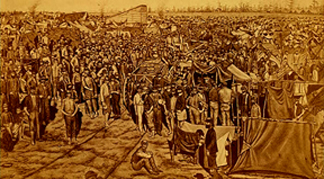 Wartime view of a group of emaciated prisoners at Andersonville
Samuel was paroled at Savannah, GA on Nov. 26, 1864, and reported for duty at Camp Parole, MD on Dec. 3, 1864. He was discharged on Feb. 11, 1865, and he returned home to the Warren area. According to neighbor John W. Masters of Warren:
He was pretty well used up when he got home in the winter of 1865. He looked pale, weak and debilitated. Coughed and complained of lung trouble and had the appearance of going into consumption [tuberculosis].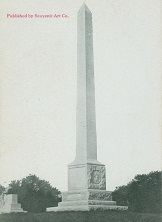 Ohio Monument, Andersonville
Samuel was treated during the postwar years by Dr. Horace D. Dillon circa 1867 and by Dr. J.R. Nelson circa 1876.
On Feb. 25, 1868, Samuel married Hannah Callahan (1848-1922), a native of Ireland who had migrated to America in 1857 or 1861. The wedding ceremony took place in Greenville, Mercer County, PA, and was performed by W. Burk, a justice of the peace.
The couple produced a family of 10 known children -- Charles Simpson Miner, George Myers Miner, Sylvester H. Miner, Mary Mulvahill, Cloie Colletta Bishop, Edna J. Miner, Azalia "Zell" Schall, Myrtle I. Miner, Harry B. Miner and an unidentified infant. Sadly, the infant died at three weeks of age in May 1873, possibly without having been named.
John L. Smith, a longtime neighbor, once said he "knew them well and know that they were well respected people [who] reared a good family of children."
In September 1871, Samuel was elected as an officer of the I.N. Dawson Fire Company No. 1, to serve with L.F. Hardman as "axmen." The news was reported in the Western Reserve Chronicle.
Sadly, daughter Mary died in May 1891 shortly after giving birth to a son, named Harry B. Mulvahill. Grandmother Hannah "took said child in her own family and reared him as her own child and he took the name of Miner."
Samuel was a carpenter and, as listed in the 1880 census, also worked as a millwright. He and Hannah moved to Warren shortly after marriage and resided there for 60 years. They moved into their longtime home at 115 First Street in about 1870.
Said the Warren (OH) Tribune, Hannah "was a member of the Rebecca Lodge and of the Women's Relief Corp and when able was a regular attendant at the services of the Second Christian church."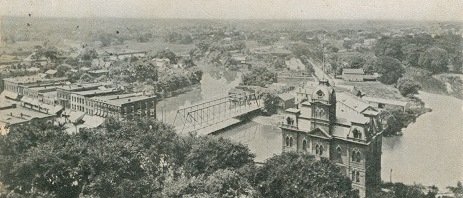 Rare bird's eye view of Warren at the turn of the century
Samuel's physical problems grew worse over the years, as evidenced by "hoarseness and huskiness of voice." He was awarded a government pension as compensation for his wartime illnesses, at a rate of $14 per month.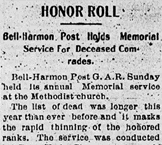 Western Reserve Chronicle, 1898
In the last three years of his life, Samuel was "an intense sufferer from rheumatism." Hannah later wrote that he was "entirely disabled from manual labor and from following his trade of carpenter, and he not only exhausted the little money he had saved in treatment for said disease but mortgaged [his] house for funds to go to bath cures..."
Sadly, Samuel died of a stroke at home on Oct. 2, 1898. The Western Reserve Chronicle in Warren said he "was stricken with paralysis, Saturday morning, resulting in his death at an early hour this morning." He was laid to rest at Oakwood Cemetery in Howland Township.
He was memorialized in December 1898, when the "Bell Harmon Post G.A.R. … held its annual Memorial service at the Methodist church" in Warren, said the Tribune:
The list of dead was longer this year than ever before and it marks the rapid thinning of the honored ranks… Adjutant M.J. Sloan, of the Post, then read the list of veterans who had died during the past year. They are: … Samuel Miner…"
At the time of Samuel's death, daughter Zell and several other of their children resided in their home.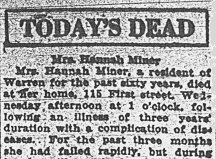 Warren Tribune, 1922
Hannah outlived her husband by 24 years, as well as, sadly, five of her adult children. When the federal census enumeration was made in 1910, she shared a residence with her youngest daughter Zell, and was marked as having only three children alive out of the 10 she had borne.
She passed away on Aug. 30, 1922. She had suffered for an unidentified illness for three years prior to her passing. "For the past three months she had failed rapidly," said the Tribune, "but during her long illness she bore her suffering most patiently."
The Tribune noted that "a large concourse of relatives and friends assembled to pay a tribute of respect to her memory." At the funeral, the Rebekkah Lodge performed a ritualistic ceremony, and Mrs. J.M. Gledhill, Miss Olive Gledhill, R.E. Gordon and Miss Lillian Clapp performed music. "The pallbearers were William Bishop, sr., William Bishop, jr., Ben Burton, Leslie Bland, William Williams, Fred Schall. Many beautiful floral offerings were placed on the casket by friends, and the body was laid to rest in Oakwood cemetery."
The following children also are buried at Oakwood: Sylvester (1893) - Edna (1903) - Harry (1903) - George (1904) - and Charles (1928).
Samuel is mentioned in a lavishly illustrated, 2011 book about one of his cousins who also was a veteran of the Civil War -- entitled Well At This Time: the Civil War Diaries and Army Convalescence Saga of Farmboy Ephraim Miner.
~ Son Charles Simpson Miner ~
Son Charles Simpson Miner (1868-1928) was born on Nov. 5, 1868 in Ohio.
He was "reared in Warren and spent his early manhood [there]," said the Warren Tribune Chronicle.
Circa 1897, when he would have been age 28, Charles was joined in holy wedlock with 24-year-old Marion J. Alexander (1873-1947), a native of Vienna, OH.
They produced at least two offspring, Dr. Alexander "Allen" Miner and Helen Legget Sandell.
The federal census enumeration of 1910 shows the Miner family in Allendale, Barnwell County, SC, with Charles' occupation listed as superintendent of an oat mill. During the decade of the 1910s, he was named to superintend a cotton oil mill in Cherokee, Spartanburg County, SC, as listed in the 1920 census.
Warren Tribune Chronicle, 1928
Then in the 1920s, Charles and Marion moved to Newberry near Augusta, GA, where Charles operated a dairy feed mill. There, he joined the Chester lodge of the Masons and "was held in the highest regard in his home city in business and social life," said a newspaper.
Suffering at the age of 59 from an enlarged prostate and a buildup of fluids, he was admitted for surgery at Presbyterian Hospital in Philadelphia. There, he passed into eternity May 28, 1928. His remains were returned to Warren for burial at Oakwood Cemetery, with his pallbearers including Fred McBerty, Edward Shoenberger, James S. Gildard, Frank Rowland, Thomas Wyndham and Lewis Little. [Find-a-Grave]
Marion outlived her husband by 19 years. In 1935, she dwelled with her daughter Helen in Sharon, Mercer County, PA. She moved in 1936 to Akron, Summit County, OH, with a final address of 668 Noble Avenue. She was gathered away by the Angel of Death at the age of 76 on Oct. 31, 1947. An obituary in the Akron Beacon Journal reported that she "had lived here 11 years." Her remains were shipped back to Warren for interment. Among her survivors was a sister, Nell Roy, of Youngstown, OH.
Son Dr. Alexander "Allen" Miner (1900-1964) was born on March 31, 1900 in Warren, Trumbull County, OH. In adulthood, he stood 5 feet 8½ inches tall, weighed 195 lbs. and had brown eyes, brown hair and a ruddy complexion. As a young boy, he relocated with his parents to South Carolina and thence to Augusta, GA and received his bachelor of science degree from the University of North Carolina. Allen pursued a career as a physician and received his medical degree in 1924 from the University of Pennsylvania in Philadelphia. He chose to remain in Philadelphia to build his life and career, with an address in the city in 1928 of 2123 North 63rd Street, and then on Shirley Court in Upper Darby, Delaware County, PA in 1941. He was employed in 1924 by Methodist Episcopal Hospital. Evidence suggests that he was married twice. His first bride was Josephine M. ( ? - ? ). Little is known, except that in March 1936 she sued for divorce, citing "indignities to the person." When he was age 41, circa 1941, he was united in holy matrimony with 29-year-old Mildred E. Keen (1911-2013), a resident of 117 Owen Avenue in Lansdowne, , Delaware County, PA. News of their marriage license was printed in the Delaware County Daily Times. The newlyweds moved into a home at the corner of Ardmore and Glentay Avenues in Lansdowne. When required to register for the military draft during World War II, he disclosed that he was employed by General Electric Company and "self." By the 1960s, the couple's address in Lansdowne was 145 Glentay Road. Sadly, Allen suffered a heart attack at the age of 64 and died on June 12, 1964. His remains were placed into repose in West Laurel Hill Cemetery in Bala Cynwyd, Montgomery County, PA. No news coverage of his death has been found to date. Mildred lived for a number of years as a widow. She was named in a November 1967 Philadelphia Inquirer story about her role in the annual card party and fashion show of the Twentieth Century Club of Landsdowne. In later life, she moved to the Granite Farms Estates and celebrated her 100th birthday. She passed into eternity at the age of 101 on Jan. 5, 2013. A brief death notice was published in the Inquirer.
Daughter Helen Blanche Miner (1902-1956) was born on Jan. 31, 1902 in Chester, SC and and grew up in Barnwell and Spartanburg Counties, SC. She married Frank S. Leggett ( ? - ? ). She made a home circa 1928 in Albany, GA, the same year and place where the couple divorced. By the early 1930s, she had migrated north to her parents' home state of Ohio, and lived at 3333 Powers Way in Youngstown, Mahoning County. On Feb. 9, 1931, in a wedding held in Mahoning County, OH, the 29-year-old Helen married a second time to 33-year-old Oscar M. Sandell (Oct. 14, 1898-1958), son of Dr. Eric and Emma (Larson) Sandell of Minneapolis, MN. Officiating was Rev. Levi G. Batman of the First Christian Church. At the time of the marriage, Oscar was the owner of Ideal Bakery, living across the state line in Farrell, Mercer County, PA. One known daughter was born to the second union, Marion Emma Sandell. Circa 1935, the couple appears to have been separated, as Helen and her mother and daughter lived to gether in Sharon, Mercer County, and in about 1936 migrated back to Ohio, making a home in 1940 Akron, Summit County. Helen sued for divorce in January 1939, as reported in the Akron Beacon Journal, but evidence suggests that it was not granted. Helen's occupation in 1940 was as a beautician in an Akron beauty shop, which she owned, located in the Second National Bank Building. Oscar retired in 1942. In 1949, he moved to St. Petersburg, Pinellas County, FL with his residence at 27 East Gate-South Ward in a trailer park known as Southward-Ho. He was a member of the Englewood lodge of the Masons in chicago and the Mirror Lake Shuffleboard Club of Tampa. Helen's final years were spent in Akron at 668 Noble Road. Sadly, she died at the age of 53 on April 28, 1956. Rev. Franklin H. Minck, who had officiated at the wedding of her daughter just a year before, now led Helen's funeral service. Burial was in Ellet Memorial Cemetery, with an obituary appearing in the Beacon Journal, spelling her maiden name "Minor" and saying she "was an Akron resident 20 years." Oscar survived her only by two years. In late 1957 or early 1958, he was diagnosed with cancer of the lung, which spread to other parts of the body. During a trip to western Pennsylvania in the early summer of 1958, he went to visit with Ray D. Hann of Maple Drive in Hickory Township. While there, his heart failed, and he passed into eternity in the Hann residence on June 30, 1958. The remains were transported back to St. Petersburg for interment at Memorial Park Cemetery, with Rev. Don Sietman presiding at the funeral. Obituaries were printed in the Tampa Bay Times and Greenville (PA) Record Argus. While not named in the obits, Helen was listed as Oscar's wife in his official Pennsylvania certificate of death.
Granddaughter Marion Emma Sandell (1933- ? ) was born on Nov. 11, 1933 in Pennsylvania. As a young girl she lived in Sharon, Mercer County, PA and in Akron, Summit County, OH. Marion in young adulthood secured employment in Akron as a bank teller. On May 7, 1955, when she would have been about 21 years of age, she was joined in the bonds of matrimony with Robert Simmons Kemph Jr. (April 10, 1933- ? ), son of Robert Simmons and Agnes Christina (Ruble) Kemph Sr. Rev. Franklin H. Minck officiated at the wedding ceremony. At the time of marriage, Robert worked as manager for a proof department in Akron. Marion's address in 1958, at the death of her father, was 1898 Glenmount Avenue in Akron. She may be the same Marion Kemph who was employed as a cashier at the American Bank of Commerce, also known as American Centran, and was included in a group photograph of employees published on a full page the Akron Beacon Journal on July 9, 1974.
~ Daughter Cloie Colletta (Miner) Bishop ~
Daughter Cloie Colletta Miner (1874-1926) was born on the Fourth of July 1874 in Warren, Trumbull County, OH. Her name at times was spelled "Cleo."
In a wedding ceremony held on June 15, 1898, in Cuyahoga County, OH, Cloie wedded William Allen Bishop (March 7, 1875-1926), a native of Indianapolis and the son of Frederic and Rachel Bishop. Rev. B.G. Newton officiated.
The couple's known offspring were William Allen Bishop Jr., Ethel Ford Bishop, Dorothy May Bishop, Ralph Bishop plus one who died young.
William in adulthood was of medium height and stout build.
Grief blanketed the family on Sept. 3, 1910 when daughter Dorothy May, age 22 months, died of dental/teething issues, which resulted in acute indigestion. A physician noted on her death certificate that there were no traces of peritonitis or diarrhea. The child's tender remains were lowered into eternal sleep in Lakeview Cemetery.
When the United States Census was made in 1910, the couple was in Cleveland, with William earning a wage as a superintendent of buildings. He was required to register for the military draft during World War I, in September 1918, and disclosed that the building he managed was the Citizens Savings & Trust Cmopany at 818 Euclid Avenue.
The census of 1920 lists his occupation as manager of an office building. The Bishops had lodgers in their home in 1920 as an additional source of income.
In 1922, the couple lived in Cleveland, Cuyahoga County, OH, at the address of 1666 East 82nd Street. William earned a living as a salesman for Buckeye Window Cleaning Company.
Cloie died suddenly on March 12, 1926, at the age of 51, due to the effects of chronic heart disease and acute indigestion. She was laid to rest at Lakeview Cemetery in Cleveland.
William only outlived his wife by 19 days. While at home on the fateful day of May 31, 1926, he was stricken with what doctors believed was a cerebral hemorrhage and died suddenly, at the age of 51.
Son William Allen Bishop Jr. (1905-1979) was born on Jan. 23, 1905. He lived with his parents in the 1920s at 16 East 82nd Street in Cleveland. In adulthood, he stood 5 feet, 11 inches tall, with blue eyes, black hair and a light complexion. Circa 1940, on the eve of World War II, the 35-year-old William was required to register for the military draft. On his card, he stated that he lived at 1541 Eddington Street in Cleveland, was self-employed and that his sister Ethel, of the same address, was his next of kin. He married Eleanor Dean Noble (Oct. 7, 1902-1983). Little is known of their years together. He succumbed to death on Oct. 25, 1979 in Cuyahoga County. She endured for another four years and passed away on July 24, 1983, at the age of 80. The couple are in repose in Lake View Cemetery in Cleveland.
Daughter Ethel Ford Bishop (1907- ? ) was born in about 1907.
Son Ralph Bishop (1912- ? ) was born in about 1912 in Cleveland.
~ Son George Myers Miner ~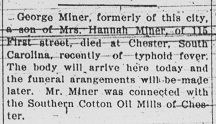 Warren Daily Tribune, 1904
Son George Myers Miner (1876-1904) was born on April 19, 1876 in Warren, Trumbull County, OH.
He and his elder brother Charles relocated to South Carolina to pursue business opportunities.
There, said the Warren Daily Tribune, George "was connected with the Southern Cotton Oil Mills of Chester," Chester County, SC.
Sadly, George died of typhoid fever there on Aug. 9, 1904, at the age of 29. The remains were shipped back to Ohio, where the funeral was held at his mother's home in Warren.
His remains were buried at Oakwood Cemetery, with an obituary published in the Daily Tribune.
~ Son Sylvester H. Miner ~
Son Sylvester H. Miner (1879-1893) was born on April 4, 1879 in Warren, Trumbull County, OH.
He was not destined to reach adulthood.
At the age of 13, on Jan. 13, 1893, he passed into the great beyond. Burial of the remains was in Oakwood Cemetery in Warren.
~ Daughter Edna J. Miner ~
Daughter Edna J. Miner (1880-1903) was born in Feb. 1880.
When she was 20 years of age in 1920, unmarried, she lived at home with her widowed mother and younger siblings. She had no occupation that year.
Sadly, Edna died at the age of 23 on March 30, 1903. The cause of her untimely death is not known.
She sleeps for all time in Oakwood Cemetery in Warren.
~ Daughter Azalia "Zell" (Miner) Schall ~
Daughter Azalia "Zell" Miner (1883-1973) was born in Sept. 1883 in Ohio. Her name also has been spelled "Zalia" over the years.
When she was age 31, in about 1914, she married 24-year-old Fred W. Schall (1890- ? ).
The couple resided in Warren for a number of years. When the federal census enumeration was made in 1920, they shared a First Street home with Zell's widowed mother, and Fred was employed as a machinist in a local steel mill.
By 1930, when the census again was taken, the couple remained in Warren, with Fred's work at the mill now focused on dye-making. He remained in this line of work during the decade of the 1930s and into 1940, as shown in census records.
Zell died at the age of 89 or 90 in 1973. Interment of the remains was in Oakwood Cemetery in Warren. [Find-a-Grave]
Fred's fate is not yet known. He does not appear to be buried with his wife.
~ Son Harry B. Miner ~
Son Harry B. Miner (1891- ? ) was born in May 1891 in Warren, Trumbull County, OH. He was age seven when his father died.
Harry grew up in Warren, but did not survive his early teen years.
Sadly, Harry succumbed to death at the age of 13 years, five months and seven days on Nov. 12, 1903. Burial was in Warren's Oakwood Cemetery.
Copyright © 2003, 2005, 2006, 2009, 2012, 2019-2020 Mark A. Miner
Andersonville prisoners image courtesy of the New-York Historical Society furnished through the Library of Congress