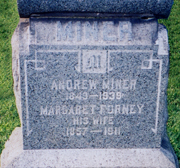 The couple's grave marker
Andrew Miner was born on Oct. 2, 1853 near Champion, Trumbull County, OH, one of 13 children of Joseph and Elizabeth (Forney) Miner.
He "was born in a two room log cabin built by his father on the hill in what is now known as Meadowbrook," said a newspaper, "and [he] was a life long resident of Warren Township" in Trumbull County.
At his death, he was said to be the "eldest citizen of this community [Leavittsburg], where close friends and neighbors affectionately knew him as 'Pop'."
On Jan. 3, 1878, at the age of 29, Andrew married his cousin, 20-year-old Margaret "Maggie" Forney (1857-1911), who was the daughter of George Forney (1819-1883).
The couple produced two offspring, Daisy Elnora Phillips, born in 1879, and one other child who died young.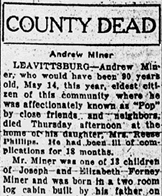 Obituary, 1939
The federal census of Warren Township of 1880 shows that Andrew was employed as a carpenter.
Maggie, said the Warren (OH) Daily Tribune, "was a lifelong member of the German Lutheran church of Lords town…"
The United States Census of 1910 lists the Miners as farmers residing in Braceville Township, Trumbull County, and with their married daughter and son-in-law in the household.
Maggie became ill in about 1910, and suffered for about one year, until her death on Nov. 4, 1911. She was buried at the Lutheran and German Reformed Cemetery in Southington, Trumbull County. The Daily Tribune published her obituary under a large, prominent headline, reading "DIED SATURDAY - Mrs. Andrew Miner of Leavittsburg Passed Away - Funeral Tuesday."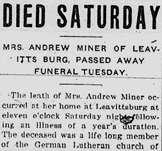 Obituary, 1910
After Maggie's death, Andrew moved into the home of their daughter Daisy in Leavittsburg, Warren Township, where he remained for more than a quarter of a century.
Andrew lived to be 89 years, nine months and 15 days old. He passed away of cancer on March 9, 1939. He was laid to rest beside his wife.
In his obituary, the Warren Tribune Chronicle reported: "Pallbearers were Ned Higley, I.E. Wakefield, R.S. Wilcox, Guy Burnett, J.V. Johnson and H.E. Hine."
Andrew is mentioned in a lavishly illustrated, 2011 book about his cousin who was a Civil War veteran -- entitled Well At This Time: the Civil War Diaries and Army Convalescence Saga of Farmboy Ephraim Miner. The book is authored by the founder of this website. [More]
~ Daughter Daisy Elnora (Miner) Phillips ~
Daughter Daisy Elnora Miner (1878-1946) was born on April 5, 1878 in Leavittsburg, Trumbull County, OH.
She married Reese P. Phillips (1878- ? ) of Warren, Trumbull County.
When the federal census enumeration was made in 1910, the childless pair dwelled with Daisy's parents in Braceville Township, Trumbull County. That year, Reese was employed as an electrician with a local electric company.
During the decade of the 1910s, Reese obtained new work as a galvanizer with an Ohio railroad. The 1920 U.S. Census shows the couple in Warren Township, with Daisy's widowed father in the household as well as 30-year-old servant Helen Beson.
The couple's home circa 1939 was in Leavittsburg.
Sadly, at the age of 67, having suffered for a decade with chronic bronchitis and heart disease, Daisy was carried away by the Angel of Death on June 13, 1945. Interment of the remains was in the Lutheran and German Reformed Cemetery in Southington.
Copyright © 2003-2005, 2011, 2020 Mark A. Miner