Home

Viola (Miner) Cox
(1855-1893)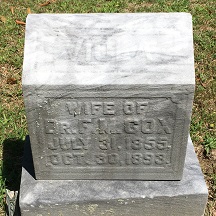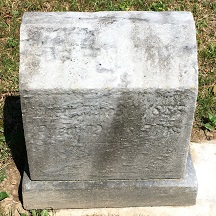 Faded graves of Viola, left, and Dr. Francis Cox, East Palestine, OH
Viola (Miner) Cox was born on July 31, 1855 in Unity Township near East Palestine, Columbiana County, OH, one of 15 children of Jacob and Julianna (Forney) Miner.
On New Year's Eve 1873, when she was 18 years of age, Viola entered into marriage with wounded Civil War veteran Dr. Francis Marion Cox (1843-1885), a native of Virginia, who at age 30 was a dozen years older. Their wedding was held near Lisbon, Columbiana County, by the hand of Henry E. Frost.
Many years later, Viola testified that she did not know about her husband's wound until after they were wed.
Francis stood 5 feet, 8 inches tall and weighed 160 lbs. He had been married once before, on May 23, 1861 to Elizabetha Crotty ( ? -1872). After 11 years of marriage, she had died on Nov. 12, 1872. A record of her death was made in the books of St. Joseph's Church in Ironton, OH.


The Coxes' marriage record, Columbiana County, OH, 1873
He thus brought a stepson into the second marriage, William A. Cox (born 1864).
The Coxes produced three more children of their own -- Jacob Allen Cox, Julia A. Cox and Mary E. Cox.
During the Civil War, Francis joined the Union Army on July 27, 1861 for a term of three years. He was placed as an infantryman with Company A of the 8th West Virginia Infantry. He was promoted to hospital steward on Nov. 1, 1862. In January 1864, his regiment was changed to the 7th West Virginia Cavalry.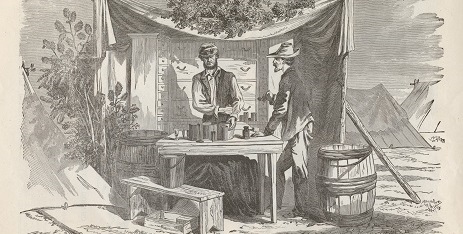 Civil War hospital steward filling a surgeon's orders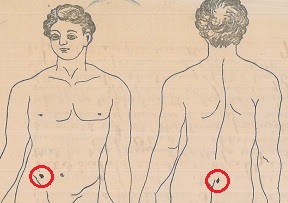 Surgeon's sketch of Francis' wound. National Archives

While at Buchanan, VA, northeast of Roanoke, on June 13, 1864, he and his regiment arrived at a bridge crossing the James River. They found the bridge unusable. Dr. J.H. Rouse wrote that the soldiers were part of the Lynchburg raid and that he and Francis had charge of the ambulance train. Part of their mission was to forage and search out food to feed their sick. As they approached the town, they could see that the enemy had retreated, leaving behind their push boats docked in the river. Rouse ordered Francis to board the boats in search of provisions. Upon moving out of one of the vessels, which was loaded with firearms, one of the pieces discharged, with the bullet striking Francis near his navel and exiting at the top of the right buttock.

According to another report, "While awaiting orders where to ford the river [he] dismounted, and while so dismounting he received a gunshot wound of right side of abdomen, from the enemy's line on the opposite side of the river."

Francis was convinced the wound was fatal. Recalled his commanding officer Rouse, "[I] was present and raised [Francis] from the ground and dressed his wound, and by the urgent request of the patient to let him die on the march and not leave him to the meercy of the rebels, [I] placed him in an ambulance and conveyed him forward to the battlefield at Lynchburg, Va., and brought him through on the retreat and left him at General Hospital about the 1st of July 1864 at Gallipolis, Ohio... Said wound did not heal during his term of service..."

He received his honorable discharge from the Army at Martinsburg, WV on Jan. 31, 1864 and the next day re-enlisted for another three-year hitch. His final discharge, at Charleston, WV, was on May 29, 1865.

Over the years, the wound would abscess and discharge pus, and small pieces of bone would break through the skin at the point of exit. His right leg became about three-quarters of an inch shorter than the other. Military physicians who examined him claimed that Francis had suffered "a total disability" from performing manual labor. There was some official discrepancy with the account of the wound, with the army saying it was accidental and had occurred instead five days later, on June 18, 1864, and from where the gunshot had been fired.

Francis appears to have returned to his regiment with a promotion to veterinary surgeon on Feb. 7, 1865. He mustered out of the army on Aug. 1, 1865 and returned home. He and his first family dwelled in Elizabeth, Wirt County, WV, prior to moving to New Waterford circa 1871.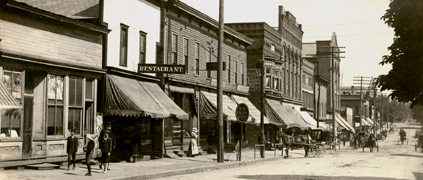 Market Street section of East Palestine, early 1900s
Francis filed for a military pension in 1874 based on the severity of his wartime wound. [Invalid App. #199.134 - Cert. #360.471] The matter was referred to the Committee on Invalid Pensions. While the application was not rejected, there was concern about the official discrepancies, with a decision reached that the wound was not by the enemy. It took a special privision in congressional bill H.R. 2567, however, for his pension to be approved. From that time on he received $6 in monthly payments.
Viola observed that the wound was the size of a half dollar. During the night, she often helped place a poultice on the affected scar, especially after he had been out riding a horse, which caused him much discomfort. She occasionally heard him say that he felt that a knife was drawing through his abdomen.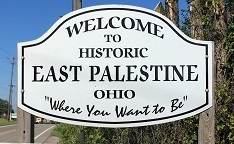 The Coxes' hometown, 2022
When the federal census of Unity Township was taken in 1880, Francis was practicing in the village of New Waterford. Later, they moved to nearby East Palestine, where they had a small house with a $250 mortage. The dwelling had a second story bedroom above the kitchen where the couple and their three children slept. He was considered a very fine citizen, well-liked and peaceable. Neighbor S.H. Maneval commented that Francis "used to come in my office frequently and talk with me and I was in his office too. He was very social man and generally well liked." Nearly every day or two, he obtained medicines from E. Greenamyer of East Palestine, complaining of his painful wound which was a running sore.
Sadly, both Viola and Francis died young. He became heavy as he aged -- once said to have been "a short chunky man weighing 225 pounds" -- and was known to drink to excess. As observed by his pharmacist Greenamyer, "I don't think he drank much about saloons, only to go and take a glass of beer. I think he bought most of his liquor by the bottle and drank it at home. He bought a good deal of alcohol at my drug store..." Another witness said that Francis "drank a good [deal] of beer and whiskey and at times pure alcohol..."
Viola was opposed to his drinking and once advised their pharmacist not to sell him any more. She once remarked that she "thought a man could put his money to better use than that."
Death carried away Francis on April 1 or June 30, 1885, perhaps from a stroke, or kidney problems, or bleeding on the brain caused by an earlier fall. Viola's parents as well as neighbors and a physician came to the house at the end. The morning before he died, Francis is known to have sat at the breakfast table and talked with his in-laws.
An evening or two before Francis died, recalled next-door neighbor S.H. Maneval, a local editor and attorney:
He fell down stairs I suppose; found him lying at the foot of the stairway that led up to his bedroom, with his head against the wall as though he had fallen -- his head was up, and his shoulders touched the wall, and his feet were up one or two steps. He was sort of doubled up, and his chin on his breast. He was a large man. He was unconscious and helpless when I found him. This was late at night. His wife came for me. I dragged him out to the kitchen and straightened him out. I supposed he was dead for awhile; -- worked over him fifteen minutes, and he opened his eyes and finally consciousness returned; got him upstairs to bed; think he could have walked; think he laid down on bed with clothes on; did not undress while I remained; complained of pain in head and was sick and of feeling bad; think he had bit his tongue which bled some; did not say much but moaned; said his head hurt and he was in bad shape; saw him before evening, and he was about as usual; left him about mid-night, and he said he thought he could sleep; he seemed to know as well as anyone what ought to be done. Saw him next day about noon; his wife came and said he was dying; found him lying on the floor as though he had fallen off a chair, and understood he was sitting at the table to eat, and fallen off. He was unconscious as on the night before; thought the same thing had taken place both times; after rubbing him a time he opened his eyes; he came to, talked, took a glass of buttermilk; he told me it was the hardest siege he had had, and did not know whether he would make it or not; don't think he spoke again; he then went into comatose condition, and I staid till he died. Dr. Haas came in, and with me examined him.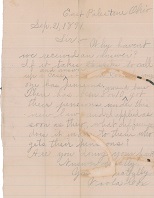 Viola's letter to the Pension Office

Dr. E.H. Haas of East Palestine said that "I have been acquainted with Dr. F.M. Cox for about eleven years. I was called to see him about the 30th day of Apr. A.D. 1885. I found him in a comatose condition. He died in that condition the same day. I examined the body after death and found a cicatrix on the right side of the abdomen near the umbilicus... It is my opinion that the immediate cause of death was from uremic coma as a result of the wound."

The widowed Viola immediately applied to receive her late husband's military pension, and it was awarded on Jan. 5, 1886. [Widow App. #333.984 - Cert. #319.051] Among those providing testimony of support in the case were neighbors Emma E. Crowl and Minnie Robertson, both of East Palestine.

Viola survived her spouse by eight years. She was cited in her mother's 1888 newspaper obituary in the Valley Echo -- as "Mrs. Dr. Cox" named as a surviving child.

Francis was named posthumously in a chapter on Columbiana County in the 1891 book History of the Upper Ohio Valley, Vol. II : "The following now practice in the township, ... At New Waterford, Dr. Frank Cox, since 1874; he died some five years ago."

Viola's rare signature, in pencil, 1891

At age 38, Viola died of "Brain Disease" in East Palestine on Oct. 30, 1893. Burial was next to her husband in Glenview Cemetery in East Palestine.

J.W. Cope was named as the children's guardian. By the time her late husband's estate was administered, Viola too was "deceased" as shown in papers filed with the Columbiana County court. Her heirs were noted as living in East Palestine. When cash was paid out of the estate in 1897, the children received a combined total of $6.56. An application was made in March 1894 for the young children to be awarded their father's military pension. There is no evidence that it was awarded. [Minor App. #591.951]

Francis is named in the book A Place of Rest for Our Gallant Boys, authored by Christy Perry Tuohey.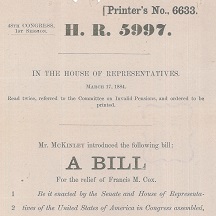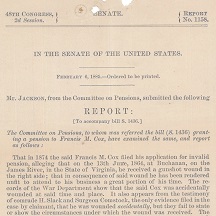 House and Senate bills/reports about Francis' pension.
National Archives
~ Stepson William A. Cox ~
Stepson William A. Cox (1864- ? ) was born on Sept. 25, 1873 in the home of John J. and Eliza Crotty at Gallipolis, Gallia County, OH.
As a 16-year-old in 1880, he lived with his father and stepmother near New Waterford County, Columbiana County, and was a farm laborer.
He relocated to Washingtonville, OH, straddling the border of Columbiana and Mahoning Counties, and mined coal circa 1901. At that time, he lived in a house adjoining one occupied by 60-year-old Enos Brain, separated by an alley. Then in mid-December 1901 when he was accused of murdering Brain in what he called "self defense." He was apprehended and taken to county jail Youngstown to await the decision of a grand jury, which in turn indicted him for second-degree murder.
The trial was held in Youngstown the week of March 3, 1902. Reported the Stark County (OH) Democrat, "There is a widespread interest in the town [of Youngstown], and over forty witnesses, nearly all of them prominent people, went to Youngstown today. A family feud of long standing between the Brain and Smart families culminated last fall in an altercation between Cox and ... Brain, an old man whom Cox struck and fatally injured, Brain dying a week later."
William testified in his own defense, as did Brain's widow and daughter. Testimony by Dr. Kimble of Washingtonville "completely demolished the case of the prosecution," said the Democrat. Kimble said that he had been out hunting on the day of the killing.
Coming unexpectedly upon the combatants, he saw Brain strike Cox first; witnessed the arrival of Brain's wife and his daughter and saw all three attack Cox. He saw Cox, having been struck with a pick, a stone and shovel, turn upon his assailants and, in self defense, strike the fatal blow... All efforts to impeach this proved fruitless, and to the fact of Kimble's testimony Cox undoubtedly owes his life.
The jury deliberated for 15 hours without reaching a verdict.
In 1903, William earned a living as a plasterer and spent 39 years in the occupation.
On Dec. 19, 1903, in nuptials held in Columbiana, the 30-year-old William was joined in wedlock with 21-year-old Martha A. "Mattie" Boals (April 2, 1884-1934). She was the daughter of Joseph and Miriam (Baughman) Boals of Hopedale, Harrison County, OH. Justice of the peace O.J. Astry officiated. Martha at the time of marriage resided in Salem, OH and worked as a pottery hand.
Together, the pair bore two sons, Marion Averal Cox and Kenneth Cox.
The Coxes purchased a home in Salem in early 1912, so that he could be closer to a growing number of plastering projects he was doing. The Mahoning Dispatch of Canfield reported that "More houses are being built there than here and Mr. Cox gets his share of the plastering. The more houses he plasters, the more he gets to do. There is nothing that succeeds like success."
Suffering from prolapse of her uterus, caused by ulcers, Martha underwent a complete hysterectomy in 1924.
Their home in 1934 was along North Georgetown Road in Salem. The family belonged to the Christian Church at Hopedale, OH.
Grief descended upon the family when, a decade after her radical surgery, Martha was stricken with an infection of peritonitis caused by "mesenteric thrombosis," a blood clot in a vein near the intestine. She was admitted to Salem's Central Clinic Hospital, where she surrendered to death at age 49 on Feb. 9, 1934. An obituary in the Salem News said that her pastor, Rev. C.F. Evans, conducted the funeral. Burial of the remains was in Grandview Cemetery.
The widowed William remained in their Georgetown Road residence for the balance of his life. He contracted an incurable illness which endured for two years. Death swept him away on Oct. 19, 1949, at the age of 86. The Salem News published an obituary.
Son Marion Averal Cox (1905-1997) was born on June 16, 1905 in Columbiana. He grew up in Washingtonville. Showing an aptitude for art and drama, he attended Carnegie Institute of Technology in Pittsburgh, forerunner to today's Carnegie Mellon University. He used his education to earn a living directing theatre plays and as a commercial illustrator. He married Ella Thea Smith (April 28, 1897-1972), a 1916 graduate of Salem High School. She was eight years older than her groom. Ella Thea had obtained her bachelor's degree from Wooster College and in time a master's degree from the University of Chicago. She went on to a 34-year career as a biology teacher at Salem High. The couple did not reproduce. During World War II, Marion generated extensive controversy for refusing to report for induction into the U.S. Armed Forces. He then sent a five-page letter to the draft board detailing why he was a conscientious objector Marion finally was charged with draft evasion in early 1942. The Federal Bureau of Investigation (FBI) became involved. He was found guilty in 1943 and sentenced to four years in a federal prison. He then appeared in federal court saying he had changed his mind and would report for military induction. In an April 1943 editorial, the editors of the Salem News wrote:
Here is a young man, whose wife is and has been earning a large salary, who claimed to be a conscientious objector and defied the draft board to the extent of ignoring its summons. Arrested and later sentenced by a judge to serve a term in jail, he was granted his freedom to await the next service call when he finally agreed to go into the service. Many Salem people have openly expressed the belief that Marion Cox got off too lightly. They do not believe he will be a good soldier, if he ever becomes one. He had a right to use conscientious objection as an excuse to escape fighting for the American way of life but when he defied the draft board he defied his government. Little sympathy can be shown for such a young man. Little or no sympathy would be shown if he were made to suffer.
The Coxes resided in Salem for about nine years after the war. He continued his artistry and won a prize in 1948 for a flower painting shown at the Butler Art Institute in Youngstown. The pair retired and relocated to Phoenix in 1954 and thence to Cavecreek, AZ by 1958. Ella Thea circa 1938 wrote a popular textbook Exploring Biology. Later, in 1958, she and co-author Lorenzo Lisonbee produced another textbook, Your Biology, published by Harcourt Brace & Co. She served on the Cavecreek School Board in 1961 and taught a weekly biology class. Still in Cavecreek, Ella Thea is known in 1971 to have joined the Salem Historical Society and to have been writing a history about the town of Salem. Sadly, she passed away on May 10, 1972. His final years were spent in Carefree, AZ. He passed away at the age of 92 on Nov. 9, 1997. An obituary in the Arizona Republic said he was survived by a niece and four nephews. The body was shipped to Columbiana for burial.
Son Kenneth Cox (1911- ? ) was born in about 1911. His residence in 1949 was in Salem, Columbiana County, OH.
~ Son Jacob Allen Cox ~
Son Jacob Allen Cox (1875-1952) was born on Sept. 2 or 3, 1875 in New Waterford, OH. Some records erroneously show the names of his parents as "John C. Cox" and "Anna Miner."
He was age 17 when his mother died, rendering him an orphan.
In October 1898, he wed Jennie Samples Potter (1876-1950), daughter of New Castle alderman John F. Potter.
Four offspring born to the pair were John Francis Cox, Gilbert Allen Cox, Genevieve C. Shaw and Frank Marion Cox.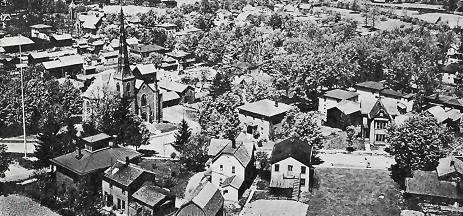 Northwest Sullivan Street in Mansfield, PA
The Coxes dwelled in several places over the years -- New Castle, PA and Willshire, OH and then after a 1913 move to a farm on the outskirts of Mansfield, Tioga County, OH. In the mid-1920s, their home was on Beckford Street, New Castle. They may have returned to Willshire by the late 1930s before returning to Mansfield in 1948. Their address in 1950 was 17 Prospect Street.
While in New Castle, Jacob was employed by the New Castle News as assistant editor and foreman of the composing room. He also was a print shop teacher at Benjamin Franklin Vocational High School. Then after a move to Ohio, he owned and edited the Willshire Herald for 15 years. Jennie was active with the Third United Presbyterian Church.
Eventually they relocated to Mansfield, where his married daughter was living, and resided on a farm along New Town Road and worked part-time for the Mansfield Advertiser. He held a membership in the Mansfield Methodist Church.
The Coxes marked their golden wedding anniversary in October 1948.
Jennie died at home at the age of 75 on April 25, 1950. The News called her "a member of the pioneer family of New Castle" and said she "visited here often and was well known and remembered." Those known to have traveled from New Castle to attend the funeral in Mansfield were Anna Cox, Robert C. Young, Mrs. Francis Eakin, Dr. David Young and Don R. Young of Beaver Falls, PA.
Suffering from heart disease, he was stricken by a heart attack and admitted to Blossburg State Hospital. He died after a stay of 16 days, at age 76, on Aug. 15, 1952. Burial of the remains was in Mansfield's Prospect Cemetery, with Rev. John R. Hays and Rev. David J. Griffiths jointly leading the funeral. An obituary was published in the Advertiser.
Son John Francis Cox (1899-1918) was born in 1899. He grew up in New Castle and in about 1913 relocated with his family to Mansfield, Tioga County, PA. He was a 1917 graduate of Mansfield-Richmond High School, where he was said by a newspaper to have been a "general favorite, being an all-round good fellow, a fine musician, and an excellent student; one of the best debaters in the school." He then attended normal school to prepare for a career in teaching, and was elected president of the local YMCA. After the outbreak of World War I, he tried to enlist in the U.S. Navy, but was rejected because of poor vision. Reported the New Castle News, "Enlisting then in the army, he was made a surgeon's assistant and stationed at Walter Reed Hospital" in the outskirts of the District of Columbia. But death quickly claimed his life when he contracted the "grippe" (influenza) at age 19 -- part of the epidemic sweeping through military camps all across the United States. He was hospitalized at his workplace and died on Sept. 30, 1918. An obituary was published in the News where his father had once worked, and it said that "His death brings regret to many friends here, as he was a bright and capable young man and had many friends." Another piece in the News said that "he gave his life, the victim of an insidious disease which took out from this world one of the best boys that ever breathed the breath of life." The body was transported to Mansfield for burial. Among those known to have traveled to attend the funeral was Mrs. J.A. Butler of Court Street, New Castle His remains sleep in honored rest in Prospect Cemetery. The Austin-Cox American Legion in Mansfield is named in his memory.
Son Gilbert Allen Cox Sr. (1902-1964) was born on June 10, 1902 in New Castle, PA or in Tioga County, PA. He was married twice. His first spouse was Dorothy Bailey (Dec. 24, 1902-1957) of Washington County, PA, and the daughter of Reginal A. and Katherine (Weber) Bailey. The couple bore four children, Gilbert Allen Cox Jr., Dawna JeanMinnick, Mrs. Robert White, Mrs. Edward Brosky and Mrs. Richard Wheeler. (Two of these daughters are the same woman. But who?). Gilbert became a prominent jeweler in New Castle as a partner in the Cox and Levine Company. As of 1946, their address was Maitland Lane in Walmo, near New Castle. the Coxes divorced by 1949. Then in 1950, he wed Helen Gertrude Gray (1902-1990). Circa 1950, he dwelled in Huntsville, AR and by 1952 was in Hendersonville, NC. By 1954, he and Helen resided on a cattle farm in Rome, Bradford County, PA. They joined the Methodist Church of Pottersville, PA, and he held a membership in the New Castle lodge of the Masons. Gilbert in his late 50s contracted an ulcer of the duodenum and infection of the pancreatis as well as enduring heart disease and a large aneurysm of the abdomen. He was struck down by a massive blood clot near the bowels and died in Blossburg (PA) State Hospital at the age of 62 on June 12, 1964. The remains were interred in Mansfield in Prospect Cemetery following a funeral led by Rev. Harry Sagar of the Methodist Church, Mansfield. Helen lived for another 26 years. She died in 1990. Former wife Dorothy remained in New Castle and in the later 1950s lived in apartment at 29 East Maitland Lane in Neshannock Township. She died in a housefire at the age of 54 on Oct. 22, 1957. An article said she had been "found in the kitchen of her home where she apparently collapsed while attempting to make her way out of the smoke-filled apartment... She was taken to the Jameson Memorial Hospital where she was pronounced dead on arrival shortly before noon... [The] fire was concentrated in the sunporch where the mattress of a day bed was apparently set on fire accidentally."
Grandson Gilbert Allen Cox Jr. ( ? - ? ) was born in (?). On Aug. 10, 1946, he was joined in wedlock with June Warnock ( ? - ? ). The ceremony was conducted in the First United Presbyterian Church in New Castle. The pair dwelled in New Castle, PA in the mid-1960s.
Granddaughter Dawna Jean Cox ( ? - ? ) was born in (?). She attended Westminster College as a young woman. On Aug. 31, 1946, in nuptials held at the First United Presbyterian Church in New Castle, she married James Minnick ( ? - ? ), son of E.J. Minnick of Highland Heights. Rev. Calvin Rose officiated. A New Castle News story announcing the marriage said it was "one of the prettiest weddings of the season..." It added that the bride, "smiling and winsome, was especially attractive in her full skirted appliqued all white taffeta toe-length basque gown, which ended in a slight train. The fitted bodice was accentuated with a sweetheart neckline and three-quarter length sleeves. Her fingertip illusion veil, edged with a deep inset of Duchess lace, was held in place by a tiara embossed with tiny seed pearls and crystals " At the time, James had resumed his studies at Westminister College, having previously served as a sergeant during World War II and earlier attending Penn State University. They lived in Booneville, NC in 1957 and in Winston-Salem, NC in 1964.
Granddaughter (?) Cox wed Robert White. The pair established a residence in Berea, OH and were there in 1957.
Granddaughter (?) Cox entered into marriage with Edward Brosky. Their home in 1964 was in Valley City, OH.
Granddaughter (?) Cox ( ? - ? ) was united in matrimony with Richard Wheeler. They settled in Oxford, PA.
Daughter Genevieve Viola Cox (1904-1989) was born in 1904 and was a namesake of her grandmother Viola (Miner) Cox. She wed Wilford W. Shaw (April 15, 1903-1945), son of Llewellyn Shaw of Mansfield. News of their engagement was printed in the Pittsburgh Post-Gazette. Two sons born to this union were Bryce Robert Shaw and Jack Shaw. They made a home in Mansfield, PA, where he was a prominent funeral director. After high school, Wilford graduated in 1924 from Mansfield State Teachers College and then Eckels School of Embalming in Philadelphia. Armed with his degree, he joined his father in the furniture and undertaking business, and then assumed ownership at the father's retirement in 1935. He sold the furniture firm but retained the funeral business, naming it Shaw Funeral Home, located at 18 North Main Street. Active in the community, he was a trustee of the Mansfield Presbyterian Church and a member of the Friendship lodge of the Masons, Zebulon Royal Arch chapter in Mansfield and Noble lodge of the Odd Fellows. He also was president of the Mansfield Business Men's Association in 1943 and belonged to the Corey Creek Golf Club, Mansfield Rod and Gun Club and Tioga County Undertakers Association Circa 1939, Wilford was elected secretary of the Chaminade Music Club in Mansfield. Genevieve was active with the Ladies Auxiliary of the Austin-Cox Post of the American Legion, named in part for her brother John Francis Cox, who had died in World War I. Wilford was burdened with hypertension. Sadly, at the age of 41, he was stricken by a cerebral hemorrhage while overseeing a funeral. He seemed to recover and within a week was out of doors. But the spectre of death was looming, and he was felled by a relapse, passing away on April 2, 1945 as a patient in Blossburg State Hospital. Rev. Marshall E. Bartholomew officiated the funeral service, followed by burial in Mansfield's Prospect Cemetery. The Mansfield Advertiser reported that the community "was shocked and saddened" at his untimely death and said a "large number attended [the funeral] from Westfield, Blossburg, Covington, Arnot, Tioga, Wellsboro and Troy." His obituary also was carried in the New Castle News and Williamsport Sun-Gazette. Genevieve survived her husband by more than 40 years. During that time, she retained ownership of the funeral business in partnership with Francis J. Robena, with the firm renamed Shaw & Robena Funeral Home.
Grandson Bryce Robert Shaw ( ? - ? ) grew up in Mansfield and was a 1948 graduate of Mansfield High School. He received his bachelor's degree in philosophy and natural science in 1952 from Muhlenberg College in Allentown, PA. On June 19, 1952, he was united in marrige with Sally Ruth Prutsman ( ? - ? ), daughter of L.D. Prutsman of Troy, Bradford County, PA. Their ceremony was held in the Troy Methodist Church. At the time, Sally was a student at Marjorie Webster Junior College. In 1953, Bryce was awarded a master of arts degree at the University of Michigan. The couple bore at least three children, David Bryce Shaw, Jody Lynn Shaw and Erin Suzanne Shaw. By 1959, the Shaws lived in Flint, MI, where he taught mathematics and science at the Flint branch of the University of Michigan. He was promoted in 1961 to lecturer in education and at the time was pursuing a doctorate at the university. They are known to have spent summer vacations at Lake Waneta. Bryce suffered a heart attack in August 1963 and was hospitalized in Blossburg, PA, but fortunately recovered and returned home. He took on additional responsibilities and in 1965 remained at Michigan as a lecturer for its National Science Foundation Institute and Social Research Institute. At the same time, he was on the graduate faculty of Eastern Michigan University and a mathematics consultant for Willow Run Research Center. In 1972, after seven years of development, testing and validation, Jack unveiled a new type of program to raise arithmetic test scores of elementary students, known as "Individualized Computational Skills Program." Jointly authored with Petronella M.W. Hiehle and Miriam M. Schaefer, it was to be published by Houghton Mifflin Company.

Great-grandson David Bryce Shaw (1953- ? ) was born in 1953 in Ann Arbor, MI.

Great-granddaughter Jody Lynn Shaw (1955- ? ) was born in 1955.

Great-granddaughter Erin Suzanne Shaw ( ? - ? )

Grandson Jack W. Shaw ( ? - ? ) was born in (?). He was an alumnus of Mansfield High School and in 1954 graduated from Eckels College of Mortuary Science, Philadelphia, followign in his late father's footsteps. He then returned to Mansfield and joined the family business, Shaw & Robena Funeral Home. On June 10, 1955, in a wedding at Linden Presbyterian Church, he entered into wedlock with Lillian H. Walker ( ? - ? ), daughter of Thomas A. Walker and Mrs. O.K. Robinson. Lillian received her degree in 1955 from Mansfield State Teachers College, and at the time of marriage was about to begin teaching in a school in Mosherville, PA. They lived in Columbia, PA in the early 1960s. Then in August 1962, the Shaws had relocated to Long Island, NY, where they both obtained teaching positions in the Great Neck School System. Their home later in the 1960s and early 1970s was in Huntington Station, NY.
Son Frank Marion Cox (1909-1949) was born in 1949 and was named after his grandfather. He was united in matrimony with Betty ( ? - ? ). Their only child was Patience Lee Cox. The family resided in the 1940s in Willshire, Van Wert County, OH. Sadly, following what the New Castle News called "a lingering illness," Frank died at age 40 on Sept. 3, 1949. Interment was in Willshire. An obituary in the News reported that "Local relatives who have departed to attend funeral services include: R.C. Young, Maryland avenue; Dr. David Young, 1212 East Washington street, and Don Young, of Beaver Falls, Pa."
Granddaughter Patience Lee Cox ( ? - ? )
~ Daughter Julia "Anna" Cox ~
Daughter Julia "Anna" Cox (1877-1959) was born on Dec. 16, 1877 in New Waterford, OH.
She was 15 years of age at her mother's 1893 death. Within a few years she migrated across the state line to New Castle, Lawrence County, PA.
The federal census enumeration of 1900 shows Anna sharing a home in New Castle with her younger sister Elizabeth. Anna at age 22 was employed as a school teacher and 20-year-old Elizabeth as a dress maker.
Anna never married and spent her life as a school teacher in New Castle, PA. She also taught Sunday School at the Epworth Methodist Church. In 1933, she is known to have traveled with her nieces Marjorie Young and Nema Eakin to see the World's Fair in Chicago.
Anna resided in the 1950s at 916 Maryland Avenue in New Castle.
Death claimed her at home on Oct. 26, 1959, at age 81. Robert C. Young, with whom she resided, signed the official Pennsylvania certificate of death.. Burial was in Castle View Memorial Park in Neshannock Township, Lawrence County, PA.
~ Daughter Mary "Elizabeth" (Cox) Young ~
Daughter Mary "Elizabeth" Cox (1880-1942) was born on Jan. 23, 1880 in New Waterford, OH. Her birth year also has been given as 1878.
After becoming orphaned in 1893, Elizabeth moved across the state line into Pennsylvania. The 1900 United States Census shows her making a home with her sister Anna in New Castle, Lawrence County, PA, and earning a living as a dress maker.
Elizabeth married Robert Clarence Young (May 13, 1877-1964), son of William R. and Louella (Morrow) Young of New Galilee, PA.
Together, the pair produced four offspring -- Dr. David Chester Young, Nema Eakin, Marjorie Louise Schultz and Donald Robert Young.
The Youngs dwelled in New Castle, where Robert earned a living as a mechanic with Lawrence Auto Company. He was a member of the men's Bible class at the Second United Presbyterian Church. The family is known to have made a driving vacation in August 1925 to Harrisburg, Gettysburg, Philadelphia and Atlantic City.
Their address in the early 1940s was 916 Maryland Avenue.
Elizabeth was burdened with hypertension. On the fateful day of Jan. 7, 1942, just a few weeks shy of her 62nd birthday, she suffered a cerebral hemorrhage and within four hours was dead. Interment of the remains was in Castle View.
The widowed Robert outlived his wife by 22 years. His home hosted the funerals of grandson David Young and Carol Ann Young in 1943-1945. Then within nine months in 1961-1962, he endured the untimely deaths of sons Donald and David. Robert's last residence was 126 Glen Moore Boulevard. In his last years he suffered from hardening of the arteries and senility and was admitted to reside in the Suburban Nursing Home. Death swept him away at age 87 on May 21, 1964. Daughter Nema Eakin of New Castle signed the official Pennsylvania certificate of death.
Son Donald Robert Young Sr. (1907-1961) was born on May 8, 1907. He entered into marriage with Louise Bishton ( ? - ? ). The only child they bore together was Donald Robert Young Jr. The Youngs settled in the Patterson Township section of Beaver Falls, PA, with an address in the early 1960s of 25 South Old Oak Drive. For some 26 years, he owned and operated Don Young's Pennzoil service station. Donald was active in the communiity as a member of Trinity United Presbyterian Church, the Union lodge of the Masons, Valley of New Castle Consistory, Beaver Valley Council of the United Commercial Travelers and Order of the Elks. Sadly, at the age of 54, he was felled by a hearty attack and passed away in Beaver Valley General Hospital in New Brighton on June 14, 1961. An examining physician wrote that the contributing cause of death was "probable hypothyroidism." Rev. George W. Carson led the funeral service, with an obituary published in the New Castle News. Interment of the remains was in Castle View Burial Park.
Grandson Donald Robert Young Jr. ( ? - ? )
Son Dr. David Chester Young (1909-1962) was born on May 7, 1909 in New Castle. He was an alumnus of New Castle High School. He obtained a bachelor's degree from Allegheny College and his medical degree from Temple University. David completed his internship at Polyclinic Hospital in Harrisburg and in 1937 was chief resident physician at the facility. During World War II, he served with the U.S. Army, including two years in the South Pacific Theatre, including New Guinea. He became a physician and for many years maintained a practice on the east side of New Castle at 1212 East Washington Street. He had staff privileges at New Castle Hospital and Jameson Memorial Hospital. He held a membership in the Lawrence County and American Medical Societies and belonged to the Second United Presbyterian Church. On April 7, 1942, David married Barbara Jenkins (1918-2015), daughter of Walter B. and Elizabeth (Lottridge) Jenkins of Logansport, IN. Their nuptials were held at the home of Barbara's cousin Dr. Paul Wilson at 1214 Highland Avenue, by the hand of Rev. J. Calvin Rose of the Second United Presbyterian Church. Their marriage was announced in the New Castle News., which said that "the bride chose an afternoon dress with a black silk street length skirt, cut full, and a shell pink faille waist. She wore a black straw bonnet and her shoulder corsage was Cattleya orchids." Barbara was a graduate of Mary Baldwin College. The couple produced a brood of three -- Carol Ann Young, Thomas Robert Young and David Young. Sadly, two of the offspring did not outlive childhood. Son David passed in about 1943 and daughter Carol Ann on April 12, 1945, at the age of about seven months, in Logansport, IN, where her mother was living while the father was away at war. David and Barbara later divorced, with Barbara taking her son to Logansport and remaining for good. David's last address was with his sister at 126 Glen Moore Boulevard, New Castle. Burdened with "cerebral atrophy" -- loss of brain cells -- he died on March 19, 1962 at age 52. The remains were lowered under the sod of Castle View Burial Park, with Dr. George Henderson preaching the funeral sermon. The New Castle News printed an obituary.
Grandson Thomas Robert Young (1950-2007) was born on Nov. 10, 1950 in New Castle. He moved to Logansport, IN after his parents divorced and was a 1969 graduate of Logansport High School. He served in the U.S. Army during the Vietnam War. His first wife was (?). Their three sons were Trampas Young, Jamie Young and Jason Young. On Aug. 14, 1996, in Logansport, he married again to Lori Kay (Dudas) Culp ( ? - ? ). She brought three stepsons to the union, Kale Culp, Kyle Culp and Andy Culp. Thomas was employed in Bloomington, IN by College Motor Inn. In his spare time he liked to follow basketball and football and to coach Little League baseball. He surrendered to death at the age of 56 on July 30, 2007. Burial was in Mount Hope Cemetery following a funeral led by Jeff Strite.

Great-grandson Trampas Young wed Tracey. They have dwelled in Logansport.

Great-grandson Jamie Young entered into marriage with Jaynene. They relocated to Waltham, MA.

Great-grandson Jason Young was joined in wedlock with Laura. They established a home in Fishers, IN.
Daughter Nema Cox (1904-1981) was united in wedlock with Francis N. Eakin (Oct. 27, 1903-1961), son of Frank and Jennie (Chipman) Eakin of Bloomfield, OH. The pair resided in New Castle, at 126 Glen Moore Boulevard and did not reproduce. She was a member of the Second United Presbyterian Church and its Willing Workers Sunday School class. Francis was employed as a movie projectionist at Crescent Theatre in Mahoningtown and belonged to the New Castle Theatrical Union 451. In his final six months of life, Francis suffered from chronic heart disease. Sadly, he passed away at home on April 6, 1961, at the age of 57. Rev. Robert Meanor led the funeral. An obituary appeared in the New Castle News. The widowed Nema by 1970 relocated to Memphis, where her sister Marjorie was living. There, she joined St. Mary's Cathedral. After the 1978 death of her sister, Nema is believed to have continued to reside with her sister in the home of her niece Mary Beth Wingfield. She died in Memphis' St. Francis Hospital at age 76 on March 20, 1981. Her obituary was printed in the Memphis Press-Scimitar., in which the family asked that any memorial donations be made to Grace House, a center for alcoholic rehabilitation for women.
Daughter Marjorie Louise Cox wed Dr. E.C. Schultz. The pair relocated to Detroit and eventually in 1961-1962 were in Memphis, TN, remaining for the balance of their lives. They also appear to have had a second home in Sarasota, FL. The Schultzes together produced four offspring -- Mary Beth Wingfield, Cindy Rainey, Debbie Bradley and Charles William Schultz. Marjorie was a member of Sarasota's St. Boniface Episcopal Church. As a widow, she dwelled at 878 Kensington in Memphis. She died at the age of 60, on March 9, 1978, in Resthaven Nursing Home. The Memphis Commercial Appeal ran an obituary.
Granddaughter Mary Beth Schultz wed (?) Wingfield. They were in Memphis in 1978-1981 and provided a home for Mary Beth's aunt, Nema Eakin.
Granddaughter Cindy Schultz was joined in marriage with (?) Rainey. Their home in 1978 was in Jacksonville, FL.
Granddaughter Debbie Schultz entered into wedlock with (?) Bradley. She settled in Gastonia, NC.
Grandson Charles William Schultz lived to Cliffton, TN.
Copyright © 2003-2004, 2010, 2022 Mark A. Miner