Henry 'Wiley' Farabee
(1876-1948)

Wiley Farabee
Henry "Wiley" Farabee was born on July 11, 1876 (or Aug. 10, 1875) in Morrisville near Waynesburg, Greene County, PA, the son of Spencer and Nancy (Minor) Farabee. He is believed to have been named for his grandfather Henry Minerd, a.k.a. "Minor." Wiley as an adult was of medium height and slender build, with brown eyes and black hair.
On Dec. 28, 1898, at Waynesburg, Wiley married Malinda "Etta" Black (1880-1932), the daughter of Lindsey I. and Jane (Cumley or Wright) Black. He was age 22, and she 18, at the time of their wedding.
They produced three children – Walter "Earl" Farabee, Oliver C. Farabee and Nancy Elizabeth "Betty" Farabee. They also had a stepdaughter Eva Wise.
The Farabees resided in Morrisville, near Waynesburg, where Wiley labored for decades as a coal miner.
In 1920, when the federal census was enumerated in the East Franklin Precinct of Greene County, Wiley was working away from home. Etta was listed as head of the household, with children Oliver and Nancy.
Sadly, the couple appears to have separated in the late 1920s. Federal census records show that Wiley was residing alone in 1930, next-door to his son Oliver..

Veterans of the 85th Pennsylvania Infantry -- possibly including Etta's father -- tour Waynesburg via motorcar in the early 1900s.
On Feb. 21, 1932, Etta's father, a Civil War veteran of the 85th Pennsylvania Infantry, passed away at age 92 at his home near Waynesburg.
Sadly, Etta did not long survive her father. Troubled deeply in her soul, at the age of 48, she shot and killed herself at home using a .22 caliber rifle. Her death occurred on or about April 8, 1932. A coroner's inquest ruled suicide. Her funeral arrangements were handled by the Garrison Funeral Home, and her estate was administered by their son Oliver. Burial was in Greenmont Cemetery.
Wiley outlived Etta by 16 years and maintained a home in the rural outskirts of Waynesburg.
Suffering from senility, he was admitted to Torrance State Hospital in Derry Township, Westmoreland County, PA. He suffered a heart attack there and died on Jan. 10, 1948, at the age of 72. Instead of burial, his remains were transported to Philadelphia, which may suggest they were donated to medical science.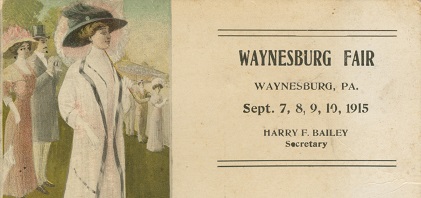 Artifact from one of the top annual social events in Waynesburg
~ Son Walter "Earl" Farabee ~
Son Walter "Earl" Farabee (1899-1971) was born in 1899.
He registered for the military draft during World War I, and listed his occupation as miner for his father's company, Farabee Bros. He was married three times.
His first wife was Leona May Rutan ( ? - ? ), who separated from him in about 1920, and later divorced. During the separation, Earl was employed as a coal miner and boarded in the home of 23-year-old fellow miner Ora Curlin and his widowed, 43-year-old mother, Nevada Curlin. They are shown together in the federal census of Waynesburg of 1920.
Despite their 22-year difference in age, Earl ultimately married his landlord's mother, Nevada Turner "Vadie" (Black) Curlin (1877-1933), a native of Iowa, and the daughter of Lydia Black. Married once before, to William Curlin, Nevada brought at least six other adult children to the marriage, Margaret Curlin, Eva Curlin Wise, Lloyd Curlin, Alba Curlin, Ro Kelley and Ora Curlin. The wedding took place in about 1924.
One other son was part of this family, Stanley George Farabee.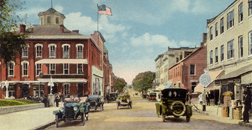 Waynesburg's High Street, looking wes
When the federal census was again taken, in 1930, Earl and Nevada made their home on Sugar Run Road in Waynesburg, with Earl laboring on local farms.
Sadly, Nevada died after nine years of marriage, on Dec. 18, 1933, at the age of 56. No newspaper obituary has been found as of yet.
Earl eventually married his step-daughter, Margaret (Curlin) Turner (1902-1987), after only a year or two as a widower. She had been married once before, to John Stewart, and brought a daughter to the marriage, Mary (Stewart) Donley.
They lived in the Waynesburg area for the rest of their lives, with Earl working as a self-employed general hauler. They were the parents of Leroy Farabee, Thomas Jackson "Jack" Farabee and Margaret Jane Farabee.
The family endured heartache when 18-year-old daughter Margaret succumbed from the effects of a stomach ulcer on Feb. 25, 1964.
Earl died on Feb. 6, 1971, at the age of 72. He was laid to rest in the Smith Cemetery.
Margaret outlived her husband by 16 years, residing in R.D. 6 Waynesburg. She attended the First Church of the Nazarene in Waynesburg. Toward the end of her life, she was admitted to the Greene County Memorial Hospital, where she died at the age of 84 on Jan. 9, 1987. She also was buried in Smith Cemetery.
Son Leroy "Bud" Farabee (1935-2010) was born on Oct. 2, 1935, in Waynesburg. He was married twice -- first to Doris Irene Rogers (Jan. 18, 1937-2012) on Aug. 18, 1960 in a ceremony performed by Rev. Edwin Winger in the Brethren Church in Oakland, MD. Doris was the daughter of David and Mary (Zimmerman) Rogers of Washington. She was said to have "loved Elvis, music, old cars, bingo, horseback riding and dancing." Later, after a divorce, he was wedded to Audrey Morris ( ? - ? ), daughter of Guy and Ruth E. (Strope) Morris. All told, Leroy had these known children -- Curtis Lee Farabee, Mona Lisa Farabee and Brenda Lee Farabee. Audrey also brought a son from a previous marriage, Ron Morris. He was a veteran of the U.S. Navy. Said the Washington (PA) Observer-Reporter, Leroy was a "diesel mechanic and truck driver. He had worked for several local companies, including Richmond, Suwak, Yellow and Sanitary Dairy... [He] loved to travel. he also enjoyed pitching horseshoes and watching NASCAR racing." Leroy died at the age of 74 on June 19, 2010, at Southmont of Presbyterian SeniorCare in nearby Washington, Washington County. Former wife Doris married again to Bill Ritter Sr. and made her home in Struthers, OH. She produced these additional children -- Billie Jo Ferguson, Sonia Ritter and Billy Ritter Jr., as well as adopting Bobbie Bressler. She died at her home at the age of 75 on New Year's Eve 2012, with an obituary printed in the Youngstown Vindicator.
Grandson Curtis Lee Farabee ( ? - ? ) was born in (?). On Oct. 2, 1983, he was joined in wedlock with Brenda Marie Scritchfield (1963-1984), daughter of James H. and Carolyn (Malone) Scritchfield of Waynesburg. They had two children -- Curtis Lee Farabee Jr. and Melissa Farabee. The Farabees resided in Jefferson Township, Greene County, and were members of the Jefferson Church of the Nazarene. Tragically, their 20-year-old Brenda and baby daughter Melissa died together on July 14, 1984, and were pronounced dead on arrival at Greene County Memorial Hospital.
Son Thomas Jackson "Jack" Farabee (1937-2006) was born in 1937. At the age of about 27, on Feb. 23, 1965, he was united in holy matrimony with Shirley Loraine Gump ( ? - ? ). Their children were Thomas Allen "Tom" Farabee and Bonnie Galloway. Jack "worked for Pat's Motors for several years and later at Barton Auto for many years before retiring," said the Washington (PA) Observer-Reporter. "He enjoyed hunting, fishing and spending time with his grandchildren." In later years, he resided in Jefferson, Greene County. He passed away at home at the age of 69 on Oct. 29, 2006, and was laid to rest in Smith Cemetery, Waynesburg, with Rev. Donald Wilson officiating at the funeral service. An obituary was published in the Observer-Reporter. Shirley outlived her spouse by a number of years and dwelled in Carmichaels, Greene County.
Grandson Thomas Allen "Tom" Farabee (1966-2018) was born on May 10, 1966 in Waynesburg. He spent his entire life in Waynesburg. At the age of 24, on Jan. 19, 1991, he was wedded to Joyce Taylor ( ? -living). They were the parents of Jaclyn Nicole Farabee and Thomas Gregory Farabee. In about 2001, Thomas founded Waynesburg Muffler and Brake and operated it for 17 years until his death. He loved to fish and hunt, compete in demolition derbies and restore his 1969 GTX automobile. Sadly, at the age of 51, Thomas passed away in Donnell House in Washington on April 2, 2018. An obituary appeared in the Washington Observer-Reporter.
Granddaughter Bonnie Farabee ( ? - ? ) was married to (?) Galloway. Their offspring were Roy David Galloway, David Galloway, Teresa Galloway and Lindsey Galloway. Her home in 2006 was in Greensboro, Greene County.
Step-daughter Mary Stewart married (?) Donley. They lived in Waynesburg circa 1987. She was deceased by 2006.
Daughter Margaret Jane Farabee (1945-1964) was born on March 12, 1945 in Franklin Township. She spent her life in the Morrisville section of Waynesburg and attended the Waynesburg Church of the Nazarene. As a teenager, she bore a son, Michael Larry Farabee.Tragically, at the age of 18, she contracted a stomach ulcer which led to peritonitis. She was admitted to Greene County Memorial Hospital, where she succumbed on Feb. 25, 1964. Her remains were placed into rest in Smith's Cemetery.An obituary was printed in the Waynesburg Republican.
Son Stanley George Farabee ( ? - ? )
~ Daughter Nancy Elizabeth "Betty" Farabee ~
Daughter Nancy Elizabeth "Betty" Farabee (1913-1968) was born in 1913 in Franklin Township.
She spent most of her live in the vicinity of Waynesburg and belonged to the Morrisville Methodist Church. She never married.
Said a Waynesburg newspaper, Betty was for "several years … associated with Donovan Waters in the operation of a general store, and for 37 years had been a partner with Waters in a dance band. She was a talented musician and had toured extensively throughout the United States, playing for various shows, radio stations and county fairs."
Her home in 1968 was at 358 South Morgan Street in Waynesburg.
Nancy suffered a massive heart attack and died at home at the age of 55 on Aug. 27, 1968. An obituary in the Waynesburg Republican noted that burial was in Smith Cemetery in Waynesburg.
~ Son Oliver C. Farabee ~
Son Oliver C. Farabee (1904?-1984?) is believed to have been born on Jan. 21, 1904.
He served as the executor of his late mother's estate circa 1932.
During World War II, living in Waynesburg, he was drafted into the U.S. Army. His name was published in a list of inductees in the Oct. 28, 1942 editions of the Pittsburgh Press and Pittsburgh Post-Gazette.
Oliver lived in Belmont and/or Bellaire, OH, circa 1968-1971.
Evidence suggests that Oliver passed away on March 18, 1984. More about him will be added when learned.
~ Step-Daughter Eva (Curlin) Wise ~
Stepdaughter Eva Curlin (1904?-1988?) was born on Sept. 11, 1904.
Eva married (?) Wise.
Circa 1971, they lived in Sycamore, Washington County, PA.
Eva is believed to have passed into eternity on June 11, 1988. Nothing further is known.
Copyright © 2001, 2003-2006, 2008, 2011, 2017-2018 Mark A. Miner