Bess (Fawcett) Shaffer Bruff
(1886-1964)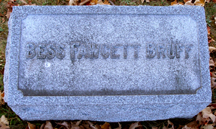 Maplewood Cemetery
Bess Margaret (Fawcett) Shaffer Bruff was born on Sept. 20, 1886 in Kingwood, Preston County, WV, the daughter of Charles Wesley and Margaret Elizabeth (Herndon) Fawcett.
In 1897, when Bess was age 13, her mother died, and her father then married a cousin, Julia Hanshaw. The 1900 census of Preston County shows Bess residing in the Kingwood household of her sister and brother in law, Luella and Patrick Grogan. Also in the High Street residence were her unmarried sister Mamie and married brother and sister in law J. William and Susan (Murdock) Fawcett. Living next door were cousins Marcellus H. and Lydia (Caldwell) Murdock and a few houses away was great-uncle John Smart Murdock.
Bess was married twice. Her first husband was Roy Oren Shaffer (April 30, 1878-1904), a native of St. George/Carmel, WV and the son of Lloyd C. and Laura (Roth) Shaffer. They tied the knot on Sept. 16, 1903.
Roy was a popular young man who belonged to the Preston lodge of the Masons. In early life he had joined the Lutheran Church and after migrating to Kingwood became a member of the Presbyterian Church. Prior to marriage, in July 1899, he was appointed deputy sheriff of Preston County, serving under L.C. Shaffer. He sold insurance circa 1901 as an agent for the Security Trust and Life Insurance Company of Philadelphia.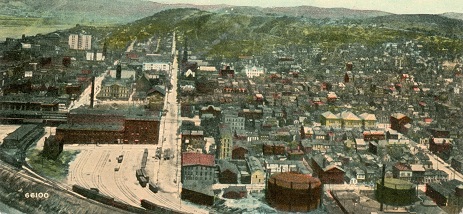 Railroad terminals in Wheeling, WV, early 1900s
West Virginia Argus
, 1904
Library of Congress
The couple immediately relocated to the bustling Ohio River town of Wheeling, Ohio County, WV. Roy obtained employment there as a dray clerk with the Wheeling and Lake Erie Railroad, with responsibility for managing deliveries of inbound and outbound carts or trucks bearing heavy loads. Their home address circa 1904 was 93 18th Street.
Tragically, Roy contracted endocarditis and pericarditis, an inflammation of the inner lining and walls of the heart. Dr. Frank L. Hupp was summoned to Roy's bedside, but it was too late. At the age of only 26, he succumbed to his illness at home on Dec. 18, 1904. His remains were shipped back to Kingwood for interment in the Fawcett-Crogan-Shaffer plot in the Maplewood Cemetery.
A lengthy obituary in the Kingwood newspaper, the West Virginia Argus, reported that his "death was caused by heart trouble and paralysis" and that the funeral "was largely attended."
There were a number of Masons from Terra Alta, Tunnelton and other places here to help pay a last tribute of respect to his memory, as Preston Lodge of this place had charge of the funeral. The pall-bearers were Earl Lantz, A.B. McCrum, Earl Martin, F.M. Murdock, J.W. Flynn and W.H. Murdock, all Masons. The services at the house were conducted by Rev. Howard, assisted by Rev. Ramsey and the ceremony at the grave by the Masonic Lodge. Among those from abroad who attended were Dr. Fink the physician who attended the deceased in Wheeling, Dr. Charles Fowler of Baltimore, D.C. Meyer of Aurora, Dr. B.F. Bone, Reese Cumming, Jos. Federer and Burtus Miller of Tunnelton, O.C. Crane, Ray Rodeheaver, Mrs. Porter and daughter Miss Addie, of Terra Alta and J.W. Shaffer, Ex-Sheriff L.C. Shaffer, wife and daughters Zella and Nellie and son Herbert, of Carmel.
In 1920, the widowed, 34-year-old Bess made her home with her married sister and brother in law, Ella and Patrick Crogan, in Kingwood, but had no occupation.
The United States Census of 1930 shows Bess and Mamie continuing to live with the Crogans on Kingwood's High Street.
Bess and Mamie relocated to Charleston, Kanawha County, WV by 1935. There, Bess earned a living as a clerk with a workmen's compensation office. When the federal census enumeration again was made in 1940, the two were sharing a home in Charleston with two lodgers, stenographers Katherine Gross and Mary Napier.
She was a longtime secretary. Said the Preston County Journal: "Mrs. Bruff was employed in Charleston by the Workmen's Compensation Commission for a number of years before returning to Kingwood to make her home with her brother-in-law and sister, the late Mr. and Mrs. P.J. Crogan."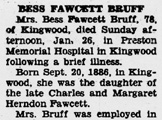 Maplewood Cemetery
Her second husband was Thomas E. Bruff ( ? -1964), a native of Baltimore. Prior to marriage, he had dwelled in Hamilton near Baltimore on Pilgrim Road. He earned a living as a shoe salesman for the Dalsheimer store located on Liberty Street. He retired in 1952 and moved to Kingwood, "returning to Baltimore occasionally to help with the shoe business during rush periods," said the Baltimore Evening Sun.
Circa 1959, Bess lived in Kingwood. As her health failed, and death neared, she made out her last will and testament on Jan. 21, 1964. She bequeathed her estate to her husband. Her signature on the document was shaky.
She passed away in Kingwood's Preston Memorial Hospital, on Jan. 26, 1964, at the age of 78. Following funeral services led by Rev. Dr. John Ward Brown, she was laid to eternal rest in Maplewood Cemetery in a row with her parents and siblings.
Now widowed, Thomas moved back to Baltimore the following month to make his home with his niece Ruth Miller, at 3042 Woodside Avenue. He only survived for a few months. Death cut him away on June 30, 1964 as a patient in Maryland General Hospital. Funeral services were held in Baltimore, with the remains returned to Kingwood for interment. His obituary was published in the Sun.
Copyright © 2007-2008, 2021 Mark A. Miner