Luella 'Ella' (Fawcett) Crogan
(1867-1946)
P.J. Crogan
Luella (Fawcett) Crogan was born in 1867 in Kingwood, Preston County, WV, the daughter of Charles Wesley and Margaret Elizabeth (Herndon) Fawcett.
Her husband, a prominent lawyer in Kingwood, has been called the "Dean of the West Virginia Bar" who had "one of the largest law libraries in the state." His portrait was our "Photo of the Month" in March 2009.
Ella married Patrick Joseph Crogan (1856-1949). Born in Newburg, Preston County, he was the son of immigrants James and Rose (Doyle) Crogan, who had settled in Mt. Savage, MD after leaving their native County Roscommon in Ireland. A legal publication once said that he was "a large athletic man and would be noticed in any crowd."
The Crogans resided in Kingwood at 111 High Street. Ella was a housewife, while Patrick was a longtime attorney-at-law in Kingwood. The couple did not reproduce.
Maplewood Cemetery, Kingwood, WV
When the federal census was taken in 1920, Patrick and Ella made their home in Kingwood. Living under their roof that year were Ella's 36-year-old unmarried sister Mamie Fawcett, 34-year-old widowed sister Bess Shaffer, boarder Harry Menear and servant Kate Baker.
An infant when his father died in 1858, Patrick grew up on a farm with his widowed mother, and "early learned self reliance and industry, and these qualities, plus a sound intelligence and good character, brought him to the real work of his profession at a comparatively early age," said a profile in the 1923 book, History of West Virginia, Old and New, authored by James Morton Callahan.
Early in his career, before becoming a lawyer, he taught in the Preston County schools for seven years, including the last two years as principal of the Newburg School. He then went to Roanoke, VA for private law tutoring and then returned to West Virginia where he clerked for attorney John W. Mason of Grafton, Taylor County, and opened his law office in Kingwood in 1881, when he was age 25.

Opening lines of Patrick's profile in the 1923 book, History of West Virginia, Old and New, by James Morton Callahan

Preston County Journal
"He practiced alone, and for many years his practice was of a general nature, said Callahan's History, "but in late years he has handled a great deal of work for corporations. Many times he has appeared in defense of men charged with crime." He was affiliated with local lawyer John Barton Payne, who later became head of the local chapter of the American Red Cross.
The History adds that "In addition to his law practice, [he] is president of the Bank of Kingwood. Unlike many lawyers, he has avoided politics as an incident of his profession, being satisfied to cast his vote intelligently. He first voted for General Hancock as a democratic presidential candidate, and is nominally democratic, though he did not agree with financial policies of Mr. Bryan when he was a candidate." He also was a member of the Kingwood Rotary Club, and served as president of the West Virginia Bar Association in 1896.
Luella was a lifelong member of the Kingwood Methodist Episcopal Church. Circa 1939, the Epworth League of the church "was very active" under Patrick's leadership, according to a 1950 booklet
In 1908, a complicated legal matter began with the death of distant kinsman Dr. Guy R. Hanshaw, the brother of Ella's cousin-stepmother Julia (Hanshaw) Fawcett. Ella's father and stepmother spent a good deal of time administering the complex estate, which included royalty payments from a series of oil producing real estate in West Virginia, paid out to 23 heirs.
After Julia's death in 1919, Ella began receiving a share of the windfall of all future cash payments from the Hanshaw estate. From 1920 to 1950, when the estate was finally closed, Ella had received a total of more than $470. As an apparent bystander in the legal proceedings, Patrick must have watched this with much interest.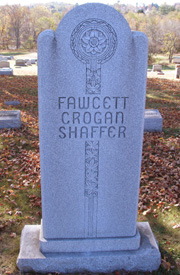 Maplewood Cemetery
In summarizing his career, the Preston County Journal once said:
In 1897 Mr. Crogan was named head of the West Virginia State Bar Association and was dean of the state bar many years prior to his death. During his legal career, he was identified with some of the most important court cases in the state. He represented a great number of large utilities. A strong Democrat, he had often been urged to run for Congress, Attorney General and the State Supreme Court, but always refused. He retired from active practice in 1944.
The Callahan History concludes its profile of Patrick by saying that his "attainments as a lawyers, one who has watched his course for a quarter of a century estimates him as one of the strong and able men of the Preston County bar, with a high reputation in the State and Federal courts, in which he has enjoyed and still enjoys an extensive practice." It goes on to say: "Undoubtedly he is one of the ablest lawyers of the state, and has made an enviable reputation both in the criminal and civil branches and by his ability as a corporation lawyer. He is a clear, cogent and convincing debater both orally and by written brief, and his sound and thorough knowledge of the law extends to practically all its branches."
Ella's uncle Daniel F. Fawcett, a Civil War veteran who was receiving a pension for his wartime disabilities, died in Pennsylvania in 1920. At that time, Ella signed an affidavit so that Daniel's widow would begin receiving the pension payments. The original signed document is on file today at the National Archives in Washington, DC.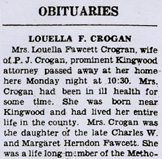 Obituary, 1946
Ella suffered from chronic myocarditis, and died from its effects at the age of 78 on Sept. 16, 1946. The Preston County Journal and Republican reported that she "had been in ill health for some time." Following a funeral at their home, led by Rev. Eskew and Rev. Curtis, she was buried at Maplewood Cemetery in Kingwood, in a row with her parents and siblings.
Patrick outlived her by three years. His mind started to fail, and after a bout with pneumonia, he died at the age of 92 on May 5, 1949. The funeral service was held in the family home, followed by burial beside his wife, with members of the Preston County Bar serving as pallbearers. An obituary was published in the annual Green Book of the West Virginia Bar Association.
His correspondence and legal papers, covering the years 1900-1930, are preserved today in the West Virginia and Regional History Collection at West Virginia University. Says the university website, "There is much material on cases tried by Crogan for banks, utilities, lumber, and coal companies," as well as the Baltimore and Ohio Railroad. The collection of papers measures three linear feet. (Call Number: A&M No. 201)
Copyright © 2007-2009, 2014, 2021 Mark A. Miner