Dr. Guy R.C.A. Hanshaw
(1838-1908)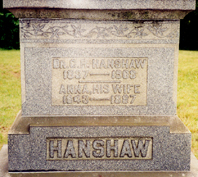 The Hanshaw grave, Ellenboro
Dr. Guy R.C.A. Hanshaw was born in 1838 in Preston County, WV, the son of Hiram B. and Catherine (Miner) Hanshaw.
He was the earliest known physician in our family, practicing for half a century in rural West Virginia, and as a young Army surgeon was wounded in the Civil War. Later, as a physician in rural West Virginia, he amassed substantial wealth, including oil and gas properties, but his failure to write a will led to years of litigation and is an object lesson in proper estate planning.
Guy as a young man stood 5 feet 7 inches tall, weighed 145 lbs and had a fair complexion.
On Aug. 21, 1863, at the age of 25, he married 15-year-old Anna R. Lough (or "Lowe") (1848-1887), the daughter of E.R. Lough of Randolph County, WV. Anna was was some 11 years younger than her husband. The marriage took place in Randolph County.
The Hanshaws did not reproduce.
Nothing is known about how Guy trained for his profession. According to a recent article in Family History Magazine, "The first [principal method of becoming a doctor] was to apprentice oneself to the local town doctor. The would-be doctor would read the medical textbooks of the local doctor, follow that doctor as he made house calls, and, if lucky, would be allowed to actually treat the patient."
In the fall of 1860, prior to the Civil War, 22-year-old Guy moved to Leadsville, Randolph County, WV. There, he lived at the home of Johnson W. Phares and boarded as a practicing physician. It probably was there that he met his future wife.
After the war broke out, fighting erupted in Randolph County. Guy signed a contract on Dec. 3, 1861 with Captain Cyrus Webb of Co. F of the 3rd West Virginia Infantry. In Guy's words, he agreed "to render service to the troops stationed at Leadsville." The contract lasted for a month and seven days, from from Dec. 3, 1861 to Jan. 10, 1862. As compensation, he received $35 a month.
Later, after Webb's troops left the area, Guy signed another contract with Lt. Wesley Chamberton of the 25th Ohio Infantry, to last another month, from Jan. 12, 1862 to March 12, 1862. After his contract expired, Guy continued to serve sick troops in the area and to draw federal pay, "waiting and expecting a renewal of the contract...."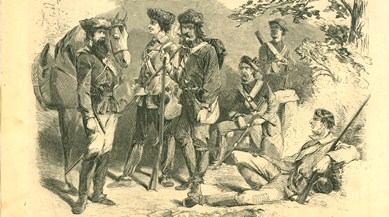 Confederate "mountaineers" of the type who likely shot Guy at New Interest, WV.
Harper's Weekly, July 20, 1861.
On June 14, 1862, Guy was wounded by a group of Confederate "bushwhackers" led by Confederate Captain William H. Harper, which attacked Union forces near New Interest, Randolph County. The enemy fired upon some wounded and injured soldiers Guy was treating, "killing one man," he wrote. An enemy minie ball struck Guy's right shoulder blade and lodged in his right breast.
A Harper's Weekly report about these types of secessionist bushwhackers, also known as "Virginia Mountaineers" and "Irregular Riflemen of the Alleghanies," stated:
The Blue Ridge at this time swarm with these men, acting as mounted rifles and sharp-shooters. They are all large, few being under six feet high, of powerful muscular build, and from a continuous, active life in the open air, are injured to all sorts of hardships. Their dress is both picturesque and comfortable, being composed of a mixture of homespun and deerskin, which, together with a coonskin cap, imparts a somewhat savage expression to their bronzed countenances.
Recalled Guy's landlord Phares, "I was thair and saw the shooting. I got to him in a few minutes after he was shot. By direction of Dr. George W. Yoakum [Yokum] I brought him home to my house at Leadsville where he was treated..." Yokum later testified that his patient "was expectorating arterial blood in considerable quantity ... and the breathing on that side was seriously interrupted."
Of his wound, Guy testified that:
After I received the wound, the Commander of the Confederate forces, knowing me before the war commenced, and also knowing the fact that I was contract surgeon to the Federal troops, came to me, and stated that the fact that I was such surgeon, was the reason I was shot. ... [My] injury was inflicted because the enemy lurking in that vicinity, as well as the friends of the government, well knew I was regarded as in the service of the government.... I continued to render service, after I was wounded, and such service was recognized by payment for the same, up to the close of 1863, or perhaps as late as in 1864.
The ball remained lodged in Guy's upper chest for more than a decade. In May 1874, he asked friend Dr. Isaac Scott of Parkersburg, Wood County, WV to remove the bullet. Scott later recalled the surgery, saying he:
...cut down and removed a large musket ball which I found lying between the 1st & 2nd ribs on right side about midway between shoulder & sternum. The point of the ball had passed through the ribs and was in contact with the lung. The way the ball was lying must have interfered with his breathing & did cause hemorrhage of his lungs.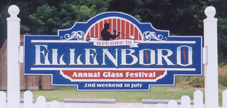 Town sign circa 2002
A year after the war ended, in 1866, Guy and Annie purchased a quarter-acre lot in the rural town of Ellenboro, Ritchie County, WV. It's not known why they chose this locale, other than she may have had relatives there by the name of "Lough" (her maiden name). The Baltimore & Ohio Railroad line ran through Ellenboro, leading to and from Clarksburg, Grafton and Rowlesburg, towns near where Guy's siblings lived.
After nearly a quarter-century of doctoring, Guy obtained a license to practice medicine in 1881. In about 1882, he filed an application with the federal government to receive pension benefits for his war wound. His claim was rejected on the grounds that he technically was not under contract at the time he was shot. He continued to press the case for many years.
Guy apparently joined the American Medical Association. In its records of deceased American physicians, the National Genealogical Society has an AMA index card providing a brief overview of his career.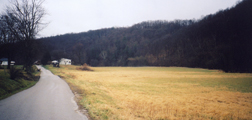 Bonds Creek Road, near Guy's old farm.
Wells still dot the landscape.
Guy purchased a 102-acre farm in 1883 from J.M. Stephenson, along the waters of Bonds Creek near Ellenboro. This farm would play a large role for him and his extended family, not only during his lifetime, but for another 68 years after his death.
Sadly, Anna passed away in 1887, presumably in Ellenboro, although a record of her death has not been found in the Ritchie County court records. Her remains were returned to Newburg, Preston County, for burial in the Newburg Cemetery.
Guy remained a widower for the remaining 21 years of his life. He apparently lived alone, and shopped for his clothes in Parkersburg, 31 miles west of his home. He enjoyed oysters and stogies, and made other small purchases almost daily at the Boehm & Strickler Store in Ellenboro. In the last year of his life, his credit account at the store totaled more than $317.
A newspaper once said that Guy was "quite prominent in business and took an active interest in politics." In about 1889, he began to develop his 102-acre farm for oil production. He granted five leases between 1889 and 1902. The first was to Coen & Millan in 1889, and 3 years later he granted a lease to E. Strong. He leased other tracts over the years to the South Penn Oil Co. (1896), Heinselman Bros. (1901) and J.G. Dawson (1902). Heinselman's lease was transferred to W.C. McBride of Washington, PA in 1906. Dawson's lease was transferred to H.S. Gibson of Wilkinsburg, PA sometime prior to 1908. Oil produced by the wells was stored and transported to buyers by the Eureka Pipe Line Company.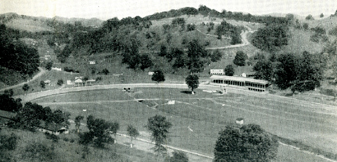 Guy almost certainly would have attended horse races at the Ritchie County Fair Grounds, held at nearby Pennsboro.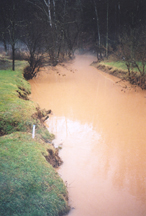 Muddy Bonds Creek, 2004
John Woodruff, who is writing a biography of one of Guy's grand-nieces, has researched the Hanshaw property. He has concluded that Guy's farm included the intersection of Wolfpen Run with Bonds Creek. More than 57 wells were in operation in that region, of which Guy owned some.
Guy retained a 1/16 share of the oilfield income for his own permanent use. This seemingly small number actually was sizeable, and formed the eventual inheritance by his heirs.
In 1907, suffering from the effects of age and poor health, Guy asked his married sister Julia Fawcett to visit and help him attend to personal and business affairs. An eyewitness said he "was hardly about to get around and required some one to care for him continually." They came in February 1907 and stayed for four days. They returned a month later and stayed for five more days. Guy was so delighted with their able help that he asked them to remain permanently, offering to pay for their meals, as well as $20 a week in wages. The Fawcetts agreed, closed their home in Kingwood and made the trip to Ellenboro with their belongings.
Guy did not have strong use of his limbs, and would stumble and fall easily. He also needed someone to make short daily business trips into Ellenboro and to the nearby county seat of Harrisville. As well, he was unable to deal with deadbeat tenants who dwelled on his farm. He asked Charles to supervise one tenant's' work efforts, including building a wire fence to keep cows contained, and eventually had Charles evict the particularly slow paying man.
Guy also told Julia that he wanted to be buried in Ellenboro, and that he desired that his late wife's remains be moved there from her Newburg grave. He sent Charles to Newburg to locate her burial site for that purpose. He often implored Julia to care for his own grave, and "by all means not to neglect it."
In July 1907, Charles traveled to the "Tyler county oil field...," for reasons unstated, but which could be inferred to mean other of Guy's investments. Later, Charles said that he was "general manager or overseer of all of [Guy's] business affairs and work."
Appreciative of the work being done for him, Guy told a friend that he "did not know what he would have done had it not been for the services rendered to him by his sister."
On March 10, 1908, Guy telephoned his attorney, Thomas J. Davis Sr., "asking me to go with him to Parkersburg that evening on the train as he wished to obtain my legal advice concerning some matters," Davis said.
Accordingly I left here that afternoon on the train and he boarded the accommodation for Parkersburg that evening at Ellenboro, accompanied by his sister Mrs. Julia M. Fawcett and en route to Parkersburg, during the balance of the journey, I sat with him and took supper with him at the Keever hotel in Parkersburg. Afterwards we went to his room and we talked on the matters about which he wished my advice employing me to look after the same.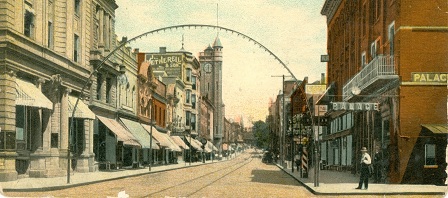 City of Parkersburg, seat of Wood County, WV
Parkersburg Dispatch News
During the discussion with his lawyer, Guy lamented "how few his relatives were before he obtained any oil income and that since a few had recognized him but a very few had taken much interest concerning his welfare but were possibly waiting until they could get hold of his estate and that he was arranging his business so that a very few would realize anything in the event he should pass away. He … arranged that I should prepare his will for him when I intended to come to Ellenboro the next time…"
Guy told attorney Davis that he intended to give Julia the greater part of his estate because she had been "caring so tenderly for him." He added that she "would lose nothing" because of her sacrifices, and that "he was going to pay her for her services what ever amount she desired and that he would make her safe in the event any settlement was not made any ways so soon, in his will."
As the two men talked, Julia came into the room. Guy began "teasing her, attempting to lead her to believe that he had a will prepared, jokingly remarking that all the heirs were trying to find the will, and then said Mrs. Fawcett had been looking for it but was unable to find it," Davis said. She "then left the room again and we resumed our conversation, when he stated that no will had ever been made by him and he thought it was the best to get his business in better shape if anything ever happened to him."
Tragedy struck a day or two later, while Guy was still in Parkersburg. At dinner with Julia during the evening of March 14, 1908, while eating a 'hearty beef supper' at a hotel in Parkersburg, Guy began choking. Before doctors could arrive, he was dead. Julia told reporters that he had often suffered from mini strokes and choking spells. The Parkersburg Dispatch-News also observed that:
A singular thing in connection with the death of Dr. Henshaw [sic] is that many of his family and near relatives have met violent deaths. His father was killed on the railroad as were also a couple of brothers.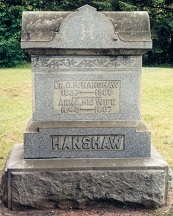 Ellenboro, WV
Guy's body was embalmed and returned home by train for burial. He was laid to rest in a small cemetery in Ellenboro. In July of that year, Anna's remains were relocated to the plot. Today, the Hanshaw grave marker is one of the largest memorials in the cemetery.
At Guy's death, he owned substantial financial and real estate assets. These included four acres in Ellenboro assessed at $92; a quarter-acre lot valued at $69; and two lots on which he resided in a "mansion house" valued at $1,093. The oil leases alone were worth a small fortune.
Unfortunately, despite his best intentions, Guy left no will. In the view of the Ritchie County Chancery Court, this meant all of his legal descendants were entitled to a share of the estate, including the income from the oilfields. Since Guy had no children, this meant that his two living sisters (Julia Fawcett and Ruhama Menefee), and 21 nieces and nephews thus became the legal heirs.
James "Stack" Hoge of St. Clairsville, OH; Percy "Raymond" Hoge of Wheeling, WV; Kate (Hanshaw) Robinson of Detroit; James 'Edgar' Hanshaw of Columbus, OH; Jean (Hanshaw) Patterson of Burton, WV; Percy "Roy" Hanshaw of Wheeling; Helen (Purinton) Liady of New York City; Jessie (Purinton) Van Zandt of Newburg; Kate (Purinton) Haller of New York City; Martha (Purinton) Wyandt of Bryan, OH; William Overfield of Reedsville, WV; George L. Overfield of Montana; John Overfield of Morgantown, WV; Lottie (Overfield) Born of Reedsville, WV; Lillian (Overfield) Patton of Morgantown; Marion (Overfield) Menear of Morgantown; Frank Hanshaw of White Plains, NY; Harry Hanshaw of Mt. Kisco, NY; Nettie (Hanshaw) Wright of New York City; Frank Huggins of Clarksburg, WV; and Pauline (Huggins) Brown of Baltimore, MD.
The matter was tied up in legal disputes and wrangling for decades in the Chancery Court, until the case was officially closed in 1950. Julia served as the executrix, assisted by Guy's attorney. She was in this role for two years, until her death in 1910. Her widower Charles understandably did not want the task himself, and successfully petitioned the court to have Davis named as "Special Receiver," to pay taxes, receive oilwell income and pay each of the heirs their respective share. For more details on how the estate was administered, read Julia's biography on this website.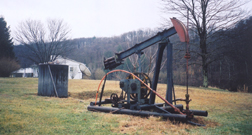 Pumping equipment along Bonds Creek Road
Over the years, from 1908 to 1950, the amount paid to all the heirs, in total, was more than $8,500. This means the oil and gas lessors collectively generated 15 times that amount, or $127,500.
By 1916, special receiver Davis gave permission to W.C. McBride of St. Louis, and John Norris of Pike, WV, to build a gasoline manufacturing plant on the farm. Their plan was to extract natural gas from the eight wells on the farm, "together with four such wells on the T.E. Dye farm and three wells on the [John] Norris & McBride farm, and market and sell such gasoline…" Davis also leased the "merchantable timber" to Norris in 1919.
In 1922, the West Virginia Pipe Line Company took over some of the wells. Other wells were operated by the South Penn Oil Co. (starting 1923) and the Brundred Oil Corp. (1928).South Penn was the dominant producer over the years, until 1950, when it produced only about 31 barrels, according to court documents.
One of Guy's grand-nephews hired a lawyer in 1947 to investigate the arrangement. However, he was told that "it was a rather hopeless situation due to the political set up involved" with the lawyer handling the estate, "and also the fact that the heirs have increased and difficult to locate," according to one 1959 letter. Letters between heirs were "voluminous," seeking to leverage as much value as possible from the wells. Eventually, the tract was sold for back taxes after the last of many surveys was made in 1970.
Ellenboro today has slightly more than 450 residents. It reached fame in 1999 when the New York Times profiled the town for its efforts to teach students Appalachian dialect in addition to traditional English.
Copyright © 2000-2004, 2008, 2012 Mark A. Miner