Harry M. Hanshaw
(1866-1944)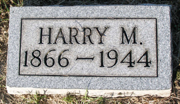 Harry M. Hanshaw was born in 1866 in Grafton, Taylor County, WV, the son of Charles F.W. and Martha Jane (McClusky) Hanshaw.
As a boy growing up in Grafton, with a father who ran a prominent local mercantile business and was active in politics, Harry was involved with many community activities. In 1876, to celebrate the nation's centennial, Harry and his cousin James "Edgar" Hanshaw marched in a parade in Grafton among "100 young lads dressed in costumes made up of red caps, white blouses and blue pants and were led by their captain, David Lilly," said The History of Taylor County by Charles Brinkman. "These lads portrayed young America, and proudly stepped to the martial music of Marion Barker's band from Webster in the line of march."
Harry married Marion A. "Bertie" Rogers (1876-1930), in about 1894. She was 10 years younger than he. They had one son, Lansdale "Dale" Hanshaw.
Like his brother Frank, Harry was an entrepreneur, and in the mid-1890s was in a partnership with Charles V. Gough "in the business of Restaurant and Confectionary and Baking." He also was a member of the Grafton Benevolent and Protective Order of Elks (BPOE) in Grafton.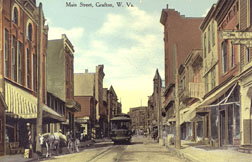 Seen here is a rare old postcard view of Main Street in Grafton. Note the trolley car and tracks in the center of the street.
In 1895, the Hanshaw & Gough partnership sued the Fairmont & Grafton Gas Co. in a dispute over what likely was the pioneering installation of natural gas infrastructure in the town and for their place of business. In the complaint, they said that at great expense, they had made "all necessary arrangements ... to conduct the said gas into their place of business" from the town's piping system, starting in November 1894. However, in a dispute over payment, the company threatened to shut off their supply of gas.
Hanshaw & Gough's complaint said they used the gas "in manufacturing candies and other confectionaries and in baking bread as well as to heat their place of business and living apartments." The outcome of the case is not known, but apparently the business shut down shortly afterward.
Son Lansdale was born in or around Grafton in 1896.
According to research by biographer John Woodruff, the Hanshaws moved to Pittsburgh in about 1897, and then to New York City in about 1900, both times to join his brother Frank. The brothers were close and lived in the same residences in Pittsburgh and Manhattan.
In 1908, at the death of his uncle Dr. Guy Hanshaw, Harry was named as an heir, and was entitled to a 1/24 share of the estate, which included lucrative oil and gas wells. He received an immediate payout from the estate of $77.08 in 1909. At intervals over the years, he received royalty payments from the wells. The high point was in 1918, when he received $32.72. Collectively over the years, Harry received about $350 in inheritance.
The federal census of 1910 lists Harry, Marion and Lansdale making their home on Amsterdam Avenue in Manhattan, NY. Harry's work that year was as a traveling salesman for a grocery company, and Marion's as a sales lady in a suit company. Perhaps not coincidentally, two of Harry's first cousins also lived on Amsterdam Avenue in New York in the early 1900s -- sisters Helen (Purinton) Menear Liady White and Kathryn (Purinton) Haller Tower, also having migrated from West Virginia.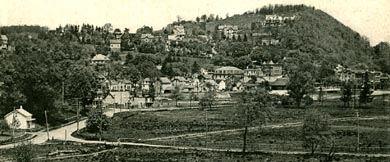 Picturesque Mt. Kisco, New York, early 1900s
Research of the New York City Directory of 1915 shows that Harry ran a billiards parlor.
When the federal census was taken in 1920, Harry, Marion and Lansdale were enumerated in their residence on East Main Street Mt. Kisco, Westchester County. Harry was listed as unemployed, but 25-year-old Lansdale was marked as "Director" of "Motion Pictures." Residing next door was Harry's brother Frank W. Hanshaw Sr., age 45, listed as a "keeper" of a "boarding house."
By 1927, Harry was working as a salesman.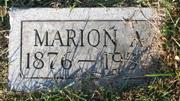 Bertie died in 1930, of causes unknown. She was buried at Bluemont Cemetery in Grafton. Her grave marker, as photographed in 2008, is seen at left.

Harry outlived her by 14 years, and passed away at age 75 on May 20, 1944. His remains were returned from New York to Grafton, where the funeral was held in the Bartlett Funeral Home, conducted by Elks Club members. His obituary, seen here, appeared in the Grafton Sentinel.
When the final payout was made from the Guy Hanshaw estate in 1946, two years after Harry's death, it was paid to Harry's sister, Nettie Shutt. The amount was $13.33.
Harry and Bertie are buried in the Hanshaw lot, near his father and sister Nettie, at the beautiful Bluemont Cemetery in the heights above Grafton.
According to biographer Woodruff, son Dale "became an assistant director on at least 3 silent films - Flower of Faith and Spell of the Yukon, both filmed in 1916, possible in Fort Lee, NJ, and The Grain of Dust, filmed in 1918, possibly in Ogden, UT.
Copyright © 2002-2004, 2008 Mark A. Miner