Home

Charles F.W. Hanshaw
(1841-1888)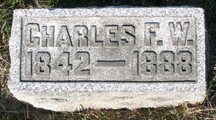 Charles Francis Wayne Hanshaw was born on June 3, 1841 (or 1842) in Preston County, WV, the son of Hiram B. and Catherine (Miner) Hanshaw. He grew up in a hotel-keeping family, and with his brother Robert were the owners of the prominent "Hanshaw & Bro." general store in Grafton, WV, and served as an elected town councilman.
On Dec. 21, 1865, in neighboring Philippi, Barbour County, WV, 24-year-old Charles married 21-year-old Martha "Mattie" Jane McClaskey (1842-1926), who was a Philippi native, and the daughter of William and Catharine McClaskey. Charles King officiated. On their marriage license, he listed his parents as "Hiram B. & Catharine."
At the time of marriage, Charles was living then in Wheeling, Ohio County, WV, employed as an "express agent."
They had three children -- Harry M. Hanshaw, Katherine Annette "Nettie" Wright Shutt and Frank Wayne Hanshaw Sr.
Mattie is known to have graduated from the Morgantown Female Collegiate Institute in the Class of 1865 -- which makes her the earliest college-educated cousin (or spouse) in our family. The Institute was an outgrowth of the all-boy Monongalia Academy, founded in 1814. The Academy in turn opened the all-girl Institute in 1839, "which later was merged with the Woodburn Female Seminary," write William T. Doherty Jr. and Festus P. Summers in their landmark 1981 book, West Virginia University: Symbol of Unity in a Sectionalized State. The Institute's building later hosted the first classes of newly formed West Virginia University in 1867.
Thus in 1865, Mattie received her A.B. degree from the Institute and was one of just six women in her graduating class, the others being Ruth A. Dorsey, Leoline R. Bowmon, Margaretta Lee Cook, Mary A. Griffith and Annie L. Anderson. Her course of study included a rigorous program of English analysis, arithmetic, physiology, philosophy, history, penmanship, algebra, astronomy, Latin and French, among others. A copy of the Institute's 1866 catalogue is available for viewing on this website.
By the early 1870s, Charles and Mattie resided in Grafton, Taylor County, WV, where their son Frank was born that year. Grafton, a hilly town bisected by the Tygart River. It was a key stop on the Baltimore & Ohio Railroad, and as the railroad's fortunes went, so did the town's.
Bird's eye view of Grafton in the early 1900s
The B&O lines, built in West Virginia from Harper's Ferry to Wheeling in 1853, with a branch from Grafton to Parkersburg completed in 1857, were a great source of business. Writes Stan Cohen in his 1976 book, The Civil War in West Virginia, "The route traveled some of the most remote and rugged terrain in the east and at the time was an engineering marvel... It was the only through line from Washington to Cincinnati to St. Louis."
According to Charles Brinkman's History of Taylor County, Charles and brother Robert formed Hanshaw & Bro. when they "purchased the stock of D.A. Litzinger and took over the business room in the old Augustus Pollock building at the southwest corner of Elizabeth and St. John streets. This new firm catered to the best trade in Grafton and carried all that was superior in textiles and other lines handled by this firm." The store carried dry goods, hardware, notions, groceries and clothing, and was well known as a landmark in town.
Brinkman's History says that on one occasion, "An unbreakable glass lamp chimney was demonstrated at the store of Hanshaw and Brother by a salesman who drove nails with this new chimney to the amazement of the onlookers." In 1884, when presidential candidate James G. Blaine came to town, "he asked that he might be permitted to speak from a position on the opposite side of Main street. Willing hands soon placed empty dry goods cases in front of the Hanshaw store and a committee escorted the distinguished guest to the hastily prepared speaker's stand..."
In his role as an entrepreneur and business owner, Charles became prominent in the town's affairs, providing him with a high level of important visibility. In the early 1870s, he was named to the board of directors of the Workingman's Building and Loan Association, "the first institution of the kind in the town, whose object was the encouraging of the erection of homes among the people of the town," said the History. On March 18, 1877, he was elected as a town councilman, and served as clerk.
Brother Robert likewise sought visibility and influence for their enterprise. He was a stockholder of the Taylor County Agricultural and Mechanical Society, along with 25 other prominent businessmen, and was once elected to the Society's board of directors. In 1878, he and others signed a petition asking that the county seat be relocated from Pruntytown to Grafton," and it was so done.
In 1876, the family took part when the town fathers organized a large parade to celebrate the nation's centennial. Charles' son Harry, and Robert's son Edgar, among "100 young lads ... proudly stepped to the martial music of Marion Barker's band from Webster in the line of march ... dressed in costumes made up of red caps, white blouses and blue pants..."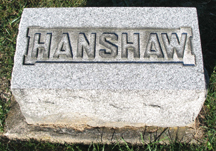 One of the store's major customers was their mother, for goods used in the family hotel. At her death in 1879, she owed the store $95 for debts accrued from 1876 onward. On credit, she had purchased such foodstuffs as sugar, ham, flour , coffee, syrup, beans, rice, apples, corn, salt, baking powder, peaches, pepper and bread, as well as such household items as shoes, calico, soap, slippery elm, buttons, gingham, slippers and cashmere.
Unfortunately, the nation's widespread economic depression of 1873, which greatly impacted the railroad industry, must have had a devastating effect on the Hanshaws' business and the town of Grafton generally. The depression reduced consumer spending, leaving enterprises such as the Hanshaws' with high inventory and debts. As well, companies such as the B&O Railroad cut wages repeatedly, leading to bloody riots in cities such as Pittsburgh and Baltimore, and damaging smaller towns such as Grafton.
Adding to the brothers' troubles was a tangled web of their real estate deals. Taylor County Court records show that the brothers, either individually or as a business, owned at least eight properties in Grafton and elsewhere. They also owned lots in Webster, Taylor County (purchased in 1877 from Mattie's kinsman William McClasky) and in Independence, Preston County. One tract on Main Street, called the "Sims Property," was owned primarily by the Hanshaws' brother George, with Charles only having a 1/4 share.
As a direct result of their ownership or sale of these tracts, the Hanshaws sued or were sued at least six times between 1872 and 1881, all involving unpaid loans. At separate times, the brothers filed claims against John A. Linn, William Morris, William Simms and Thomas E. Kidwell, and in turn were sued by Maxwell & Isham and by Fetterman/Laughlin.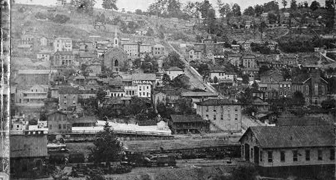 Grafton in 1876 -- from the collection of Roy Boliger, today part of the Library of Congress American Memory Project
Judging from court papers, it was common practice at that time to buy or sell property, with a minimum of cash needed as a down payment. As debts came due, and if payments were unable to be made, creditors often asked the courts to sell the debtor's home and property and use the proceeds to pay off the debt. From the evidence, it seems the practice pitted many of the town's leading merchants against each other in contentious, complicated webs of interconnected dealings.
A December 18, 1879 article about Grafton in the Wheeling Register newspaper provides some insights into the opportunities and challenges the Hanshaws faced in running their enterprise: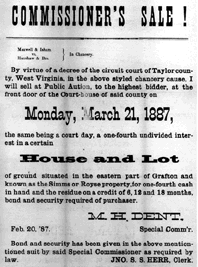 Taylor County, WV notice
Business among our merchants has, perhaps, never been better than during the past fall. Mr. Charley Hanshaw, of the firm of Hanshaw & Bro., informed us recently that his receipts for this fall have been over $800 greater than ever before. Thomas Davis, of West Grafton, says the same thing in reference to his business. And these are corroborated by most of the remaining merchants. But few buildings have gone up in Grafton during the past year, perhaps owing to the fact that the building of wooden buildings have been prohibited on Main street. Those that have gone up, however, are of excellent character.
When the federal census of 1880 was taken, Charles and Mattie and their three children were enumerated in Grafton, with Charles' occupation listed as "dry goods merchant." Living under their roof that year was Mattie's 27-year-old sister in law, Rebecca C. McClaskey, a music teacher. Servant Mary M. Conner also lived in their home to perform house work.
In early 1882, with eight properties in their portfolio, but under a crushing load of debt of more than $10,800 owed to 69 creditors, the brothers' fate was sealed. In a case brought by Maxwell & Isham, the court ruled against the Hanshaws, and appointed special commissioner Markaduke H. Dent to sell all the family assets. Unfortunately, Dent only raised $2,905 in proceeds from his sales. In one transaction, Robert's wife Marion purchased back some $1,105 worth of goods of the store, again using a line of credit.
A search of the Grafton Eagle of 1884, the earliest newspaper currently available to researchers, shows that Hanshaw & Bro. did not place any advertisements, which otherwise would have been a crucial element of the firm's operations.
By March 1887, needing to raise further funds, Dent was forced to sell the Hanshaws' house, and the sale poster, seen here, was posted at the front door of the courthouse, advertising that a "House and Lot" would be sold at public auction. It's believed that Charles' wife Mattie bought back their house and lot in South Grafton, in her name only, so that the property would be protected and out of the brothers' names.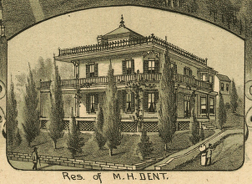 Home of
Markaduke H. Dent
(Note -- Dent's own prominent home is seen here as sketched in a bird's eye drawing of Grafton in 1898 by A.E. Downs.)
Adding to their woes that summer, according to Brinkman's History, on July 5, 1887, "all the buildings in the business district, bounded by Brinkman alley, Latrobe, Main and Burns alley, were levelled by the devouring flames" of a disastrous fire. Whether the Hanshaw interests were impacted is not known.
One can only imagine the emotional and psychological toll that the never-ending disputes had on Charles, Robert and their wives and children.
The following year, heartache rocked the family when Charles, having suffered from pneumonia for a week, died in Grafton at the age of 47, on Sept. 6, 1888, attended by Dr. A.S. Warder. No news obituary is known, as newspapers of Grafton that year have not been preserved.
Charles was laid to rest in what would become the Hanshaw family plot in the spectacular Bluemont Cemetery in the heights of Grafton. The plot was purchased by son Harry, and is bordered by the internal roadways of Kennedy, Morgan, Kunst and Brown Avenues. Their graves are about 100 feet away from the final resting place of Anna Jarvis, who founded Mother's Day in 1908.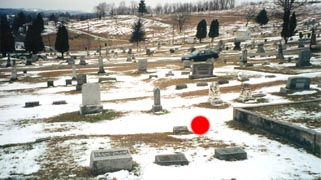 Charles' grave in the Hanshaw plot at Bluemont Cemetery, marked with a red dot. His brother Robert is buried behind the photographer, to the right, across Brown Avenue.
Mattie outlived her husband by nearly four decades. Later in life, she moved to New York to be with her adult children.
The census of 1910 marks Mattie as making her home with son Frank on 47th Street in Brooklyn, Kings County, NY. Frank, age 37, was a salesman of "sign wood." A few years later, she moved with them to a new home in the tony Westchester County, NY.
She is thought to have died around 1928, and is buried in Mt. Calvary Cemetery in White Plains.
Copyright © 2000-2005, 2008-2009, 2012, 2017 Mark A. Miner