Ruhama (Hanshaw) Menefee
(1833-1912)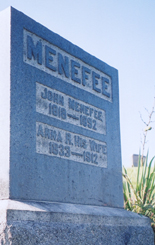 Anna "Ruhama" (Hanshaw) Menefee was born in 1832 in Preston County, WV, the daughter of Hiram B. and Catherine (Miner) Hanshaw. She went by the colloquial nickname "Ruhamy," but her grave marker is inscribed "Anna R."
On June 20, 1855, Ruhama married widower John "Uncle Tom" Menefee (1818-1892), the son of Benjamin K. and Emily Menefee who were residents of Evansville, Preston County. He was born near Culpeper, Culpeper County, VA, and had been married twice before – to Sarah Evans -- the mother of his children -- and to Eunice "Nicy" Bell. At the time of the third marriage, John was age 38, and Ruhama was 26.
John brought six children to the marriage, all from his first wife Sarah – Louisa Schaffer, Anna Amy Jeffreys, Delia Ellen Knotts, William Benton Menefee, Cordelia "Della" Frazier and Sarah E. Gibson.
The Menefees are thought to have had at least eight children of their own – George W. Menefee, Charles Edward Menefee, Isabella Jane "Belle" Menefee, Guy H.B. Menefee, Robert "Franklin" Menefee, Mary Catherine "Molly" Rush and Arlene Grace Stuck. Sadly, two of their sons died young -- Charles at age four in 1867, and Guy died at age one in 1876. They are buried side by side at the United Methodist Church cemetery in Evansville, Preston County, with their marker standing tall and legible today.
The Menefees lived along Yorks Run near the town of Newburg in the Reno District of Preston County. It's thought that John was a surveyor for the Baltimore & Ohio Railroad, and that he also served as road surveyor of Preston County Precinct #3 in 1870 and 1871.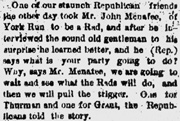 John's political views made news in the West Virginia Argus in June 1880. In an article entitled "Howesville Notes," he was quoted about the Radicals, a hardline offshoot of the Republican party during the Reconstruction era after the Civil War, to which President Ulysses S. Grant sided on policy:
One of our staunch Republican friends the other day took Mr. John Menafee, of York Run, to be a Rad, and after he interviewed the sound old gentleman to his surprise he learned better, and he (Rep.) says what is your party going to do? Why, says Mr. Menafee, we are going to wait and see what the Rads will do, and then we will pull the trigger. One for Thurman and one for Grant, the Republicans told the story.
In 1881 John testified in a lawsuit about the medical care given to his mother in law during her final illness, and the amount of the physician's bill:
… I seen [Dr. Wm. M. Dent] several times myself and I supposed from what I saw that he was one of the attending physicians during her said sickness with Dr.'s Thayer & Kennedy & others. I saw him there .. some dozen times I suppose but I don't know how many more times he might have been there…. I have heard of no particular dissatisfaction on the part of the heirs … as to its amount. When the bill … was presented, all the said heirs were present and then would have made objections if they wanted to do so…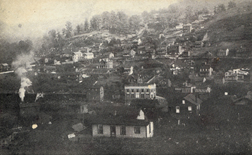 A rare old photograph postcard of hilly Newburg is seen here. Click to study a larger version of the image.
Ruhama and John are mentioned in a lengthy profile of son in law Frank Stuck in The History of West Virginia, Old and New, published in 1923 by the American Historical Society, Inc. (vol. II. page 500). The entry states that John "spent his life as a West Virginia farmer on York's Run near Newburg and died in the village of Newburg in January, 1891."
John died on Jan. 8, 1891 (or 1892, as is marked on his gravestone). He was buried at the Methodist Church cemetery in Evansville.
Ruhama was still living in 1908, at the time of death of her brother, Dr. Guy Hanshaw, who had no children. He left behind an estate including lucrative oil and gas wells, and by law Ruhama was entitled to a 1/8 interest. At that time, she had declined mentally, and her sister Julia, acting as executrix of the estate, asked the Ritchie County Chancery Court to appoint a special guardian to protect her interests. The "Committee of Ruhama Menefee" was formed and led by son in law J. Frank Stuck, appointed to receive the funds for her benefit. B.F. McGinnis was named as her guardian ad litem (a Latin term meaning the guardianship would only apply for this particular legal case.) She received an immediate payout from the estate of $242.50 in 1909.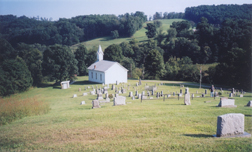 Ruhama passed away in 1912, and was laid to rest beside her husband. Seen here is the quaint, quiet church and cemetery, photographed during a visit in August 2004.
A search of old Preston County newspapers on microfilm, in the West Virginia Collection of West Virginia University, failed to locate an obituary.
Her "committee" existed at least until 1942, receiving annual royalty payments from the wells, distributed among her heirs. The high point was in 1918, when the annual payment was $98.16. In total, her share of inheritance was $1,059.95.
In about 1942, son Frank died, and his widow began receiving payments, as did Ruhama's unmarried daughter, "Belle Menefee."
Tragedy struck in 1891 when son George, a railroader working in Nebraska, was killed in a railroad accident. His widow at some point was a teacher at Potomac College.
Stepson Melcher Jeffreys is thought to have served in the Civil War, and lost an arm.
Step-grandson Arthur Evans Menefee is said to have married Elizabeth Reed, a juvenile court judge and a Democratic National Committeewoman.
Step-grandson Horace S. Gibson is said to have died in an Army camp on Oct. 13, 1918, while training to go overseas in World War I.
Copyright © 2000, 2004, 2006, 2008 Mark A. Miner