Ruhama (Hanshaw) Menefee
(1833-1912)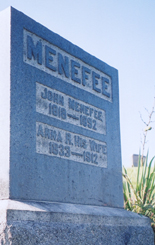 Evansville, WV
Anna "Ruhama" (Hanshaw) Menefee was born in 1832 in Preston County, WV, the daughter of Hiram B. and Catherine (Miner) Hanshaw. She went by the colloquial nickname "Ruhamy," but her grave marker is inscribed "Anna R."
On June 20, 1855, when she was 26 years of age, Ruhama married 38-year-old widower John "Uncle Tom" Menefee (1818-1892), the son of Benjamin K. and Emily Menefee of Evansville, Preston County.
John was a native of Culpeper, Culpeper County, VA, and had been married twice before – to Sarah Evans -- the mother of his children -- and to Eunice "Nicy" Bell.
John brought six children to the marriage, all from his first wife Sarah – Louisa Schaffer, Anna Amy Jeffreys, William Benton Menefee, Sarah E. Gibson, Cordelia "Della" Frazier and Delia Ellen Knotts.
The Menefees went on to produce at least eight children of their own – George W. Menefee, Isabella Jane "Belle" Menefee, Charles Edward Menefee, Guy H.B. Menefee, Robert "Franklin" Menefee, Mary Catherine "Molly" Rush and Arlene Grace Stuck.
Sadly, two of their sons died young -- Charles at age four in 1867 and Guy died at age one in 1876. They are buried side by side at the United Methodist Church cemetery in Evansville, Preston County, with their marker standing tall and legible today.
The Menefees lived along Yorks Run near the town of Newburg in the Reno District of Preston County. When the federal census enumeration was made in 1860, the family dwelled in District #7 of Preston County, with John laboring as a farmer. The census of 1870 lists them in the Reno District, again earning a living as farmers.
It's thought that John also was a surveyor for the Baltimore & Ohio Railroad and served as road surveyor of Preston County Precinct #3 in 1870 and 1871.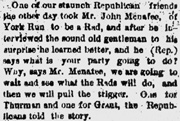 West Virginia Argus, 1880
John's political views made news in the West Virginia Argus in June 1880. In an article entitled "Howesville Notes," he was quoted about the Radicals, a hardline offshoot of the Republican party during the Reconstruction era after the Civil War, to which President Ulysses S. Grant sided on policy:
One of our staunch Republican friends the other day took Mr. John Menafee, of York Run, to be a Rad, and after he interviewed the sound old gentleman to his surprise he learned better, and he (Rep.) says what is your party going to do? Why, says Mr. Menafee, we are going to wait and see what the Rads will do, and then we will pull the trigger. One for Thurman and one for Grant, the Republicans told the story.
In 1881 John testified in a lawsuit about the medical care given to his mother in law during her final illness, and the amount of the physician's bill:
… I seen [Dr. Wm. M. Dent] several times myself and I supposed from what I saw that he was one of the attending physicians during her said sickness with Dr.'s Thayer & Kennedy & others. I saw him there .. some dozen times I suppose but I don't know how many more times he might have been there…. I have heard of no particular dissatisfaction on the part of the heirs … as to its amount. When the bill … was presented, all the said heirs were present and then would have made objections if they wanted to do so…
Ruhama and John are mentioned in a lengthy profile of their son-in-law Frank Stuck in The History of West Virginia, Old and New, published in 1923 by the American Historical Society, Inc. (vol. II. page 500). The entry states that John "spent his life as a West Virginia farmer on York's Run near Newburg and died in the village of Newburg in January, 1891."
John passed into eternity on Jan. 8, 1891 (or 1892, as is marked on his gravestone). He was buried at the Methodist Church cemetery in Evansville.
Ruhama was still living in 1908, at the time of death of her brother, Dr. Guy Hanshaw, who had no children. He left behind an estate including lucrative oil and gas wells, and by law Ruhama was entitled to a 1/8 interest. At that time, she had declined mentally, and her sister Julia, acting as executrix of the estate, asked the Ritchie County Chancery Court to appoint a special guardian to protect her interests. The "Committee of Ruhama Menefee" was formed and led by son in law J. Frank Stuck, appointed to receive the funds for her benefit. B.F. McGinnis was named as her guardian ad litem (a Latin term meaning the guardianship would only apply for this particular legal case.) She received an immediate payout from the estate of $242.50 in 1909.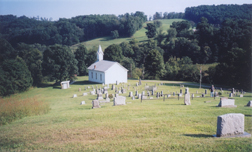 Methodist cemetery, Evansville, WV
Ruhama succumbed to death in 1912, and was laid to rest beside her husband. The quaint, quiet church and cemetery seen here was photographed during a visit in August 2004.
A search of old Preston County newspapers on microfilm, in the West Virginia Collection of West Virginia University, failed to locate an obituary.
Her "committee" existed at least until 1942, receiving annual royalty payments from the wells, distributed among her heirs. The high point was in 1918, when the annual payment was $98.16. In total, her share of inheritance was $1,059.95.
In about 1942, son Frank died, and his widow began receiving payments, as did Ruhama's unmarried daughter, "Belle Menefee."
~ Stepdaughter Louisa (Menefee) Schaffer ~
Stepdaughter Louisa Menefee (1846- ? ) was born in about 1846 in what was then Virginia.
She wedded (?) Schaffer ( ? - ? ).
~ Stepdaughter Anna Amy (Menefee) Jeffreys ~
Stepdaughter Anna Amy Menefee (1848- ? ) was born in about 1848 in what was then Virginia.
In 1870, at the age of 22, she was unmarried and lived at home with her parents.
She was united in wedlock with Melcher Jeffreys ( ? - ? ).
Melcher is thought to have served in the Civil War and to have lost an arm in battle. However, no evidence has been found to support this.
~ Stepdaughter Delia Ellen (Menefee) Knotts ~
Stepdaughter Delia Ellen Menefee (1851- ? ) was born in about 1851 in what was then Virginia.
She was joined in matrimony with (?) Knotts ( ? - ? ).
~ Stepson William Benton Menefee ~
Stepson William Benton Menefee (1852-1936) was born in about 1852.
He entered into the bonds of marriage with Harriet Virginia Stone (1849-1928), daughter of Francis M. and Margaret Anna (Wolfe) Stone.
The couple bore at least one son together, Arthur Evans Menefee.
The Menefees dwelled in Cumberland, Allegany County, MD. For many years, William was employed in Cumberland by the Baltimore and Ohio Railroad. He eventually retired from the company.
Sadly, Harriet died in 1928.
William outlived her by eight years and resided at 712 Maryland Avenue. He passed away at the age of 86 on Oct. 17, 1936. The funeral was held at the Centre Street Methodist Episcopal Church, led by Rev. Dr. Vernon N. Ridgeley. Burial of the remains was in Rose Hill Cemetery in Cumberland.
An obituary in the Cumberland Sunday Times said that the pallbearers were Hice R. Laughlin, John J. Carney, Wheeler W. Davis, George F. Weitman, Charles E. Plummer, Hugh Gattens, George W. Light and John Sisk. Among those traveling to attend the funeral were half-sisters Belle Menefee of Tunnelton, WV and Arlene Grace Stuck of Newburg, WV; Mr. and Mrs. Truman Frazier of Clarksburg, WV; Mrs. William Bodine and Mrs. Hamilton Wilhelm of Hedgesville, WV; Mr. and Mrs. Lewis Wilhelm of Martinsburg, WV; Mrs. H.T. Carter of Trenton, NJ; Mrs. Frank Kline of Washington, DC; and Mrs. John M. Niland of Grafton, WV.
Son Arthur Evans Menefee ( ? - ? ) was born in (?). Circa 1904, he was united in wedlock Elizabeth (Drenner) Reed ( ? -1944), daughter of Henry and Louise (Collier) Drenner of Berkeley County, WV. They moved to Cumberland, MD at the time of marriage and dwelled at 712 Maryland Avenue. The Menefees were the parents of three daughters -- Capt. Frances Menefee, Mrs. Frank Kline and Mrs. Col. Henry P. Carter. Active politically, Elizabeth was a trailblazing jurist and at one time served as a juvenile court judge in Allegany County, MD. She also served for a dozen years as a Democratic National Committeewoman from Maryland. She is known to have attended the Democratic National Convention in Houstin in 1928 when Alfred E. Smith was nominated for the presidency. Again in 1932 she traveled to Chicago for the convention at which Franklin Delano Roosevelt was nominated for the first of his four presidential elections. In 1936, she was among the delegates to the convention held in Philadelphia, at which Roosevelt was nominated again, and in 1940 was back in Chicago for his third nomination. Reported the Cumberland News, "In the course of her political career, Mrs. Menefee attended a number of receptions at the White House during the Roosevelt administration."
Mrs. Menefee was a pioneer in women's democratic activities and was a candiate for the house of delegates from Allegany county at the first election in which women of the state were accorded the right to vote. She served for a number of years as chairman of the United Democratic Women's Clubs of Maryland. Gov. Herbert R. O'Conor appointed Mrs. Menefee as judge of the juvenile court in 1938.... While judge of juvenile court, Mrs. Menefee showed great interest in problems of juvenile delinquency and contributing causes and projected this interest into participating in the work of the Allegany County Co-ordinating Council of Social Agencies. Mrs. Menefee was president of the Travelers' Aid Society here for a number of years and was a member of the United Daughters of the Confederacy. She also was a member of the Cumberland Civic Club, Centre Street Methodist church and the Baltimore and Ohio Veterans Associatin auxiliary.
The family belonged to the Centre Street Methodist Church. Elizabeth died in Memorial Hospital in Cumberland at the age of 65 on Nov. 8, 1944. Her photograph portrait and a lengthy obituary were printed in the News. The funeral was officiated by Rev. Dr. Walter M. Michael of the family church. Pallbearers were Harold E. Naughton, John J. McMullen, Somerville Nicholson, Paul F. Fletcher, David M. Steele and Noel Speir Cook. Honorary pallbearers were Maryland Attorney General William C. Walsh, former Chief Judge D. Lindley Sloan, Associate Judge William A. Huster, Magistrate Oliver H. Bruce Jr., Robert E. King, attorney Morgan C. Harris, Edward J. Ryan, Daniel F. McMullen, Chief Judge Walter C. Clapper, Clerk of Court Robert Jackson, Magistrate Frank A. Perdew and Dr. J. Kile Cowherd.
Daughter Capt. Frances Drenner Menefee was educated at the Sacred Heart School of Nursing and served with the U.S. Army Nurse Corps. She enlisted in 1940 and trained at Indiantown Gap, PA. She then underwent maneuvers at Fort Bragg, C. During World War II, she was deployed to North Africa, Sicily, Italy, Southern France and Germany. At the close of the war, she returned to Cumberland and was employed as a private duty nurse at Sacred Heart.
Daughter (?) Menefee wedded Frank H. Kline Jr. Their home in 1944 was in Bowie, MD. Two children born to this union were Frank Kline and Elizabeth Kline.
Daughter (?) Menefee married Col. Henry P. Carter. They resided at Fort Leavenworth, KS in 1944.
Copyright © 2000, 2004, 2006, 2008, 2021 Mark A. Miner