Home

Arlina Grace (Menefee) Stuck
(1871-1942)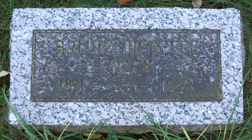 Arlene's darkened grave marker
Arlina Grace "Arlene"(Menefee) Stuck was born on Jan. 3, 1871 near Newburg in the Reno District of Preston County, WV, the daughter of John and Ruhama (Hanshaw) Menefee.
She and her husband were prominent hotel keepers in Newburg, a trait shared in a number of branches of the Hanshaw cousins.
In 1903, when she would have been 32 years of age, 31-year-old Arlene married William Franklin "Frank" Stuck (Sept. 21, 1871-1960), the son of John Euring and Clarissa Adaline (White) Stuck. Their nuptials were held in Preston County.
The couple bore one daughter together, Mildred Virginia Phillips.
The Stucks were considered "early settlers" of Newburg. According to the 1979 book, Preston County West Virginia History, published by the Preston County Historical Society, they "owned and operated an 18-room hotel in the house now owned by Mildred Phillips, their daughter." Continued the History:
In 1908, William Frank Stuck bought the Glendale Hotel in Newburg. He and his wife ran the hotel for several years and in 1914, he built a hardware story which he ran until December, 1957. Mr. and Mrs. Stuck were both active members of the Methodist Episcopal Church in Newburg.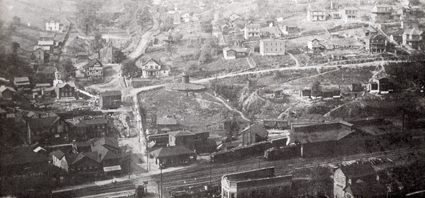 Bird's-eye view of Newburg, early 1900s
In 1908, Arlene's wealthy physician-uncle, Dr. Guy R. Hanshaw, passed away, leaving no children. Arlene's elderly mother was entitled to a share of the estate, which was comprised of extensive oil and gas holdings in West Virginia. To protect the mother's interests, the Ritchie County Chancery Court appointed the "Committee of Ruhama Menefee" to be led by Arlene's husband Frank. The committee received an immediate payout from the estate of $242.50 in 1909. After Arlene's aged mother died in 1912, Arlene and her siblings began receiving the money directly through the special committee. The committee existed about until Arlene's death, receiving annual royalty payments from the wells. Arlene herself began receiving payments in 1942, the same year she died. Also receiving a share of this payment in 1942 was "Belle Menefee," whose precise identity is unknown, but is presumed to be Arlene's sister, Isabelle Jane Menefee.

Frank's profile, History of West Virginia, Old and New
Frank was featured in a lengthy profile in The History of West Virginia, Old and New, published in 1923 by the American Historical Society, Inc. (vol. II. page 500). The profile described him as:
... a resident of Preston County throughout the half century of his life, [and] is a well known merchant at Newburg, and while his career has been chiefly concerned with civilian grouping of affairs, he has some of the sturdy traits and courageous spirit that has marked his ancestors.... [He] was born at Newburg, September 21, 1871, and as a boy he acquired a public school education. From 2886 to 1893 he clerked in a store, then entered business for himself as a general merchant, sold out in 1898, and, going to the Pacific Coast, was for five years a traveling salesman with headquarters at Seattle, representing Winship Brothers, wholesale grocers. Returning home in 1903, Mr. Stuck for a brief time resumed his work as a clerk at Newburg, and then again went on the road as a salesman, a vocation he followed until 1915. Since that year he has been building up and extending a prosperous business as a hardware and builders' supplies dealer. He is one of the original stockholders of the First National Bank of Newburg, is a stockholder in the Winchester Repeating Arms Company, and was an original stockholder and is vice president of the West Virginia Drilling and Development Company, which has done considerable development work in the oil and gas territory. Mr. Stuck served one term as president of the Board of Education of Lyon District, and during that time several new schoolhouses were erected. He has put forth his efforts constantly for general improvement, is a staunch republican in politics, casting his first vote for Benjamin Harrison for president, and has been a member of a number of conventions, including the first convention at Wheeling, when the noted Charles Swisher figured as a candidate. In more recent years politics has been an after consideration with Mr. Stuck, though he has never failed to vote and according to his party faith... While not a member, he believes in the good work of churches and gives them his financial support.
Arlene passed away on April 29, 1942. She was age 71. The cause of her death is not known, and her West Virginia certificate of death has not yet been located.
Frank outlived his wife by 18 years. Burdened with hardening of the arteries, he suffered a heart attack and died at the age of 88 on Valentine's Day 1960. He was laid to rest beside his wife in the old Stuck plot at the Damon Cemetery in Newburg.
~ Daughter Mildred Virginia (Stuck) Phillips ~
Daughter Mildred Stuck) Phillips (1905- ? ) was born on Feb. 12, 1905 in Newburg, Preston County.
In 1921, she was joined in the bonds of wedlock with Charles William Phillips (July 10, 1903-1956), the son of Harry Walter and Olive Alice (Sheets) Phillips of Independence, Preston County.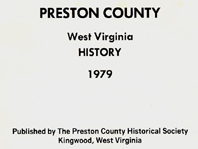 Book picturing the Phillipses
The pair produced a family of seven children – Mary Margaret Keeney, William Clare Phillips, James Lyle Phillips, John Howard Phillips, Clarissa Adaline McGinnis, Kathryn Ann Harriman and Sandra Charline Bolyard.
The family dwelled for years in Newburg, Preston County.
Charles was employed by the Baltimore & Ohio Railroad from 1918 to 1956 as a trackman, fireman and engineer.
Mildred and Charles are profiled and pictured in the 1979 Preston County history book. They were members of the Newburg United Methodist Church, and from 1964 to 1967 served as housemother of the Burlington Children's Home, which was affiliated with the church. She also was a founding member of the Newburg chapter of the Order of Eastern Star.
Three of the Phillips' sons -- William, James and John -- "pursued railroad careers," said the Preston County history. "William was employed by the Pennsylvania Railroad, Maryland Division and James and John were both employed by the Baltimore and Ohio Railroad, Cumberland Division."
On the fateful afternoon of Oct. 27, 1956, the 53-year-old Charles was critically injured in the chest from an automobile accident on Route 92. He was rushed to Grafton City Hospital, where he died only an hour and 20 minutes later. His remains were lowered into eternal sleep in Damon Cemetery in Newburg.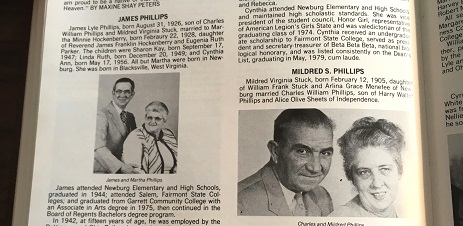 Phillips biographies in the Preston County history
Mildred survived her husband by many years. In 1977, she moved from Newburg to Kingwood. She succumbed to the angel of death in 1991.
Daughter Mary "Margaret" Phillips (1923- ? ) was born on March 19, 1923. As a young woman, she attended the Morgantown Business College. She married Robert Allen Keeney Sr. ( ? - ? ). The couple's offspring were Kathryn Jane Keeney, Barbara Ann Keeney and Robert Allen Keeney Jr.
Granddaughter

Kathryn Jane Keeney
Granddaughter Barbara Ann Keeney
Grandson Robert Allen Keeney Jr
Son William "Clare" Phillips Sr. (1924-1974) was born on Oct. 25, 1924. He wedded Pauline Romane Laudermilch ( ? - ? ). Two children were born to this union -- William Clare Phillips II and Darla Ann Phillips. Clare was employed by the Pennsylvania Railroad, Maryland Division. Sadly, he died on July 17, 1974.
Grandson

William Clare Phillips II
Granddaughter Darla Ann Phillips
Son James Lyle Phillips (1926-1996) was born on Aug. 31, 1926 in Newburg, Preston County. He attended Salem College and Fairmont State College and in 1975 received an associate of arts degree from Garrett Community College. He was joined in marriage with Martha Minnie Hockenberry (Feb. 22, 1928- ? ), daughter of Rev. James Franklin and Eugenia Ruth (Parker) Hockenberry of Blacksville, WV. Together, they produced three daughters -- Sharon Kay Phillips, Linda Ruth Phillips and Cynthia Ann Phillips. The Phillipses are pictured and profiled in the Preston County history. Hired at the age of 15, he initially worked for the Baltimore and Ohio Railroad's Cumberland Division as a telegraph operator. He then joined the Pennsylvania Railroad as a fireman in its Maryland Division, and in 1943 went back to the B&O. He was a fireman, telegrapher and freight agent until promoted to dispatcher on the Cumberland Division on a route from Grafton to Harpers Ferry. He held memberships in the Order of Railroad Telegraphers, American Train Dispatchers, Morse Telegraph Club of America, Transportation Communication Workers of America and Brothrehood of Railway-Airline Clerks. In addition to his rail career, said the history:
He served as County Executive Committeeman, 1960-1964; member Preston County Court, 1964-1968; secretary of the Court, 1965,1966, 1967; June, 1972, was elected Town Councilman of Municipality of Newburg; has been a lifetime member of the Newburg United Methodist Church; served as lay speaker, lay pastor, 1964-1968; served churches on Newburg Circuit comprising Howesville, Birds Creek, Shay's Chapel, Independence, Bethel, York's Run, and was ordained a deacon by the West Virginia Conference, June, 1967. He has served as president and secretary of Newburg Rotary Club; president of Newburg High School Alumni; 1964-1971; served as counselor-teacher to the Methodist youth camps of the Lower Cheat River Larger Parish; 1971-1978, a counselor-teacher and assistant director of Aldergate Youth Camp, Cranesville, West Virginia.
James died at the age of 69 on Feb. 15, 1996. Burial of the remains was in Damon Cemetery. Martha's fate is not yet known.
Granddaughter

Sharon Kay Phillips

(1947- ? ) was born on Sept. 17, 1947 in Newburg. She was an alumna of Morgantown Business College. Sharon married Brent Bonfili ( ? - ? ). Their one known daughter was Andrea Dawn Bonfili. Circa 1979, Sharon was employed as a secretary in the law office of Haden and Heiskell.
Granddaughter Linda Ruth Phillips

(1949- ? ) was born on Dec. 20, 1949 in Newburg. She received a Benedum Scholarship which allowed her to study at Fairmont State College. She went on to work as Deputy Circuit Clerk in the Preston County courthouse. She wedded T. Thomas Harned ( ? - ? ). The couple bore two children -- Vinton Harned and Rebecca Harned.
Granddaughter Cynthia Ann Phillips

(1956- ? ) was born on May 17, 1956 in Newburg. She was a 1979 graduate of Fairmont State College,

cum laude

, where she was president of the national biology honorary sorority Beta Beta Beta.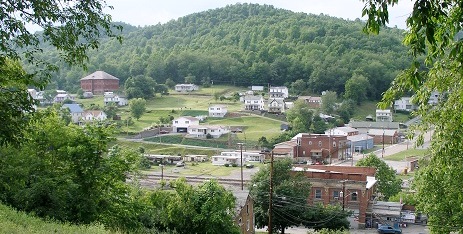 Bird's-eye view of Newburg in 2006
Son John Howard Phillips (1927-1997) was born on Nov. 21, 1927 in Newburg, Preston County. He was united in matrimony with Lois Margaret Sanders ( ? - ? ). The pair bore four sons -- John Allen Phillips, James Michael Phillips, David Lynn Phillips and Richard Paul Phillips. John was employed by the Baltimore and Ohio Railroad, Cumberland Division. John passed away in Hillsborough County, FL at the age of 69 on Feb. 26, 1997. His remains were brought north to rest in Shays Chapel Cemetery.
Grandson

John Allen Phillips
Grandson James Michael Phillips
Grandson David Lynn Phillips
Grandson Richard Paul Phillips
Daughter Clarissa "Adaline" Phillips (1932-2014) was born on June 19, 1932. In young womanhood she attended Morgantown Business College. She was united in matrimony with Jack Duane McGinnis (July 21, 1928-1996). Their brood of four sons were William Duane McGinnis, Joseph Lynn McGinnis, Thomas Carlyle McGinnis and Charles Timothy McGinnis. Over the years, in addition to raising her offspring, she earned a living by working at worked for Silcott Store in Newburg, Ross Conley in Kingwood (later the A&P Store) and Penmarva Grocery in Kingwood. She also was a sales woman for Stanley Home Products. In her free time, she belonged to the Newburg Methodist Church, Newburg Alumni, Kingwood Senior Center, Order of Eastern Star (for six decades, serving three times as matron) and Grafton Quilting Guild in Grafton. She also was a den mother for the Cub Scouts and especially liked to bowl, listen to gospel music and square dance. Jack was a veteran of the U.S. Army during the Korean War. At the age of 68, Jack passed away on Oct. 10, 1996. Adaline outlived her husband by a number of years. She died as a resident of Rosewood Nursing Home at the age of 82 on Sept. 6, 2014. Pastor Terry Wilt and Rev. Mark McGinnis presided at the funeral service. They sleep eternally in Damon Cemetery in Newburg.
Grandson

William Duane McGinnis

(1952-2018) was born on Sept. 30, 1952 in Morgantown, Monongalia County, WV. He was twice-wed. His first wife was Beverly Y. ( ? - ? ). They bore three children -- Shawn McGinnis, Rebekah Everson and Stephanie Lane. William served in the U.S. Air Force and retired with the rank of tech sergeant. His work also led him to Kansas as a reserve police officer and West Virginia at the Pruntytown and Mt. Hope correctional facilities. He also was employed in prisons at Dooley, Lee State and Calhoun State in Georgia. The family's home in Georgia was in Leary, Calhoun County. In his spare time, he belonged to the Providence Church of Albany and the Knights Templar. After a divorce, William married again to Shirley ( ? - ? ). Sadly, William died at the age of 66 on Nov. 5, 2018. His remains were laid to honored rest in Andersonville National Cemetery. Pastor Josh Copron preached the funeral service.
Grandson Joseph Lynn McGinnis

was joined in matrimony with Paula. Their home in 2018 was in Kingwood, Preston County.
Grandson Thomas Carlyle McGinnis

was united in wedlock with Sheila. They moved over the state line to Bentleyville, Washington County, PA.
Grandson Charles "Timothy" McGinnis

wedded Linda. They have dwelled in Fairmont, Marion County, WV.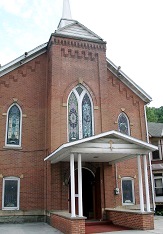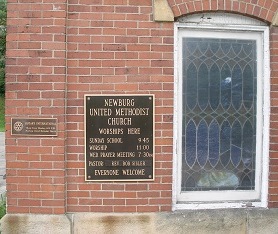 Newburg United Methodist Church
Daughter Kathryn Ann Phillips (1938- ? ) was born on July 24, 1938. She attended Fairmont Business College. She married Thomas Lynn Harriman ( ? - ? ). Two children of this marriage were Thomas Scott Harriman and Tina Marie Harriman.
Grandson

Thomas Scott Harriman
Granddaughter Tina Marie Harriman
Daughter Sandra Charline Phillips (1945- ? ) ws born on Aug. 9, 1945. She was joined in the bonds of matrimony with Robert Harvey Bolyard ( ? - ? ). The couple were the parents of Robert Michael Bolyard, Brian Leroy Bolyard and Melissa Joelle Bolyard.
Grandson

Robert Michael Bolyard
Grandson Brian Leroy Bolyard
Grandson Melissa Joelle Bolyard
Copyright © 2000, 2004, 2006, 2008, 2010, 2021 Mark A. Miner
Phillips pagess courtesy of the Preston County West Virginia History, Preston County Historical Society (1979). Thanks to the Menefee Family Association for sharing their information.