Sarah (Menefee) Gibson
(1854-1926)
Sarah (Menefee) Gibson was born in January 1854 in Newburg, Preston County, WV, the daughter of John and Sarah (Evans) Menefee.
When Sarah was just an infant, her mother died, and the following year, in 1855, her father married Ruhama Hanshaw. Thus, for all intents and purposes, Ruhama became Sarah's mother figure and apparently raised her.
On Aug. 17, 1882, when Sarah was age 18, she married 18-year-old John Levi Gibson (1855-1907), the son of James and Rebecca Gibson of Tunnelton, Preston County. The ceremony was held at the home of Mr. Shaffer, by the hand of G.W. Parriott.
They produced a family of seven children, only four of whom lived to adulthood -- Homer Scott Gibson, John Russell Gibson, Horace Gibson and Agnes Gertrude Pratt.
Barbour County records show that two of their children died of the croup within a day of each other -- George E. Gibson, age four years, three months, on Nov. 6, 1896; and Anna R. Gibson, age six, on Nov. 7, 1896.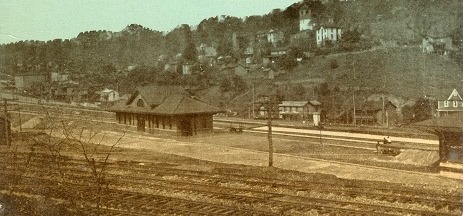 Bird's eye view of Tunnelton, circa 1915
John "was a prominent citizen of Tunnelton who had much to do with the shaping of the affairs of that city," said the Preston County Journal. Sarah herself "was well known [locally] where she had spent most of her active life and was highly esteemed by everybody."
When William H. Menear, husband of Sarah's step-cousin Helen (Purinton) Menear tragically died of lead poisoning at the age of 23 in September 1889, Sarah and Charles, and her sister Della and husband Charles Frazier, traveled from Tunnelton to attend the funeral, and were mentioned in a related story in the Journal.
Preston County Journal, 1907
In the fall of 1906, as he approached his 52nd birthday, John "contracted a severe case of typhoid fever and later he developed a severe case of pneumonia," said the Journal. He died on Jan. 29, 1907. Said the Journal, "The funeral was held in the Tunnelton M.E. church Tuesday by his pastor and the interment was made in the cemetery at the camp ground."
Sarah outlived her husband for another 19 years. She supported herself with her own income. When the federal census of 1910 was taken, she headed a household including her three youngest children ranging in age from 12 to 21. By 1920, all of her sons had moved out of the home. The census of 1920 shows Sarah and Alice living under one roof on Gibson Street in Tunnelton.
She eventually moved to Terra Alta, Preston County, where she lived the remainder of her years.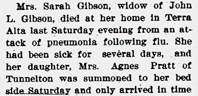 Preston County Journal, 1926
On March 13, 1926, at the age of 72, Sarah passed away "from an attack of pneumonia following flu," said the Journal. "She had been sick for several days, and her daughter, Mrs. Agnes Pratt of Tunnelton was summoned to her bed side Saturday and only arrived in time to see her mother alive." In a separate article, the Journal said that Sarah's remains were "brought to her old home at Tunnelton and buried beside her husband on March 16th. The Rev. M.L. Gamble preached the funeral in the Baptist church here and interment was made at the Campground cemetery by funeral director Bert Hartman."
The Journal noted that Sarah's niece Mrs. Howard Shaffer of Morgantown attended the funeral, and stayed in nearby Kingwood as the guest of Mr. and Mrs. F.T. Shaffer.
Son John R. Gibson of Terra Alta was the informant for Sarah's death certificate.
~ Son Homer Scott Gibson ~
Son Homer Scott Gibson (1884-1952) was born in March 13, 1885.
As an adult, he resided in Fairmont, Marion County, WV, working as a mechanic.
On Feb. 5, 1906, when he was age 22 and she 24, Homer married Etta Florence Herndon (Aug. 9, 1884-1942), a native of Tunnelton, Preston County and the daughter of Solomon P. and Charlotte "Lottie" (Erwin) Herndon.
Their brood of offspring were William M. Gibson, Helen Virginia Windsor, Eugene H. Gibson, Esther L. Gibson, George Bernard Gibson and Willard Vance Gibson.
The Gibsons' residence was on Hopewell Road in Fairmont.
Sadly, burdened with a heart valve lesion, at the age of 57, Etta Florence passed away in Fairmont on May 8, 1942.
Homer lived as a widower for another decade. Suffering from hardening of the arteries, and heat exhaustion, Homer died on June 28, 1952, at the age of 68.
They rest in eternal sleep together in Meadowdale Cemetery near Fairmont.
Son William M. Gibson ( ? - ? )

Daughter Helen Virginia Gibson (1909-1976) was born on Feb. 9, 1909 in Fairmont, Marion County, WV. In 1947, she wedded Edwin Warfield Burriss (Jan. 31, 1905-1944) -- also allegedly known as Albert Edward Burriss -- and a son of Thomas Henry and Mary Agnes (Gray) Burriss. Their four daughters were Barbara A. McClain, Mary "Linda" Nickoles, Roberta Rubino and Cindy Schillfarth. The Grim Reaper of Death snatched Edwin away at the age of 39 on May 12, 1944. The cause of his untimely death is not yet known. The remains were lowered into eternal repose in Mount Carmel Patuxent Cemetery in Brookeville, Montgomery County, MD. Later, Helen married Robert Windsor ( ? - ? ). The Windors lived in Front Royal, VA in the 1970s. Helen died in Front Royal on April 12, 1976. Funeral services were held in Irvington, with burial in Clarksville, MD in the St. Louis Catholic Cemetery. An obituary was printed in the Baltimore Sun.
Granddaughter

Barbara A. McClain
Granddaughter Mary "Linda" Burriss (1942-2005) was born in 1942 in Cooksville. She was only two years of age when her father died, and she was raised in Clarksville, MD. Linda began working at the age of 12 in a dime store. She dreamed of owning her own restaurant. Linda was twice married. Her first husband was David Johnson ( ? - ? ). They bore two known children, Stephen G. Johnson and Sharon A. Leonard. The couple divorced. During the 1960s an d'70s, she gained restaurant experience working as a waitress for a Holiday Inn near Woodlawn, MD. In time, she wedded a second time to Ed Nickoles ( ? - ? )

. Linda and Ed acquired the Woodbibe Inn, a popular spot along the Patspsco River known for a variety of Baltimore fried hard crabs, crab fluff and crab calls. Her hours there were every day of the week for 12 to 14 hours a day. The second marriage also ended in divorce. Reported the

Baltimore Sun

, Linda "sold the restaurant in 1986 and embarked on another career in 1990 as a travel agent for Charles Center Travel in Baltimore. In 1997, she purchased Venture Travel in Columbia, and three years later changed it to its present name, St. Judes Travel. But she longed for the Woodbine Inn and repurchased it in 2002." She contracted cancer of the lungs and spent her final time in Froyt Royal, Warren County, VA. She died in Front Royal at the age of 63 on Oct. 8, 2005. Her body was transported back to Poplar Springs, MD for burial in St. Michael's Catholic Church Cemetery.
Granddaughter Roberta Rubino
Granddaughter Cindy Schillfarth
Son Eugene H. Gibson (1910-1988) was born three days before Christmas 1910 in Fairmont, Marion County, WV. He wedded Mary Margaret Cordray (April 27, 1914-2009), daughter of George and Lena B. (Reel) Cordray. The couple's three children were Robert Gibson, Donald Gibson and Sandra Griffin. They made a home in Fairmont, with Mary Margaret earning a living through her employment with the Workingman Store at the Middletown Mall and in Fairmont itself. She belonged to the Baptist Temple and belonged to the American Baptist Women, Shafer Circle, the Temple choir and a local sewing club. Eugene passed away at the age of 77 on Aug. 5, 1988. Mary Margaret survived for another two-plus decades and remained in Fairmont. As a resident of the Pierpont Center, she entered the realm of eternity at age 95 on Aug. 25, 2009. Rev. Dr. Holley Faulkner presided at the funeral service, with burial following in Grandview Memorial Gardens. An obituary was pbulished in the Fairmont Times West Virginian.
Grandson

Robert Gibson married Rosemary and lived in Martinsburg, Berkeley County, WV.
Grandson Donald Gibson was united in wedlock with Jean. They relocated to Fort Worth, TX.
Granddaughter Sandra Gibson was joined in marriage with James Griffin

. Their home has been in Griffin, TX.

Daughter Esther L. Gibson

Son George Bernard Gibson

Son Willard Vance Gibson (1920-1940) was born on Sept. 7, 1920 in Fairmont, Marion County, WV. Single at the age of 19, he worked in a Fairmont motor garage as a mechanic's helper. Tragedy struck around the time of his 20th birthday, when he suffered from peritonitis and heart failure from an unknown cause. He was admitted t Fairmont General Hospital and died on Sept. 9, 1940. The body was laid to rest in Meadowvale Cemetery. The examining physician wrote "no accident - no injury."
~ Son John Russell Gibson ~
Son John Russell Gibson (1888-1936) was born on May 17, 1888 in Tunnelton, Preston County.
On June 10, 1910, at the age of 22, he married 20-year-old Plaza Mabel "Plezzie" Michael (1891-1968) of Terra Alta, the daughter of Philip M. and Lovila (Hartman) Michael..
The couple established their residence in Terra Alta. The three children produced by this marriage were John Arthur Gibson, Opal Brown, Mary Gibson, Ruby E. Chaney, Edwina G. Wentz, Betty Shaffer and Robert Gibson.
John earned income there as a fireman with the Baltimore and Ohio Railroad. His work with the B&O ended in November 1928, although he lived for another eight years.
When John was age 47, he began to suffer cellulitis of the face and neck. When his heart failed two weeks later, he was rushed to Monongalia County Hospital in Morgantown, where he died an hour after arrival on March 2, 1936. Interment was in Terra Alta Cemetery.
Plaza lived as a widow for another three-plus decades. She succumbed to death in 1968.
Son John Arthur Gibson (1914-1963) was born on Sept. 19, 1914/1915 in Terra Alta. He married Willard L. Bucklew (Dec. 6, 1914-2004), daughter of Herbert W. and Hattie E. (Freeland) Bucklew. They were the parents of a daughter, Carol J. Welch. In the early 1960s, he was employed at Terra Alta Limestone Company and Garbert Construction Company. Sadly, he died unexpectedly at home at the age of 47 on July 31, 1963. Funeral services were held in the Terra Alta Methodist Church. His obituary was printed in the Piedmont (WV) Herald. As a widow, Willard survived for more than four decades. She belonged to Terra Alta Wesleyan Church and supported herself by working at Hopemont State Hospital. The was swept away by the angel of death at the age of 89 on Nov. 10, 2004. The pair sleep side by side for all time in Terra Alta Cemetery.
Daughter Opal Gibson married (?) Brown was in Glenolden, Delaware County, PA in the early 1960s.
Daughter Mary Gibson was unmarried in 1963 and dwelled in Glenolden, Delaware County, PA.
Daughter Ruby E. Gibson (1914-1993) was born in 1914. She wedded Charles D. Chaney (Jan. 28, 1910-1973). He served in the U.S. Army during World War II. Charles died on May 20, 1973, at the age of 63, with his remains lowered into the soil of Terra Alta Cemetery. Ruby kept going for two more decades. She succumbed to death in 1993.
Daughter Edwina Gibson (1923-1995) was born in 1923. She entered the bonds of marriage with Herbert C. Wentz (Feb. 22, 1913-1987). Herbert was a World War II veteran of the U.S. Army Air Corps. In 1963, the Wentzes made their home in Cumberland, Allegany County, MD. Sadly, Herbert passed away on May 13, 1987. His remains are at rest in Hutson Cemetery in Rawlings, Allegany County, MD.
Daughter Betty Gibson was united in matrimony with (?) Shaffer. She was in Glen Burnie, MD in 1964.
Son Robert Gibson lived in Folcroft, Delaware County, PA in 1963.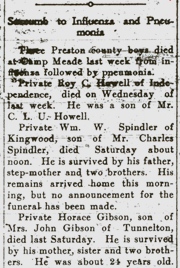 Preston County Journal, 1918
~ Son Horace Gibson ~
Son Horace Gibson (1895-1918) was born in August 1895 in Tunnelton.
During World War I, he joined the U.S. Army and was stationed at Camp Meade. Tragically, at a time when an epidemic of influenza was sweeping our country, Horace contracted a fatal case while at the camp. He died there in mid-October 1918, at age 23. Two other Preston County soldiers stationed at Fort Meade also succumbed to the illness: Roy C. Howell and William W. Spindler.
His remains were returned to Tunnelton for a funeral at the family home, followed by burial at Camp Chapel [Campground Cemetery] beside his father."
In an obituary, the Preston County Journal printed the following moving eulogy:
These three young men were among the flower of the county. There were no better young men in the county and the people will mourn for them. They had been called into their country's service and had gone gladly to the defense of the nation we all love so well. The attack of pneumonia is more deadly than German bullets. While these boys were not on the battle line it is known that it was their desire to be there.
~ Daughter Agnes Gertrude (Gibson) Pratt ~
Daughter Agnes Gertrude Gibson (1897-1929) was born in on Sept. 29, 1897.
On March 30, 1921, at the age of 23, she wedded her next door neighbor Roy Bowers Pratt (June 14, 1899-1974).
They resided in Tunnelton, Preston County and bore two children together, Ruby Virginia Menear and Robert Roy Pratt.
Tragedy struck this young family in the fall of 1929, after Agnes had given birth at her home. Suffering from post-partum bleeding, and anemia at City Hospital in Kingwood, she died on Sept. 17, 1929, less than two weeks before her 32nd birthday. She was laid to rest at Camp Chapel (Campground) Cemetery.
Roy lived for many decades after the loss of his first wife and then suffered the death of son Robert in boyhood. He married again to Elmo Virginia Jones (1910-2003).
He passed away at age 75 in Nov. 1974.
Daughter Ruby Virginia Pratt (1921-1994) was born in 1921. She was eight years old when her mother died. On Nov. 16, 1937, when she was age 16 and living in Larew, Preston County, Ruby was united in wedlock with 18-year-old Samuel Bruce "Sam" Menear (Oct. 15, 1919- ? ) of Preston County and the son of Nelson L. and Ellen Viola (Hartley) Menear. The nuptials were held in Kingwood, Preston County, led by Rev. William A. Ashley. Because both were legally underage, Ruby's father gave his consent, as did Sam's parents. Nothing of their married lives is known other than that they dwelled in Kingwood and he labored as a coal miner. Burdened for five or six years with a stomach ulcer, Sam began to hemorrhage in his gastro-intestinal tract, and he was admitted to Preston Memorial Hospital. He succumbed to death there on Aug. 5, 1968. She died at the age of 72 on May 18, 1994. Burial took place in Bethlehem Cemetery in Reedsville, Preston County, WV.
Son Robert Roy Pratt (1924-1933) was born on Aug. 5, 1924 in Tunnelton, Preston County. His mother died when he was but a boy of five. He suffered from infantile paralysis (polio) as a boy. Sadly, just four days before his ninth birthday, he died. The remains were lowered into repose in Camp Chapel Cemetery.
Copyright © 2006, 2008, 2011, 2021 Mark A. Miner