Cordelia 'Della' (Menefee) Frazier
(1852-1933)
Cordelia Elizabeth "Della" (Menefee) Frazier was born in July 1852 in Preston County, WV, the daughter of John and Sarah (Evans) Menefee.
When Della was just a few years old, her mother died, and the following year, in 1855, her father married Ruhama Hanshaw. Thus, for all intents and purposes, Ruhama was Della's mother figure and apparently raised her.
On Oct. 10, 1871, when she was age 19, and he 24, Della married Charles Taylor Frazier (Nov. 20, 1845-1932), the son of William and Margaret (Annan) Frazier Sr. of Hampshire County, WV. Their wedding ceremony was held in the home of Della's parents, with W.C. Wilson officiating.
The pair bore four sons together -- William A. Frazier, Thomas Caywood Frazier, Truman Young "Ty" Frazier and Frank Charles Frazier. They also helped raise grandsons Charles "Albert" Frazier (born in 1896) and Paul B. Frazier (born 1898).
Bird's eye view of Tunnelton
The couple made their home in Tunnelton and Newburg, Preston County, where Charles was a fireman and locomotive engineer with the Baltimore and Ohio Railroad. His railroading career lasted for 52 years.
The census of 1880 shows them living in Newburg with their three eldest sons and also Charles' aged parents.
When tragedy struck, and William H. Menear, husband of Della's step-cousin Helen (Purinton) Menear died of lead poisoning at the age of 23 in September 1889, Della and Charles, and her sister Sarah and husband John Gibson, traveled from Tunnelton to attend the funeral, and were mentioned in a related story in the Preston County Journal.
The federal census of 1910 shows the family in Newburg, with Charles and son William both employed as railroad engineers. In their household that year were grandsons Charles "Albert" Frazier (age 15) and Paul B. Frazier (age 12). Living just two doors away were Della's widowed step-mother, Ruhama Hanshaw, and Della's unmarried half-sister Belle Menefee, age 47.
The Fraziers' resting place
By 1920, when the census again was taken, the Fraziers resided on or near the county road, and lived alone in retirement. He was age 72, and she 67, that year. During the decade of the 1920s, Charles and Della moved into the home of their married son Truman "Ty" Frazier in Clarksburg, Harrison County, WV.
At the age of 86, burened with inflammation of the bladder and urethra ("cystourethritis"), Charles died on May 4, 1932. His remains were lowered into rest in Newburg's Damon Cemetery, also known as the Knights of Pythias Cemetery.
Della only lived for about another year after her spouse's death. She passed away in 1933. Her West Virginia death certificate has not yet been found.
~ Son William A. Frazier ~
Son William A. Frazier (1873- ? ) was born in 1873.
He lived with his parents at age 27 in 1900 and at age 37 in 1910. Like his father, he worked as a locomotive engineer in Tunnelton.
William is known to have resided in New Castle, Lawrence County, PA in 1937.
More about his life story will be published here when learned.
~ Son Thomas Caywood Frazier ~
Son Thomas Caywood Frazier (1876-1937) was born in 1876.
He made his home with his parents at age 23 in early 1900. Later that year, he married Cecelia Helenna Fisher ( ? -1936), the daughter of George W. and Mary (Dickson) Fisher of Maryland.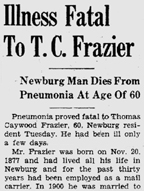 Preston County Journal, 1937
Together, they bore five children -- Helen Billiter/Billeter, Robert Frazier, Charles Frazier, Raymond Frazier and June Ross.
The family made their home in Newburg, Preston County. Thomas worked for many years as a rural postal mail carrier. Said the Preston County Journal, he "was a member of the Knights of Pythias Lodge and other organizations."
Sadly, having been burdened with diabetes, Cecelia was stricken by a heart attack and died at the age of 57 on May 18, 1936.
As a widower, Thomas moved into the home of a nephew, Albert Frazier, in Newburg.
Thomas died of pneumonia at the age of 60 on April 20, 1937, in Newburg, and was laid to rest with his bride in the Knights of Pythias Cemetery. The informant on his death certificate was daughter June Ross of Masillon, OH.
Daughter Helen Vivian Elizabeth Frazier (1902-1969) was born in about 1902. When she was 19 years old, circa 1921, she wedded Earle M. Billeter (1900-1974), son of Jeremiah Marvin and Quintilla (Hoskins) Billiter. Circa 1924, the Billeters resided in Cumberland, Allegany County, MD. There, Donald sold dairy products, and their four youngest children were born in the city. By 1935, the couple relocated to Massillon, Stark County, OH, where Earle had found employment as a machine operator in a roller bearing plant. The five known offspring of this marriage were Elizabeth June "Betty" Lueckert Theisen, Virginia Billeter, Donald Billeter, Thomas Leon Billeter and Charles Billeter. The family's address in the mid-1930s was 743 Erie Street South. When Helen's mother died in May 1936, Helen is known to have traveled back to Newburg for the funeral. The couple eventually pulled up stakes and migrated to Washington State, settling in Seattle, King County. Later, they pushed into California, making a home in Woodland Hills, Los Angeles County. Sadly, Helen died on Oct. 20, 1969. Her remains rest in eternal sleep in Oakwood Memorial Park in Chatsworth, CA,. The widowed Earle outlived her by five years. He moved to Oregon, residing in Portland, Multnomah County. Earle died in Portland on Jan. 12, 1974.
Granddaughter Elizabeth June "Betty" Billeter (1921-2001) was born on July 23, 1921 in Philippi, Barbour County, WV. In young womanhood in 1940, she worked as a clerk in a department store in Massillon, Stark County, OH. Later, still single, she made a home in Youngstown, Mahoning County, OH. On Feb. 13, 1941, at the age of 19, she was joined in wedlock with 22-year-old steelworker Raymond "Eugene" Lueckert/Leuckert (Oct. 31, 1918- ? ), a native of Springfield, MO and the son of Albert C. and Helen (Wainscott) Lueckert. Officiating was Rev. H.W. Karger of Faith Lutheran Church. The marriage appears to have lasted only a few months. Betty filed for divorce in July 1941, citing "gross neglect," as reported in the Massillon Independent. Later that year, on Nov. 1, 1941, their daughter was born in Cleveland. Betty Jane and her daughter followed her parents in their moves to Los Angeles and the Pacific Northwest. By 1960, she had wed again to a dentist, Dr. Robert S. Theisen ( ? - ? ) and settled in Woodland Hills, CA. Robert was active with the Rotary Club of Canoga Park. On May 23, 1980, in Carson City, NV, the couple appear to have renewed their wedding vows. Betty succumbed to death in Burbank on June 18, 2001.
Great-granddaughter Betty Gene "Genie" Lueckert (1941-2002) was born on Nov. 1, 1941 in Cleveland and grew to adulthood in North Hollywood, CA. On March 10, 1960, in nuptials held in Los Angeles, the 18-year-old Betty Gene was joined in wedlock with 19-year-old Daryl E. Tisinger ( ? - ? ), son of Clarence Tisinger of Canoga Park, CA. Their ceremony was held in Canoga Park Lutheran Church of the Resurrection. Reported the North Hollywood Valley Times, Betty Gene wore a "gown of white lace over taffeta." At the time, Daryl was majoring in art at Pierce College. The couple produced two children, Kevin Daryl Tisinger and Deanna Tisinger, but are believed to have divorced. Circa 1967, Daryl and Gary Edwards comprised the Richards Brothers singing duo performing in Van Nuys, CA. Betty Gene lived in or near Smith River, Douglas County, OR toward the end of her life. She died on Sept. 16, 2002. Son Kevin, of Gaithersburg, MD, passed away on Oct. 8, 2014 and daughter Deanna, of Oxnard, CA, on Jan. 5, 2009.
Granddaughter Virginia B. Billeter (1924-1968?) was born in 1924 in Maryland and grew up in Massillon, Stark County, OH. Evidence hints that she married William E. Beck (1920?-2002?) and dwelled at 1718 Shawnee Road Southeast in Massillon. If so, they bore a son, Kenneth James Beck. William served in the U.S. Army Air Corps during World War II. Later, he was self-employed as an installer of wall and floor coverings. Further research suggests that Virginia died in 1968 at the age of 43 or 44 and reposes for eternity in Calvary Cemetry in Massillon. William outlived his wife by 34 years and retired in 1989. He relocated to Canton and died on Feb. 12, 2002 as a patient in Mercy Medical Center. A funeral mass was led by Fr. Thomas Dyer at St. Joan of Arc Catholic Church. His remains were lowered into the soil of Calvary Cemetery beside his wife's.
Grandson Donald E. Billeter (1926- ? ) was born in 1926 in Maryland and grew up in Massillon, Stark County, OH. Nothing more about him is known.
Grandson Thomas Leon Billeter (1927-1996) was born two days before Christmas 1927 in Cumberland, Allegany County, MD. He grew up in Massillon, Stark County, OH. At some point in time he relocated to Southern California. His home there was in Simi Valley, Ventura County. He appears to have been active with the local American Legion Post. Death swept him away on July 15, 1996. Burial of the remains was in Chatsworth, Los Angeles County.
Grandson Charles Franklin Billeter (1932-1945) was born in 1932 in Maryland and grew up in Massillon, Stark County, OH and then in Seattle, King County, WA. On the fatal day of Aug. 31, 1945, in Seattle, Charles and his friend were playing a game of "war" and he had tucked firecrackers inside his belt. The fuses ignited, and he was terribly burned. Charles died at the age of 13 on Sept. 1, 1945. The sensational story distributed by the Associated Press was printed in the Roseburg (OR) News-Review, Spokane (WA) Chronicle and Vancouver (BC) Province in Canada.
Son Robert Frazier (1904- ? ) was born in about 1904. He made his home in Newburg.
Son Charles Frazier (1909- ? ) was born in about 1909. He lived in Massillon, Stark County, OH in 1937.
Son Raymond Frazier (1916- ? ) was born in about 1916. He lived in 1937 in Romney, Hampshire County, WV.
Daughter June Frazier (1918- ? ) was born in about 1918. She married Glenn Ross ( ? - ? ) and resided in Massillon in 1937.
~ Son Truman Young "Ty" Frazier ~
Son Truman Young "Ty" Frazier (1879-1965) was born on Jan. 4, 1879 in Newburg, Preston County, WV.
He worked as a store clerk in Tunnelton in 1900 and lived with his parents.
In 1904, at the age of about 25, he married Ella Belle Harrington (1878-1947), the daughter of Thomas and Missouri (Zinn) Harrington.
They had one daughter, Louise Belle Ambrose.
The couple lived in Kingwood, Preston County during the 1900s through the 1910s and early '20s. Ty was employed in Kingwood as a commercial trader in groceries. Later, they moved to Clarksburg, where Ty was a salesman for a grocer circa 1930.
In 1930, Ty's aged parents lived under their roof in Clarksburg.
Sadness enveloped the family when Ella passed away two days after Christmas in 1947, of congestive heart failure and hypertension, in Clarksburg. Her remains were sent to Newburg for burial.
Truman moved to Maryland in his later years, and died in Catonsville Gateway, Baltimore County on March 11, 1965. The body was transported back to Newburg to rest for all time in Damon Cemetery.
Daughter Louise Belle Frazier (1908-2000) was born on Nov. 18, 1908 in Tunnelton, Preston County. She received a degree from West Virginia University and then became a registered nurse at Sinai Hospital in Baltimore. In July 1940, when she was 31 years of age, she was joined in wedlock with William Eugene "Butch" Ambrose (1908-1980), son of Skelton Eugene and Laura Virginia (Johnson) Ambrose. Their two known offspring were Truman Eugene Ambrose and Virginia Weaver. The Ambroses resided in Baltimore. Louise made history in 1955 when she was tapped as the first full-time nurse at Aberdeen High School, a position she held until 1973. They were members of Methodist churches in Aberdeen and Havre de Grace. Later in life, they moved to Arizona and in 1980 were in Tucson, Pima County. William died in Tucson on Nov. 3, 1980. His obituary was carried in the Baltimore Evening Sun. Memorial services were held in Grace United Methodist Church in Aberdeen, MD. Louise Belle outlived him by two decades and migrated back east to Grasonville, Queen Anne's County, MD, where her daughter was living. She passed on Sept. 5, 2000, at the age of 91, at home. She was pictured in an obituary in the Kent Island Bay (MD) Times, and another obituary in the Easton (MD) Record Observer asked that any memorial donations be made to Queen Anne's County Hospice. The couple sleeps in eternity in Loudon Park Cemetery in Baltimore.
Grandson Truman Eugene Ambrose (1941-2001) was born on March 14, 1941. He was united in marriage with Renna Rebecca Craig (1941- ? ). The two children born to this union were Bruce Eugene Ambrose and Lynn Lamb. Truman was the agent for Rent All Mart Inc., incorporated in 1985. Sadly, Truman died in their home in Chester, MD at the age of 60 on May 12, 2001. An obituary ran in the

Baltimore Sun

. Interment of his remains was next to his parents in Loudon Park Cemetery in Baltimore.
Granddaughter Virginia Ambrose married (?) Weaver ( ? - ? ). They were the parents of Michael Patrick Weaver and Daniel Ashton Weaver. Circa 2000, she dwelled in Grasonville,

Queen Anne's County, MD

.
~ Son Frank Charles Frazier ~
Son Frank Charles Frazier (1882-1958) was born on July 19, 1882 in Preston County, WV.
He had a grade school education and worked as a day laborer for a railway contractor circa 1900 in the Tunnelton area. He went on to a career in the military.
He is thought to have married Marie Jean Parsyczyk (1878- ? ), an Illinois native and the daughter of Marie (Schultz) Parsyczyk. Her father was a blacksmith who emigrated from Poland and her mother was a Chicago housemaid who had come from Berlin, Germany.
Frank met his wife in Chicago in 1911 when he was there with an Army rifle team.
They had one son, Harold Victor Frazier.
Trained at For Leavenworth, KS, Frank soonafter was transferred to Hawaii. Circa 1913, when their son was born, the Fraziers lived in Honolulu, HI. In 1920, they resided in a home on North Euclid in Pasadena, Los Angeles County, CA, with Frank employed as a military engineer. By 1930, they made their home in Brooklyn, Kings County, NY, where Frank was stationed as a warrant officer for the U.S. Army. Circa 1937, when he was named in the Preston County Journal obituary of his brother Thomas, Frank lived in San Francisco, CA.
Frank died in San Diego on April 22, 1958. His remains were interred in Fort Rosecrans National Cemetery in San Diego.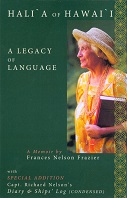 Frances' autobiography
Son Harold Victor "Hal" Frazier (1911-2004) was born on July 29, 1911 in Honolulu. His name also has been mis-recorded as "Charles." He received a bachelor of science degree in 1935 from the College of Engineering at the University of California. He was wedded to Frances Nelson Smith (July 6, 1914-2015), daughter of Richard Nelson and Ellen Eva (Todd) Smith, the father a master mariner and ship captain, and the mother an early telephone operator in Hilo. Frances also was born in Honolulu in a house on the slope of the Punch Bowl crater, a site which later became a national cemetery. Their two children were Douglas Frazier and Stephanie Frazier. Federal census enumeration records for 1940 -- on the eve of World War II -- show Harold working as a civil engineer for a construction company in Honolulu. Their address in 1940 was on Kamamalu Street. Frances was "a Hawaiian language translator of real estate titles, deeds and numerous private translations," said an obituary. She did her work " at the Hawaii State Archives translating the Native Hawaiian Register. Her translated books are Kekauhaupio, Kamehameha's Warrior Aide, taken from Rev. Samuel Desha's newspaper articles, and The True Story of Kaluaikoolau." Frances also was a financial supporter of the Salvation Army through donations to the Hawaii Community Foundation. Circa 1982, a trust was formed known as the Frances N. Frazier Trust. Sadly, Harold died in Lihu'e, Kauai, HI on March 15, 2004. Frances outlived her spouse by 11 years. In 2010, she published a book, entitled Hali`A of Hawai`I: A Legacy of Language (Bloomington, IN: AuthorHouse). She succumbed to death in the Dullaga Care Home in Kapaa -- at the remarkable age of 101 -- on Oct. 19, 2015. Her remains were lowered into eternal rest in Homelani Memorial Park. In her news obituary, this native Hawaiian word was used as part of her name -- "Hali'aalohanokekupuna."
Grandson

Douglas L. Frazier

(1939- ? ) was born on Nov. 29, 1939 in Honolulu. He married Diane Moore ( ? - ? ). He was deceased by 2015. Diane later wedded STanley Araujo and lived in Mountain View, HI.
Granddaughter Stephanie Frazier

(1942- ? ) was born on Oct. 17, 1942 in Honolulu. She made a home in Puhi, HI in 2004.
Copyright © 2008-2009, 2021 Mark A. Miner