Mary Catherine 'Molly'
(Menefee) Rush
(1867-1940)
Mary Catherine "Molly" Rush was born in 1867 in or near Newburg, Preston County, WV, the daughter of John and Ruhama (Hanshaw) Menefee.
On Feb. 10, 1891, at the age of 22, she entered into marriage with 28-year-old Elmer Ellsworth Rush (April 4, 1862-1932), a native of Draketown, Somerset County, PA and the son of Evans and Martha (Bowman) Rush. The wedding was held in Preston County, at the home of the bride's parents, with J.C. Rexroad officiating.
The Rushes produced a family of four known children between 1895 and 1901 – Lulu Augusta Organ, Bess Gertrude Jewesson, George Evans Rush and John Kenneth Rush Sr.
Sadly, their son George died at the tender age of 21 days in Evansville, Preston County on Aug. 13, 1898.
When the federal census was taken in 1910, the Rushes lived in the Pleasant District of Preston County. That year, Elmer was employed as a weaver in a woolen factory.
By 1920, following Elmer's occupation, the family moved to Winchester, Frederick County, VA, where Elmer again was listed as working as a weaver in a woolen mill. At that time, daughter Lulu made her living as a stenographer in a bank, while Bess was a local teacher. They all made their home together at 353 Piccadilly Street in Winchester.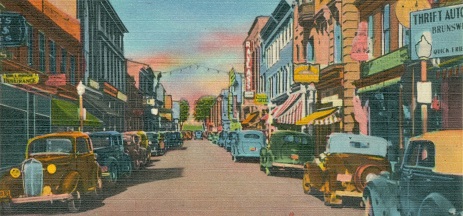 Loudon Street in Winchester, VA
Mollie and E.E. are mentioned briefly in a lengthy profile of brother in law Frank Stuck in The History of West Virginia, Old and New, published in 1923 by the American Historical Society, Inc. (vol. II. page 501).
The Rushes hosted Elmer's parents during the last months of 1918 and into the new year. The father died under their roof on Jan. 24, 1919.
Elmer continued his work in the woolen mill until his death. At the age of 70, he was stricken by pulmonary tuberculosis in the early summer of 1932. He suffered the illness for almost three months before he succumbed in Winchester on Oct. 24, 1932. Interment was in Winchester.
Mary outlived her husband by eight years. She contracted lobar pneumonia in late June 1940. She was admitted to Memorial Hospital in Winchester and died there after nine days of suffering on July 7, 1940.
Thanks to the Menefee family association for sharing information for this biography.
~ Daughter Lula Augusta (Rush) Organ ~
Daughter Lula Augusta Rush (1895- ? ) was born on Aug. 13, 1895 in or near Evansville, Preston County.
After a move to Winchester, Frederick County, VA, Lulu obtained a stenographer's position circa 1920 in a bank. She remained with the bank throughout the decade and, at the age of 34, into 1930.
In 1935, when she was 40 years of age, Lula was united in the bonds of matrimony with World War I veteran Chauncey B. Organ (1891-1978), a native of Urbana, Champaign County, OH. At the time, Chauncey earned a living with an automobile company. He was a member of the Masons organization for moe than half a century.
One known daughter born to the couple was Ruhama Organ.
The couple relocated to Ohio by 1935 and in 1940 dwelled on a farm in Orange Township, Delaware County, OH.
Then in 1944, the Organs migrated cross-country to the Pacific Northwest and settled in McMinnville, OR. There, Chauncey owned and operated a miniature golf course and a golf driving range. He transferred his Masons membership to that location.
Moving again, Lula and Chauncey went to Salem, OR in 1966. Their address in the 1970s was at 1864 First Street South in Salem, OR.
Sadly, Chauncey passed into eternity at the age of 84 on Jan. 29, 1978. His remains were interred in McMinnville Masonic Cemetery. Obituaries were printed in the Salem Statesman Journal and Salem Capital Journal.
Daughter Ruhama Organ (1936-2018) was born on Aug. 20, 1936 in Orange, Delaware County, OH and appears to have been named for her great-grandmother, Ruhama (Hanshaw) Menefee. She moved to Oregon with her parents in 1944 and grew up in McMinnville, where she sang in the choir as a teen. She never married. Ruhama received a degree in English in 1958 from Linfield College. In 1959, she was hired to teach English in the Amity School District. Later, she was employed by the Farm Bureau in Salem. Starting in 1961, she was active with the American Association of University Women in Salem, holding many roles as editor, librarian, historian, study group chair and topic chair. She organized the branch's 50th anniversary in 1973, and that year a $500 fellowship gift was made to the AAUW in her name, with her photo appearing in the Salem Statesman Journal. She also held a membership in Church Women United. In the later years of her life, she migrated to Portland. Ruhama was gathered away by the angel of death on Sept. 30, 2018.
~ Daughter Bess Gertrude (Rush) Jewesson ~
Daughter Bess Gertrude Rush (1897- ? ) was born in June 1897.
After she moved with her family to Winchester, Frederick County, VA, Bess was a teacher in a public school in 1920.
She then pursued higher education and graduated from Teachers College at Columbia University in Manhattan, NY.
On June 28, 1930, in a ceremony held in St. Paul's Chapel of Brooklyn, NY, she wedded George Montgomery Jewesson ( ? -1978), son of George Thomas Jewesson of Brooklyn. Dr. J. Berry led the nuptials, with the wedding announced on the pages of the Brooklyn Times Union. "The bride wore an afternoon gown of blue chiffon with blue horsehair hat trimmed with velvet ribbon, shoes of blue crepe and cream lace mits and carried an old-fashioned bouquet of nosegay flowers," said the article.
The Jewessons were parents of a son, Kenneth Jewesson.
Over the years, George earned a living as a printing broker and buyer. He belonged to the Masons organization.
The couple dwelled in Oceanside in the 1960s and North Hollywood in the 1970s and then in about 1977 moved to Salem, OR, making a home in the Mt. Angel Towers. They belonged to Marquam Methodist Church.
George died at the age of 75 on Nov. 23, 1978. The body was shipped to New York for services in Flushing, with an obituary appearing in the Salem Statesman Journal.
Son Kenneth R. Jewesson (1939- ? ) was born in 1939. In young manhood he received a bachelor of arts degree in graphic arts from San Fernando Valley State College and the University of California at Santa Barbara. He has been described as a "painter, printmaker, ceramic artist, and jewelry maker." On Aug. 6, 1966, he was joined in wedded union with Frances Adele Poston ( ? - ? ) of Los Angeles, the daughter of Cecil Aaugustus Poston. Their nuptials were held in All Saints Chapel of St. John's Cathedral in Spokane, WA, led by Rev. John P. Moulton, with their wedding portrait and the news printed in the Spokane Chronicle. Prior to marriage, after attending the UC Santa Barbara, Frances earned her bachelor of science from the University of California Medical Center in San Francisco and went on to work as a physical therapist at Los Angeles Community Hospital. The couple were the parents of three. Their home as newlyweds was in Glendale. Kenneth joined the faculty of Santa Barbara Art Center in 1969 and remained after it transitioned into the Santa Barbara Art Institute. When the Institute closed in 1974, he then was named director of the Glassell School of Art in association with the Houston Art Museum. He went on to become director of the San Antonio Art Institute and gave lectures at the University of Texas. Upon retirement, he relocated to Santa Barbara, where his works on paper and paintings have been exhibited at the Westmont Ridley-Tree Museum of Art.
~ Son John "Kenneth" Rush ~
Son John "Kenneth" Rush (1901-1973) was born on Nov. 25, 1901 in Evansville, Preston County, WV.
He relocated in boyhood to Winchester, VA with his parents. In adulthood he stood 5 feet, 10½ inches tall and weighed 145 lbs., with brown eyes and brown hair. He carried a birthmark on his right shoulder.
Single at the age of 28, in 1930, he lived at home and earned income as a bookkeeper with the Winchester Evening Star newspaper office. Later his role at the paper changed to proofreading.
In time he was joined in the bonds of wedlock with Martha E. Nitsche (Sept. 30, 1912-1989). The couple lived in his parents' former home at 353 Piccadilly Street.
One known son was born to the couple -- John Kenneth Rush Jr.
Having borne heart disease, Kenneth was felled by a heart attack and died in Winchester Memorial Hospital on March 9, 1973. His remains were lowered into repose in Mount Hebron Cemetery.
Martha endured as a widow for another 16 years. She passed away at the age of 76 in Feb. 1989.
Son John Kenneth Rush Jr. ( ? - ? )
Copyright © 2000, 2004, 2008, 2021 Mark A. Miner