Robert 'Franklin' Menefee
(1865-1923)

Robert "Franklin" Menefee was born in April 1865 or 1867 in or near Newburg, Preston County, WV, the son of John and Ruhama (Hanshaw) Menefee.

Franklin was a railroader at an early stage in his career. In its column on news of Newburg, the July 3, 1897 Grafton (WV) Sentinel reported that "Mr. Frank Menifee, a third division engineer, is spending this week with his mother and many friends here."

The federal census enumeration of 1900 shows Franklin at age 33 as a bachelor, residing with his widowed mother in Newburg. His occupation at the time was as a locomotive engineer.

In 1905, when both groom and bride were ae 40, Franklin was united in wedlock with Minnie May Proudfoot (1865- ? ),

the daughter of (?) and Emily (Freeman) Proudfoot of Preston County

. The wedding was held in Preston County.

The U.S. census of 1910 shows Frank and Minnie, now both age 45, living in Newburg, where he continued his employment as a locomotive engineer.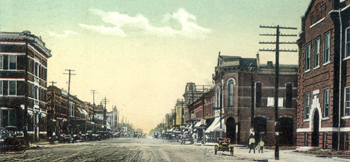 Looking south on Wellington's unpaved Main Street circa 1909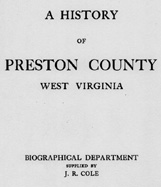 Book naming Minnie
At some point the Menefees relocated to Kansas, settling in Wellington, Sumner County. He kept in communication with friends back home. In 1912, the June 6, issue of the Preston County Journal reported:
Frank Menefee of Wellington, Kansas, was in town Wednesday calling on his many friends. Mr. Menefee is employed by a lubricating oil company with headquarters at Wellington. He is on his way to Atlantic City where he will attend a convention of railroad men.
When the landmark book, A History of Preston County, was authored in 1914 by H.S. Whetsell, Minnie was mentioned in a profile of her brother, Dr. M.H. Proudfoot, and was continuing to reside in Wellington.
In addition to their house back in West Virginia, the couple purchased eight-and-a-half acres of land in New Mexico, likely as an investment property.
Franklin and Minnie pushed further west and by 1920 were in Denver. His occupation in 1920 was as a mechanical engineer for an oil company. They rented rooms on Walton Street.
At the age of 57 or 58, Franklin died in Pueblo, Pueblo County, CO on June 6, 1923. His remains were transported back to West Virginia to be lowered into eternal sleep in Grafton's Bluemont Cemetery. His will was probated in Denver, which show that he owned shares in Galena Signal Oil Company, Jackson Compessor Company, Guardian Trust Company and Sinclair Consolidated Oil Company, as well as two shares in an Elks Home in West Virginia. Legal advertisement of the estate appeared in the Rocky Mountain Herald.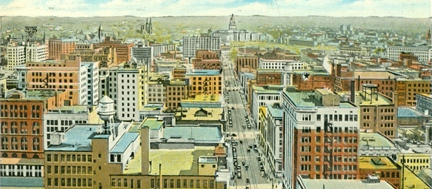 Denver's skyline
Records in Denver County show that Minnie quickly returned to Preston County as a widow and resided in Rowlesburg.
Her fate is lost to us at present.
Frank is mentioned briefly in a lengthy profile of his brother in law Frank Stuck in The History of West Virginia, Old and New, published in 1923 by the American Historical Society, Inc. (vol. II. page 500).
Thanks to the Menefee family association for sharing their information which has helped with this biography.
Copyright © 2000, 2004, 2008, 2021 Mark A. Miner