Charles Edward Menefee
(1863-1877)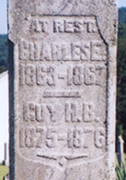 Evansville, WV
Charles Edward Menefee was born in 1863 near Newburg, Preston County, WV, the son of John and Ruhama (Hanshaw) Menefee.
At the age of 15, Charles is known to have been married. His wife's identity is not yet known.

Evansville, WV
The teenage Charles earned a living in 1877 as a coal miner.
Grief cascaded over the family when he succumbed to death on Aug. 25, 1877, at age 15. Why he died is lost to us.
The remains were laid to rest at the United Methodist Church Cemetery in Evansville, Preston County. He sleeps for eternity beside his young brother Guy H.B. Menefee who died the year before at the tender age of one year.
Their grave marker stands tall and legible today, and was photographed in August 2004. The year of Charles' death, inscribed on the marker, is off by 10 years. It reads "1867" rather than the correct "1877."
Charles' death was duly recorded in Preston County's Register of Deaths and can be examined today. The entry clearly states that the cause of his death was "unknown.
Thanks to the Menefee family association for sharing their information with us that has led to further discoveries about Charles.
Copyright © 2000, 2004, 2008, 2021 Mark A. Miner