Home

George W. Menefee
(1859-1895)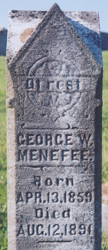 Evansville

, WV
George W. Menefee was born on April 13, 1859 in Preston County, WV, the son of John and Ruhama (Hanshaw) Menefee.
He is one of many railroaders in our family to have lost their lives in the workplace.
George was raised in the York Run section of Preston County and, when the federal census was taken in 1880, he was single and earned a living with "farm work." He is said to have been very handsome.
George was hired during the early 1880s to work for the railroad. Circa 1885, he held the position of brakeman.
On Aug. 19, 1885, when he was 26 years of age, George was united in holy matrimony with 24-year-old Ida F. Troutman (May 6, 1858-1941), daughter of Henry and Elizabeth (Longstreth) Troutman. Ida was a native of Hazen, MD but a resident at the time of Keyser, Mineral County, WV. The nuptials were performed in Keyser.
The couple produced a family of two -- Columbia G. Barnhart and Horace Frank Menefee. Evidence hints that they also may have had a son Hart Menefee.
Soonafter their marriage, the newlyweds relocated to Nebraska and established a home in Potter, Cheyenne County, NE. There, their first child was born.
Tragedy struck in the summer of 1895 when George, age 36, was killed in a train accident on Aug. 11, 1895. An article in his hometown newspaper, the West Virginia Argus, in Kingwood, reported that:
George Menifee, son of John Menifee of York Run this county, was killed on the rail in Nebraska Aug. 11th. The remains were brought to Newburg and taken out to Evansville where they were interred Saturday Aug. 15th. The deceased leaves a wife and two children to mourn his sudden death... The family moved to Nebraska several years ago, and Mr. Menifee engaged in railroading till his death, the particulars of which we have been unable to learn, except that he fell from the train and was killed while breaking.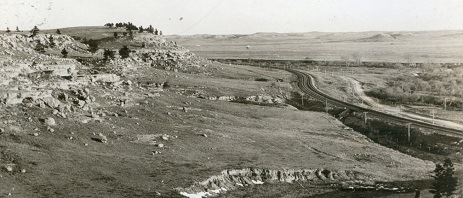 Above: railroad track (right) winds its way through the bleak Nebraska landscape of Point of Rocks near Potter, where George was killed in 1895. Below: The inscription at the base of his grave marker in West Virginia.
Dearest loved one we have laid thee
In the peaceful grave's embrace.
But thy memory will be cherished
Till we see thy heavenly face.
West Virginia Argus
His remains were transported back to West Virginia for interment in the cemetery of the Methodist Church of Evansville. His grave marker stands tall and legible today. The base includes a moving inscription in the form of a poem.
Widowed at a young age, Ida rebuilt her own life. She returned to Mineral County and secured a teaching position in New Creek.
When the federal census enumeration was made in 1900, Ida and her two children lived together in New Creek, with Ida's widowed mother residing in the household.
She taught at some point at Potomac College in Maryland.
In retirement, she went to live with her married daughter. Their home together in 1935-1940 was in Dayton, Montgomery County, OH.
Stricken with paralysis of one side ("hemiplegia"), the 82-year-old Ida suffered a cerebral hemorrhage and succumbed to death in Cincinnati on March 30, 1941. Her remains were shipped to Keyser to be lowered into eternal repose in Queens Meadow Point Cemetery.
Thanks to the Menefee family association for sharing their information with us that has led to further discoveries about George.
~ Daughter Columbia G. (Menefee) Barnhart ~
Daughter Columbia G. Menefee (1886-1956) was born in July 1886 in Nebraska.
She was but a young girl when her father was killed in a railroad accident. She and her mother relocated to West Virginia by 1900, making their residence in New Creek, Mineral County.
Circa 1907, she was united in matrimony with Eugene Hildt Barnhart/Barnhardt (1884- ? ). He was a longtime civil engineer for the Baltimore and Ohio Railroad.
The couple bore one known daughter, Helen Henderson.
They resided in a variety of places over the years as Eugene took on new assignments. The first was in Indiana in 1907 -- Second Avenue in Pittsburgh in 1910 -- Harlem Avenue in 1920 and Edgewood Avenue in 1930, both in Baltimore -- and Dayton, Montgomery County, OH in 1935-1940. Their address was 2643 Clifton in 1941.
By 1935, Columbia's mother came to reside with the family in Dayton and remained until her passing in 1941.
The Barnharts appear to have retired to Florida, making their lives in Pinellas County. Sadly, Columbia died in Pinellas in Sept. 1956.
Daughter Helen Barnhart (1907-2000) was born on March 18, 1907 in Indiana. She grew up in Pittsburgh and Baltimore. At the age of 23, in 1930, she lived with her parents on Edgewood Avenue in Baltimore and earned a living as a secretary. She was married two known times. Her first spouse was Vernon Meeghan ( ? - ? ). Her second husband was John D. Henderson ( ? - ? ). Helen survived both men. She passed away on Valentine's Day 2000. A death notice in the Baltimore Sun asked that any memorial donations be made to the Maryland Historical Society.
~ Son Horace Frank Menefee ~
Son Horace Frank Menefee (1888- ? ) -- possibly also known as John Horace Menefee -- was born on May 5, 1888 in Potter, Cheyenne County, NE.
He was seven years old at the untimely and tragic death of his father. Horace and his widowed mother and sister moved to New Creek, Mineral County, WV where he grew to manhood.
Circa 1910, when he was age 22 and single, he resided with his mother in New Creek and held a job, mirroring his father, as a brakeman with the Baltimore and Ohio Railroad. He was tall and of medium build, with blue eyes and brown hair.
Evidence hints that he was united in marriage with Mary Emma "Molly" Fazenbaker (April 15, 1887-1967), daughter of Conrad and Elizabeth Marie (Bishop) Fazenbaker of Westernport, Allegany County, MD.
The three offspring produced by this couple were Horace Bishop Menefee, William Gerald Menefee and Mary Louise Clark Litten.
The Menefees dwelled in New Creek in 1918 at 31 Orchard and in 1920, on North Main Street, with Horace continuing his labor as a brakeman with the railroad. During the 1920s, Horace was named railroad yardmaster in Keyser, and the family relocated to town. The 1930 census shows the family in Keyser, with Mollie's widowed mother living under their roof.
Horace returned to his former position as railroad brakeman during the Great Depression years, and held the job in 1940. During the World War II years, their address was 311 North Main Street.
Horace's fate will be added here in time.
Molly spent her final years in Alabama, living with or near her son Dr. Horace Bishop Menefee. She died there at the age of 80 on Oct. 23, 1967. Her remains were lowered under the sod in Greenview Memorial Gardens in Florence, Lauderdale County, AL.
Son Horace Bishop Menefee (1914-1978) was born on Sept. 30, 1914 in Keyser, Mineral County. He received an early education at Potomac State College and then a bachelor of science degree in civil engineering circa 1938 from West Virginia University. He was hired right away as a chemical engineer with the Tennessee Valley Authority. On Dec. 18, 1939, Horace was wedded to Mildred Coffey (Nov. 4, 1916-1984), daughter of Emma Coffey of Florence, AL. The wedding ceremony was held in the bride's home and led by Dr. L.G. Sturdivant of the First Methodist Church. In announcing the marriage, the Florence Herald said that the bride was "a popular young lady, with an unusually sweet personality," and that she "was charming in a smart costume of vineyard wool with which she wore a short coat of the same material, trimmed with mink. Her accessories were of the same shade, and her only ornament was an antique necklace that had belonged to the bridegroom's great-great grandmother. Her corsage was of gardenias and pink Briarcliff roses." The couple established their residence in Gadsden, Etowah County, AL. Then during World War II, he served as a lieutenant in the U.S. Navy. There, he was employed by Republic Steel Corporation. With co-inventors Joseph R. Myers, Carl L. Brown and Cecil J. Kinsey, he obtained a patent for reinforcing mesh. In 1962, the group co-published their work in Apparatus for Making Reinforcing Mesh. He died at the age of 63 on Sept. 18, 1978. Burial was in the Greenview Memorial Gardens in Florence. Mildred lived for another six years. She succumbed to the spirit of death on April 29, 1984.
Son William "Gerald" Menefee (1916-2001) was born on Oct. 12, 1916 in Keyser, Mineral County. When he wasw 23 years of age, in 1940, he lived with his parents in Keyser and earned a living as a public school teacher. He served with the U.S. Army during World War II. As with his brother Horace, he relocated to Alabama and lived in the community of Florence, Lauderdale County. He was employed as an accountant for many years by the Tennessee Valley Authority. In his free time, he belonged to the First United Methodist Church of Florence and the Lions Club. As his health ebbed, Gerald was admitted to ECM Hospital. There, he passed away at the age of 84 on May 9, 2001. Rev. Leonard McDowell preached the funeral sermon, with burial in Greenview Memorial Gardens. An obituary was published in the Florence Daily Times.
Daughter Mary Louise Menefee (1919-2002) was born on Aug. 8, 1919 in Keyser, Mineral County. Her first husband was Clarence Junior Clark ( ? - ? ). One son was born to this union, Francis Gerald "Flick" Clark. The couple divorced, with Clarence marrying again to Flossie. On Oct. 30, 1948, at the age of 29, Mary Louise married World War II veteran LeeRoy Herman Litten (Oct. 5, 1928-2010), son of Gilbert and Nannie (Swain) Litten of Keyser. Their nuptials were held in Hagerstown, MD. The couple dwelled in Virginia and were the parents of Lee Roy Litten II and Michael Litten. He earned a living through his work for Coleman-Adams Construction. Their marriage lasted for a quarter of a century until they separated on July 31, 1972 and were divorced in Lynchburg, Campbell County, VA on Dec. 18, 1974. Her address in 1974 was 7 Greenwell Court, Lynchburg. Her final years were spent in Danville, Danville City, VA, at 334 Maple Grove Avenue. Mary Louise died in Danville on Nov. 4, 2002. Burial of the remains was in Greenview Memorial Gardens. An obituary was printed in the Florence (AL) Daily Times. Former husband LeeRoy married again to Cordelia Tuggle Davis and maintained a home in Lynchburg. Death carried him away on Dec. 1, 2010. Burial was in Fort Hill Memorial Park.
Grandson Francis Gerald "Flick" Clark (1943-2020) was born on New Year's Day 1943 in Keyser. He served a term in the U.S. Navy. Francis was united in marriage with Anna Lee (Welch) Shrout. She brought a son to the union, Robert Shrout. They became the parents of Amy Carpenter, Stacy Groves and Rachel Wattendarger. For 27 years, Francis was employed with Verizon Telecommunications. He belonged to the boyce-Houser Post of the American Legion and Emmanuel Pentecostal Holiness Assembly in Keyser. The family made a home in 2002 in Harrisonburg, VA, and later moved to Maple Sugar Lane in Keyser. At the age of 77, as a patient at Ruby Memorial Hospital at West Virginia University in Morgantown, Francis passed away on Nov. 28, 2020. Pastor Randy Leatherman officiated at the funeral, with burial following in Keyser in Queen's Point Cemetery.
Granddaughter Margo Litten wedded Charles Eugene Judy Sr., son of Johnnie Allen and Irene (Elders) Judy of Bennettsville, SC. The couple established a residence circa 1986 in Danville, VA. They bore three children -- Charles Eugene Judy Jr., Timothy Christopher Judy and Jennifer Michelle Horn. Charles worked for many years in retail sales management. The family was plunged into grief when, on Aug. 25, 2010, Charles died during a camping trip in Clarksville, VA. His funeral service was held in Townes Memorial Chapel, led by Rev. David Abernathy.
Grandson Michael A. Litten was united in matrimony with Yu Fong. Circa 2002-2010, they dwelled in Brandon, FL.
Granddaughter Arlene "Tinker" Litten received an associate of arts and sciences degree from Central Virginia Community College. She was joined in wedlock with George Burkhardt. They have made a home in Hurt, VA and are proprietors of Burkhardt's Nursery, Inc. In 2018, the couple purchased a number of properties along Fifth Street with plans to utilize historic tax credits and redevelop the buildings into commercial and residential uses.
Copyright © 2000, 2004, 2021 Mark A. Miner