Frank Harrison Huggins
Also known as 'M. Frank Huggins' -(1866-1941)
Frank Harrison Huggins (also known as "M. Frank Huggins") was born in Nov. 1866 near Newburg, Preston County, WV, the son of Eugene and Jennie (Hanshaw) Huggins.
When he would have been age 22, circa 1889, Frank was united in holy wedlock with Rachel Ann Glenn (1865- ? ). Their nuptials took place in Newburg.
Their two known children were Nellie A. Mosser and Glenn "Elwood" Huggins. One source, the 1978 book Huggins Families by Charles E. Huggins, states that they also produced two other offspring, T.H. Huggins and W.O. Huggins.
Circa 1894, they lived at Parsons, WV. Frank must have felt great pride in his father's service in the war. The July 19, 1894 West Virginia Argus reported that he had "spent a few days in [Newburg] last week," where he was serving on a committee to decorate two churches for a Civil War soldier's reunion at Albrightsville in August 1894.
The family 1900 was in the Lyon District of Preston County, with Frank earning a living as a merchant. In 1901, the family moved to Morgantown, where they resided at 21 Oak Street. Rachel served as "a Lady Matron in the Wallace House" at West Virginia University in 1906 when their [daughter] Nellie was a student there," said the Huggins Families book.
By 1908, the Hugginses migrated again to Clarksburg, Harrison County, WV. In 1909, Frank was employed as district manager for Peoples' Life Association and League, and in 1910, based now in Black Fork, Tucker County, WV, he earned a living as a traveling salesman. Census records for 1910 show that 77-year-old aunt Mary Lackey was under their roof.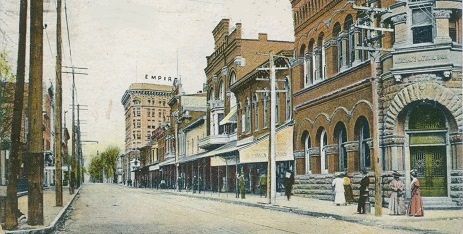 Clarksburg's Main Street, circa 1908
At the death of his uncle Dr. Guy Hanshaw in 1908, Frank was entitled to a 1/16 share of the estate, which included lucrative oil and gas wells. He received an immediate payout from the estate of $115.63 in 1909. At intervals over the years, through 1942, he received royalty payments from the oil and gas wells. The high point was in 1918, when he received $49.08. In total, he received $534.35 in inheritance.
When the federal census was taken in 1920, Frank and Rachel were living in Cleveland, Cuyahoga County, OH, where he was employed as a hardware salesman. Their residence was on Superior Avenue.
During the 1920s, the Hugginses moved again, to Detroit, Wayne County, MI, and resided with Frank's sister and brother in law, Pauline and Charles Engelbrit. The federal census of 1930 shows Frank employed as a master caddy at a golf course, which was managed by Charles. He was a member of the International Order of Odd Fellows, and she belonged to the Grace Methodist Church.
The family moved again, circa 1935, establishing a home in St. Petersburg, Pinellas County, FL. His occupation in 1940 was stated as "machinist - retired." Their address was 532 Third Street South
Frank died at home in St. Petersburg on May 7, 1941, at the age of 75. Rev. Paul Hortin officiated at the funeral service, followed by interment in Royal Palm Cemetery. His obituary was printed in the Tampa Bay Times.
Rachel outlived her spouse by nearly two years and dwelled at 426 11th Avenue Northeast. She succumbed to death at home at the age of 77 on Feb. 2, 1943. Reported the Times, she "had been living here for six and one-half years." Rev. Hortin again preached the funeral.
~ Daughter Nellie A. (Huggins) Mosser ~
Daughter Nellie A. Huggins (1891-1960) was born in May 1891 in West Virginia.
In 1910, when she would have been age 19, she was joined in holy wedlock with Edward Robert Mosser Sr. (1886-1925), a native Pennsylvanian and the son of George W. and Jennie E. (Zeth) Mosser of Claysburg near Altoona, PA.
The were the parents of four known offspring, Mary Glenn Kirschner, Rachel Jane Young Nagley, Edward "Robert" Mosser Jr. and Richard Huggins Mosser.
The Mossers lived in Hendricks, Black Fork District, Tucker County, WV in 1920 as shown by federal census enumeration records. There, he was employied as a train master in a railroad office.
Sadly, Edward died in 1925. The cause is not yet known. His remains were placed into repose in McNeeley Cemetery in Hendricks, Tucker County, WV.
The widowed Nellie moved with her children to Cumberland, Allegany County, MD. There, in 1930, she generated income by renting a room to boarder Lester Flanagan.
Circa 1941-1944, Nellie dwelled in Washington, DC at the address of 2544 17th Street Northwest.
She passed away on Aug. 3, 1960 in Arlington, Arlington Heights, VA. Burial was with her son Robert in Columbia Gardens Cemetery in Arlington.
Daughter Mary Glenn Mosser (1911-1978) was born on Dec. 11, 1911 in Hendricks, Tucker County, WV. She was united in wedlock with Walter A. Kirschner ( ? - ? ). They dwellled in Arlington at 1024 South Monroe Street. Mary was a registered nurse who trained at the Georgetown Hospital and graduated in 1932. Suffering from pneumonia and a disorder of the nerves (polyneuritis), she died in Arlington Hospital at the age of 66 on Nov. 19, 1978. Interment of the remains was in Columbia Gardens Cemetery.
Daughter Rachel Jane Mosser (1917-1998) was born on May 11, 1917 in Hendricks, Tucker County, WV. She grew up in Cumberland, Allegany County, MD. She was joined in marriage twice in her lifetime. Her first spouse was Oliver Brainard Young Jr. (June 19, 1909-1966), a Detroit native and the son of Oliver Brainard and Lydia Irene (Cowell) Young Sr. The couple tied the knot in Washington, DC on July 9, 1936. They bore several children, one of whom sadly died at birth in 1937. Oliver was a civil engineer, employed by the Bureau of Labor. When the federal census enumeration was made in 1940, the family lived in Arlington, VA, with Rachel employed as a stenographer for the federal government. Their address during the World War II years was at 346 North Glebe Road. Grief cascaded over the family when Oliver was stricken with a heart attack and passed into eternity in Arlington in 1966. After a period of five years as a widow, on July 19, 1971, she wedded a second time to Forrest Robert Nagley (March 15, 1904- ? ), son of Moody C. and Clyda Noble (Shaw) Nagley. Their nuptials were held at the United Methodist Church of Arlington. She died in West Virginia on Aug. 18, 1998. Her remains were transported to Arlington to rest with her first husband in Columbia Gardens Cemetery.
Son Edward "Robert" Mosser Jr. (1920-1955) was born on March 1, 1920 in Hendricks, Tucker County, WV. He grew up in Cumberland, Allegany County, MD. He appears to have resided in Baltimore as an adult and then in Arlington, VA at 1311 South Thomas Street. There, he was employed as a commercial artist for a daily newspaper. On May 9, 1945, in the District of Columbia, he was united in matrimony with Dorothy Lillian France (March 7, 1922-2001), a native of Garfield Heights, Cuyahoga County, OH and the daughter of Joseph Schley and Lillian Viola (McBain) France. Robert suffered for the last dozen years of his life with pulmonary fibrosis, a disease of the lungs where scarred, damaged tissue prevents proper functions. Sadly, at the age of 35, he died in Arlington on April 7, 1955. Interment of the remains was in Columbia Gardens Cemetery in Arlington, VA. Dorothy outlived him by 46 years. She married for a second time, on March 11, 1959 to Wilson Kress Bressler (1916-1994). She became widowed a second time when Wilson succumbed to death on May 13, 1994 in Marshall, Fauquier County, VA. Her final residence was in Falls Church, VA. On March 25, 2001,, she was gathered in by the Angel of Death.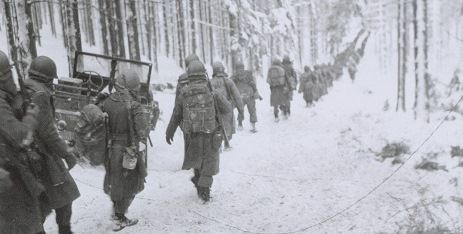 Richard Mosser saw action at the Battle of the Bulge, World War II
Richard Mosser earned a Purple Heart, WWII
Son Richard Huggins Mosser (1922-2014) was born on July 8, 1922 in Hendricks, Tucker County, WV. As a boy, he moved with his widowed mother to Cumberland, Allegany County, MD and then again with her to Washington, DC. Circa 1942, he earned a living working for Gulf Oil Corporation located at the corner of Wisconsin Avenue and Q Streets Northwest. He joined the U.S. Army during World War II and was placed in the 17th Airborne, a paratroop infantryman's division. His unit landed in England in December 1944 and saw action at the Battle of the Bulge. He was wounded or injured at some point and received a Purple Heart medal as well as the Bronze Star. After the war, on April 26, 1947, he entered into marriage with Mary Anne Fierravanti ( ? - ? ). The couple produced two sons, Glenn Mosser and Edward Mosser. The Mossers eventually located in Waynesboro, PA. Richard enjoyed golfing, gardening, horse races and slot machines. At the age of 91, Richard passed away on April 16, 2014. An obituary was printed in the Waynesboro Record Herald.
~ Son Glen "Elwood" Huggins ~
Son Glen "Elwood" Huggins (1896- ? ) was born in March 1896 in Parsons, WV.
He served in the U.S. Army during World War I.
He married Maria Miljus (1900- ? ), a native of Serbia.
The couple bore two known sons, Elwood Glenn Huggins and Jack Elwood Huggins. The family grieved when son Elwood, born prematurely, died at birth on July 12, 1925 at Larew, Preston County.
Circa 1920, they lived with Elwood's parents in Cleveland, where Elwood worked as a telephone company agent, and Maria as a telephone operator.
At some point Elwood relocated to Florida and made a home in St. Petersburg, Pinellas County, probably in the mid-1930s when his parents migrated there. Their address in the early 1940s was 2026 Second Street South. Marie established some sort of practice as a physiotherapist.
After the outbreak of World War II, the 49-year-old Elwood and 17-year-old son Jack both decided to enlist in the Navy, and did so on the same day. Elwood was pictured in a related story in the Tampa Bay Times. Elwood joined the Navy as a pharmacist's mate third class, while Jack went in as a hospital apprentice second class. They were assured that they would train at the same boot camp and likely be sent to the same hospital.
Son Jack Elwood Huggins (1927- ? ) was born in about 1927. He was a Boy Scout and received his Eagle recognition in May 1944. After graduation from high school, in 1944, he joined the U.S. Navy at age 17.
Copyright © 2004, 2008, 2020-2021 Mark A. Miner