Pauline (Huggins) Brown Engebrit
(1879- ? )
Pauline L. (Huggins) Brown Engebrit was born in 1879 near Newburg, Preston County, WV, the daughter of Eugene and Jennie (Hanshaw) Huggins.
On June 29, 1901, in Newburg, the 23-year-old Pauline was joined in wedlock with her first husband, 22-year-old James Frank Brown (1880- ? ). Rev. J.A. Marteney officiated. Frank was a native of Baltimore, MD
By 1908, the couple had relocated to Baltimore. They appear not to have reproduced.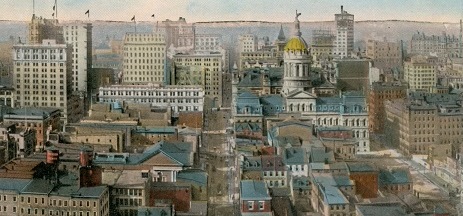 Bird's-eye view of Baltimore, as seen from the Shot Tower
At the death of her uncle Dr. Guy Hanshaw in 1908, Pauline was entitled to a 1/16 share of the estate, which included lucrative oil and gas wells. She received an immediate payout from the estate of $115.63 in 1909. At intervals over the years, through 1942, she received royalty payments from the oil and gas wells. The high point was in 1918, when she received $49.08. In total, she received $534.35 in inheritance.
Circa 1922, Pauline married again to 50-year-old Charles Engebrit (1872 -1952?). He was a native of Minnesota, and his parents were emigrants from Norway. He is believed to have been divorced from Hazel M. (Berger) Duffield Engebrit ( ? - ? ), daughter of William A. and Mary E. Berger of Milton, PA, Peoria, IL and St. Petersburg, FL. He thus brought a daughter into the marriage with our Pauline, Lucile (Duffield) Dandois.
When the federal census was taken in 1930, the Elgebrits made their home in Detroit, Wayne County, MI. There were no children listed in the household. Living under their roof were Pauline's brother and sister in law, Frank and Rachel Huggins. Charles was employed as a golf course manager that year, with Frank working for him as a master caddie. Pauline was a member of the Methodist Episcopal Church and the Michigan Tourist Society.
The couple spent their winters in Florida for a dozen years, enjoying the lifestyle in St. Petersburg, FL. Then, in about 1937, they moved there for good. Their address was 3944 Eighth Street South.
Pauline passed into eternity on May 29, 1939. Her Tampa Bay Times obituary only named her husband and brother Frank as survivors. Funeral services were held locally, by Rev. Arthur Charlesworth, with burial in Palms Memorial Park. Pallbearers included Bernie Patton, Tom Ulsiud, Paul Fualson, nephew Glenn Huggins, J.H. Stevens and (?) Meredith.
Charles outlived his wife by a baker's dozen years. He is known to have gone overnight fishing with friends in Mullet Key in December 1939 and to have returned with a catch of trout, flounder and sheepshead.
He died in St. Petersburg, FL on April 28, 1952. An obituary in the Tampa Bay Times referred to him as a "retired professional golfer... Mr. Engebrit spent some years in Cleveland, later going to Detroit, where he operated a golf school and practice range. He came to St. Petersburg 10 years ago and had been dealing in real estate."
Copyright © 2004-2005, 2008, 2020 Mark A. Miner