Katherine 'Kate'
(Henshaw) Robinson
(1875-1954)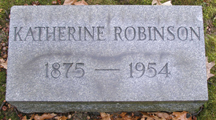 Greenwood Cemetery, Wheeling
Katherine "Kate" (Henshaw) Robinson was born in 1875 in Grafton, Taylor County, WV, the daughter of Robert Moses and Marian W. (Percy) Hanshaw.
In about 1900, when she was 25, Kate was united in matrimony with John Henry Robinson (1877-1946), presumably in Wheeling, Ohio County, WV. He was the son of John R. and Elizabeth (Sloan) Robinson and a native of Monongalia County, WV.
They had one son, John Henry Robinson, Jr., who tragically died at the age of four in 1906. They also were close with a niece of John's, Margaret Robinson.
When the federal census was taken in 1900, the newlywed Robinsons lived on Main Street in Wheeling. John was employed that year as a "clerk - invoice." Also making his home under their roof was Kate's 15-year-old brother, Percy "Roy" Hanshaw, also known as Roy Cofran Henshaw, a student.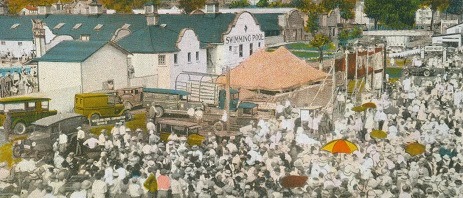 Throngs at the annual Ohio County Fair in Wheeling
At the death of her uncle Dr. Guy R. Hanshaw in 1908, Kate was entitled to a 1/32 share of the estate, which included lucrative oil and gas wells. She received an immediate payout from the estate of $57.81 in 1909. At intervals over the years, through 1942, Kate received royalty payments from the oil and gas wells. The high point was in 1918, when she received $24.54.
Circa 1908, the Robinsons resided in Detroit, Wayne County, MI. The 1910 census shows the family living on Willis Street West in Detroit, where he was a sheet metal salesman.
By 1920, Kate and John had pushed further west, to Missouri, and were residing on Julian Street in St. Louis. John's occupation is shown as assistant manager of a manufacturing company. Kate's brother James "Edgar" Hanshaw and his wife Alice and children also lived in St. Louis that year, making their home on Union Boulevard, with Edgar's occupation was given as "salesman - steel" and his son Bobby's as "actor - vaudeville."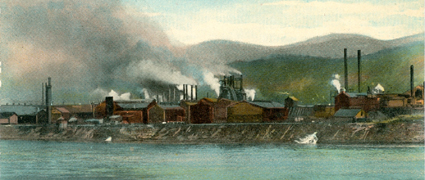 A Wheeling steel mill along the Ohio River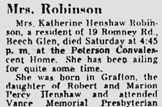 Obituary, 1954
The federal census of 1930 shows the Robinsons in St. Louis, on Julian Street. As in 1900, some 30 years earlier, Kate's unmarried brother Roy (age 46, and possibly widowed) lived in their home. John's employment is listed as manager of a steel company making sheet metal.
John, Kate and Kate's brother Roy returned to West Virginia in about 1930, settling in Wheeling, Ohio County. They later made their home at 19 Romney Road in the Beach Glen section of the city. John was employed as vice president of Wheeling Corrugating Company, a forerunner to today's Wheeling Pittsburgh Steel Corporation. Kate is known to have attended the Vance Memorial Presbyterian Church.
In June 1949, Kate's sister Jean Patterson, who was suffering from cancer, came to stay in their home in Wheeling. After a few weeks' time, Jean passed away there, at the age of 76. Jean's remains were returned home to Columbus, Franklin County, OH for burial.
Just a few weeks after his 69th birthday, John suffered a stroke on Feb. 5, 1946. He was rushed to Ohio Valley General Hospital, where he lingered for eight days. On Feb. 13, 1946, he passed away at the hospital. His remains were laid to rest in Greenwood Cemetery in Wheeling.

Robinson plot in Wheeling's Greenwood Cemetery -- left to right: John Jr., John , Kate and brother Roy Henshaw
Kate passed away at the Peterson Convalescent Home on Dec. 12, 1954, at the age of 79. The Wheeling News Register said "She has been ailing for quite some time." Following a funeral at the Vance Presbyterian Church, she was laid to rest beside her husband and young son at Greenwood. The newspaper added that she was survived by nieces Mary Margaret Robinson of Pittsburgh and Margaret Marion Patterson of Columbus, and nephew Robert "Bobby Uke" Henshaw of Dallas, TX. In her will, Kate left her worldly goods to her nieces, except proceeds from a trust she created at Wheeling Dollar Savings and Trust Company, to be distributed to her brother Roy Henshaw. She left nothing to her nephew, Uke Henshaw, who had achieved national fame as a vaudeville performer and ukulele player.
Copyright © 2004-2006, 2008, 2021 Mark A. Miner