Jean (Henshaw) Patterson
(1873-1949)
Jean (Henshaw) Patterson was born on July 26, 1873 in Grafton, Taylor County, WV, the daughter of Robert M. and Marion W. (Percy) Hanshaw.
In about 1894, when Jean was age 21, she married 23-year-old Ephraim "Eph" Patterson (1871-1925). (His first name also has been given in differing sources as "A.P.H." and "Eugene.") He was the son of Andrew and Agnes (Ford) Patterson, of Belmont County, OH, with his father having emigrated from Ireland.
They had three children, but sadly only one daughter -- Margaret Marion Patterson -- appears to have lived into adulthood.
The census of 1900 shows the young family making their home in Cairo, in the Grant District of Ritchie County, WV. Eph was employed as a railroad agent. They had borne two children by that time, but only one, Margaret, was alive. That year, Eph's 40-year-old unmarried sister Sadie Patterson boarded with them. Jean's uncle, Dr. Guy R. Hanshaw, was a practicing physician in nearby Ellenboro, Ritchie County.
In the early 1900s, the Pattersons resided in the rural and moutainous but bustling railroad town of Burton, Wetzel County, WV. Shortly thereafter, they moved to Wheeling, Ohio County, WV. The Pattersons moved again in about 1908, to Ohio, settling in Columbus, Franklin County, where they remained the rest of their lives.
At the death of her uncle Dr. Guy Hanshaw in 1908, Jean was entitled to a 1/32 share of the estate, which included lucrative oil and gas wells. She received an immediate payout from the estate of $57.81 in 1909. At intervals over the years, through 1942, Jean received royalty payments from the oil and gas wells. The high point was in 1918, when she received $24.54.
When the federal census of 1910 was enumerated, the Pattersons were living at 14 West Second Avenue in Precinct F of Columbus. Eph's occupation was listed as "Agent - Freight."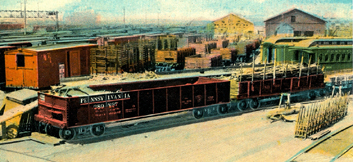 Bustling railroad yards in Columbus, Ohio
The 1920 census shows Jean and Eph making their home on West Second Avenue in Columbus. Eph was employed as "Chief Clerk - Railway." Daughter Margaret, age 23, lived with them and worked as a teacher in the Columbus City Schools.
Eph suffered from "chronic nephritis" -- today known as kidney inflammation -- and died in Columbus on June 7, 1925. He was age only 53 years of age. He was laid to rest in Union Cemetery in Columbus.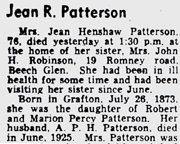 Obituary, 1949
As a widow, Jean remained in their home at on West Second Avenue. Later, she moved to 1163 Neil Avenue, to the north of the downtown area of Columbus. She attended the local Presbyterian Church.
Jean and daughter Margaret maintained their home together as shown in the 1930 census. Jean had no occupation as a widow, and Margaret continued her work as a public school teacher. Lodgers in their home that year were cigar salesman John G. Richey, insurance company branch cashier Charles M. Barry and golf club maker Thomas C. Heston.
Circa 1948, Jean began to suffer from a cancerous growth on the skin of her foot. She went in June of that year to stay with her sister Kate Robinson in Wheeling. There, on Aug. 4, 1949, just eight days after her 76th birthday, Jean passed away. Her remains were returned to Columbus for burial at Union Cemetery. She rests in the old cemetery, section 52, lot 91. Sister Catherine was the informant for Jean's official certificate of death.
~ Daughter Margaret Patterson ~
Daughter Margaret Patterson ( ? -1972) was born in (?).
She apparently was unmarried and living with her mother in Columbus circa 1949.
In 1954, when Margaret's aunt Kate Robinson died in Wheeling, Margaret was named in the will to inherit a substantial portion of the aunt's estate.
She passed away on Nov. 16, 1972, and was buried beside her parents.
Copyright © 2004, 2006, 2008, 2021 Mark A. Miner