Percy 'Roy' Henshaw
a.k.a. Roy C. Henshaw (1884-1960)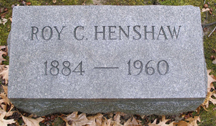 Greenwood Cemetery, Wheeling, WV
Percy "Roy" Henshaw -- also known as "Roy Cofran Henshaw" -- was born on June 27, 1884 in Burton, Wetzel County, WV, the son of Robert Moses and Marian W. (Percy) Hanshaw.
His first name given at birth was his mother's maiden name, "Percy." Why he eventually changed it is not known.
He was orphaned at the age of 12, when his mother died in 1897, following his father's death four years earlier.
When the federal census was taken in 1900, Roy made his residence with his newlywed sister Kate Robinson and her husband John on Main Street in Wheeling.
In adulthood, he stood 6 feet tall and weighed 180 lbs., with blue eyes and brown hair.
Circa 1905-1905, Roy was employed as a salesman with E.S. Dinger Co. in Wheeling. He is listed in the Wheeling City Directory as "Roy C. Henshaw" boarding at 177 15th Street, on the second floor.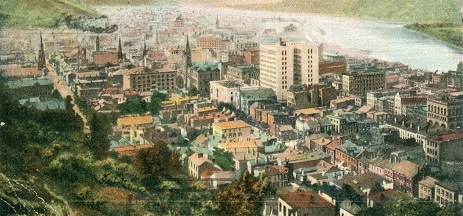 Wheeling, WV circa 1907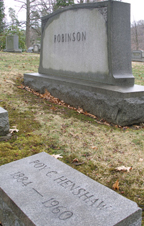 Greenwood Cemetery, Wheeling, WV
At the death of his uncle Dr. Guy R. Hanshaw in 1908, Roy became entitled to a 1/32 share of the estate, which included lucrative oil and gas wells. He received an immediate payout from the estate of $57.81 in 1909. At intervals over the years, through 1942, Roy received royalty payments from the oil and gas wells. The high point was in 1918, when he received $24.54.
Roy was required to register for the military draft during World War I. He was age 34 at the time, and worked as a restaurant keeper in Burton. He listed Mrs. N.W. Robinson of Burton as his nearest relative.
The federal census of 1930 shows Roy, at age 46, unemployed and possibly widowed, living with the Robinsons in St. Louis, on Julian Street.
Roy and the Robinsons returned to Wheeling at some point, where brother in law John Robinson was a vice president with Wheeling Corrugating Company, a forerunner to Wheeling Pittsburgh Steel Corporation. Roy made his home in the late 1950s at 19 Romney Road, which was the Robinson address, and was retired.
Roy became ill in about 1958. After suffering for two years, he was admitted to Ohio Valley General Hospital in Wheeling. He died there, at the age of 76, on Feb. 22, 1960. He was laid to rest beside his sister Kate Robinson in the Robinson family plot at Greenwood Cemetery. The markers are seen at left.
His obituary, in the Wheeling News-Register, said he was survived by nieces Margaret Patterson and Margaret Robinson, and nephew Robert Henshaw in Kansas City.
Copyright © 2004, 2008, 2021 Mark A. Miner