James 'William' Overfield Sr.
(1853-1937)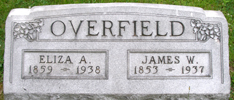 Reedsville Cemetery
James "William" Overfield Sr. was born on Aug. 3, 1853 in Barbour County, WV, the son of John Edgar and Sarah (Hanshaw) Overfield.
Said the Preston County (WV) Journal, "He was a native of Barbour county but came to Preston when a young man and lived here since." As a young man, while residing under his parents' roof, he was trained as a stone cutter.
When he was age 27, William married 21-year-old Allida Anna Eliza "Lida" Zinn (1859-1938), on Feb. 22, 1881. The ceremony took place at the parson age of Rev. Presley F. Flythe. Lida was a native of Preston County and the daughter of Alexander W. and Anna E. (Wright) Zinn.
They had eight children -- Ida Brown, Bessie A. Born, Roxie Peterson, Eva Summers, Percy "Jean" Farrell Grandon, Nettie Born, James William "Junior" Overfield and George Overfield.
Reedsville, West Virginia
For many years, William resided at Brown Mills near Reedsville, Preston County, WV, where he labored as a farmer.
At the death of his uncle Dr. Guy Hanshaw in 1908, William was entitled to one-forty-eighth of the estate. He received an immediate payout from the estate of $38.54 in 1909. At intervals over the years, through 1942, he received royalty payments from the oil and gas wells. The high point was in 1918, when he received $16.36. In total, he received $171.74 in inheritance.
In December 1919, the Overfields received the shocking news that their married daughter Jean, now living in Arizona, had shot and killed her abusive husband in a desperate act of self-defense. William traveled to Coconino County, AZ to attend the trial, and a local newspaper referred to him as "a handsome, refined-looking, middle-aged man." Once his daughter was acquitted, he brought her and her two young children back to West Virginia.
When the federal census was taken in 1920, the Overfields made their home on Overhill Street in Morgantown, Monongalia County, WV. That year, William labored in a glass factory, while son Junior, age 22, was a tin opener in a tin plate mill. Also living under their roof was widowed daughter Jean Farnell and her children Leonard Farnell (age 11) and Bessie Farnell (age 9). Living next door was their married daughter and son in law, Roxie and Ray Peterson.
By 1930, when the census again was enumerated, William and Eliza had moved back to the Valley District of Preston County, where they lived alone. William, age 76, continued to make a living as a farmer.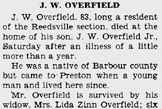 Clarksburg Exponent, 1937
William died of a stroke at the age of 83, on Jan. 16, 1937, while living in the home of son J.W. Overfield Jr. in Lumberport, near Reedsville, WV. He was buried at Reedsville Cemetery, following the funeral at the Methodist Episcopal Church. In his obituary, the Clarksburg Exponent said he was "one of the county's oldest residents." At the time of his death, William and Eliza had 52 grandchildren and 14 great-grandchildren.
The following year, on Sept. 14, 1938, Eliza passed away, at age 79, and was laid to rest beside her husband. She had suffered from stomach cancer. Daughter Roxie was the informant for her death certificate.
~ Daughter Ida May (Overfield) Brown ~
Daughter Ida May Overfield (1881-1976) was born on Feb. 7, 1882 in Preston County.
She married Walter Fleming Brown (1882-1973) on May 2, 1906, when she was age 24 and he 23. Walter was a native of Reedsville, Preston County, and the son of Edward E. and Sarah (McBee) Brown. Rev. Millard F. Compton of the Methodist Episcopal Church officiated.
At the time of marriage, Walter labored as a glassworker at one of the plants in Morgantown, Monongalia County, WV.
They had two children, James W. Brown and an unidentified daughter who died young.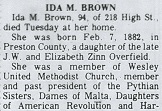 Morgantown Dominion Post
Circa 1937, the Browns lived in nearby Morgantown. In 1957, they were in Rock Forge near Reedsville, where they labored for years as farmers.
Ida was a member of many social and community organizations, among them the Wesley United Methodist Church, Pythian Sistes, Dames o Malta, Daughters of the American Revolution and Harmony Rebekah Lodge of Morgantown.
Walter passed away at age 90 on Sept. 28, 1973, at University Hospital in Morgantown.
Ida survived her husband by three years, making her home at 218 High Street in Morgantown. She died at the age of 94, at home, on March 30, 1976. Following a funeral at the Reedsville United Methodist Church, led by Rev. William Dougherty, she joined her husband in eternity in Reedsville Cemetery. An obituary was printed in the Morgantown Dominion-Post.
Obituary, 1979
~ Daughter Bessie (Overfield) Born ~
Daughter Bessie Overfield (1885-1979) was born in 1885.
She married Kasper Henry Born (1875-1973), the son of German immigrants Jacob and Mary (Oupkey) Born. The wedding was held on March 24, 1902, performed by Rev. Rye Radgar in her parents' home. She was just age 16, and he 26, at the time. Her father had to provide a letter of consent to the county clerk so they could obtain their marriage license.
Kasper was of medium height and stout build, with blue eyes and brown hair. They were members of the Church of Christ at Gladesville.

Reedsville Cemetery
The Borns had 11 children -- Fred Born, Madonna Peterson, Zelma Farley, Mrs. Reher McKinney, Freda Core, Kathleen Kisner, Edwing McCullough, Chester Born, Vernon Born, Bessie Wilson, Louise Shuman and Lillie Virginia Born. Sadly daughter Lillie Virginia died at age one in 1905, with her grave marker seen here at Reedsville Cemetery.
When Kasper registered for the World War I draft, at age 43, he stated that he was a farmer "for myself." In older age, Bessie became interested in the Dr. Guy Hanshaw inheritance situation in 1959. In a letter to distant cousin Frank Wayne Hanshaw Jr., she wrote that "while visiting in Salem W.Va. recently, [I] decided to go into Harrisville, W.Va., to learn what she could about the heirs' interest there." She found the estate administrators "evasive," but learned of the existence of other heirs. They made their home on the Old Kingwood Pike near Reedsville.
In March 1972, the Borns celebrated their 70th wedding anniversary. At the time, they had produced 16 grandchildren and 21 great-grandchildren.
Kasper died at age 98 in 1973, and was laid to rest in the Reedsville Cemetery.
Bessie outlived Kasper by six years, and went to live in the Morgan Manor Convalescent Center in Morgantown. There, at the age of 93, she died on Oct. 3, 1979.

Article in the Morgantown Dominion News about the Borns' landmark wedding anniversary in 1972
Daughter Zelma Born married Roy Farley (or "Fraley") and lived in Barrackville.
Daughter Madonna Born married Harvey Peterson and made their home in Reedsville.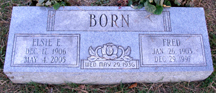 Reedsville Cemetery
Son Fred Born (1903-1997) was born in 1903. He married Elsie E. (?) (1906-2005). Their wedding took place on May 29, 1936. They lived in Reedsville. Fred died on Dec. 29, 1997, at the age of 94. Elsie outlived her husband by almost eight years. She passed away at the age of 99½ years on May 4, 2005. They rest for eternity together in Reedsville Cemetery. Their grave marker, seen here, was photographed in October 2008.
Daughter Repher Born married Parley J. McKinney. They resided in Detroit, MI circa 1972 and by 1979 were living in Port Charlotte, FL.
Daughter Freda Born married (?) Core. She lived in Morgantown and by 1979 was in Lorain, OH.
Daughter Kathleen Born wed George Kisner made her home in Lexington, KY.
Daughter Edwina Born married Morton McCullough and resided in Salem, Preston County circa 1979.
Son Chester Born lived in Arthurdale.
Son Vernon Born made his home in San Diego, CA and later in Portland (OR?).
Daughter Bessie Born married George Wilson and in 1979 resided in San Diego, CA.
Daughter Louise Born wed Emery Shuman. They made their home in San Diego, CA and later in Lexington, KY.

The Borns' grave at Reedsville in the strong afternoon sunlight
~ Son William Gay "Junior" Overfield ~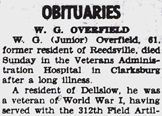 Preston County Journal, 1957
Son William Gay "Junior" Overfield (1896-1957) was born on Feb. 5, 1896.
During World War I, he served in the American Expeditionary Force as a private in the 312th Field Artillery.
Junior lived in Lumberport, Harrison County, WV in 1937, where he likely labored in coal mines. By the mid-1950s, he was residing in Dellslow, Monongalia County.
He married Jessie Lee Watkins (1901-1973), daughter of Perry and Ellen Watkins. The couple produced 11 children -- Dair Overfield, James Overfield, Perry Overfield, Junior Overfield, Clifford Overfield, Jessie Teaford, Betty Pyles, Bonnie Bradley, Shirley Overfield, Sandra Overfield and Judith Bryant.
Said the Preston County Journal, Junior "was a veteran of World War I, having served with the 312th Field Artillery. His last employment was as night watchman for the G.C. Murphy Co. in Morgantown. He was a member of the Mellon's Methodist Chapel, Veterans of Foreign Wars and District 50 of United Mine Workers."
Junior died in the Veterans Administration Hospital in Clarksburg, Harrison County on Feb. 24, 1957, at the age of 60, of liver and colon cancer. He was buried in the Morgan Memorial Park in Preston County. [Find-a-Grave]
Jessie outlived him by 16 years, and made her home in Dellslow. She passed away on June 10, 1973.
Son Dair Overfield lived in Reedsville.
Son James W. Overfield (1933-1994) was born in 1933. He served in the US Army in the late 1950s. He later lived in Morgantown, and died on March 15, 1994, at the age of 61.
Son Perry W. Overfield (1935-2001) was born in 1935. He served with the US Navy circa 1957. He died in Morgantown on Sept. 28, 2001.
Son Junior Overfield lived in Lorain, OH.
Son Clifford Overfield ( ? - ? ) married Ruth ( ? - ? ). Initially they made their home in Reedsville and by 2016 were in Morgantown.
Daughter Jessie Overfield married (?) Teaford and they resided in Columbus, Franklin County, OH.
Daughter Betty Overfield wed (?) Pyles and lived in Dellslow.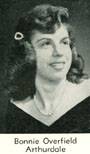 Bonnie Bradley Mick
Daughter Bonnie Lou Overfield (1932-2016) was born on April 8, 1932 in Reedsville. In 1950, she served as a Festival Princess at the Ninth Annual Preston County Buckwheat Festival. Distant cousin John "Donald" Everly (son of J. Ami Everly) served as one of the event organizers. The festival celebrated Preston County's position as "West Virginia's and the nation's number one county in the production of buckwheat," said a 1958 festival program. "Preston County threshed 63,800 bushels and had an acreage of 2,831... This grain is used in astronomical proportions during the Festival. It is the principal ingredient of 15,700 buckwheat dinners served at three Kingwood serving centers." The Festival honored local achievements and public service in the areas of firefighting, education and agriculture. Following graduation from Fairmont State College, she obtained a master's degree at West Virginia University. For some two decades, she was employed by the Preston County Board of Education as a gifted program teacher and with learning disabled students. Her first husband was Rev. Willis Edwin Bradley ( ? - ? ). A graduate of West Virginia University and Wesley Seminar, Willis was a Methodist clergyman who served congregations at Mt. Vernon, Halleck, Lake Lynn, Avery, New Alexandria/Luxor, PA, Sylvester, Poca, Riverview, Marmet, North View, Pruntytown and Rivesville between 1950 and 1975. He and Bonnie have a biographical entry in the 1976 book, The Ministers of the West Virginia Conference, The United Methodist Church, a project of the cabinet and published by The United Methodist Publishing House in Nashville, TN. The couple produced two sons, Parke Bradley and Milton Dean Bradley. Bonnie was a member of Eastern Star and Community United Methodist Church on Grafton Road. After Willis' passing, Bonnie married again to Clell O. Mick ( ? - ? ). Bonnie spent her final years in the Rolling Hills section of Morgantown. She died at the age of 84 on Aug. 31, 2016. Funeral services were officiated by Rev. Judy Flynn, with interment in Mt. Pleasant Cemetery on Eby Road.
Daughter Shirley Overfield married Jeff Rembert, son of Mary Watkins of Coraopolis, Allegheny County, PA. The wedding took place on July 5, 1958 in the Reedsville Methodist Church, where, said the Morgantown Dominion News, "the custom of 'open church' [was] observed." Circa 2016, the couple dwelled in Canton, Stark County, OH.
Daughter Sandra Overfield ( ? - ? ) was wedded to Robert White ( ? - ? ) and make their home in Kingwood.
Daughter Judith Overfield ( ? - ? ) married Ernest Bryant ( ? - ? ). Their residence in 2016 was in Elyria, OH.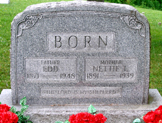 Reedsville Cemetery
~ Daughter Nettie (Overfield) Born ~
Daughter Nettie L. Overfield (1890-1939) was born in 1890.
She married Edd Born (1871-1948), a lifelong resident of Preston County, and the son of German immigrants Jacob and Mary (Oupkey) Born. The Borns were wed in 1909, when Nettie was age 18, and Edd was age 38. (He was about two decades older than she.) They resided at Reedsville, Preston County.
They had 16 children -- Glen Born, Guy Born, Harry Born, Jacob Born, Gerald Born, George Born, Carl Born, Edward Born, Robert Ford Born, Geraldine Trickett, Jessie Baldwin, Evadell Wilhelm, Waunita Nuce, Virginia Genevieve Trickett, Mary Rose Trickett and Dorothy Jean Born.
Obituary, 1939
When the U.S. census was taken in 1910, the Borns and their newborn daughter Virginia lived together in the Valley District of Preston County, where Edd was a farmer. Foster Coburn, a helping hand on their farm, lived under their roof in 1910. During the decade of the 1920s, Nettie gave birth to seven more children, and in the 1920s, she bore another six.
The 1920 and 1930 censuses show this large family continuing to reside in Preston County's Valley District.
Nettie died on July 11, 1939, at the age of 48.
Tragically, their son Robert died of uremia and acute nephritis at age 12, on Jan. 9, 1941. He was buried at the Reedsville Cemetery.
Edd passed away on March 29, 1948, on his 70th birthday, and he was laid to rest beside his wife and son. Their grave was decorated with bright red flowers when photographed in June 2006.
Daughter Virginia Genevieve Born (1909-1972) was born in 1909. She married Judson "Judd" Trickett. They resided in Reedsville and moved to Douglas, AZ, where they were members of the Douglas United Methodist Church. They had two sons -- Darrell Leon Trickett and Gary Ronald Trickett. Sadly, Virginia died at the age of 62 in Douglas Hospital. Her remains were returned to West Virginia for interment in Masontown Cemetery in Preston County.
Daughter Eleanor "Geraldine" Born (1912- ? ) was born in 1912. She married Russell Trickett and lived in Browns Chapel in 1948 and later in Morgantown.
Daughter Reva "Waneta" Born (1913- ? ) was born in 1913. She married (?) Nuce. In 1948, they lived in Dellslow, and circa 1972, they resided on Route 7 near Morgantown.
Son Harry E. Born (1914- ? ) was born in 1914. He lived in Washington, DC in 1948, Oakton, VA circa 1972 and Fairfax Station, VA in 1984.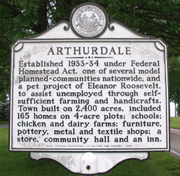 Historic marker
Son Glen K. Born (1916- ? ) was born in 1916. He made his home in Arthurdale in the 1970s.
Daughter Jessie M. Born (1917- ? ) was born in 1917. She married Albert Baldwin and lived in Charleston, Kanawha County, WV circa 1939. Later, Jessie moved to Morgantown. She later married Rodney Didawick and in 1984 they lived in Coconut Grove, Dade County, FL.
Son Carl M. Born (1918-2002) was born in 1918. He made his home along the Kingwood Pike in Reedsville. He is thought to have served on the board of directors for a proposed Valley District Ambulance Association circa October 1971. He passed away on Dec. 1, 2002, at the age of 84.
Son Jacob Born (1919-1984) was born in 1919. He resided in Reedsville. He married Dorothy C. ( ? - ? ) and they had two children -- Jacob C. Born and Judy S. Born. Jacob was a member of the Mt. Vernon United Methodist Church. A farmer, he competed in the Preston County Dairy Farmers annual Hay and Silage Show, held in conjunction with the West Virginia University Dairy Short Court at the State 4-H Camp at Jacksons Mill. In January 1958, he placed fifth with an exhibit featuring alfalfa hay. In 1959, he placed third in field-cured hay. Jacob and Dorothy divorced at some point in time, with him staying in Reedsville, and Dorothy moving to Kingwood. Jacob died at home on Feb. 2, 1984 at the age of 64. Following a funeral held in the Morgan Funeral Home in Reedsville, he was buried in Preston Memorial Gardens. His obituary was published in the Preston County Journal.
Daughter Evadell ("Eva Dell") Born (1921- ? ) was born in 1921. She married (?) Wilhelm of Morgantown. They lived there circa 1984.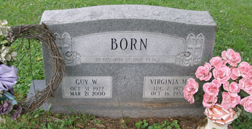 Reedsville Cemetery
Son Guy W. Born (1922-2000) was born in 1922. He married Virginia Marie Costilow (1925-1982), the daughter of Elmer and Virginia Violet (Scott) Costilow of Morgantown. The Borns lived in Arthurdale. They had six children -- Ronald Guy Born, Donald Eugene Born, Tricia Ann Born, Barbara Elaine DeBerry, Sherry Marie Born and Marsha Louise Luzier. Virginia passed away at the age of 57 on Oct. 16, 1982, with funeral services held at the Mill Chapel Church of the United Brethren Church. Guy outlived her by 18 years, and died on March 21, 2000. They are buried in Reedsville Cemetery.
Son Gerald Born (1924-1995) was born in 1924. He made his home in Masontown, Preston County in 1984 and later in Reedsville. He passed away on Nov. 26, 1995, at the age of 71.
Daughter Mary Rose Born (1926- ? ) married (?) Trickett of Masontown. They made their home there in 1984.
Son George E. Born (1927-1997) was born in 1927. He resided in Arthurdale. He is thought to have died at the age of 70 on Jan. 4, 1997.
Son Edd Born Jr. (1933-1996) was born in 1933. He lived in Reedsville. In September 1958, he placed advertisements in the Morgantown Dominion News, promoting a public sale of a six-room house five miles north of Masontown on Rohr Road, near the school, comprising 128 acres. Included in the sale items were 17 head of livestock, a Ford tractor, plows, disc and side mower, manure spreader, wagon and other farming implements. He passed away at the age of 63 on Jan. 30, 1996.
Daughter Dorothy Jean Born ( ? - ? ) married (?) Coulson and made their home in Stowe, OH. By 1984, they had relocated to Clearwater, Pinellas County, FL.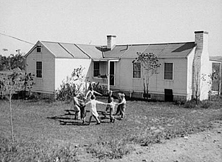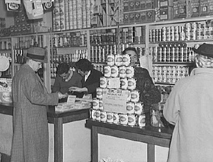 Above: Arthurdale, WV -- pioneering housing developed under the political sponsorship of First Lady Eleanor Roosevelt, with children playing in a typical yard. Above right: the general store. Library of Congress. Below: Inventor Mack Rust shows Mrs. Roosevelt and Mrs. Henry Morgenthau, wife of the Treasury Secretary, his automated cotton picker at the farm equipment plant. ACME Photo.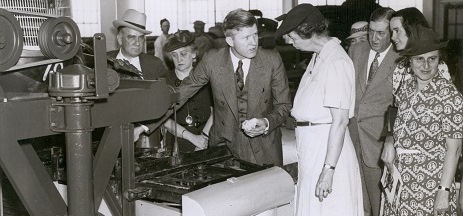 Preston County Journal
~ Son George A. Overfield ~
Son George A. Overfield (1882-1971) was born in 1882.
He married Hester P. ( ? -1966).
They had no children, and resided in Reedsville, in the section called Rock Forge.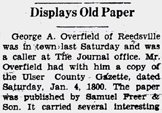 Preston County Journal, 1939
In the dead of winter 1939, he visited the offices of the Preston County Journal in Kingwood, bringing with him an old newspaper, the Ulster County Gazette, dated Jan. 4, 1880. "The paper was published by Samuel Freer & Son," said the Journal. "It carried several interesting articles about them being an account of the death and burial of General Washington and the opening address of President John Adams to Congress. The paper was well preserved and had many things of interest of the early history."
George was a longtime employee of the A & P Store, and was a member of the Piedmont United Methodist Church. In 1971, when he was 88, George fell at home, and was taken to University Hospital in Morgantown. He died there on March 2, 1971. Burial was in the Odd Fellows Cemetery at Westernport, MD. His obituary was published in the Journal.
~ Daughter Percy Jean (Overfield) Farrell Grandon ~
Daughter Percy "Jean" Overfield (1889-1979) was born in 1889.
She twice wed. Her first spouse was James Charles Farrell (1883-1919), the son of John and Adeline (Brown) Farrell. The wedding took place on Aug. 11, 1907, at the bride's home near Mt. Vernon in Preston County, when she was age 19, and he was 25.
Two weeks into the marriage, they moved west to Phoenix, Maricopa County, AZ and remained there through the 1910s, where James followed his trade of carpentry. During that time, even as the marriage began to unravel, they produced two children -- Leonard Farrell and Bessie Marcia Farrell.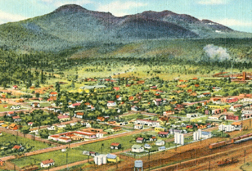 Williams, AZ, in the foothills of Bill
Williams Mountain, 9,200 ft. above sea level
Later in the 1910s, the family moved to a ranch at Garland Prairie near Parks, Coconino County, AZ. James was "frequently abusive and ugly," reported the Coconino Sun in Flagstaff, and he often called her "bat face." Once, "when she had gone into the back yard where he was, he had asked her, 'what in hell are you diong here?' and when she had retorted that she supposed she had a right there, he struck her several times with his fists, on either temple, knocking her down. Then he kicked her."
On another occasion, said the Sun, while at Garland Prairie in the spring of 1919, "he was choking her and knocking her head against the wall when M.J. Lunch, an old friend of both Mr. and Mrs. Farrell, who lived there with them for three months, came in and pulled Farrell away. Still another time, when Farrell was about to whip their little daughter, Bessie, who ran behind her mother for protection, Farrell struck the mother in the jaw with his fist."
In front of the children, James swore at his wife or told them that he would "cut their mother's guts out" and "mash her head in." She later said that when going to bed at night, she often feared for her life.
On the fateful morning Sept. 24, 1919, when James was age 36, he and Jean discussed separating, and she asked that he leave the ranch to her along with $100 cash. He shot back that "I'm wise to your little game" but when their farmhand came into earshot they stopped the discussion. After lunch, James began to rant that he would "clean out the whole ... lot of you" and reached for his rifle behind a trunk. Instinctively, Jean "grabbed the shot gun, which was leaning against the wall, and fired at him," said the Sun. "She saw him straighten up, heard him moan, 'O-o-o-h!' then ran into the beanfield."
The shot from the gun had hit its mark, in James' midsection, tearing apart his liver, kidney and stomach, then cutting up his right and left lungs and heart. Bleeding profusely, he went into the house to lie down, but it was clear he was dying. Jean sent her son to a store owned by Frank Chadek with a note asking for physicians to come. Dr. C.D. Jeffries of Williams arrived at the house but there was little he could do. James died later that day.
Jean admitted to the killing and was arrested. Her good friend Mrs. Charles W. Heiser paid the $500 bail so that Jean would be released prior to the trial. Her father traveled from West Virginia to be present, and the Sun called him "a handsome, refined-looking, middle-aged man."
At the four-day trial, some dozen men and women testified for the prosecution, among them James' uncle, in addition to the sheriff, deputy sheriff, city marshal, under-sheriff and two women who knew the family but never had witnessed the abuse. Two men testified for the defense -- justice of the peace J.S. Button and W.D. Finney of the local Western Union telegraph office. The evidence against James was so overwhelming that the jury only took 10 minutes to render its verdict, and Jean was acquitted on grounds of self defense. Reported the Sun, "Farrell's ugly character, his actions at times so maniacal as to lead to fear that he was insane; his brutality toward the plaintiff; his threatening behavior on the day she shot him -- all were proven beyond a shadow of a doubt. Her defense was perfect in every detail, so closely and reasonably did every bit of the evidence link together, in none of it a thing that reflected on Mrs. Farrell's character or behavior."
Her father announced that he was taking her and the children back to West Virginia. She relinquished her ownership of the homestead ranch, machinery and stock to Mr. Schultz, trading them to him for his property north of town.
After returning to Morgantown, Jean and the children temporarily resided with her parents and children circa 1920. Later, by 1930, she married Ohio-born Philo Vanburen "Phil" Grandon (1879-1951). The couple then returned to Arizona for several years and thence relocated to California.
The 1930 census shows the Grandons making their home in Tempe, Maricopa County, AZ, where Phil was employed as a laborer constructing bridges. The whereabouts of the children at that time are unknown. The couple moved to California and lived in Bakersfield by 1937.
Philo passed away in Tulare County, CA on June 25, 1951.
Jean outlived him for many years, and continued to make her home in Bakersfield in 1971. She died at the age of 90, in Kern County, CA, two days before Christmas in 1979, and less than three months after the death of her sister Bessie Born.
Son Leonard Farrell (1908- ? ) was born in about 1908 in Arizona. Nothing more is known.
Daughter Bessie Marcia Farrell (1910- ? ) was born in 1910 in Maricopa County, AZ.
~ Daughter Eva (Overfield) Summers Taylor ~
Daughter Eva Overfield (1892-1980) was born in 1892.
She first was married married (?) Summers. Nothing about that marriage is known.
Circa 1937, she was married again, to Charles Francis Taylor (1891-1954), the son of John Reuben and Emily Jane (Blaney) Taylor. They resided in Reedsville, where Charles labored as a coal miner. He was a member of the United Mine Workers of America.
Charles passed away at age 63, on Oct. 31, 1954, of hardening of the arteries, along with rheumatoid arthritis.
Eva outlived her husband by more than a quarter of a century, making her home in Morgantown. She died at age 88 in 1980, and was buried beside her husband at Reedsville. Their sons Charles Edgar and Harry Francis and daughter Helen Virginia Taylor also are buried at Reedsville. Their surviving children were May Oma Born, Lois Smith, Lucille Martin and Melba DeGolyer.
~ Daughter Roxie Dove (Overfield) Peterson ~
Daughter Roxie Dove Overfield (1895- ? ) was born in 1895. She married William "Ray" Peterson (1894- ? ) on Aug. 8, 1915, at the home of her parents in Preston County, when she was age 20, and he 23.
The couple had at least five children -- Harry R. Peterson, Arthur W. Peterson, Garnet V. Peterson, Roy A. Peterson and Eloise H. Peterson.
They lived on North Willey Street in Morgantown in 1920 and 1930, when the census was taken, near the campus of West Virginia University. During that period of time, Ray was employed as a mechanical engineer in a tin plate mill.
In 1920, they lived next door to Roxie's parents, brother J.W. Jr., and widowed sister Jean Farrell.
By the late 1950s, and at least as recently as 1971, Roxie was residing in Baltimore, MD.
Copyright © 2004, 2006, 2008-2009, 2016, 2021 Mark A. Miner
Arthurdale images courtesy of the American Memory Project of the Library of Congress. Williams, AZ postcard photo by Williams Studio and distributed by Lollesgard Specialty Co., Tucson, AZ.