Home

Frank Wayne Hanshaw Jr.
(1915-1995)


Frank and Jayne Hanshaw
Frank Wayne Hanshaw Jr. was born on Aug. 27, 1915 in Golden's Bridge near Lewisboro, Westchester County, NY, the son of Frank W. and Mary Gertrude (McCoy) Hanshaw Sr. He became a band leader himself and later a talent agent for some of the nation's leading singers and band leaders.
As a newborn, Frank was baptized at Church of St. Joseph in Croton Falls, NY, according to the rite of the Roman Catholic Church.
He grew up in Scarsdale, Westchester County, and spent much time as a youth visiting Florida, where his father is known to have operated several hotel properties, including the old Hotel Dunedin and one in New Port Richey.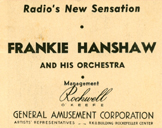 Early poster
Frank's older sister Annette Hanshaw also made her own mark in the world of music. Annette, age 14, would sing to her baby brother. Said a 1934 article in Radioland Magazine, "for the first few months [he] was perversely incapable either of resenting or appreciating Annette's young melodies. The years crept by, as they say in the movies, and came the dawn of understanding when Frankie began to realize that his sister was the best singer in the United States or any other country..."
Thus Frank arrived into his adulthood with a deep love of music, with a special interest in orchestras.
During high school in Scarsdale, he formed his own combo, the Frank Hanshaw Orchestra. The band performed at high school dances, including one known junior class prom at Tuckahoe High School in Eastchester, NY. An early poster is seen at left and a promotional postcard seen at right.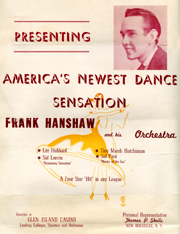 Early poster for Frank's band
Frank attended Duke University, and graduated in 1936. During his years as a collegian, said Radioland, sister Annette "still looks after Frankie, helps him choose his clothes, cooks his favorite dishes, and entertains his friends." All the while, said the article, Annette was becoming "the original Frankie fan."
While at Duke, he attended many band and orchestra concerts. He became particularly impressed with a new act directed by his Phi Delta Theta fraternity brother, Les Brown. Known as the Duke Blue Devils, they were "slowly gaining a reputation as a smooth swing band," said a newspaper. Seizing the entrepreneurial opportunity of a lifetime, Frank decided to help the Blue Devils. When the band obtained a summer engagement in New Jersey, he "managed to get some contacts in New York which eventually netted them better engagements." The band quickly rose to fame, and, said the newspaper, "the members of the bank, forsaking careers as doctors, lawyers, engineers and scientists, and encouraged by their talented director and arranger, Les Brown, left campus to make their Broadway debut which was arranged by Hanshaw." The band also spent a summer performing at Glen Island Casino in Rye, NY, also of Frank's doing.
Fan magazine article showing Frank with his famous sister
In 1938, Brown formed an orchestra that would become famed as "Les Brown and the Band of Renowned," recording such smash hits as "Sentimental Journey." Among the music superstars who performed with the band over the years were Doris Day, Bob Hope, Tony Bennett, Dean Martin, Frank Sinatra, Ella Fitzgerald and Nat "King" Cole.
Following graduation from Duke, Frank joined the Rockwell O'Keefe talent agency in New York, a company that later evolved into General Artists Corporation (and later still into International Creative Management [ICM]). He began building his reputation and relationships, likely with many of his sister's contacts with the National Broadcasting Corporation (NBC) and Broadway theatres, where she had performed to wide acclaim in the production of "Showboat." He thus was a booking agent with one of only three major firms in the business at that time -- the other two being the William Morris Agency and Music Corporation of America (MCA).
When World War II broke out, Frank joined the United States Army. He served as a sergeant in a Ranger unit attached to the 399th Infantry Battalion, 100th Division, and led a military band called the 399th Combat Infantry Band. The Atlanta Journal Constitution said it was "the only combat status orchestra in the European Theater." During its time in Germany, the band gave more than 1,000 performances, when it wasn't fighting the war. At one point, armed with rifles instead of musical instruments, the band members actually helped capture Esslingen on the Neckar River. After the war, the band entertained troops awaiting their discharge and return home.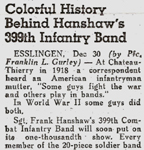 Beachhead News, 1945
Said the Beachhead News in late 1945, "Every member of the 20-piece soldier band currently barnstorming throughout Southern Germany wears either the combat infantrymen's badge or the medic's valor badge. They've been hailed by Commanding Generals as the best band in the ETO [European Theatre of Operations], enjoyed by privates, acclaimed by AFN Munich [Armed Forces Network, the first American radio station in Germany]." In one grueling day, the band played five engagements over a distance of 150 miles. It also recorded 10 records for Armed Forces Network Munich.

World War II
General Willard A. Holbrook Jr., commanding general of the 12th Armored Division, said the 399th was the "best ... the smoothest ... the most professional band I have heard in the ETO." AFN Munich said it was "The best GI group we have ever recorded." Providing a glimpse into Frank's managerial style, said Beachhead News, he "shuffles his show every two weeks, so it's always a brand new performance... Before every show Hanshaw gathers his light-hearted musicians around and gives them a real Rockne invocation."
At the end of his service, he received the Bronze Star, and returned home to New York, rejoining GAC. The company promptly transferred him to its office in Cincinnati.
Shortly after arriving in Cincinnati, Frank met and wooed Willa " Jayne" (Fowler) Hanshaw (1920-1998), the daughter of Arthur L. and Blanche (Ellison) Fowler. They were married on Sept. 28, 1946, in Cincinnati. He was age 31, and she 26, at the time.
They together produced one son, Frank Wayne Hanshaw, III.
In about 1949, Frank left GAC to become personal manager for the Bobby Byrne Orchestra and for Oran "Hot Lips" Page, a great trumpet player with roots in the Count Basie Orchestra. The Byrne Orchestra was a New York City group with a big band sound.
Cincinnati skyline, with the Union Terminal in the foreground
A January 1949 article in The Billboard mentions Frank in a review of the Byrne band's performance at the Avalon Ballroom in New York. The article states that the band was "tailored for the hotel trade and has the ingredients for success via the more intimate presentation media of records and radio. While Byrne can get a big brass sound out of his four-way trombone scorings, the band's distinction lies in its variety of color combinations, tasty effects made possible by the versatility of the reed men ... and Byrne himself, who alternates between trombone and harp."
While the personal management business held a lot of promise, it ultimately was a money-losing proposition. Within a year, Frank returned to his old post as head of GAC's office in Cincinnati.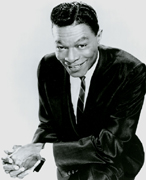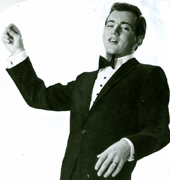 Left to right: performers Nat King Cole, Les Brown and Bobby Darin, all assisted at one time or another by Frank Wayne Hanshaw Jr.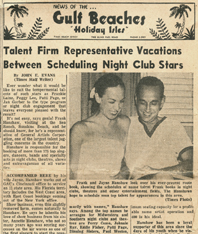 St. Petersburg Times, 1953
In a 1953 feature article, written while Frank and Jayne were vacationing in Florida, the St. Petersburg (FL) Times said the "genial" Frank was "responsible for the booking of more than 175 top singers, dancers, bands and specialty acts in night clubs, theatres, shows and extravaganzas of all varieties... Hanshaw works out of GAC's Cincinnati office to service an 11 state area. His Florida territory includes the West coast area, with East Coast bookings coming out of the New York office."
He dealt primarily with big-name stars, and arranged Midwestern and Southern night club and theatre performances for the likes of Perry Como, Johnnie Ray, Eddie Fisher, Patti Page, the Dinning Sisters, Paul Weston, Cab Calloway, Conway Twitty and others. He also "played a role in aiding the early careers of such artists as Nat 'King' Cole, the Four Lads, Stan Kenton, Bobby Darin and many others," said the Atlanta Journal Constitution.
He later transferred to GAC's Miami Beach office, where "it always operated in the black," said the Miami Daily News, "booking Miami Beach nightclubs and spots in South Carolina, Alabama, Georgia, Puerto Rico and until Fidel Castro came into power, Cuba." In January 1960 Frank was named vice president of General Artists Bureau, a subsidiary of GAC. The news was covered in Variety (Jan. 20, 1960). GAC closed its Miami Beach office, and transferred Frank to New York City, where he was to take charge of the music department. Said the Miami Daily News at the time, "Television and the music fields are taking on more importance and GAC will devote more attention to them. Hanshaw will handle concert artists, bands and the recording end of the agency."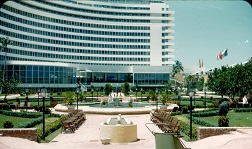 Miami Beach's Fountainbleu Hotel
Courtesy the late Odger Wayne Miner
During their years in Miami, Frank and GAC represented superstar Jackie Gleason. They got to know Gleason's executive producer Jack Philbin quite well, and Philbin asked Jayne to be an assistant producer for the show. Later, she became an assistant producer for the Miss Universe Pageant in Miami.
Among Frank's acquaintances was future CNN superstar Larry King, who in the late 1950s was a radio commentator interviewing patrons of Pumpernick's Restaurant in North Miami. He also was close friends with Harry Mufson, owner of the Eden Roc Hotel and Ben Novack of The Fountainbleu, along hotel row on Miami Beach and all well known social spots in their heyday. The Old Forge Restaurant, near Frank's office on Arthur Godfrey Road, was an unofficial gathering place for virtually all of the entertainment and media movers and shakers of the time.
Frank eventually left GAC and became president of the Arnold Agency, Inc., "one of the South's oldest entertainment agencies," said the Atlanta Journal-Constitution. Relocating to Atlanta, they changed their business strategy, away from grooming individual stars, and focusing more on corporate entertainment, trade associations and conventions, catering to large hotel chains such as Hyatt, Marriott and Westin, which were much more lucrative. The Hanshaws shed the titles of "booking agents" to the more sophisticated-sounding "entertainment producers."
Variety, Jan. 20, 1960
Frank suffered a heart attack and prostate cancer and was bedridden during his later years. He passed away in Atlanta at the Veterans Affairs Medical Center on Oct. 21, 1995, at the age of 80. He was laid to rest in the National Veterans Cemetery in Marietta, GA. Among other places, his obituary appeared in Billboard and in the Atlanta Journal Constitution.
During Frank's illness, Jayne also served as president of the Arnold Agency, and was one of the first women franchisees in Georgia for the American Federation of Television and Recording Artists (AFTRA) and Screen Actors Guild (SAG).
She passed away on May 13, 1998, and rests for eternity at Greenwood Cemetery in Hamilton, OH.
Copyright © 2002-2009, 2012-2013, 2018 Mark A. Miner
Photograph of Les Brown published by Ager, Yellen & Bornstein Inc., New York, on the cover of sheet music for "Trust in Me."