John Amaziah 'Ami' Everly
(1872-1930)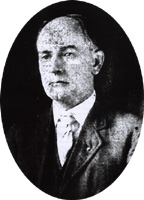 J. Ami Everly
John Amaziah "Ami" Everly was born on March 8, 1872 at Herring, near the Friendship school house in the Valley District of Preston County, WV, the son of Absalom and Sarah (Carroll) Everly.
Also known as "J. Ami," he overcame early widowhood to become a successful teacher, Kingwood politician, and husband and father. He served as Preston County Assessor from 1917 to 1921.
Ami was married twice, and ironically, both of his wives were named "Lillie." His first wife was Lillie A. Forman ( ? - ? ), daughter of John E. Forman of Herring, Preston County.
Tragically, she "only lived a few months after their marriage," said the Preston County Journal. Her date of death is not yet known.
Ami then entered into marriage with his second wife, Lillie Mae Wolfe (June 20, 1876-1933), on Christmas Eve 1899. She was one of 13 children of Hezekiah and Mary Jane (Beatty) Wolfe, and was born on Salt Lick, near Amblersburg and Terra Alta, Preston County.
The couple went on to produce three children -- Paul Darlington Everly Sr., Mary Emily Crawford and and John Donald "Happy" Everly.
The family were members of the Kingwood Methodist Episcopal Church. Ami and Lillie are named three different times in a 1950 booklet, entitled Through the Years: A History of Methodism in Kingwood, West Virginia, authored by Ethel Peaslee Beerbower. Ami is recorded in this slim green volume for his work as Sunday School superintendent (in 1913).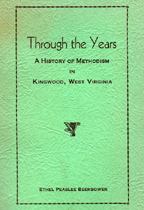 Book about the Everlys'
church in Kingwood
During World War I, Lillie served on a committee in 1918 to organize ladies' teas at the church for "war relief work." In promoting the teas, said the committee, "knitting needles and yarn will be much in evidence and the whole atmosphere will be decidedly patriotic. Each guest is required to bring her favorite food conservation recipe." She also was a charter member of the Craig Bible Class, organized at the church in February 1915. A local newspaper once said that Lillie "took an active part in church work and the community in which she made her home the greatest part of her life."
Lillie maintained an active social calendar and belonged to the Eastern Star, White Shrine and Pythian Sisters.
The Preston County Journal once said that he "is one of our kind of young men who took hold of work when he was a boy like he was not afraid of it, and has worked ever since... [His] father moved to the farm now owned by J.C. Elliott near Herring (in Hackleberry) when [Ami] was a boy. This farm was nearly all in woods at the time, and the son worked hard in summer, at clearing, splitting rails and farming, attended school in winter, and got his rudimentary education. Although only a 'chunk of a boy' he showed grit in those days and still has it."
As he grew into manhood, the Journal said, he left home "to support himself and help support a good sized family on the farm... He was not brought up with a pair of kid gloves on, nor born with a silver spoon in his mouth." He labored for "some of the best farmers" in the Valley District, among them E.M. Hartley, H.A. Hartley, James Watson, C.W. Ashburn. For three summers, he "drove a six horse team, hauling timber for the late Thornt Pickenpaugh of Morgantown, part of which time he worked on the Pickenpaugh farm."
At the age of 18, in 1890, he began an eight-year era of teaching school. His first assignment was in Reno, near Rowlesburg, Preston County, where he was "regarded as a splendid, painstaking teacher," said the Journal. He "never had to ask for a school after his first term... [The] remainder of his schools were in his own settlement, in Valley district," including as master of the Long Hollow School where he himself had been taught as a schoolboy.

Ami's lengthy profile in the 1923 book, History of West Virginia, Old and New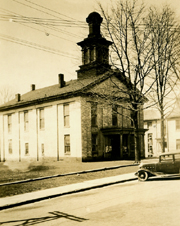 Preston County Courthouse
He then pursued a more lucrative career "in the mercantile business in Kingwood for a number of years," said the Preston County Journal, and was "store manager for the Bethlehem Mines stores in the Preston- Monongalia-Marion division." He became politically active, with extensive biographical articles published in the Journal during election campaigns. The Preston County Courthouse, where he worked as County Assessor, is seen here. He is profiled in a lengthy feature in the 1923 book, History of West Virginia, Old and New, which states that:
When he had finished his last year at Long Hollow he turned to commercial lines, and at Kingwood spent two years as a clerk in a drug store, another two years with John H. Garner, and for seven years was associated with the veteran steamboat merchant James A. Lenhart. Following this he entered the service of the Tri-State Lumber Company, being bookkeeper of the mill and manager of the store and finally superintendent of the plant. After almost three years in the lumber business he joined the Coffman-Fisher Company at Howesville, but was soon transferred to Albright, and he only left this service after four years to perform his elective duties at the court house in Kingwood. Mr. Everly was a candidate for the nomination for county assessor at the republican primaries in the spring of 1916, contesting the nomination against five competitors. He was nominated and in November was given the largest majority on the ticket. He had been a regular party worker for a number of years, though never a candidate for office, and his candidacy was the convincing proof of his great personal popularity. Mr. Everly entered the assessor's office as successor to E.B. Hauber, and handled the responsibilities capably for four years. Before the expiration of his term he was appointed campaign manager for Preston County in the campaign of 1920. In that year of general republican triumph he set a new record for the party in Preston County, since never before had the county cast so large a number of votes and never before had a republican ticket received such a handsome majority. Since leaving the court house Mr. Everly has been in business. For a time he sold the Ford car, but is now a traveling representative for the John S. Naylor Company of Wheeling.
The federal census, taken in April 1930, shows Ami, Lillie and son Donald in Kingwood, with Ami employed as an automobile salesman. But fate intervened within a few months.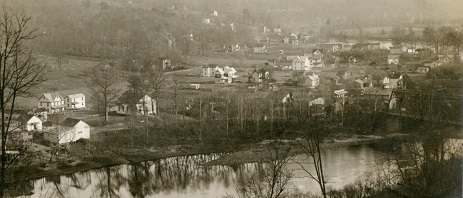 Bird's eye view of Albright, WV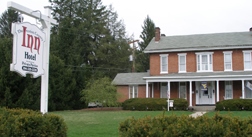 The Inn at Kingwood
In May 1930, Ami and his wife were preparing to move to the old John C. Murdock property on High Street in Kingwood, and to open a summer hotel at The Inn. Tragically, while doing some odd jobs on the property on May 29, 1930, he fell over and died instantly. The death certificate gave his cause of death as "valvular heart disease." He was laid to rest in the Maplewood Cemetery in Kingwood.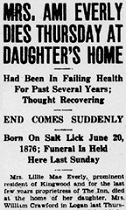 Obituary, 1933
Lillie only outlived her husband by three years, and owned The Inn in Kingwood during that time. In later years, the Inn would be owned and operated by L.F. Silbaugh, offering modern rooms, fine food and reasonable prices. The beautiful Inn building is seen here, as photographed in April 2009.
At Easter 1933, at the age of 56, she went to live with her married daughter Mary Emily Crawford in Whitman, Logan County. The Preston County Journal reported that she "had been confined to her bed practically the entire time she was there. The last few weeks she had shown a marked improvement and the attending physician had held hope for her recovery, but last week pneumonia set in and her untimely death followed." Her death occurred on June 8, 1933. Burial was with her husband at the Maplewood Cemetery.
In a front page obituary, the Journal eulogized: "In the last few years she had been in failing health but only those close to her ever knew that there was anything wrong. She was always cheerful and king and the news of her death came as a shock to her host of friends in Kingwood and the county."
~ Son Paul Darlington "Pete" Everly Sr. ~
Son Paul Darlington "Pete" Everly Sr. (1901-1940) was born in 1901.
In about 1928, when he would have been 26 years of age, he was united in matrimony with 23-year-old Margaret Augusta "Peg" Shaffer (Sept. 1, 1904-1988), a native of Parsons, Tucker County, WV. She was the daughter of Howard C. and Sarah Elizabeth Shaffer.
They produced three children -- Margaret "Ann" Shoffner, Paul Darlington "Pete" Everly Jr. and John Howard Everly.
Paul received a degree in mining engineering in 1926 from West Virginia University. Circa 1930-1933, he lived in Pittsburgh, and was employed by Pittsburgh Coal Company as a ventilation engineer. The federal census enumeration of 1930 shows the couple in the Mount Lebanon section of Pittsburgh's South Hills.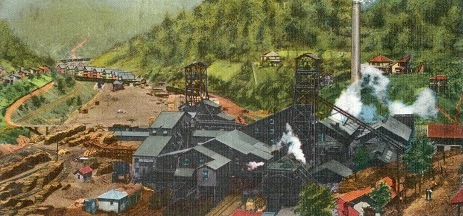 Koppers' Carswell Mine in West Virginia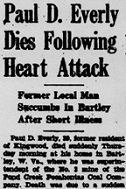 Preston County Journal
From Pittsburgh, he was assigned to Holden, Logan County, WV, where he served as preparation engineer for the Island Creek Coal Company. In 1939, he moved to Bartley, McDowell County, where he was named superintendent of the No. 3 mine of the Pond Creek Pocahontas Coal Company, "one of the largest mines in the company," said the Preston County Journal.
The Carswell Mine in McDowell County, operated by Koppers Coal Company, was closely affiliated with Pittsburgh Coal Company. The image shows the magnitude of the steep mountainous regions of the state's coal country.
The United States Census of 1940 places the family in Big Creek, McDowell County.
While working at Pond Creek, in May 1940, he began to suffer from heart problems, and went to a hospital in Welch for treatment. The company decided to transfer him back "to his former home in Holden where he was to take an administrative position," said the Journal, "due to the fact that his health would not permit the work he was doing at Bartley."
He was discharged and returned home to Bartley in late June, "and was apparently on the road to recovery when another [heart] attack proved fatal. He suffered the attack while in his room and was found by members of his family, death coming before the doctor arrived. He was one of the most popular young men in Kingwood and the news of his untimely death came as a shock to his friends throughout the county." An obituary also was printed in the Cumberland (MD) Evening Times.
Sadly, at the time of his passing, on July 19, 1940, he was but 38 years of age. Burial was near his parents' graves at Maplewood in Kingwood.
Margaret married again in time to her brother-in-law, William Crawford ( ? - ? ), widower of Mary Carroll Emily (Everly) Crawford. She thus became stepmother to her niece and nephew, Mary "Jane" Spears and John William "Jack" Crawford. See their entry elsewhere on this page for more.
William was a coal mine superintendent in a number of small towns in West Virginia and in David, KY.
The couple's retirement years were spent in Fort Myers, Lee County, FL. Sadly, William died there on April 23, 1976.
Margaret survived her second spouse by a dozen years. She was carried into eternity by the angels, in Fort Myers at the age of 83 on June 2, 1988.
Daughter Margaret "Ann" Everly (1932-2014) was born on July 3, 1931 in Pittsburgh. In young womanhood she and her cousin/stepsister Mary Jane Crawford went to boarding school at Pikeville Academy. From there, Ann studied at Lincoln Memorial University. She received degrees in 1953 in physical education and biology from the University of Kentucky. At the age of 22, in 1954, she wedded James Roy Shoffner (Sept. 6, 1928-2005), son of Junes Roy and Celiz Shoffner. James was in the U.S. Air Force, and the early years of their marriage were spent in Fairbanks, AK. Children born in this family were John Paul Shoffner, Jamie Bowling, James Jeffrey "Jay" Shoffner and Jeremy Alan "Jerry" Shoffner. Later the Shoffners relocated to Middlesboro, Bell County, KY, where Ann held a membership in the First Presbyterian Church. The couple eventually divorced. Her final years were lived in Middlesboro, KY. Said the Iowa City Press-Citizen, "Affectionately known as 'Nana' to many, she will always be remembered for her beautiful spirit and for her appreciation of the simple things in life. Ann was a beautiful lady whose expressions of gratitude and thankfulness will forever be missed. Her humble, loving and charitable life was one well lived." She succumbed to death as a patient in Middlesboro Appalachian Regional Hospital on Nov. 6, 2014. Her memorial service was conducted in the family church. The family asked in an obituary that any memorial contributions be made to the Cooperative Christian Ministry or Ronald McDonald House Charities of the Bluegrass. Former husband James was well known as a pilot in the years after the war. He died in Harrogate, TN on Sept. 24, 2005.
Grandson

John Paul Shoffner

was married and the father of Kendall Acomb and Brynn Taylor Shoffner
Great-granddaughter Kendall Shoffner wedded David Acomb. Their offspring are Weller Acomb and McClain Acomb
Granddaughter Jamie Shoffner was united in matrimony with Michael Bowling. Children born to this union were Ashley Everly Kraska, Adam Bowling and Blake Shoffner Bowling.
Great-granddaughter Ashley Everly Bowling married Richard Kraska. Together they bore two children, Everly Chatterton Kraska and Elizabeth Shoffner Kraska.
Great-grandson Adam Bowling wedded Becky. They have a son, Harrison Shaffer Bowling.
Great-grandson Blake Shoffner Bowling
Grandson James Jeffrey "Jay" Shoffner

was joined in wedlock with Kelly. They are the parents of Madison Ann Shoffner and Mallory Lay Shoffner.
Grandson Jeremy Alan "Jerry" Shoffner entered into marriage with Farra. The couple's three offspring are Celia Anne Shoffner and Nicklaus Alan Shoffner.
Son Paul Darlington "Pete" Everly Jr. (1934-2009) was born on March 10, 1934 in Pennsylvania. After the death of his father, his mother remarried, and the family was raised in West Virginia and David, KY. He served in the U.S. Army during the Korean War. Paul was joined in the bonds of matrimony with Billie Sue Thompson (Dec. 12, 1935-2013), a native of Letcher County, KY and the daughter of Martin Emanuel and Edna (Bowen) Thompson. The couple had a family, but details are not known. He passed away in Ocala, FL on May 13, 2009. Interment of the remains was in Florida National Cemetery in Bushnell. She outlived her spouse by four years. Death swept her away at the age of 77 on Sept. 21, 2013.
Son John Howard Everly (1938-2019) was born on Dec. 15, 1938 in West Virginia. He was only a year-and-a-half in age when his father died. He grew up in David, KY and Mallory, WV. He received a bachelor of science degree in geology from West Virginia University. During the Vietnam War years, he was stationed in Newport, RI, where he met his future wife. John wedded Joyce Ann Carrier (May 19, 1941-2018). daughter of Joseph and Lena (Michaud) Carrier. He spent six years in Newport as an ensign and weapons officer and took part in officer candidate school. The family settled in Lexington, KY. Together, they bore a family of four -- Paul Darlington Everly III, Ann Baird, Elizabeth Grayson and William Everly. John was of the Presbyterian denomination, while Joyce was Catholic. He was active in Presbyterian churches in Prestonsburg and in Lexington as a choir member and bookkeeper. In his free time, he liked to work with wood, crafting bedframes and bookshelves and more for the family. In 2018, he and his son were part of an honor flight with the military, and the two liked to visit war memorials in Washington, DC. The family grieved when Joyce died in Lexington at the age of 76 on March 27, 2018. John passed away in his sleep at the age of 81 on Aug. 19, 2019. A funeral service was held at the Meadowthorpe Presbyterian Church in Lexington. In an obituary, the family requested that any memorial donations be made to St. Jude Children's Research Hospital.
Grandson

Paul Darlington Everly III

was deceased by 2018.
Granddaughter

Ann Everly married Elmer Baird. Their home was in Frankfort, KY in 2019.

The couple's offspring are Kylee Baird and Tyler Baird.
Granddaughter Elizabeth Everly wedded Shaun Grayson. They migrated to Stow, OH.

They are the parents of Will Grayson, Emily Grayson and Benjamin Grayson.
Grandson William Everly

was joined in marriage with Nevelyn "Nevie" ( ? - ? ). Circa 2019, they were in Lexington. Their children are believed to be Parker Everly and Mason Everly.
~ Daughter Mary Carroll Emily (Everly) Crawford ~
Daughter Mary Carroll Emily Everly (1904-1941) was born on Dec. 3, 1903 in Kingwood.
In a wedding held on Aug. 13, 1928 in Logan County, WV, Mary married 25-year-old William Crawford (March 12, 1903-1976). He was an emigrant from England and the son of John and Mary (Dodds) Crawford.
Children born to this marriage were Mary Jane Crawford and John William Crawford.
Circa 1933, they made their home in Logan, Logan County and in 1941 were in Marianna, Wyoming County, WV.
The federal census of 1940 lists the Crawfords in Logan, Logan County, with William working as a coal mine superintendent.
Tragically, she began complaining of pain in her rectum area in mid-January 1941, and doctors diagnosed rectal cancer. She underwent colostomy surgery at the Cleveland Clinic on Feb. 2, 1941, but she never recovered.
She passed away three months later, at the age of 36, on May 19, 1941, at the Stevens Clinic in Welch, McDowell County, WV. Her remains were shipped back to Kingwood for burial at Maplewood Cemetery.
The widowed William eventually married Mary's widowed sister-in-law, Margaret Everly.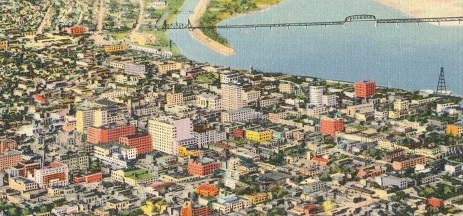 Dr. Joe and Jane Spears' residence, Louisville, KY
Daughter Mary "Jane" Crawford (1930-1985) was born in about 1930 in Holden, Logan County, WV. As a young woman, she and her cousin/stepsister Margaret "Ann" Everly attended boarding school at Pikeville Academy. She was married to Dr. Joe Spears ( ? - ? ), son of Ray and Mabel (Baldwin) Spears. The couple resided in Kentucky in adulthood. Circa 1958, their address was at 332 South First Street in Louisville, KY. She died in Paintsville, Johnson County, KY on May 22, 1985. Interment of her remains was in Cumbo Cemetery in West Van Lear, Johnson County. Joe has survived her by decades. His home in 2019 was in Paintsville.
Son John William "Jack" Crawford (1933- ? ) was born in about 1933 in West Virginia. He was united in matrimony with Valerie ( ? - ? ). They were still living in 2014.
~ Son John Donald "Happy" Everly Sr. ~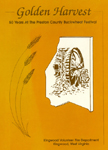 Festival book
Son John Donald "Happy" Everly (1911-1993) was born on Nov. 28, 1911 in Kingwood, Preston County.
At the age of 19, he was single and living with his parents in Kingwood 1930 when the federal census was taken.
Donald entered into marriage with Glendolyn Morey (1912-2005), daughter of George Washington and Malvia Jane (Wilburn) Morey of Horse Shoe Run in Preston County.
Two known children born into this family were Mary Elizabeth Hull and John Donald Everly Jr.
The federal census enumeration of 1940 shows that the family made their residence in The Inn in Kingwood which he managed and which his parents had owned for some time. Widow Nellie Mae McLane also dwelled in the hotel and worked there as cook.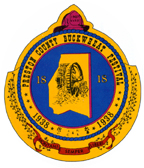 Buckwheat Festival logo
Donald was an active organizer of the annual Buckwheat Festival events held in Preston County in the 1940s, '50s and '60s during the month of October. In fact, in 1953, he was general chairman of the entire event. His other volunteer work with the festival included, in 1949 and 1950, as Firemen's Day Chairman; in 1951 as Director of Feeding; and from 1952 to at least 1960 as Public Relations Chairman.
In June 1959 he and 10 other Buckwheat Festival volunteers traveled to Cacapon Lodge in Morgan County "to present 'The Festival Story' for the Southern Association Commissioners of Agriculture annual convention," said that year's program book.
Donald's wife served on the Costume Committee of the Festival in 1946. He is mentioned and quoted in the 1991 book, Golden Harvest: 50 Years At the Preston County Buckwheat Festival, published by the Kingwood Volunteer Fire Department.
Donald also was active with the Kingwood Methodist Church, the fourth generation family member to be so involved. He is mentioned five times and pictured once in the 1950 Beerbower book, ranging from his attendance in the Sunday School primary department classes in the fall of 1915 to role as a church steward in 1950.
The Buckwheat Festival celebrated Preston County's position as "West Virginia's and the nation's number one county in the production of buckwheat," said a 1958 festival program. "Preston County threshed 63,800 bushels and had an acreage of 2,831... This grain is used in astronomical proportions during the Festival. It is the principal ingredient of 15,700 buckwheat dinners served at three Kingwood serving centers." The Festival honored local achievements and public service in the areas of firefighting, education and agriculture.
Daughter Mary in 1949, at the age of 16, was elected as a Festival Princess. Two other extended Minerd- Minard- Miner- Minor cousins are known to have served as Festival Princesses over the years -- Jo Ann Van Zandt in 1946 (son of Joseph Van Zandt and granddaughter of Jessie [Purinton] Van Zandt) and Bonnie Overfield in 1950 (of the family of James "William" Overfield Sr.).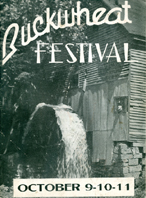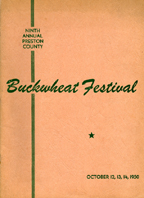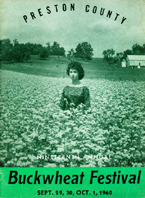 Buckwheat Festival program booklets from 1941, 1950 and 1960
Donald along with Kingwood Mayor Joseph W. Sherren are known to have served free samples of the buckwheat pancakes in the West Virginia pavilion at the New York's World's Fair in 1965. The story was so interesting that it was distributed nationwide by the United Press International and published in such newspapers as the St. Louis Post-Dispatch.
During the 1950s and 1960s, Donald also held the post of superintendent and then vice president/general manager of the West Virginia Northern Railway, appointed by Senator Jennings Randolph. The railway, of 11 miles in length, and a six-mile spur to Howesville, were considered "one of the state's shortest lines... and probably the most picturesque," said the Morgantown Dominion News. WVNR initially carried lumber in the 1890s but became a coal hauler serving the Maust Coal and Coke Corporation mines in Preston County. Coal from the Maust mines was sold to Virginia Electric Power Company for its Stony River Power Plant. Use of the railway declined due to a shortage of hoppers and reduction in demand for the loweer quality of coal in the region, causing some 12 mines to close in the '60s..
To generate a new type of business, the railway furnished rides to visitors, with Donald at the controls. One of his riders in 1970, columnist Frank M. Heaster of the Dominion News, observed that Donald was the engineer "attired with coat, necktie and white shirt [making] the ride ... all the more enjoyable." Heaster called Donald a "kingpin in the Kingwood Chamber of Commerce, the Preston Development Association, a leader of those favoring the construction of Rowlesburg Dam, a member of the Kingwood Volunteer Fire Department, and a long-time worker in the buckwheat 'field'."
In 1970, he helped form a six-county agency known as the Mountaineer Coiunty Travel Council to attract vacationers and tourists.

Happy's obituary in the Festival booklet, 1993
Donald died on May 26, 1993, at the age of 82. Burial was in Maplewood Cemetery. Later that year, the program booklet of the Buckwheat Festival featured his photograph and short eulogy. It stated:
Once more, death has entered our ranks with a relentless stroke and quenched the activities of our beloved brothers... Brother Happy became a member of the fire department in 1934, working with the fire fighting section at that time. When the department expanded its activities to include the Buckwheat Festival, he became involved in its formation and continued this interest in administrative capacities to the recent year. He served as General Chairman in 1953 and other works with committees involving firemen's dances, dining room, kitchens, and department administration.
Glendolyn lived for another dozen years. She moved to Baltimore, where her son was living. Toward the end, she became a resident of Brighton Gardens Assisted Living. Death claimed her at the age of 93 on Oct. 24, 2005. Her ashes were placed into repose in Maplewood Cemetery.

Mary, 1949
Daughter Mary Elizabeth Everly (1932-1991) was born in 1932 in Kingwood, Preston County. At the age of 17, in 1949, she was elected Festival Princess of the popular, annual Buckwheat Festival held in Preston County, of which her father was active and at one time was general chairman. Mary was chosen in 1950 as president of the Methodist Youth Fellowship at the Kingwood Methodist Church, and is referenced in the 1950 Beerbower booklet. When she was 26 years of age, on July 18, 1959, she wedded 31-year-old John Andrew Hull (Dec. 13, 1927-1999), a native of Parkersburg, WV and the son of Kenneth A. and Hilda (Law) Hull. Rev. Joseph Casey officiated the nuptials held in Kingwood. John previously was divorced. The couple relocated to New York State and lived in or around Pulaski, Oswego County. They were very active in the Saratoga Lake Sailing Club, joining in 1976 and remaining members for good. She is known to have been a volunteer for the club's Junior Sailing Program, as chair of the Social Committee and manager of membership. Over time, she was elected Flag Lt. House, Rear Commodore, Vice Commodore and Commodore in the 1980 to 1982 timeframe. Sadly, Mary passed away at the age of about 58 on Sept. 10, 1991. Randall H. Rice, historian of the club, eulogized her by saying that " There are a host of words that describe Mary Elizabeth: friendly, enthusiastic, beautiful, hard working, effective, super crew, loving and vital. However, to me, the definitive word describing Mary Elizabeth is 'vibrant.' Everything she did or said was infused with an inner energy that radiated her personal warmth." In her memory, the club established the Mary Elizabeth Hull Award, recognizing members "whose outstanding contributions ... have improved and sustained the life of SLSC." John outlived his bride by eight years. He died at the age of 71 on Nov. 26, 1999. The couple rests in Jonesville Cemetery in Saratoga County, NY.
Son John Donald Everly Jr. (1936- ? ) was born in about 1936 in Kingwood. He received two degrees from West Virginia University, first a bachelor's degree in geology. Then in June 1959, he was awarded a bachelor of arts in pre-medicine. Then during the Vietnam War, he joined the U.S. Navy and held the rank of lieutenant. Then circa 1965, he was united in the bonds of wedlock with Nancy Stratton Head ( ? - ? ), daughter of Howard Head of St. Paul Street in Baltimore and Mrs. Stanley F. Morse Jr. of Beaufort, SC. News of their engagement was published in the Baltimore Sun. At the time, Nancy was an alumna of Ashley Hall in Charleston, SC and the Katharine Gibbs School in New York, had studied at Goucher College and then in 1965 was enrolled at the University of South Carolina.
Copyright © 2002-2009, 2014, 2018, 2021 Mark A. Miner