Martha (Purinton) Wyandt
(1867-1951)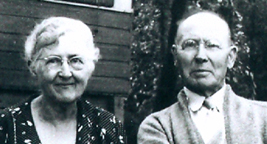 Martha and Jacob Wyandt
Martha Elizabeth "Mattie" (Purinton) Wyandt (also spelled "Wiant" in early records) was born on Oct. 30, 1868 in or near Independence, Preston County, WV, the daughter of Thomas and Matilda "Tillie" (Hanshaw) Purinton. Her husband was a pioneering high school educator in Indiana and Ohio.
As a young girl, she and her sisters were introduced to their father's cousin, Dr. Daniel Boardman Purinton, who went on to a prominent career as president of Denison University and later West Virginia University.
When Mattie was age 13, in 1880, her mother died. She apparently was taken into the household of the Kinney family in Angola, Steuben County, IN, where she was raised to adulthood, but apart from her sisters. She graduated from Angola High School in 1887.

J.W. Wyandt
In about 1891, when Mattie was age 24, she married 28-year-old Jacob Wellington Wyandt (1863-1955), the son of John and Harriet (Gunsett) Wyandt and a native of Van Wert County, OH.
The Wyandts went on to have five children -- Carl Kinney Wyandt, Helen Riehart, Friedricke "Frieda" Everett, Harriet Cockfield and Owen Heaton Wyandt. Sadly, son Carl died young, sometime during the 1890s.
Jacob received his bachelor of science degree at Tri-State College (1890). Circa 1891-1903, the Wyandts made their home in Angola, where Jacob taught and then became superintendent of public schools for a decade, from 1893 to 1903. Their three daughters were born there.
In 1903, Jacob -- seen here -- was named superintendent of the high school in Bryan, Williams County, OH. He "ran a tight ship," reported the Bryan Times, "and believed that a high standard of scholarship by all, and not from a few students, was the measure of a school. He said that 'This complex age demands ever-better training because civilization has always been a race between education and catastrophe'." At the time of his appointment, said the Times:
... high schools were growing from a so-called luxury to a necessity. In his 28 years here, enrollment in Bryan high school grew from 90 in 1903 to 365 in its peak year. The Lincoln elementary school building, the auditorium, and the gymnasium were built under his supervision. As more than a few men, he was interested in athletics, and coached in the days when coaches occasionally played on the teams with their students. But his primary interest was in scholarship and a well-rounded educational system. Manual training for boys, home economics for girls, the Zeta Cordia, Hi-Life, oratory, debate and music were added to the local schools during his time. He occasionally took over classes when he felt the lesson needed the added emphasis he could give. Senior literature students will recall his annual instruction days.
Center of Bryan as seen in a rare old postcard view, circa 1909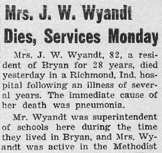 Bryan (OH) Times
During their years in Bryan, said the Times, Mattie "was active in the Methodist church and in the Taine club." In 1908, at the death of her uncle Dr. Guy Hanshaw, Mattie was entitled to a 1/32 share of the estate, which included lucrative oil and gas wells. She received an immediate payout from the estate of $57.81 in 1909. At intervals over the years, through 1942, she received royalty payments from the wells. The high point was in 1918, when she received $24.54. In total, Mattie inherited $267.18, as shown by signed receipts still on file today at the Ritchie County Courthouse in Harrisville.
According to Brewer's Directory of School Superintendents and Normal School Principals in 1907, Bryan's school enrollment that year was 902 pupils, and Jacob's salary was $1,300.
Circa 1910, the Wyandts resided at 132 Portland Street in Bryan. Jacob continued his work in Bryan as superintendent of public schools.
In 1910, Mattie's aged, widowed father came to reside in their home in Bryan. He remained until his death in 1919, and his remains were shipped back to Preston County for burial in the Newburg Cemetery. His passing was very briefly noted in the Sept. 11, 1919 Edon (OH) Commercial newspaper.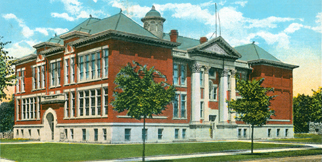 The stately Bryan High School
When the federal census was taken in 1920, the Wyandts had moved to a residence on Central Drive. That year, Jacob was superintendent of city schools. He remained superintendent at least through 1930, as shown on the census.
At some point in time, Mattie became interested in the genealogy of her Purinton and Call relatives. She exchanged letters with cousins George H. Selleck (of Exeter, NH), Vernon Purinton Squires (of the University of North Dakota) and Dr. Daniel Boardman Purinton, retired president of West Virginia University. After receiving Selleck's reply, she added handwritten notes on the page:
Joel Call was T.L. Purinton's mother's father. Her name was Maria Call (according to a nephew). She had a brother Joel Call Jr. Father says his mother's name was Louiza. Vernon Squires (a grandson) says her name was Sabrina. She was the wife of Dr. Orpheus Purinton.
Mattie's 1926 letter to Daniel Boardman Purinton reached him at his winter home in Pacific Palisades, CA. He wrote back promptly, and related much information about their Purinton roots, dating back to their great-grandfather, deacon David Purinton, and citing many of their cousins' extensive involvement as collegiate educators. At the end of the letter, he wrote: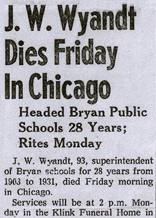 Bryan (OH) Times, 1955
As for myself, I have retired from active life after having served as College Professor and President for forty-two years, and now at the age of seventy-six, am still enjoying life, thankful to the Good Lord for his many mercies, and still able to be of some little service to others. I should like to know more about yourself and family, and your sisters as well. I remember you as nice, bright, promising children, and would much enjoy renewing our acquaintance.
Upon Jacob's retirement in 1931, they returned to Angola, where they spent the remaining years of their married lives. Jacob's final years were active, and he was a member in Masonic bodies, the Blue Lodge, Northwest Chapter No. 45, and Bryan Commandery No. 74 Knights Templar. He also visited friends in Bryan "so long as health permitted," said the Times.
In 1947, Jacob's former employer, the Angola Public Schools, published a Directory of Superintendents, Teachers and High School Graduates, 1866-1947. Jacob is named therein as both a teacher and superintendent, and Mattie as a graduate of the class of 1887. An original copy is on file today in the vast genealogical collection of the Allen County Public Library in Fort Wayne, IN.
As Mattie aged, she suffered a lingering illness spanning several years. Upon contracting pneumonia at the age of 82, in the spring of 1951, her health declined, and she passed away on April 6, 1951 in Richmond, IN. Jacob, residing in a convalescent home near Chicago, was in such poor health himself that he was unable to attend her funeral. Following services at the First Congregational Church, she was laid to rest in Circle Hill Cemetery in Angola. Her obituary was published in the Bryan Times.
Jacob outlived Mattie by a little more than four years, and remained in Chicago, near where his son Owen lived. He died at the age of 93, in Chicago, on May 26, 1955. His remains were shipped to Angola for burial beside his wife. The Bryan Times carried a lengthy obituary.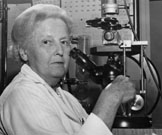 Helen Reihart
~ Daughter Helen (Wyandt) Reihart ~
Daughter Helen (Wyandt) Reihart (1895-1998) was an early medical researcher whose influence as a great teacher has been felt by generations of students in the Midwestern United States and beyond. Her husband, Oliver Francis Reihart, was a veterinarian.
A 1918 graduate of Simmons College in Boston, she became the first trained medical technologist in Nebraska and the first medical technologist on the faculty of what now is known as the University of Nebraska Medical Center. Today, medical technologists are a standard part of the process of providing outcomes of care, but this was not always so. Their critical behind-the-scenes work ranges from analyzing blood and confirming diseases to identifying early cases of illness and testing for compatible transplant organs. More than 1,800 students graduated from the UNMC medical technology program during Helen's lifetime.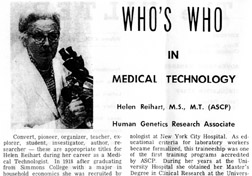 Helen's entry in a Who's Who publication
A history provided by UNMC states that during World War I, Helen was recruited by one of the Harvard Medical School pathologists to become a medical technologist as there was a need to replace corpsmen who were needed overseas... She joined the Navy, worked at the U.S. Naval Hospital in Chelsea, MA, and was recruited in 1923 to UNMC. She was one of the first 100 persons to obtain national certification and registration as a medical technologist by the American Society of Clinical Pathologists Board of Registry. Helen set up the first formal laboratory in a single small room in the basement of Poynter Hall and began immediately to train others to perform tests.
By 1937-38, in cooperation with J. Perry Tollman, M.D., Helen developed a formal nationally accredited medical technology program. In addition to her founder's role in the clinical laboratory, she later served UNMC as a research technologist in virology and cytogenetics. It was her virology lab that confirmed the first case of polio in Omaha.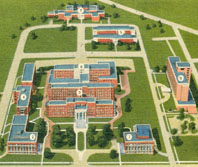 University of Nebraska
College of Medicine campus
The university's College of Medicine campus is seen here.
She also authored several papers on such topics as "Oval Blood Cells in Human Subjects Tested for Linkage with Taste for PTC, Mid-Digital Hair, Hair color, A-B Agglutinogens, and Sex." Click for the full text of the paper. In 1941, she published another study, in the Archives of Internal Medicine, entitled "Elliptic Erythrocytes in Man." She also authored a chapter on hematology in a veterinary science textbook and papers on animal diseases with her veterinarian husband, Oliver Reihart, D.V.M.
Retiring in 1968, after 37 years of service, Helen lived to the remarkable age of 102. She passed away on July 6, 1998.
Today her legacy lives on through a UN Medical Technology Founders Scholarship Fund used to award scholarship assistance to deserving students. A formal portrait of her is on display in the laboratory at UNMC, listing the names of all scholarship recipients.
~ Daughter Frieda (Wyandt) Everett ~

Frieda Everett
Daughter Friedricke "Frieda" Wyandt (1897-1985) was born in Angola.
Frieda was educated at Hiram College and had hoped for a career in advertising in Cleveland, but after an economic depression circa 1921, she took a teaching position in Eden (OH) High School. She then obtained a journalism degree at Columbia University in New York City, and wrote freelance stories for the New York Daily News. She set off for Europe to write for the Sunday World, and while in London assisted Mrs. Joseph Comyns-Carr author her memoirs, and published articles in the London Express and Evening Standard and the Glasgow Herald.
Frieda returned to New York and landed a position on the New York Evening Graphic, working alongside Walter Winchell and Ed Sullivan. Among other things, she rode in Charles Lindbergh's ticker tape parade on Wall Street (circa 1927) and interviewing personalities of the day such as Deems Taylor, Sherwood Anderson and Vachel Lindsey. On the Graphic, she edited fiction and wrote her own columns such as "Betsy Patterson" and the "Earl of Gramercy." She wrote personality profiles for the New York Daily Investment News until the Great Depression.
Frieda's brief-lived first marriage was to Frank Mallen, publisher and editor of a chain of small newspapers in the New York City suburb of Westchester County. The union ended in divorce.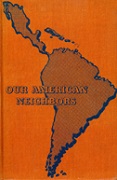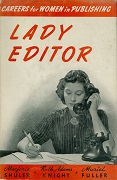 Left: Frieda's book, 1945, and Lady Editor
(1941) in which she is quoted on pages 63-68
In 1937, Frieda married World War I air force flyer Roberts Everett ( ? - ? ), a native of Merrill, MI. The 44-year-old Roberts had been married once before, to Evelyn Clay (a descendant of American statesman Henry Clay and daughter of Georgia Senator A.S. Clay). Divorced from Evelyn in 1937, he thus brought a daughter to the marriage with our Frieda, Helen Everett McIntyre Seaman.
Roberts was a former reporter for the New York Tribune (1915) and New York World (1915-1917) and an editor of Air Travel (1917). At one time he had operated his own public and industrial relations consulting firm in Manhattan, managing more than 50 industrial expositions for clients. In 1942, he accepted the position of chief executive for the Dairy and Food Industries Supply Association, and he and Frieda moved to Washington, DC.
The 1941 book Lady Editor by Marjorie Shuler, Ruth Adams Knight and Muriel Fuller quoted Frieda extensively over six pages. Her comments focused on her knowledge and expertise of how small rural newspapers operate, and the variety of broad-brush experience a woman journalist could obtain.

World Who's Who
While in Washington, during the World War II era, Frieda served as assistant chief -- and then chief -- of publications for the office of Inter-American Affairs, run by Nelson A. Rockefeller. Many of her pamphlets were later compiled in a book, Our American Neighbors (seen here), published by Public Affairs Press (1945). In the book's "Acknowledgements" section, editor M.B. Schnapper wrote:
The material in these pages had its origin in what can well be considered one of the most notable pamphlet series ever issued by a government agency. Prepared by the Office of the Coordinator of Inter-American Affairs during 1943 and 1944, the pamphlets received considerable acclaim for the succinct and vivid form in which they presented the history, achievements, economic characteristics, and cultural contributions of our Southern neighbors. So great was their popularity that the demand far exceeded even the unprecedented circulation of several million copies.
After the war ended, between 1945 and 1947, Frieda served as Chief of the Documentary Articles Section of the United States Information Agency. She received the "Headliner Award" in 1947 from the Association for Women in Communications. Their home circa 1947 was at 1726 M Street NW in Washington.
Frieda then began working with her husband to promote production and usage of milk products with the Dairy Society International, where she eventually became Director of Information. She was named in the inaugural issues of Who's Who in American Women and Foremost Women in Communications (1970).
In about 1971, approaching retirement, she performed research in the Library of Congress for a book that her husband was writing. She also authored a memoir for the 50th reunion of her 1921 class at Hiram College -- click for the full text. She also is pictured and profiled in the volume, The World Who's Who of Women (Melrose Press Limited, Cambridge and London, England, 1973).
Frieda died at the age of 88 on Aug. 25, 1985.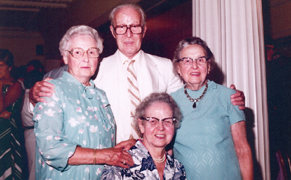 The Wyandt siblings at a family wedding, clockwise from top: Owen, Frieda, Harriet and Helen
~ Daughter Harriet (Wyandt) Cockfield ~
Daughter Harriet Wyandt (1903- ? ) was born in 1903.
She married (?) Cockfield in about 1929.
She was a registered nurse in Bryan circa 1930, when she made her home with her parents.
~ Son Owen Heaton Wyandt ~
Son Owen Heaton Wyandt (1907-1996) was born in 1907.
He graduated from Bryan High School in 1924.
He married Harriet Christy Smith (1907- ? ).
The couple together produced a family of three children -- Joan Smith Wyandt, John Owen Wyandt and Noel Janet Vaughn.
They resided on Clyde Avenue in Chicago, Cook County, IL, where Owen was employed as a bookkeeper in a law office.
Owen died in Evanston, IL at the age of 89 on Nov. 28, 1996.
Daughter Joan Smith Wyandt ( ? - ? ) married Harlen Vreeman. She was a grade school teacher in Dolton, Cook County, IL. She had two children -- Ann Louise Vreeman and Kirk Owen Vreeman.
Son John Owen Wyandt wed Dorothy Marie Johnson in 1954 and had four children -- Christy Marie Williamson, Susan Leone Prout, Elizabeth Rose Walker and Katherine Marguerite Mayer. John spent his career in the banking field, serving as alderman and bicentennial chairman in Evanston, Cook County. He finished his career as a manufacturer's representative, selling office equipment.
Daughter Noel Janet Wyandt married David Koch and Charles Vaughn. She had one son, John David Koch. After obtaining her bachelor of arts degree from DePauw University, Noel taught English at two colleges. She later obtained her law degree from the University of Dayton (OH) and became admitted to practice law in Ohio in 1979. She rose to become the main partner in the first women's law firm in Dayton, Montgomery County.