Percy 'Raymond' Hoge
(1881-1941)
Percy "Raymond" Hoge was born on March 30, 1881 in Wheeling, Ohio County, WV, the son of Theudas and Agnes (Hanshaw) Hoge.
Raymond "was a lifelong resident of the Wheeling district," said the Wheeling Intelligencer newspaper. "He was educated in the schools of this city and for a number of years was associated with his father in the T.A. Hoge Hardware store, located on Market street above Eleventh." His base of faith was as a spiritualist, as was his father's.
Circa 1908, he and Ann are known to have resided in Wheeling, at 113 14th Street.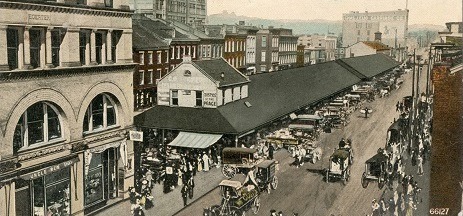 Wheeling's famed Market Squar
e circa 1910
At the death of his uncle Dr. Guy R. Hanshaw in 1908, Raymond was entitled to a 1/16 share of the estate, which included lucrative oil and gas wells. He received an immediate payout from the estate of $115.63 in 1909. At intervals over the years, through 1942, he received royalty payments from the wells. The high point was in 1918, when Raymond received $49.08. In total, he received $534.35 in inheritance.
In 1910, when Raymond's aunt Julia (Hanshaw) Fawcett passed away, he received a bequeath of $100 as "my beloved nephew, ... by reason of him having extended me material aid at divers times."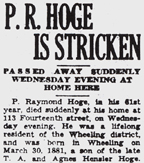 Wheeling Intelligencer
Raymond became a partner in the family business by 1915, and it was renamed it T.A. Hoge Hardware Company, located at 1018-20 Market. His father died in October 1917, and Raymond inherited half of the estate, believed to have been the company. He must have chosen to dispose of the store, because by 1919, he was listed in the Wheeling Directory as a buyer with C.F. Braunlich & Co., and rooming at 83 16th Street.
The federal census of 1920 shows Raymond employed as a clerk in a hardware store, and boarding in the Wheeling home of German born tailor A.C. Schneider.
After 40 years as a bachelor, Raymond was married in 1925 to Ann Gaughan (1892 -1956), the daughter of Daniel J. and Mary K. Gaughan. He was 11 years older than his bride. The Wheeling News-Register said she had "lived most of her life in Wheeling and was a member of St. Joseph's Cathedral."
Raymond retired from a lifetime as a hardware dealer as he approached the age of 60. On April 23, 1941, he died suddenly at home at the age of 60. He was laid to rest in the Greenwood Cemetery in Wheeling, following a funeral service conducted by Rev. Lester Miller, pastor of the Way Memorial Temple. The Intelligencer said he was "a member of a prominent pioneer Wheeling family." In the obituary, however, the newspaper misspelled the maiden name of Raymond's mother as "Hensler."
Ann outlived her husband by 15 years. She moved into the Wheeling Hotel, where she remained for the rest of her life. She passed away at Wheeling Hospital on Oct. 21, 1956, at the age of 64. She was buried in the Hoge family plot at Greenwood Cemetery.
Copyright © 2004, 2006, 2008, 2021 Mark A. Miner