Alfred grew up in Mahoning Township near Mauch Chunk and Lehighton, Carbon County, PA. In adulthood he stood 5 feet, 8 inches tall and weighed 167 lbs., with blue eyes and dark hair.
In 1865, Alfred first entered into marriage with Mary Everett/Ebert (1844-1875). The wedding was held at Mauch Chunk.
The couple produced a brood of four children, Rebecca J. Gaumer, Augustus "August" Gaumer, Hattie Cordelia Voeste and Harry Thomas Gaumer.
During the Civil War, Alfred joined the Union Army, enlisting on Sept. 16, 1861. He first served in the 81st Pennsylvania Infantry, Company G, and held the rank of corporal. His elder half-brother Franklin eventually joined the Army and also was assigned to the 81st Pennsylvania, but the two brothers were never with the regiment at the same time.
Alfred was wounded at Malvern Hill on June 26 or July 1, 1862, struck by a fragment of a bursting shell in the back just above the right hip. The shrapnel did not puncture the skin but caused a contusion and apparently caused bruising of a kidney. Afterward, his urine was bloody, and he was hospitalized in a tobacco warehouse at Harrison's Landing for four weeks.
After recovering sufficiently, and following the Battle of Antietam, he was transferred to the 4th United States Artillery, Company C. In all, he served a term of three years and was honorably discharged on Sept. 5, 1864 near Berryville, VA.
Tragically, Alfred's brother was killed at the Battle of Cold Harbor, VA on June 3, 1864.
Alfred suffered from the discomfort of his wound over the years. He complained to others about bladder inflammation and urination. Military surgeons examined him but could find no trace of damage. He sought to find his former regiment's surgeons, to provide independent verificiation, but learned they were dead. Eventually he obtained a pension as compensation for his disability. [Invalid App. #197.852 – Cert. #185.269]
For many years, he was employed by the Lehigh Valley Railroad as an engineer. Dr. Horace Young once wrote that "Being a locomotive engineer by occupation his ailment frequently prevents him from performing his duty for several days at a time."
When the federal census count was made in 1870, Alfred and Mary dwelled in Mauch Chunk.
Sadly, Mary died in Mauch Chunk either on March 8, 1871 or in March 1873.
Alfred remained a widower for several years. During that time, his brother Cornelius is known to have written a notation documenting Alfred's birthdate in a family Bible and that, as of 1912, the Bible still existed.
~ Enter the Mollie Maguires ~
During the 1860s and 1870s, when Alfred's employer, the Lehigh Valley Railway was heavily dependent on coal, the entire community was abuzz with the controversy of the Mollie Maguires. The Mollies were a violent group of anthracite mining labor activists creating havoc in an era long before labor unions were legal. They reputedly had been formed in Ireland, and, said the booklet The Lives and Crimes of the Mollie Maguires:.
...had for its chief purpose the shooting of the agents of the cruel grasp-all Irish landlords,.. Mollie Maguireism was revived in this country, taking its chief and most terrible hold in the coal regions of Pennsylvania... For fourteen years, ending with 1876, the populous mining districts of Eastern Pennsylvania were terrrorized over by this mysterious secret society. During that time brutal assassinations of prominent citizens, besides attempted murders, assaults, and other outrages almost innumerable were committed by it.

A number of mine bosses and police officers brutally were killed by Mollies over the years at work, on the road, and in their homes, in view of co-workers, loved ones and others. More than 70 men eventually were arrested during this era, of which a dozen were found guilty of first-degree murder, and 11 executed for their crimes. Five were hanged at Pottsville, MD, with the other six at Mauch Chunk.

Today, a handprint may be seen on a cell wall in the Old Jail Museum where the condemned men were housed. Reputedly, just before being taken out for his hanging, one prisoneer rubbed his hand in the dirt on the floor and then on the wall. He then declared, "That mark of mine will never be wiped out. There it will remain forever to shame the county that is hanging an innocent man." Today it is a tourist attraction.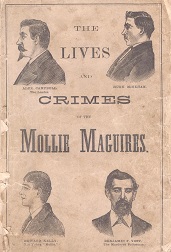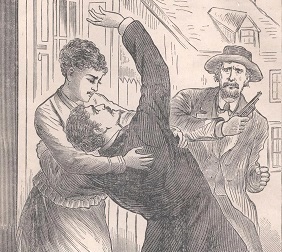 Above, portraits of the chief Mollie Maguires perpetrators and victims, and the murder of a coal mine boss. Below, executions at Mauch Chunk, 1877, and the 1969 movie version, starring Sean Connery.
Paramount Pictures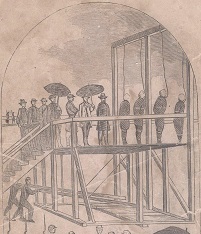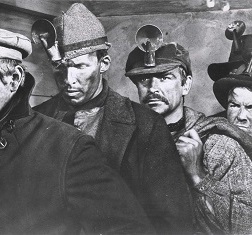 ~ A Second Marriage, to Mary (King) Burt ~
He wed again to Mary (King) Burt ( ? - ? ), daughter of Murty and Mary King, and alleged widow of Jacob Bart. They had known each other for about six months
There are discrepancies as to the details of the second marriage. In fact, Alfred himself claimed two different sets of facts. He once said that they had tied the knot at Lockport, NY in November 1888 by the hand of Rev. Stringloss. In another document, he swore that their marriage had taken place in Sept. 1892 in Buffalo, officiated by Rev. Justis Miller, and that a certificate existed as verification. Mary claimed they were wed on April 8, 1890 by a justice of the peace on Pearl Street in Buffalo, NY. The union endured in one form or another for nearly three decades, and the pair did not reproduce.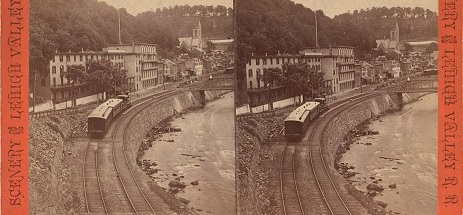 Stereoview image of Mauch Chunk rail lines.
Library of Congress
The newlyweds established their home in Buffalo, Erie County, NY. Alfred is enumerated there in the special census of Civil War veterans of 1890.
An unusual story was printed in the Pike County (PA) Dispatch in which Alfred and his wife played a prominent part. Headlined "The Prodigal's Return," and published on Oct. 15, 1891, it read:
Seventeen years ago there lived in Mauch Chunk a man named John Billingsley, who had a wife and three children. During the strike of 1875, when it was announced that the Lehigh coal and navigation company would not resume operations until the following year, Billingsley became despondent and with a friend he started for California to find a new home. A few weeks later the friend sent word back that Billingsly [sic] had been drowned and the body could not be recovered. The wife mourned the loss of her husband for six years and then married Alfred Gaumer, an engineer on the Lehigh Valley Railroad. He shortly afterward got in trouble, deserted his wife and is in Buffalo, N.Y. Billingsly has reappeared to furnish an Enoch Arden romance.
In Mary's version of the story, dictated in Buffalo in 1920, she said that:
The day after our marriage my brother John King ... told Mr. Gaumer that I had a living undivorced husband in Canada, and my husband became very angry about it, and told me he went and had our marriage annuled. That was all I learned or ever knew about the annulment. I was very sorry and quiet about it, because I was ashamed to think I had left my first husband Jacob Bart and to learn he was living when I married the pensioner.

I was married to Jacob Bart at St. Catharines, Canada by the Priest named Mulligan in the Catholic Church thereon or about Jan. 7, 1877, under my maiden name Mary King. That was my first marriage, and it was the first marriage of Jacob BArt as far as I know. His home was at Thorold, Canada, near St. Catharines. The Priest wrote on a paper and gave me a statement showing said marriage and think I have it at home. I lived with Bart but three months and I left him three times within the three months. We lived at Thorold, Canada some of that time, and I was with my brother John King who then lived at Thorold... I left Bart in Throld, Canada because he was no good and would not supporty me. I went to a sister I had living at Canton, Ill., Mrs. Jacob Aout, who is still living there. I worked at Lewistown, Ill. then came to Bath, Steuben County, N.Y. for 1˝ years, and then came here to Buffalo, and met and married the pensioner. We continued to live together as husband and wife here in Buffalo until his death... Yes, we lived together in the marital relation after he told me he had our marriage annuled.
Mary added in separate testimony that a child she had borne with Bart died shortly after they had separated.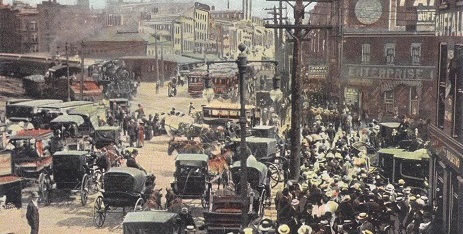 Crowd at the foot of Buffalo's Main Street, early 1900s
Later in life, the Gaumers'' addresses in Buffalo were at 540 Willett Street and 1224 Lovejoy Street. Anna Clifford is known to have boarded in one of their residences at one time.
The couple endured the heatache of the fiery death of son Harry in Buffalo in 1906 after an explosion at work in the railroad yards.
Alfred suffered a stroke in 1914. Five years later, he was admitted to the Buffalo State Hospital in about 1919. Mary began receiving his pension payments so she could support herself. Burdened with hardening of the arteries, as well as heart disease and gangrene of the little toe, he died there on Dec. 2, 1920. Interment of the remains was held in Forest Lawn Cemetery in Buffalo, with members of the Grand Army of the Republic conducting the funeral service. The Wilkes-Barre (PA) Record noted that his daughters traveled to Buffalo for the services.
After Alfred's death, Mary filed a claim for his pension, but it was not approved. [Widow App. #1.168.405] She went to live with her husband's widowed niece Ella (Gaumer) Butler, daughter of Cornelius and Julia (Gollus) Gaumer, at 664 Riley Street, Buffalo.
~ Daughter Rebecca J. Gaumer ~
Daughter Rebecca J. Gaumer (1866-1955) was born on Dec. 9, 1866 or on Nov. 19, 1868 in Mauch Chunk.
Rebecca became a nurse. She never married.
Circa 1920, living with her widowed sister Hattie Voeste in Wilkes-Barre, she was not married and used the name "Gaumer."
Her residence in 1930 was as a roomer in the house of William and Stella Beltz in Wilkes-Barre.
In the 1950s, her address was 450 Carey Avenue in Wilkes-Barre. Toward the end of her life, she went to reside in the Home for Homeless Women in the city.
She suffered a heart attack at the age of 88 on Nov. 4, 1955, in Wilkes-Barre, and was dead within minutes. Burial was in Oak Lawn Cemetery in Hanover Township.
~ Son Augustus "August" Gaumer ~
Son Augustus "August" Gaumer (1867-1960) was born on Christmas Day 1867 in Mauch Chunk.
Whether he ever married or reproduced is not yet known. His whereabouts in 1900, 1920 and 1930 are a mystery.
His father claimed that Augustus dwelled in Ohio circa 1915.
In time he relocated to Buffalo, NY. The federal census enumeration of 1940 shows him as a patient in the Evangelical Church Home in Forks near Cheektowaga, NY and in 1950 in the St. Stevens Home for the Aged, also in Cheektowaga. He once was pictured in the Buffalo News eating an ice cream cone with a group of inmates of the Evangelical Good Samaritan Society.
Death spirited him away on June 21, 1960. A brief obituary was printed in the Buffalo News, saying he was a cousin of Leonetta C. Steiger.
~ Daughter Hattie Cordelia (Gaumer) Voeste ~
Daughter Hattie Cordelia Gaumer (1870-1969) was born in Jan. 1869 or 1870 in Mauch Chunk.
On June 14, 1893, when she was 22 or 23 years of age, Hattie was united in marriage with Oswald C. Voeste/Vost (Oct. 20, 1869-1916), a native of Tannery, near White Haven, PA and the son of Edward and Julia (Eck) Voeste, the father an immigrant from Germany. The nuptials were held in Carbon County.
Known offspring born to this union were Dorothy Gaumer Snyder, Edward Alfred Voeste, Madeline Voeste, Robert P. Voeste, Florence G. Voeste, Ruth V. Voeste, Charles Oswald Voeste, Harriet "Hattie" Voeste and John Howell Voeste.
The Voestes made their residence on Sambourne Street in Wilkes-Barre, Luzerne County. Oswald was employed with the Lehigh Valley Railroad, beginning his work in 1887 as a freight brakeman. His father, a fireman with the Central Railroad of New Jersey, had been killed in an engine explosion some years before, circa 1880.
In his free time, Oswald was active with the Dieu le Veut Commandery of the Knights Templar, Landmark lodge of the Masons, Shekinah chapter of the Royal Arch Masons, the Irem Temple of the Shrine. His name often was printed in the Wilkes-Barre newspapers for his leadership roles with these groups. The family belonged to the Central Methodist Episcopal Church.
In June 1905, the Wilkes-Barre Record said that Hattie and Oswald had "gone to New York and Coney Island for a few days" in company with Mr. and Mrs. Charles Flower of Mason City, IA.
Oswald after many years of working in passenger service with the LVRR was promoted in February 1909 to conductor of the Bowman's Creek Branch. The news was reported in the Pittston (PA) Gazette, which noted that the promotion was "deserved." Then in 1912, he was assigned to the Jersey City to Suspension Bridge route, and the Record opined that he was "one of the Lehigh Valley's popular through passenger conductors."
Once again, Oswald's name was in the news in October 1912 when one of his passengers jumped from the train when it was moving at 50 miles per hour east of Wysox. Some of the women passengers became hysterical, said the Record, and Oswald slammed on the brakes. The passenger, an Italian immigrant named Luigui Roderro, told reporters later that he "thought he was on the wrong train and as he had been on the road from California for seven days he thought surely he must have passed New York, whither he was bound, to board a ship for his native land."
Oswald received another promotion in June 1913 when he was named as conductor of the No. 7 train running west through Wilkes-Barre and then on the Black Diamond heading back east. Reported the Wilkes-Barre Times-Leader, "It is not so very long ago that Mr. Voeste was extra baggage-master and passenger conductor under such veteran railroaders as William Deterline, Charles Hufford, John Sweeney and the late Michael Gillespie of Pittston. When first placed in charge of a train he showed unusual efficiency as a conductor and his superiors have advanced him right along, thus showing that his services are appreciated."
Another promotion followed within a year or two, and Oswald now ran what the Scranton Times-Tribune called the "most important train on the road, the fast express between Jersey City and Buffalo."
Sadly, on or about Nov. 11, 1916, Oswald was stricken with appendicitis which led to peritonitis, a deadly bacterial infection of the abdomen. He was admitted to City Hospital in Wilkes-Barre, where he underwent surgery, but nothing could be done. Said the Record, "It was found that the disease had progressed to such an extent that the case was considered critical. The best medical attention was given him but the disease had made such inroads on his system that he was unable to withstand the complications that followed." He succumbed to his illness at the age of 47 years, 26 days on Nov. 15, 1916. Burial of the remains was in Oak Lawn Cemetery in Wilkes-Barre, following funeral services conducted by his pastor, Rev. William H. Lindemuth.
In a lengthy obituary, the Record said that Oswald had been "possessed of a genial, companionable disposition that made a host of friends for him, not only among his neighbors, but also with fellow employees and the general traveling public. He was always careful and thoughtful on duty, strove to do his best for the company's interests in looking after the comfort and safety of the passengers entrusted to his care, which made him one of the most popular conductors on the entire system."
In another twist of fate, Oswald's step-father Philip Saar, a station agent with the Central Railroad of New Jersey, was killed by a moving freight train near White Haven in February 1918.
The widowed Hattie outlived her spouse by more than half a century. She resided in Wilkes-Barre in 1920 with nine children under her roof, ranging in age from seven to 25, in addition to her unmarried sister Rebecca Gaumer. In December 1920, Hattie and Rebecca traveled to Buffalo for the funeral of their father.
At the age of 99, Hattie died at home on Nov. 28, 1969. A brief death notice was printed in the Schuylkill Haven (PA) Call.
Daughter Dorothy Gaumer Voeste (1894-1977) was born on May 25, 1894 in Wilkes-Barre, a town where she spent her entire life. She was an alumna of Coughlin High School. At the age of 25 and unmarried, in 1920, she resided with her widowed mother in Wilkes-Barre and earned a living as a stenographer and as a pianist with a theatre. Later that year, on June 16, 1920, she was joined in holy wedlock with Walter Scott Snyder (Feb. 24, 1892-1964) of Philadelphia, the son of Harrison and Louella (Kensey) Snyder of Berwick. Their wedding nuptials were held in the Voeste residence, led by Rev. William "Gray" Jones of the Central Methodist Episcopal Church. In reporting on the event, the Wilkes-Barre Evening News said that a "screen of flowers and palms furnished a background for the event... The bride wore a beautiful gown of embroidered georgette and carried a bouquet of bride roses... The bride is one of the city's most popular young women and is a graduate of the local high school." The pair went on to bear two daughters -- Claire Hunter and Dorothy Strohl. Walter was an alumnus of Berwick High School and the Wharton School of commerce at the University of Pennsylvania. At the time of marriage, he was employed as an income tax auditor and went on to a long career as an accountant with the Internal Revenue Service. The couple made an early residence on South Franklin Street in Wilkes-Barre. For 37 years, from 1920 until retirement in 1957, Walter was a revenue agent for the IRS. His career began in Philadelphia and, said the Wilkes-Berre Times Leader, he "was the first Internal Revenue Service agent assigned to Wilkes-Barre on June 15, 1920. His territory covered 20 counties of Northeastern Pennsylvania and he was engaged in auditing income tax returns." He also was affiliated with the public accounting firm of Shaffer and Murzin. Walter received the Albert Gallatin Award at a special dinner held at the Wyoming Valley Country Club. He also was active in Democratic party politics. They belonged to the St. Clement and St. Peter Episcopal Church, where he was a vestryman, and she to the Order of Eastern Star where she served as worthy matron. He also belonged to the local lodge of the Masons and the Craftsman's Club. In July 1945, they celebrated their silver wedding anniversary with a related article appearing in the local newspaper. Their address in the 1960s was at 27 Catlin Avenue. Sadly, Walter was stricken with congestive heart failure and passed away at home on Aug. 17, 1964. Burial was in Warden Cemetery in Dallas, Luzerne County. Walter was pictured in his Times Leader obituary. Dorothy outlived her husband by a baker's dozen years. Toward the end she was admitted to reside in the Sunnyside Rest Home. She died there at the age of 83 on June 9, 1977. The Times Leader printed an obituary which said she was survived by five grandchildren. Funeral services were held in the family church, led by rector Rev. Stephen G. Williamson.
Granddaughter Claire Kensey Snyder ( ? - ? ) was a student of dental hygiene at the University of Pennsylvania. She wed Eric Hunter. They lived in Bedford Village, NY in 1964 and in Connecticut in 1977.
Granddaughter Dorothy Jeane Snyder ( ? - ? ) worked at General Hospital in Wilkes-Barre in 1945 as a laboratory technician. married Frederick Strohl. The couple was in Dallas, PA in 1964. She relocated to Florida where she dwelled in 1977.
Son Edward Alfred Voeste (1897-1966) was born on Oct. 22, 1897 in Wilkes-Barre. He was a graduate of Wilkes-Barre High School and went on to earn a degree at the Wharton School of Finance at the University of Pennsylvania. In 1920, when he was 22 years old and a bachelor, he resided with his mother in Wilkes-Barre and earned a living as a mining engineer with a coal company. He entered into marriage with Olga Hankey ( ? - ? ) of Hanover Green, PA. The pair made a home on West Broad Street. Together they produced a trio of daughters -- Mrs. Donald Spang, Mrs. Kenneth Schell and Mrs. Charles Blake. At one point he was employed as manager of Chapin Lumber Company in Temple, PA and with the Pennsylvania State Hospitals as a revenue agent. He also served the Temple community as justice of the peace. Edward held memberships in the Nanticoke lodge of the Masons and the Scottish Rite Consistory, and the couple belonged to the Epiphany Lutheran Church in Temple. Their final address together was at 4518 Tenth Avenue in Temple. Sadly, at the age of 68, Edward died in Reading General Hospital on April 16, 1966. His obituary was published in the Wilkes-Barre Times Leader. Burial was in Laureldale Cemetery.
Granddaughter (?) Voeste was joined in wedlock with Donald Spang. They made a home in 1966 in Wyomissing, PA.
Granddaughter (?) Voeste entered into marriage with Kenneth Schell. They resided in 1966 in Wyomissing, PA.
Granddaughter Beatrice Jean Voeste ( ? - ? ) was born in (?). She was an alumna of Reading Hospital of Nursing and obtained a nursing position at the Veterans Hospital in Lebanon, PA. On Aug. 2, 1951, in nuptials held in Epiphany Lutheran Church of South Temple, PA, she was united in matrimony with colleague Charles Blake ( ? - ? ), of Newport, VT. and also employed as a nurse at the hospital. Rev. Eldred K. Stauffer led the ceremony, with the union announced on the pages of the Newport (VT) Daily Express, which noted that the bride "wore a waltz length gown of white nylon tulle with applique petals of net on the bodice and skirt. A fingertip veil of French illusion was attached to a bandeau of orange blossoms. The bride carried a colonial bouquet of white flowers." Charles was a graduate of the Pennsylvania Hospital School of Nursing for Men. The pair put down roots in Lebanon, PA.
Daughter Madeline J. Voeste (1900-1984) -- also spelled "Madelyn" -- was born in about 1900 in Wilkes-Barre. She was employed as a clerk in a Wilkes-Barre axle works in 1920. In about 1928, at the age of 28, she wedded 33-year-old salesman Lloyd J. Johnson ( ? - ? ), son of Herbert R. and Carrie L. (Ahlum) Johnson of Wilkes-Barre. Officiating was Rev. William "Gray" Jones. The couple together produced a son, Kent Johnson. The family lived in Allentown. For 17 years, from 1952 to retirement in 1969, Madeline was employed by Hess Department Store in Allentown as an assistant buyer. She held a membership in the Order of Eastern Star. Toward the end of her life, she was admitted to Cedar Brook Nursing Home in Allentown. She died there at the age of 84 on March 3, 1984. An obituary was printed in the Wilkes-Barre Citizens Voice. Interment of the remains was in Grandview Cemetery in Allentown.
Son Robert P. Voeste (1902-1940) was born on Jan. 20, 1902 in Wilkes-Barre. He earned a living circa 1920 as a tin factory laborer in Wilkes-Barre and worked as a railroad baggage handler in the early 1920s at the Lehigh Valley East Market Street Station. Then in 1925, he resigned to accept new employment in Buffalo with an automobile firm. From there he relocated to Detroit where in 1927 he earned a living with a large department store. He is known to have spent vacations back in Wilkes-Barre to visit his mother and family. He returned to Wilkes-Barre by 1929 to work as a shipping clerk. On Sept. 18, 1929, at the age of 27, he was united in wedlock with 21-year-old Hazel K. Lenhardt ( ? - ? ), a resident of Keokuk, IA and the daughter of John and Blanche (Kensey) Lenhardt, also of Keokuk. Leading their wedding was Rev. George S. Connell. The couple eventually divorced. Robert was socially active with the Landmark lodge of the Masons, Shekinah chapter of the Royal Arch Masons, Dieu le Veut Commandery of the Knights Templar, Irem Temple, order of the Mystic Shrine, Irem Temple Band and the Junior Order of United American Mechanics. He also belonged to the Central Methodist Church. Circa 1940, Robert made his residence in Wilkes-Barre with his mother at 128 Sambourne Street. In about 1934, he was diagnosed with chronic heart valve disease and endured the illness for the final six years of his life. Sadness descended upon the family when, at age 38, Robert contracted influenze and then developed a pulmonary embolism. He died at home on Dec. 28, 1940. His obituary was printed in the Wilkes-Barre Times Leader.
Daughter Florence G. Voeste (1906-1992) was born on Jan. 11, 1906 in Wilkes-Barre. She was employed in young womanhood as a stenographer. At the age of about 23, on May 25, 1929, she married 26-year-old clerk Archie W. Weale ( ? -1978). He was a native of Geneva, NY and the son of Jacob H. and Anna (Inscho) Weale of New York City. Rev. Charles S. Roush officiated. At the time, Archie lived in Wilkes-Barre. The Weales resided for years in Wilkes-Barre, including at one time in South View Manor. Three offspring were born to their union -- Robert Weale, Fred Weale and Lois Thomas. The Weales were members of Firwood United Methodist Church, and Florence belonged to the Order of Eastern Star. Sadly, Archie died in 1978. She succumbed to death in Valley Crest at the age of 86 on March 20, 1992. The Wilkes-Barre Citizens Voice printed an obituary, which noted that she was survived by five grandchildren and four grandchildren. Rev. Bette Poe, of the family church, presided at the funeral, followed by interment of the remians in Oak Lawn Cemetery.
Grandson

Robert Weale

lived in Wilkes-Barre in 1992.
Grandson Fred Weale

relocated to Buffalo, NY.
Granddaughter Lois Weale married Robert Thomas

. They made a home in Hanover Township near Wilkes-Barre in 1992.
Daughter Ruth Virginia Voeste, RN (1907-1997) was born on Oct. 27, 1907 in Wilkes-Barre, Luzerne County, PA. She was a 1925 graduate of Coughlin High School and in 1929 matriculated from the Wilkes-Barre General Hospital School of Nursing. She thus became a registered nurse and spent 19 years on the staff of the Wilkes-Barre hospital. She did not marry until reaching the age of 41. On Oct. 29, 1948, she was joined in the rites of matrimony with 44-year-old Philip John Geib ( ? - ? ), son of Jacob Worth and Emily Elizabeth (Harris) Geib. A native of Bethlehem, PA, Philip was a railroad fireman and had been divorced in July 1948. Rev. Carl O. Trexler officiated their nuptials. The couple together bore a daughter, Virginia R. Bauer. Upon marriaige, Ruth retired from nursing and focused on raising their daughter. Philip was employed for more than half a century by the Pennsylvania Railroad/Penn Central Railroad, retiring in March 1971 as an engineer. He held memberships in the local Masons lodge, Coast Guard Auxiliary and Regional Brotherhood of Locomotive Engineers. Both were members of Central Methodist Church of Wilkes-Barre, and Ruth belonged to the hospital's alumni association and the Order of Eastern Star. Following the 1972 Hurricane Agnes flooding, the Geibs relocated to York, York County, PA. Their address was 3325 Harrowgate Road. Philip died in York Hospital at age 78 on April 10, 1983. Rev. Dr. James L. Harring officiated the funeral service. The widowed Ruth lived for another 13-plus years. In the 1990s, she dwelled in Springettsbury Township near York. Ruth died in ManorCare Health Services North at the age of 89 on Jan. 13, 1997. Her obituary in the York Dispatch said that Rev. Mark Terrwilligeer led the funeral service, followed by interment in Oaklawn Cemetery.
Granddaughter Virginia R. Geib ( ? - ? ) married (?) Bauer. They were the parents of Katrine Bauer. The Bauers lived in York, PA in the late 1990s.
Son Charles Oswald Voeste (1908-1986) was born on Sept. 8, 1908 in Wilkes-Barre. Circa 1934, when he would have been about 25 years of age, he is believed to have been joined in wedlock with Gretchen B. Shanks ( ? - ? ) of Hanover Township. News of their marriage was published in the Wilkes-Barre Evening News. Whether or not the couple actually tied the knot is not known. He dwelled in Pottsville, PA in 1940. During World War II, Charles joined the U.S. Armed Forces and was sent to the European Theatre with posts in England and France. In time he was united in matrimony with Kelsey Hill ( ? - ? ). They did not reproduce. Their final decades were spent in Florida in the community of Winter Park. Charles passed away on Jan. 22, 1986, in the Winter Park Care Center. The Wilkes-Barre Citizens Voice published an obituary.
Daughter Harriet "Hattie" Voeste (1910-1994) was born on Aug. 9, 1910 in Wilkes-Barre. She did not marry over her long lifetime. She earned a living as a secretary for 42 years with the Wilkes-Barre Area School District. Circa 1938, as clerk of the superintendent of buildings, her annual salary was $1,020. She belonged to Wilkes-Barre's Central United Methodist Church. In later years, she dwelled with her niece Virginia Bauer in York, York County, PA at the address of 3325 Harrow Gate Road. She died in York Hospital at the age of 84 on Sept. 22, 1994. Officiating at her funeral was her pastor, Rev. Mark R. Terwilliger. Burial of the remains was in Oak Lawn Cemetery, with an obituary appearing in the Wilkes-Barre Citizens Voice.
Son John Howell Voeste (1913-2006) was born in about 1913. He entered into the bonds of marriage with Isabel M. Hock (Jan. 26, 1921-2012), daughter of Christian and Isabel (Reibel) Hock. The pair did not reproduce. They resided near the Luzerne County Prison at 30 Priestly Street in Wilkes-Barre. Isabel worked for 26 years in the garment industry. During an escape in November 1981, a prisoner took refuge in the Voeste home and savagely beat the 69-year-old John. For the rest of their lives, they lobbied and sued for better protections. The prison installed sirens for alerting the neighborhood to escapes, and allowed the Voestes to stay safely behind locked doors during another incident in 1983. In February 1983, John died on July 6, 2006. Isabel outlived her spouse by a half-dozen years and became a resident of Keystone Garden Estates. At the age of 91, she passed away on Dec. 27, 2012. An obituary in the Wilkes-Barre Citizens Voice said that burial was in Oak Lawn Cemetery.
~ Son Harry Thomas Gaumer ~
Son Harry Thomas Gaumer (1872?-1906) was born in Nov. 1872 in Mauch Chunk.
He relocated to Buffalo, NY with his father.
Harry obtained employment as a switchman with the Delaware, Lackawanna and Western Railroad and in 1899 dwelled at 182 Brinkman Street. The DL&W connected Buffalo with Hoboken, NJ and New York City. On Dec. 1, 1899, said the Buffalo News, he "caught his right hand between the bumpers of two cars at the East Buffalo yards this morning. He suffered a bad laceration and went to the Emergency Hospital. No amputation will be necessary."
Buffalo yards of the New York Central, where Harry was fatally burned
He was a member of the Buffalo Lodge of the Brotherhood of Railroad Trainmen and the Foresters of America. His employer in 1906 was the New York Central Railroad in East Buffalo.
Tragically, Harry lost his life in mid-May 1906 from fiery injuries sustained at work. On that morning, he was badly burned on the face and hands when a barrel of naptha -- a flammable liquid hydrocarbon -- exploded in a railroad boxcar in the East Buffalo freight yards. While walking between a line of cars, he saw an open door and went inside to investigate. "The escaping naptha ignited from the flame in his lamp," said the Buffalo Enquirer. "He staggered to the door and fell between the cars when the explosion occurred. Two switchmen rescued Gaumer from beneath the flaming boxcar. He was taken to the Y.M.C.A. Hospital at Bailey Avenue and Broadwy
The burns were too severe, and he died later that day, at the age of 34, on May 17, 1906. A death notice appeared in the Buffalo Enquirer, which asked the Wilkes-Barre and Mauch Chunk newspapers to re-publish.
Copyright © 2020-2022 Mark A. Miner