Franklin Gaumer
( ? -1864)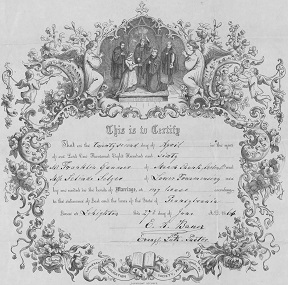 The Gaumers' decorative, inscribed marriage certificate, pre-printed by the Lutheran Publication Society, Philadelphia, PA.
National Archives.
Franklin Gaumer was born in (?), the son of Augustus and Christina Gaumer and stepson of Rebecca (Hontz) Gaumer.
He was a casualty of the Civil War, one of many within the extended Meinert-Minerd-Minard-Miner-Minor family.
When a young man, Franklin dwelled in Mauch Chunk, Carbon County, PA.
On April 22, 1860, Franklin was joined in holy matrimony with widow Salinda (Blose) Seltzer (Nov. 15, 1832-1918), a resident of Lower Towamensing Township near Mauch Chunk. She was the daughter of Daniel and Elizabeth (Beltz) Blose, with her named spelled at times as "Celinda." The wedding ceremony was performed in the residence of Rev. E.A. Bauer of the Evangelical Lutheran Church of Lehighton, Carbon County.
Franklin's family seems not to have attended the wedding. He later "brought her home and introduced her as his wife," his younger half-brother Alfred recalled.
Salinda and her first husband, German immigrant Henry Seltzer Sr. ( ? -1852) had borne two children, Harriet Walck and Henry Seltzer Jr. Tragically, Seltzer drowned in a canal along the Lehigh River near Bowmanstown on July 8, 1852, when Salinda was only age 19.
Salinda could not write her name, and signed it with an "X."
The couple made a home in Mauch Chunk. During their brief four years of marriage, they did not reproduce.
After the outbreak of the Civil War, Franklin in 1844 joined the Union Army. He was assigned to the 81st Pennsylvania Infantry, Company G, commanded by Capt. John Patton. His younger half-brother Alfred also served in the same regiment.
While in action at Cold Harbor, VA, part of General Grant's "Overland Campaign," Franklin was killed on June 3, 1864. The Union Army sustained heavy losses in that battle but emerged victorious and led to the siege of the key Confederate cities of Petersburg and Richmond. Franklin could be buried in the vicinity of Cold Harbor, and perhaps in its national cemetery, but the exact location is lost to history.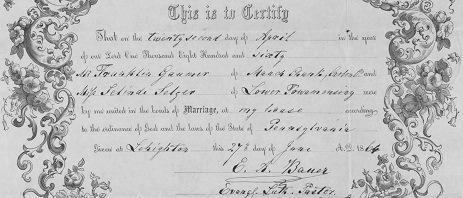 Above: detail of the Gaumers' marriage certificate.
National Archives.
Below: battle action at Cold Harbor, where Franklin Gaumer was killed in action.
Famous Leaders and Battle Scenes of the Civil War.

The 32-year-old Salinda thus was rendered a widow for a second time. She immediately submitted a claim to be paid a soldier's widow's pension for her loss of income and support. Her application was approved on Jan. 11, 1865. [Widow App. #56.899 – Widow Cert. #37.623]
When her former brother-in-law Alfred Gaumer came home from the Army at the end of September 1864, he found that Salinda was residing with another woman whose husband was away at war. Once the woman's husband returned, she moved in with him, leaving Salinda alone.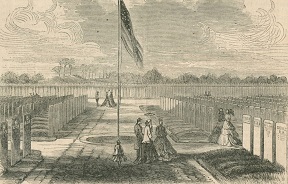 National cemetery, Cold Harbor, where Franklin Gaumer is presumed to sleep anonymously. Sketch by W.W. Wirt.
Harper's Weekly, Oct. 20, 1866
.
Salinda then apparently found another place to live and asked her former brother-in-law Alfred Gaumer to help move the furniture. She soonafter took in a boarder, blacksmith James P. Smith (March 4, 1834-1903). To generate additional income, she took in washing work.
The landlord and tenant got along apparently joined themselves in marriage after that, circa 1866. Recalled daughter Harriet, "Mother and Mr. Smith went to Rhode Island on a trip - were gone a couple of weeks and when they came back said they were married."
The union was never lawfully recorded, and she never notified any other government authorities. For all intents and purposes, after a period of time, the Smith marriage was considered common law in Pennsylvania. Her action should have been grounds for her to lose her widow's pension.
After Salinda wedded Smith, she sent her son to live with her parents, some seven or eight miles from Mauch Chunk.
Alfred later wrote that he considered Smith a "rather worthless character" and that "after Salinda took him up the Gaumer family dropped her and had but little to do with her…" Smith's real name was Robert Priestley and had been born in England. He and his brothers George and Emanuel all had run away from home and made the ocean crossing to Massachusetts. During the Civil War, he changed the name to Smith and enlisted in the Union Army at Fall River, MA, for which he was paid a bounty. He was placed in the 3rd heavy Artillery, and served from April 30, 1864 to Aug. 16, 1864, at which time he deserted. A slip of paper later was found saying he had been discharged from the Army's quartermaster department at Nashville in December 1864, but its authenticity could not be verified.
Once she had accumulated the first lump sum funds from the the pension, on Sept. 3, 1867 (her daughter's 16th birthday), Salinda and Smith relocated to nearby Indian Hill in Franklin Township near Weissport, Carbon County. There, she had bought a small farm from Thomas Solt. They remained on the tract for the balance of their married years. Their home consisted of a small farmhouse with five rooms. Her brother Wilson Blose boarded with them for a number of years.
With the pension in hand, she is known to have loaned $58.25 to her former father-in-law, Augustus Gaumer. Once Smith entered the picture, he pressured Salinda to get the funds back. On Dec. 22, 1866, Smith sued Augustus, but as Smith was not the lending party, the case was thrown out. So on Dec. 29, 1866, Salinda as the lender of record file her own claim and won. The Gaumers never forgave her for that.
Over the span of the next 41-plus years, she continued to collect monthly pension payments, in the grand total amount of $4,894.00. She received the checks at Mauch Chunk, under the name "Gaumer," while obtaining all other of her mail in Weissport, under the name Smith. To get from her home to Mauch Chunk, said local justice of the peace Stephen Ziegenfus, "She would have to come right by my house to Weissport and if she drove all the way would also have to go through Lehighton and Packereton, or if she took train she would come to Weissport, and go by Jersey Central to Mauch Chunk. There is hardly any other way she could get there."
Both Salinda and Smith were members of the Weissport Evangelical Lutheran Church under the pastorate of Rev. Edgar P. Xander. At some point Smith transferred his membership to the Long Run Church, also led by Rev. Xander.
Smith occasionally borrrowed money from his stepson Henry Seltzer to use to rebuild the little farmhouse. The amounts, spaced over time, totaled no more than $300, at five percent interest, with about $75 repaid during Smith's lifetime. Then after Smith's death, Salinda gave her son another note, but never repaid a cent.
Local auctioneer and insurance agent J.H. Rothermel, who knew Smith, said he "was a cripple - had but one leg.... Once in a while he would come to town and get a little full and the boys would say he must have drawn his pension."
Smith died in Long Run, Carbon County on April 29, 1902, ending their common law marital union which had lasted for 37 years. Rumors abounded that Salinda sent a note to Rev. Xander, the preacher, asking that he avoid mentioning her in the sermon so as to not jeopardize the pension. Interment of the remains was in St. Matthew's Cemetery in Lehighton. Salinda purchased a grave marker to honor his memory. Inscribed on one side, at her instruction, were the words "Salinda, wife of James P. Smith, born November 15, 1832."
About the time of Smith's death, Salinda's son purchased his old horse for $25. Salinda decided to keep their cow.
The federal government eventually learned that Salinda had been drawing her pension illegally, and conducted an investigation. Special examiner R.A. Hales interviewed Salinda along with family members and witnesses in Mauch Chunk and Buffalo, NY to learn whether the marriage to Smith was legitimate. He even went so far as to search the pastoral records of the German Lutheran Church in Mauch Chunk to see if evidence could be found. Salinda herself denied that she and Smith had married. She told Hales that "I was told that so long as I never married again I could continue to draw the pension.... God knows I was never married to him." But all others said that her reputation as Smith's wife and identity as "Salinda Smith" were widely known. Hales finally wrote to his superiors, "She has virtually been playing the game of 'Dr. Jeckyl and Mr. Hyde' for over 40 years."
The pension officially was dropped on May 4, 1907. But the matter did not end there. Some 16 months later, the United States Attorney for the Middle District of Pennsylvania in Sunbury notified the U.S. Pension Commissioner that it planned to sue Salinda for fraud and to recover the funds. All dates and amounts of pension payments were requested as evidence. The pension commissioner immediately replied, stating that the records in question were in the custody of the Auditor for the Interior Department.
The case was filed in the U.S. Circuit Court for the Middle District of Pennsylvania, No. 167 December Term 1908. A special examiner in the case noted that Salinda at that time was "an old and enfeebled woman, without property that could be levied upon under an execution…" The court ruled on behalf of the government. The matter became further entangled in bureaucracy because while the court decision occurred in Lackawanna County, it was not entered into formal Carbon County records, where the property in question was located. For all intents and purposes the judgment was rendered null, as there was no way Salinda could have repaid what she owed.
For eight years, until about 1917, Salinda rented two rooms in or near Weissport. She spent her final six months in her daughter's residence. There, she passed away on May 6, 1918. Her remains were lowered into repose in the Lutheran Church cemetery in North Weissport. Her son Henry did not attend the funeral but was able to go to the burial. She did not leave a last will and testament.
~ Stepdaughter Harriet (Seltzer) Walck ~
Stepdaughter Harriet Seltzer (1851-1925) was born on Sept. 3, 1851. She was a year old when her father drowned, and age 13 when her stepfather died away at war.
Harriet married William H. Walck (Jan. 4, 1848-1911).
The only known son born to this union was James Edward Walck.
The Walcks were involved in the general coverup of the fact that Harriet's mother was not married to James P. Smith even though they lived together for decades as man and wife. When questioned by Rev. Edgar P. Xander, after Smith's death, William replied, "Say as little as possible ... it is no body's business." Circa 1907, they dwelled in rural Lehighton.
Sadness blanketed the family when William died on Feb. 18, 1911.
In her widowed years, she made a home with her daughter-in-law in the Lehighton area. Swas burdened with heart disease and hardening of the arteries. After being stricken with a cerebral hemorrhage, on Christmas Day 1925, she died four days later. Interment was in St. Matthew's Cemetery in Lehighton.
Son James Edward Walck (1871-1916) was born on Aug. 14, 1871 in Weissport, Carbon County. At the age of 44, in 1916, he was employed tending Lock No. 5 of the Lehigh Canal at Packertown. On the fateful day of July 24, 1916, he fell into the lock at work. Reported the Scranton Times, "The lock was almost filled with water and, being closed, Walck was unable to get out over the steep sides. The body was recovered."
~ Stepson Henry Seltzer Jr. ~
Stepson Henry Seltzer Jr. (1852-1932) was born on March 28, 1852 and just an infant when his father drowned. He was 12 when his stepfather died in the Civil War
Henry was united in wedlock with Catherine Moyer (1853-1933).
She may have brought a son to the marriage, James Stonebader.
The couple bore five known offspring of their own -- William Henry Seltzer, Milton Lewis Seltzer, Albert F. Seltzer, Harry A. Seltzer and Mrs. Fred Hofacker.
For years, Henry was employed as a trackman with the Lehigh Valley Railroad. They lived in rural Lehighton, Carbon County in 1907.
Retired in 1925, when questioned by government authorities, he was almost blind. Having suffered with hardening of the arteries for several years, he suffered a stroke in late April 1932 and died a week later on May 1, 1932. His remains were laid to rest in Union Hill Cemetery in Weissport. An obituary in the Mauch Chunk Times-News said he "was an employee of the Lehigh Valley Company for fifty years and for the past eight years had been living retired."
Catherine only outlived her spouse by a little more than a year. She passed into eternity at home in North Weissport, at the age of 81, on Aug. 5, 1933. The Times-News named her living siblings at the time -- William Moyer of Palmerton and Lydia Schoenberger of Weissport.
Son Albert F. Seltzer resided in rural Lehighton. He became a carpenter. Circa 1925, he acquired his grandmother's small farm in Franklin Township. At that time it contained a small dwelling house. In 1950, the farm was owned by Robert E. and Arlene J. Seltzer.
Son William Henry Seltzer (1874-1934) was born in 1874. He was joined in wedlock with (?) Green ( ? - ? ). She had been married before and brought two sons into the second marriage -- Kenneth Green and Willard Green. The Seltzers lived in Weissport in 1933. Stricken with appendicitis, William underwent surgery in Palmerton Hospital and died at the age of 60 on Aug. 16, 1934. Funeral services were held at the First Reformed Church of Weissport, with burial in Union Hill Cemetery.
Son Milton Lewis Seltzer (1875-1937) made a home in Weissport in 1933.
Son Harry A. Seltzer lived in Northampton, PA in 1932-1933.
Daughter Seltzer wedded Fred Hofacker. Their home in 1932 was in East Mauch Chunk.
Copyright © 2020-2021 Mark A. Miner