James E. Hanshaw
(1831-1870)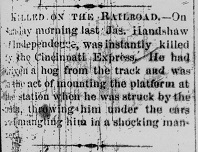 Preston County Journal, 1870
James E. Hanshaw was born in 1831 in Preston County, WV, the eldest son of Hiram B. and Catherine (Miner) Hanshaw.
He is one of the earliest knowns cousins in the extended Minerd-Minard-Miner-Minor family to have been killed in a railroad accident. He also is said to have been one of two brothers who, along with their father, were killed on the railroad.
James lived at Independence, Preston County. When the federal census was taken in 1870, when he was age 39, he lived at home with his parents and younger siblings. Little else is known about his life.
At the time of his fatal accident, he was 39 years old. The Oct. 22, 1870 Preston County Journal reported that:
KILLED ON THE RAILROAD.--On Sunday morning last Jas Handshaw of Independence, was instantly killed by the Cincinnati Express. He had driven a hog from the track and was in the act of mounting the platform at the station when he was struck by the train, throwing him under the cars and mangling him in a shocking manner.
James' burial site is unknown. The identity of his brother who met a similar fate also is not known.
Copyright © 2001, 2008, 2021 Mark A. Miner