William Judson Harbaugh
(1880-1955)

William Judson Harbaugh
William Judson Harbaugh was born on March 4, 1880 in Ohiopyle, Fayette County, PA, the son of Allen E. and Margaret (Williams) Harbaugh.
Young William made news at age 11 months, not surprising since his father was a part-time journalist for the Connellsville (PA) Courier. Reported the Courier:
Quite a noble act was performed by a young dog of A.E. Harbaugh, one day last week. Willie, a small son of the gentleman named, was crossing the creek on a footbridge when he lost his balance and was about to fall into the stream. At this juncture the sagacious animal caught and held him until his mother came to the rescue.
At age 20, when the federal census of 1900 was enumerated, William was living at home with his parents. He worked that year as a "turner." As an adult, he stood five feet, 10 inches tall, and weighed 155 lbs., with brown eyes and a ruddy complexion.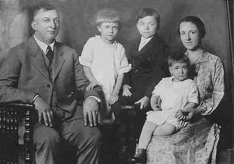 William and Daisy with children,
l-r: Dorothy, Harold and William.
The following year, in February 1901, he and friends took part in a "sleighing party" from Mill Run to the home of Abram Skinner in nearby Stewart Township. Said the Courier:
A good time was had as the host and hostess were genial and kind. Mirth and music wiled time merrily, and at 11 o'clock supper was served… The cheerful crowd continued conversation until in the 'wee sma' hours,' and so reluctant were the hosts to see the guests depart they wished them to tarry til the morning.
William was employed at the Colborn & Dull but resigned in March 1901 to begin working at S.D. Sipe's new sawmill at Indian Creek, Fayette County. In 1910, the 30-year-old bachelor William was still living at home, and employed as a boilermaker for the Baltimore & Ohio Railroad. However, by 1916, he had moved to Connellsville, Fayette County. He worked for the B&O for many years, and retired from the company. He was a member of the B&O Veterans Association.
When the federal census was taken in 1920, the Harbaughs were counted as living on Gibson Avenue in Connellsville, with William's occupation listed as "Boiler Maker - RR." Daisy's mother, Arminda Glover, lived under their roof that year.
On Dec. 2, 1923, when William was age 43, he married his widowed sister in law, Daisy (Glover) Harbaugh. She had previously been married to William's brother, Rev. John A. Harbaugh, who had died a year earlier. Daisy thus brought two children to the marriage – Harold Harbaugh and Dorothy Miller Leasure. They went on to have three children of their own – William Gradon Harbaugh, Genevieve Umbel-Frazee and Alberta Beatty.
Picturesque Indian Valley and railroad line, early 1900s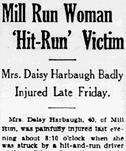 Daily Courier, 1937
Daisy was badly injured in February 1937 when she was "struck by a hit and run automobile vehicle" in Mill Run. Said the Courier, "As she was walking along the Connellsville- Farmington road at Mill Run in the direction of Connellsville facing traffic, a speeding truck approached and struck her, knocking her to the side of the road in a heap. E. Sturgis Colborn of Mill Run leaped into an automobile and gave chase, pursuing the fleeing truck for seven miles before he obtained the license number.." Daisy was treated in Connellsville State Hospital, and fortunately recovered.
During World War II, in 1942, William was living temporarily in Cumberland, Allegany County, MD, where he worked in the back shop of the B&O on Virginia Avenue. He registered for the military draft that year, and gave his addresses as both Mill Run and also 701 Lafayette Avenue in Culberland.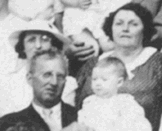 Holding baby Alberta,
1936 Harbaugh Reunion
William and Daisy and their family enjoyed going to the large, annual Harbaugh Reunions over the years. They are known to have attended the 1936 reunion, held that year on August in nearby Kingwood, Somerset County, PA. In a large group photo taken that day, William holds young daughter Alberta, with wife Daisy directly behind his head, and his sister Annie at right.
Like his father, William suffered from kidney disease as well as sugar diabetes. He passed away on Jan. 7, 1955, at the age of 75. He was laid to rest at the Indian Creek Baptist Church.
Daisy outlived him by 21 years. She moved to a daughter's home in Wellington, Lorain County, OH. She was a member of the First Baptist Church and the Missionary Society of Wellington. She died of heart problems at age 79 on Oct. 16, 1976. Her remains were brought back to Mill Run for burial at the Indian Creek Baptist Church.
~ Son William Gradon Harbaugh ~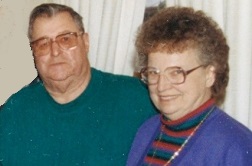 William and Dorothy Harbaugh
Son William Gradon Harbaugh (1924-2004) was born on Dec. 14, 1924 in Connellsville.
William as a young man worked for the Baltimore and Ohio Railroad. Then after the nation was plunged into World War II, he enlisted in the U.S. Army on July 23, 1943. He was placed within the 88th Infantry Division "Blue Devils," seeing field artillery action in North Africa and Italy. He was pictured in a wartime article in the Connellsville Daily Courier under the headline "In North Africa."
On Sept. 14, 1955, when he was age 31 and she 19, William married Dorothy Husak (1936-2012)
The couple produced three sons -- Rev. William Bradford "Brad" Harbaugh, Joel Scott Harbaugh and Doyle Edwin Harbaugh.
After the war, William worked for Westinghouse in Pittsburgh, and is said to have been a welder who helped make repairs to the ill-fated ore hauling ship, the Edmund Fitzgerald.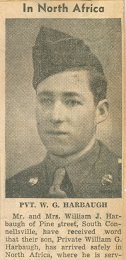 World War II article
In 1960, the Harbaughs moved to Wellington, Lorain County, OH, following a pattern of other family members who had found a good home there.
William then earned a living as a welder with General Dynamics in Lima, formerly the Lima Tank Plant, and belonged to the United Auto Workers in Lima. Circa 1984, they moved again, to Lima, Allen County, OH.
William died at home at the age of 79 on April 4, 2004. His remains were returned to his native Mill Run for a funeral at the Indian Creek Baptist Church, followed by burial in the church cemetery.
Dorothy outlived him by eight years, and moved to Wellington. Said the Connellsville Daily Courier, her "primary focus in lie was that of living a life pleasing to her Lord and Savior Jesus Christ. Dorothy was a member of Camden Baptist Church where she was active with the Ladies Missionary Society, Naomi Circle and an Awana Club teacher. She was also active with the Joy Clubs and Child Evangelism Fellowship. Dorothy was a prayer warrior and led adult ladies Bible studies. In her spare time she enjoyed baking, canning, cooking, gardening, painting with water colors and sewing. She devoted her life to being a God-honoring wife and mother..."
She died on March 14, 2012 at Keystone Pointe in LaGrange, OH. Her remains joined her husband's in eternal repose in the Indian Creek Baptist Church Cemetery in Mill Run.

Brad Harbaugh
Son Rev. William Bradford "Brad" Harbaugh is pastor of Singles' Ministries at Colonial Baptist Church in Cary, NC. With a bachelor's degree from Baptist Bible College in Clarks Summit, PA and a masters degree from Grand Rapids Baptist Seminary, he has served more than two decades in full time ministry as a youth pastor in Fostoria, OH; a worship pastor in Grand Rapids, MI; and a senior pastor in Evart, MI. In 2005, he led a Carpenters for Christ team from Colonial which joined with others to build a church in Tennessee comprising up to 10,000 sq. ft.
Son Doyle Edwin Harbaugh
Son Joel Scott Harbaugh
~ Daughter Genevieve Frances (Harbaugh) Umbel Frazee ~
Daughter Genevieve Frances Harbaugh (1927-2012) was born on May 13, 1927 in Connellsville.
She was married twice. On Aug. 5, 1951, she was joined in matrimony with her first spouse, Wendell Wayne Umbel (Feb. 17, 1926-1983).
The children born in this family were Wayne Wendell Umbel, Brenda Sue Umbel and Roy Allen Umbel. Sadness blanketed the family when daughter Brenda Sue died at birth on March 26, 1964.
Sadly, Wendell passed away the day after Christmas 1983. He rests for all time in Asher Glade Cemetery.
Genevieve survived as a widow for more than five years. On June 7, 1989, she was united in wedlock with her second husband, Wayne Russell Frazee (Aug. 31, 1923- ? ), a native of Markleysburg, Fayette County. Their wedding was held in Friendsville, MD at the Asher Glad Church of the Brethren. Wayne had been married previously and brought three sons to the union, Clinton Frazee, David Frazee and Gary Frazee.
The Frazees were farmers in Friendsville. They were members of the Asher Glade Church, where she was active in the Ladies Aid Society.
Sadly, she endured the failing health and death of her son Wayne (in 2004).
Genevieve passed away at the age of 84 on Jan. 17, 2012, while a patient at the Western Maryland H.S. Regional Medical Center in Cumberland. Led by Rev. Ed Moore and Rev. Nevin Umbel, funeral services were held in the family church, with interment following in Asher Glade Cemetery.
Son Wayne Wendell Umbel ( ? -2004) was born in (?). On April 13, 1990, he married Diana (Guyer) Smith ( ? - ? ). She brought two sons to the marriage, Lyn A. Smith and Adam Smith. They resided in Harrisonburg, VA and had two children of their own, Scott Umbel and Jennifer Ann Umbel. Wayne was employed selling seeds for Garst, Chem-Gro and Doeblers Seed Company. In his free time, he belonged to the Singers Glen Fire Company and was a member of the Fairview Church of the Brethren. With his health declining over the last decade of his life, Wayne was admitted to Rockingham Memorial Hospital. He succumbed there at the age of 52 on Sept. 17, 2004. A memorial service was held in the Ashers Glade Church of the Brethren, with interment in Harrisonburg.
Son Roy Allen Umbel wedded Sonya ( ? - ? ). They live in Friendsville.
~ Daughter Alberta Arminda (Harbaugh) Beatty ~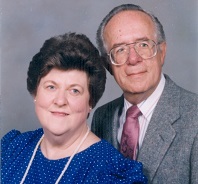 Alberta and Don Beatty
Daughter Alberta Arminda Harbaugh (1935-living) was born in 1935 in Mill Run.
As a young woman, she relocated to Wellington, OH.
On Oct. 1, 1960, she was married to World War II Army veteran Donald Edgar Beatty ( ? -2011), a native of Indiana, Indiana County, PA and the son of Edgar Miller and Gladys Faye (Fisher) Beatty. Their nuptials were held in the First Baptist Church of Wellington, led by Rev. Louis Tulga. Their marriage endured for more than 50 years.
They were the parents of two -- Kevin Lee Beatty and Melissa Dawn Thomas.
For more than three decades, Donald was employed by the Elyria Chronicle Telegraph as an advertising production foreman. He loved to read.
At the age of 84, a patient in Allen Mercy Hospital in Oberlin, Donald passed away on March 1, 2011. Funeral services were held in the First Baptist Church of Wellington, preached by Pastor Tom Alexander, with interment in Resthaven Memorial Gardens.
Son Kevin Lee Beatty (1965- ? ) was born in 1965 in Lorain, OH. He has been married and has two sons, Benjamin Edward Beatty and Zachary Allen Beatty. Kevin resides in Texas.
Daughter Melissa Dawn Beatty (1967- ? ) was born in 1967 in Cleveland. Married and divorced, she retains the married name "Thomas." In 2011, her home was in Columbus, Franklin County, OH.
Copyright © 2004-2005, 2008, 2012, 2019 Mark A. Miner