William H. Ingles
(1867-1895)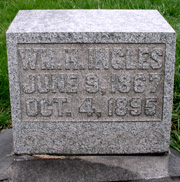 Pennsville Independent Cem

William H. Ingles was born on June 8, 1867 in or near Dunbar, Fayette County, PA the son of Jacob and Sarah (Minerd) Ingles. He and his step-father are among an alarming number of cousins to lose their lives in the workplace of the coal, coke and steel industry.
William's parents separated shortly after his birth, and the father spent the rest of his life roaming the nation, with a primary residence in Chicago. By 1870, William and his mother and brother resided with a grandmother, Hester (Sisler) Minerd, in North Union Township, Fayette County. In about 1870, William's mother remarried to Civil War veteran William D. Ogle, a coal miner, and the family settled in Pennsville, Fayette County. Sadly, William's mother died in 1890, of breast cancer, when William was 23.
In 1891, when William was 24, he married 19-year-old Ida J. Henry (1872- ? ). Their union was recorded in the Fayette County marriage license records and in the local weekly newspaper, The Courier of Connellsville. The record shows that William's parents were "Jacob and Sarah Ingles" and that he lived in Pennsville and was a coal miner. Ida was a native of Grapeville, near Jeannette, Westmoreland County, PA and the daughter of Joseph and Elizabeth Henry.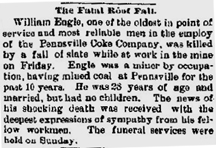 Connellsville Courier, 1895

William began laboring at the local coal mine, the Pennsville Coke Company, in about 1885. Located on the Pennsylvania Railroad Southwest Branch, the mine employed 41 men on the inside, and 44 on the outside, and was considered to be generally safe, with good ventilation and drainage. It provided long-term, steady work and income. William may also have felt some level of security with his step-father serving as pit boss.

Tragedy rocked the family, however, in 1893 when the step-father was fatally injured in a fall of slate at the Pennsville mine, lost a leg, and suffered a month before dying.

The Shadow of Death swept up William himself on Oct. 4, 1895, when he age 28 and after just four years of marriage. He was crushed to death in a fall of slate at the mine. The Connellsville Courier reported the story, misspelling William's name:

William Engle, one of the oldest in point of service and most reliable men in the employ of the Pennsville Coke Company, was killed by a fall of slate while at work in the mine on Friday. Engle was a miner by occupation, having mined coal at Pennsville for the past 10 years. He was 28 years of age and married, but had no children. The news of his shocking death was received with the deepest expressions of sympathy from his fellow workmen...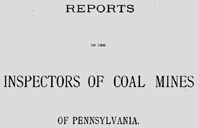 Book citing William's death

William's battered remains were laid to rest in the Pennsville Independent Cemetery, in the row behind his mother and step-father's graves. A simple rectangular granite marker stands at his grave today, providing the precise dates of his birth and death.

The following year, the State of Pennsylvania published its annual Reports of the Inspectors of Coal Mines of Pennsylvania for the year of 1895 An original bound copy is on file today in the archives library at the Senator John Heinz History Center in Pittsburgh. The report included a more detailed of William's senseless death, authored by Inspector Bernard Callaghan of the Ninth Bituminous District, covering parts of Fayette, Westmoreland and Allegheny Counties. In his review of William's accident was the following narrative:

... He and his partner were digging their last load of coal for the day, and also doing the last work they intended to do on a stump, on a rib in the said mine, when the fatality occurred. They had set their break-row and were leaving it when it suddenly gave way, crushing Ingles beneath. His partner had a narrow escape, some of the mass falling upon his heels as he was fleeing. Both men were good miners and had employed the usual precautions, setting plenty of posts, and only 16 feet back from the face. Before the accident there was no sign of a crack or flat in the roof.

In his report, Callaghan also provided a general comment about the 21 lives lost that year in his district, up from 10 the previous year, and the 40 injuries that occurred during 1895:

The only advice that can be given is a caution for constant care and faithful observance of the mining laws. When men learn to value their lives more than the price of a wagon of coal the mine will lose its death record. How often does the investigation show that the last determination to set up the post for safety, or take down slate, was really the forerunner of death, and the coveted wagon is often loaded by another hand, perhaps the one that had a few moments before carried the lifeless form of a brother miner from the treacherous pit to daylight.

~ Ida's Story ~

The widowed Ida remained a childless widow for five years, and moved to Greensburg, the county seat of Westmoreland County. There, she earned a living as a housekeeper.

At the age of 28, on Jan. 30, 1900, Ida married again, to 46-year-old divorcee George W. Fultz (1854- ? ) of Mt. Pleasant, Westmoreland County. Rev. C.R. Dieffenbucher officiated.

On the marriage license application, Ida disclosed that her first husband "died 4th of October 1896," one year off the actual year date. George and his first wife had divorced 14 years earlier, in Butler County, PA in 1886.

But the marriage appears to have been doomed immediately. By June of that year, just four-and-a-half months later, the federal census-taker marked Ida as "divorced" and showed her heading a household of her relatives in the Greensburg area. The residence also included Ida's 42-year-old widowed sister Susan Hans and Susan's adult children Harry Hans (age 23) and Catherine Croushouse (22).

George Fultz's whereabouts at that time have not yet been determined. He is believed to have remained in the Mt. Pleasant area and to have died in or about 1936.

The gossip columns of The Courier reported in its edition of July 27, 1900 that "Mrs. Ida Fultz of Greensburg visited Pennsville friends this week."

She disappears from the written record after that, but is being researched further.

Copyright © 2000-2007, 2013, 2022 Mark A. Miner