Harry Grant Knight
(1868-1936)

Harry Grant Knight
Harry Grant Knight was born on March 4, 1868, in or near Morrison, Whiteside County, IL, the eldest son of Norman D. and Sarah (Baughman) Knight.
At the age of three, Harry and his parents moved further west, becoming pioneer settlers of south-central Kansas. They put down roots in Valley Township, Reno County, just a few miles west of the town of Burrton, Harvey County.
On Jan. 16, 1898, when he was age 30, Harry married 22-year-old Luella Florence "Ella" Harris (1877-1966) at Burrton. She was a native of Newcomerstown, Tuscarawas County, Ohio. They were nine years apart in age.
They together bore one daughter, Esther "Arveta" Brink.
Spokane, early 1900s. Note the Calispell Mountain range.
Harry witnessed a grisly accident involving his friend David Chalmers "Chal" Hanselman in November 1891. After hunting together one day, about five miles southwest of Burrton, the two men were riding home in a buggy when Chal's gun accidentally fired. The shot tore a gaping hole in the left side of Chal's abdomen, "leaving his bowels drop down and exposing his lungs," reported the Burrton Free Lance newspaper. With Chal collapsed on Harry's shoulder, Harry drove the horses as quickly as possible to seek help at the nearby home of his brother in law Robert Ambler. Upon arriving, Chal summoned the energy to get out of the buggy and "walked to the house, holding his bowels in with his hands. E.H. McFall, who was teaching school nearby, was appraised of the accident, and immediately dismissed and came to town after Dr. Hempstid who, upon arrival at the place found Chal sinking rapidly and told him it was only a question of a few hours, but in order to satisfy the family sent for Drs. Easling and Lawrence, the latter of whom lived in Halstead and arrived too late, the young man having passed away a short time before his arrival. Medical skill could do nothing...." [ more ]
When the federal census was enumerated in 1900, the newlyweds made their home in Burrton, Harvey County. His occupation was marked as "elevator engineer," likely helping to operate local grain elevators for farmers.
By 1910, Harry concentrated his work as a farm laborer, with their home in Valley Township, Reno County. Living next door were Harry's cousins Joseph Baughman (age 36) and widower Francis Baughman (age 33), also farmers.
For reasons that remain a mystery for now, the Knights gave up hope of making a permanent life in the Burrton area. They moved to Montana in late 1918 or early 1919, and renounced their legal claim on their widowed father's farm.
Within another year or so, they migrated further west, to Washington State. In 1920, their new home was on West First Street in Spokane, Spokane County. Harry and Ella were employed as landlords of a local hotel that year.
Sadly, the Knights' marriage was troubled. They separated and eventually divorced during the decade of the 1920s.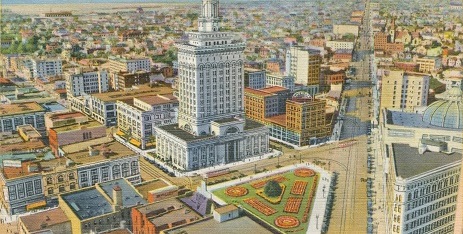 City Hall and Memorial Plaza, Oakland
In 1930, when he was age 62, Harry made his home, alone, in the White Bluffs Precinct of Benton County, WA. Ella and their daughter Arveta lived in California, in the town of Berkeley, Alamada County. Ella supported herself as a nurse, while Arveta found employment as a stenographer.
Harry died on March 31, 1936, at the age of 68, in Vancouver, Grant County, WA.
Luella outlived her former husband by three decades. She passed away on Dec. 6, 1966 at Hayward, near Oakland, Alameda County, CA, at the age of 89.
Arveta Brink
~ Daughter Esther "Arveta" (Knight) Brink ~
Daughter Esther "Arveta" Knight (1907) was born on Jan. 8, 1907, in or near Hutchinson, Reno County, KS.
As a teenager, she moved with her parents to Spokane, Spokane County, WA. After her parents divorced in the 1920s, she accompanied her mother to Berkeley, Alameda County, CA. where she resided circa 1930.
On April 4, 1933, in Seattle, Arveta wed Arthur "Myrton" Brink (1905-1971), a native of Lakeport, Lake County, CA. She was age 26 at the time of their marriage, and he was 28.
Their home was located at 2206 57th Avenue in Oakland. They did not reproduce.
Myrton worked for the Southern Pacific Railway for more than 45 years, and retired in 1970. Circa 1941, Alveta, who was employed in a small insurance office, served as president of the Alethe Junior Girls Club in the Berkeley area.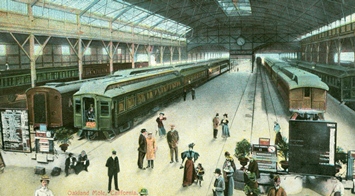 Southern Pacific's depot at the wharf in Oakland
Alveta supplied many of the facts for a manuscript history of the family. In the late 1960s or early '70s. She typed family group sheets for her branch of the Knights. She graciously shared her records with a distant cousin, fellow genealogy researcher Dorothy (Bender) Krieg, granddaughter of James Jasper Knight, of Michigan. In 1992, Dorothy provided a copy to the founder of this website.
Myrton is believed to have passed away at the age of 65, in Oakland, in August 1971.
Arveta lived 21 years beyond her husband. She died in Oakland at the age of 85 on Nov. 15, 1992, just a few months after her genealogy papers had been shared with others.
Copyright © 2001, 2011, 2021 Mark A. Miner