Home

Nellie (Knight) Ambler
(1869-1942)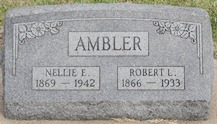 Burrton Cemetery
Nellie E. (Knight) Ambler was born on Nov. 23, 1869 in Illinois, possibly in Morrison, Whiteside County, the daughter of Norman D. and Sarah (Baughman) Knight.
When she was a young girl, in the spring of 1872, she and her parents and siblings migrated to Kansas, settling on a rural farm in Reno County, just a few miles west of Burrton, Harvey County. They were considered pioneers of the community.
On Sept. 4, 1887, at the age of 17, Nellie married 23-year-old Robert Lee Ambler (1865-1933). The nuptials were performed at Burrton by, and at the home of, W.L. Tucker, a justice of the peace. Robvert was a native of Paducah, KY, and was residing in Reno County at the time.
A copy of their marriage license is on file today, on microfilm, in the District Court office of the Reno County courthouse in Hutchinson.
They together bore a brood of six children – Earnest Paul Ambler, Charles "Ross" Ambler, Clinton Booth Ambler, Norma French Haddock, "Little Joe" Ambler and one who died very young. Tragically, Little Joe died at the tender age of 18 months, in or about the year 1900.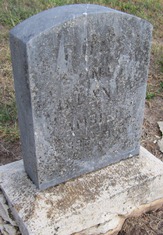 Ross Ambler's fading grave marker, Burrton Cemetery
The Amblers were farmers. One day in mid-November 1891, they received a terrible, tragic shock. A buggy driven by Nellie's brother Harry pulled up to their home, and out staggered Harry's hunting friend David Chalmers "Chal" Hanselman, who had accidentally shot himself and had a gaping gunshot wound in his torso and abdomen, "leaving his bowels drop down and exposing his lungs," reported the Burrton Free Lance newspaper. Chal summoned the energy to get out of the buggy and "walked to the house, holding his bowels in with his hands. E.H. McFall, who was teaching school nearby, was appraised of the accident, and immediately dismissed and came to town after Dr. Hempstid who, upon arrival at the place found Chal sinking rapidly and told him it was only a question of a few hours, but in order to satisfy the family sent for Drs. Easling and Lawrence, the latter of whom lived in Halstead and arrived too late, the young man having passed away a short time before his arrival. Medical skill could do nothing...." [ more ]
When the federal census was enumerated in 1900, the Amblers lived in the Valley Township section of Reno County, KS. Quite likely, their home was in a dwelling house on the farm of Nellie's parents. They lived in the southwest quarter of Section 12, Township 24, Range 4, west of the sixth principal meridian.
Heartache rocked the family in the hot summer of 1905, when 90-degree days were common. Son Charles "Ross" Ambler (1893-1905), age 12, came down with typhoid fever and pneumonia while "working in the country for some time," reported the Burrton Graphic. He may well have been laboring in farm fields with his father. Ross returned home "nearly sick," but despite "the best of medical care," after two weeks of suffering, he died on July 27, 1905.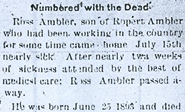 Ross Ambler obituary, 1905
Ross's funeral was held in the local Christian church, with burial following in the Burrton Cemetery. Said the Graphic, "Many friends gathered at the church [are] in sympathy with Mr. and Mrs. Ambler."
By 1910, the Amblers had found a new home 15 miles from Burrton in the town of Haven, Reno County, where Robert was proprietor of a restaurant.
In the 1920s, the Amblers made their homes in different locations. Robert, age 54, lodged in the rooming house of Martin Trippet in Buhler City, Reno County. He marked his occupation as "Roomer - Hotel," while Nellie and the children were not with him at that address. Nellie's whereabouts that year have not yet been located.
When their daughter Norma's marriage fell apart in the 1920s, in northern California, the Amblers brought their grandson Robert A. French to live with them. They dwelled together in Cunningham, Kingman County, KS when the federal census was taken in 1930. That year, Robert continued in his business specialty as manager of a local restaurant.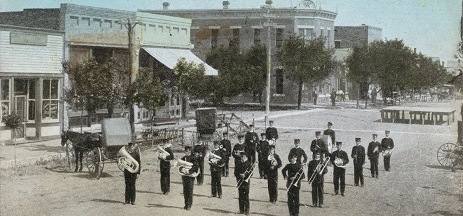 Haven, Kansas -- local band gathered on South Kansas Avenue, 1907, about the time Robert managed a restaurant in town
Robert passed away on May 30, 1933, at the age of 68.
Nellie outlived her husband by nine years. As a widow, in December 1934, she purchased a small farm near Burrton from the families of J.M. and Mildred Osborne, Walter and Hazel Gibb, W.L. and Myrtle Butler, E.E. and Goldie Osborne, and G.O and Mildred Strong. The tract was located in Section 16, Township 24 South, Range 3 West. She also owned the south half of several adjoining lots in the town of Burrton. She rented some of the properties to generate a stream of income.
Tragedy swept over the family when Nellie was critically injured in a Memorial Day 1942 automobile accident which killed her daughter in law Mildred, when their car overturned at a rural road intersection. Unable to overcome her injuries, she died at Burrton at the age of 73 on June 2, 1942.
She and Robert are buried together at the Burrton Cemetery, beside their son Ross.
Because Nellie passed away without leaving a last will and testament, she was considered to have died "intestate." Her divorced daughter Norma filed a petition in the Probate Court of Harvey County, asking that Nellie's longtime friend B.E. Churchman was suitable for handling the role as executor of the estate. The only other property that Nellie owned at the time of her death was old, worn household goods and furniture, worth no more than $20.
~ Son Earnest "Paul" Ambler ~
Son Earnest "Paul" Ambler (1888-1954) was born on Sept. 18, 1888 in Burrton, KS.
He was said by an Arizona newspaper to have been "a friendly man, an enthusiastic sportsman and well liked by all."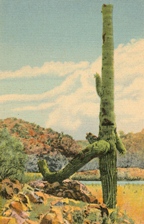 Giant old cactus (saguaro) in
the Wickenburg landscape
Paul was required to register for the military draft during World War II. He stated his home as 1651 Market Street, San Francisco, and at the time was employed as a copy holder by the Chronicle newspaper.
He later served in the Army and was attached to a Pennsylvania company.
After coming home after the war, Paul made a name for himself as a semi-professional baseball player. He later moved to California and was employed by Los Angeles newspapers as a proofreader. He has not yet been located on the federal censuses of 1910 and 1920.
Paul was married to Claire Madeline French (1897- ? ), daughter of Asa and Katharine French of Alameda, CA.
Claire has been married once before, eloping at the age of 18, to 26-year-old George H. Jacobs of Berkeley. The union was controversial, "against the wishes of the bride's parents," said the Alameda Times-Star, "and steps may be taken by the mother of the girl to have her marriage annulled on the ground that the bride is not yet of age. Jacobs is an actor and was planning to go on the road this afternoon with a play and the young bride was also planning to accompany him, but if the parents have anything to do with it the girl will have to face the court before she can accompany her husband of a day. When questioned on the subject, the bride laughlingly said, 'We were engaged and, well, I loved him and we were married, that is all there was to it'." But within two months, a lawsuit was filed for annulment.
A year and a half later, circa March 1916, prior to her marriage with Paul, she moved to Chicago to join the Bloomer Girl's baseball squad. Reported the Oakland Tribune, Clair was "an infielder and is considered perhaps the cleverest girl play Alameda has produced."
Together the Amblers produced at least two children -- Stewart Edward Ambler and Pauline Ambler.
The couple separated by 1920, with Claire and young son Stewart moving into her mother's home in Alameda.
In 1932, Paul moved to Wickenburg, Maricopa County, AZ, where he worked as a painter. He was a member of the Kellis-Draper Post of the American Legion.
Federal census records for 1940 show him divorced and boarding in the home of Owen Short in Wickenburg. His occupation at that time was sign painting. A year or two later he dwelled in Gleeson, Cochise County, AZ, having no occupation. Later in life, he went to live in the Echo Hill Rest Home in Wickenburg.
He died in a Phoenix hospital in on June 30, 1954. His remains were laid to rest in the Wickenburg Cemetery. The Wickenburg Sun carried a lengthy obituary.
Former wife Claire married again in 1922 to Benjamin H. Beery ( ? - ? ). She dwelled in Oakland during the World War II years.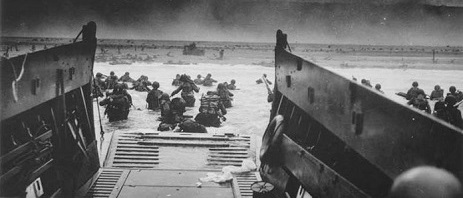 Stewart took part in the D-Day invasion and was wounded 10 days later
Son Stewart Edward Ambler (1915-1991) was born on Sept. 22, 1915 in Alameda, CA. He is known to have been in Los Angeles circa 1935. At the age of 23, in 1940, he lodged in the residence of Gussie Matthews in Lodi, San Joaquin County, CA, earning a living as a creamery worker at the Borden Milk Company ice cream plant in Oakland. He is known to have enlisted in March 1942 in the U.S. Army as World War II was raging. He was assigned to a parachute unit and deployed to Europe. Stewart's service includes action on D-Day, when he was "one of the first of the Americans to land in Normandy...," said the Modesto (CA) Bee, "and for 10 days was in almost constant action until wounded." He received a bullet wound of the thorax. He was hospitalized later in June 1944 and remained for about five months at Hammond General Hospital. When he was 27 years of age, living in Oakland, but in nuptials held in Oklahoma, he wed 20-year-old Irene Vaughn ( ? - ? ). Their wedding ceremony was conducted in Oklahoma City's Central Christian Church, on Oct. 10, 1943, by the hand of Rev. Harold R. Burkhart. Stewart was the father of Michael Ambler and Toni Tyldsley. In 1952, at the death of his father, Stewart made his home in Colton, CA, and in all was there for some 46 years. For 33 years, he owned the Palace Liquor Store in San Bernardino, and he was a member of the Colton Lions Club. On Feb. 9, 1956, in Clark County, NV, he was united in wedlock with Evelyn J. Bowlan ( ? - ? ). She brought a son to the union, Skip Bowlan. Stewart suffered a stroke and died at age 74, in Veterans Hospital of Long Beach, on Oct. 8, 1991. The San Bernardino County Sun printed an obituary.
Grandson Michael Ambler settled in Downey, CA.
Step-grandson Skip Bowlan resided in Colton, CA.
Granddaughter Toni Tyldsley

was in Tucson, AZ in 1991.
Daughter Pauline Ambler ( ? - ? ) was born in about (?). She married David Iles ( ? - ? ). In 1952, they resided in Shreveport, LA.
~ Son Clinton Booth Ambler ~
Son Clinton Booth Ambler (1898-1969) was born on Sept. 23, 1898 in or near Valley Township, Reno County, KS.
His middle name also has been stated in official government documents as "Brice." Clinton was short in height and slender in build, and had blue eyes and light hair.
He married Mildred Marie Hagen (1897-1942), daughter of John E. and Ella E. (Stanley) Hagen, on March 9, 1917. Clinton was age 19 at the time of marriage, and Mildred 20.
They had five children -- Chlodine Virginia Fisher, Doris Edith Krumme, Glenna Mae Tougas, Richard Clinton Ambler and an unnamed infant son.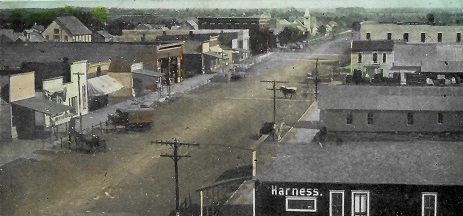 Early aerial view of Haven, Kansas
The same year as he was married, during World War I, Clinton was required to register for the military draft. He stated that their address was R.F.D. 2, in the town of Haven, Reno County. At the time, he was a self-employed farmer, and he named his wife Mildred as his next of kin.
The 1920 United States census shows the young couple, with their two-month-old daughter Chlodine, living as farmers in Valley Township, Reno County, near Burrton.
By 1930, the family had moved to Castleton, residing at a new farm location within Reno County. Living under their roof that year, in addition to their four children, were Mildred's widowed father John Hagen, and farm helper John Wauhl.
Clinton left his wife and children in October 1941. He made his way to California and was arrested in San Diego in December 1941. He was released when his home County of Reno refused to pay the cost for extradition. By February 1942, he was back in Kansas and made a home in Wichita. Mildred sued for support.
The heartache only got worse. While riding with her mother-in-law in an automobile on Memorial Day 1942, the two were involved in an automobile accident south of Hutchinson. Reported the Iola (KS) Register, Mildred was fatally crushed "at a rural road intersection [when her] car overturned." Her mother-in-law, injured critically, died within a few days.
Clinton joined the U.S. Army during World War II. He was assigned to the 303rd Ordnance Regiment and rose to the rank of corporal.
In 1946, Clinton made his home in San Diego, CA, residing at 1815 Third. But he did not stay there for long, and returned to Kansas.
When Clinton's brother Ernest died in 1952, near Phoenix, he was named in the newspaper obituary, which stated he was living in Wichita at the time.
When he passed away on May 31, 1969, Clinton's body was donated to the Kansas University Medical Center for use in medical research. Later, his remains were interred in Haven, Reno County.
Daughter Chlodine Virginia Ambler (1919- 1993) was born on Oct. 29, 1919. When she was 20 years of age, onMarch 22, 1940, she wed 25-year-old Kermit James Fisher (1914-1983). Kermit was a veteran of World War II. They resided in Kermit's hometown of Haven, Reno County. The couple became the parents of four -- James R. Fisher, Jenny Stuhlsatz, Henry Lee Fisher and Julie Fisher. He was a longtime farmer and grain elevator operator. She is known to have worked with her cousin Arveta (Knight) Brink (daughter of Harry Grant Knight) in compiling the family history names and relationships. Kermit passed away at the age of 68 on April 11, 1983. Funeral services were held in the United Methodist Church of Haven, with a death notice appearing in the Wichita Eagle. Chlodine lived another decade as a widow. She died in Sedgwick, Harvey County, on Jan. 8, 1993. Today a memorial brick bearing Kermit's name sits among others at the lamppost base at the Haven Community center.
Grandson James R. Fisher ( ? - ? ) - He worked for W.W. Grinder in young manhood. On April 11, 1969, he was united in matrimony with Beverly Jane Knapp ( ? -? ), daughter of J.S. Knapp of Medora, KS. The wedding was officiated by Rev. A.E. Alpers in St. Paul's Lutheran Church of Haven. The Wichita Eagle pictured Beverly in a related story, saying she "wore an A-line gown of peau de soie with cowl neckline and Empire bodice outlined in a band of net and re-embroidered lace. Her long sleeves were tapered to a point. The detachable cathedral train extended from the waist."
Granddaughter Jenny Lynn Fisher ( ? - ? ). On Aug. 28, 1971, in a ceremony held in St. Anthony's Catholic Church of Garden Plain, she entered into marriage with Daniel L. Stuhlsatz ( ? - ? ), son of Clarence Stuhlsatz of Garden Plain. Officiating was Rev. Conradian Stark, with the event announced on the pages of the Wichita Beacon. At the time, Daniel earned a living with Truck Parts and Equipment Inc.
Grandson Henry Lee Fisher (1947-1967) was born on May 31, 1947. He was a 1965 graduate of Haven High School. During the Vietnam War, he joined the U.S. Army and was assigned to Company B of the 16th Infantry, 1st Infantry Division. His specialty was light weaponry. Tragically, on June 18, 1967, he was he was killed in action by an explsive device in the Binh Duong Province. Henry's death was reported by the Associated Press three days later, on June 21, 1967. His remains were recovered and shipped back to Kansas to rest for all time in Laurel Cemetery in Haven. Many years later, in July 2021, a memorial bench was dedicated in his name along the Veterans Memorial Walkway in Pioneer Park in Haven, and a story picturing his nephew Jake Feil appeared in the Hutchinson News.
Granddaughter Julie Fisher
Daughter Doris Edith Ambler (1922-2009) was born on July 1, 1922 in Reno County, KS. She wed David Franklin Krumme Jr. (May 29, 1921-1993), a native of Oklahoma. The pair relocated to Southern California. At least seven offspring believed to have been born in the family were Karen Kaye Simon, Franklin David "Butch" Krumme, Judith Ann Krumme, James Leon Krumme, Charles Krumme, Mildred Maher and Doris Krumme. Their address in the early 1940s was 3470 East 25th Street, Los Angeles. At that time, David was employed by South Western Freight Lines David passed away at age 71 on March 13, 1993. Doris outlived him by nearly 16 years and maintained a residence in El Monte, CA At the age of 86, she died in El Monte on Jan. 21, 2009. Interment of the remains was in Rose Hills Memorial Park in Whittier.
Granddaughter Karen Kaye Krumme (1938-2005) was born on Nov. 26, 1938 in Haven. She too made the move to Los Angeles. She entered into marriage with Chicago native Matthew Joseph Simon (July 5, 1936-1992). They lived in or near Glendale, CA. Sadly, Matthew passed away in West Covina on Jan. 3, 1992, at age 55. Karen lived on for another baker's dozen years. She died on April 4, 2005 at the age of 66. Their remains sleep for eternity in Forest Lawn Memorial Park in Covina.
Grandson Franklin David "Butch" Krumme (1940-2014) was born in 1940. He was the father of James Krumme and Kenneth Krumme. In 1961, Franklin moved to Las Vegas and there was a longtime swimming pool contractor. He also was a stock car race driver "Running in the wild-and-wooly days of Craig Road Speedway," said the Las Vegas Review-Journal. He competed in races at the quarter-mile track from the late 1960s to the early 1980s. His racing season consisted of "starting with the spring season openers and ending with huge open-competition finales in October." He also is known to have won a dash competition in the 100-lap Walt Klan Memorial late model race at Orange Show Speedway in the mid-1970s. Circa 1999, he was convicted in U.S. District Court for crimes dating back to 1980, and may have been imprisoned. He died at age 74 in Las Vegas on April 20, 2014, with an obituary printed in the Las Vegas Review, and a summary of his career printed in the Review-Journal.

Great-grandson James Krumme ( ? - ? ) - James was hired by the Findlay Automotive Group in Las Vegas in about 1981. He rose by 2014 to become general manager of Findlay Volkswagen located in the Valley Automall.

Granddaughter Judith Ann Krumme (1944-2013) was born in about 1944.
Grandson James Leon Krumme (1946-2009) was born on June 10, 1946 in Monrovia, CA and grew to manhood in El Monte. He joined the U.S. Marine Corps and served during the Vietnam War. In 1967, he was united in wedlock with Andrea ( ? - ? ). The Krummes became the parents of Jamie Lloyd, Chantell Brown and Troyce Krumme. Then in about 1989 they relocated to Hesperia, CA. James and Andrea jointly founded their own business, Superior Shuttle Service. The firm later became known as Superior Shuttle Company. Said the Hesperia Star, he was known for his "generosity and quirky sense of humor." As his health failed, James was admitted to the U.S. Veterans Administration Hospital in Loma Linda, CA, where he died on Nov. 9, 2009.

Great-granddaughter Jamie Krumme married Shawn Lloyd.

Great-granddaughter Chantell Krumme wed David Brown.

Great-grandson Troyce Krumme entered into marriage with Rebecca.

Grandson Charles Krumme ( ? - ? )
Granddaughter Mildred Krumme ( ? - ? ) wed (?) Maher ( ? - ? ). She was still living as of 2014.
Granddaughter Doris Krumme ( ? - ? )
Daughter Glenna Mae Ambler (1924-1992) was born in 1924 in Haven, KS. She was joined in wedlock with Armand A. Tougas (Feb. 21, 1922-1992), originally from Rhode Island. Two sons produced by this marriage were Bill A. Tougas and Gary F. Tougas. Glenna Mae became a registered nurse and went on to a 44-year career in the field. Her final employer was St. Bernardine Medical Center in San Bernardino, CA. She held a membership in St. Anne's Catholic Church and belonged to its Catholic Daughters. Sadly, Armand died at age 69 on Jan. 13, 1992. Glenna Mae only outlived him by two months. Stricken with cancer at the age of 67, she died at home on March 19, 1992. She was pictured in an obituary in the San Bernardino County Sun. Her funeral mass was sung in her church, with burial in Montecito Memorial Park. Inscribed on his grave marker are these words: "While he lived cherished in our memories, he is never far away." Her corresponding epitaph reads: "She touched everyone with special love and kindness."
Grandson Bill A. Tougas resided in San Bernardino circa 1992.
Grandson Gary F. Tougas dwelled in Yorba Linda, CA.
Son Richard Clinton "Dick" Ambler (1927-2008) was born on Jan. 27, 1927. During World War II, he joined the U.S. Navy and served on Guam with the Seabees. He was united in matrimony with Alta F. (1924-2012). Their sons were Michael Ambler, Daniel Ambler and Richard Ambler. Richard spent his professional career as an insurance agent for State Farm. He coached his sons' baseball and basketball teams and enjoyed fishing and traveling. They belonged to the West Side Christian Church, where for four decades he served as a deacon. At the age of 81, believed to have been suffering from Alzheimer's Disease, Richard died on May 19, 2008. Burial was in Resthaven Gardens of Memory, with an obituary published in the Wichita Eagle. Alta survived for another four years. She was gathered away by the angel of death on New Year's Eve 2012.
Grandson Michael Ambler married Maryann and relocated east to Stow, OH. By 2012, they had moved again to Griffin, GA.
Grandson Daniel Ambler wed Sherlynn. They were in Wichita in 2008-2012.
Grandson Richard Ambler lived in 2008-2012 in Fairway, KS.
~ Daughter Norma (Ambler) French Haddock ~
Daughter Norma Ambler (1901?-1958) was born on Jan. 17, 1901 or 1909 in Reno County, KS. She spent most of her adult years in California.
On Jan. 27, 1918, she married John Quincy French (1899-1974), the son of Katherine French. The nuptials took place in Alameda, CA.
As an adult, prior to marriage, John resided with his mother at 1307 Mound in Alameda, Alameda County, and was a riveter in a local iron works. He was of medium height and build, with blue eyes and light brown hair. In September 1918, he registered for the military draft during World War I.
This couple made their home circa 1920 near Oakland, Alameda County, CA. That year, the 20-year-old John was employed as a riveter in a local shipyard.
They produced one known son, Robert Asa French Sr., born in California in 1920.
During the 1920s, the French's marriage fell apart. Son Robert was sent to live with his Ambler grandparents in Kingman County, KS. Norma also moved back to Burrton and was there circa July 1941. She may have taken back her maiden name.
Norma later resided in Englewood, Humboldt County, CA. Between 1942-1946, when involved in the administration of her late mother's legal estate, she was not married. During that time, for a dollar, her brothers sold her their legal interest in the farm once owned by their late parents. She sold the farm property a few years later, in 1946, to F.E. Kenny.
Later, on Feb. 17, 1947, in Arizona, Norma wed again, to Robert Edgar Haddock (1890-1979), a native of Albuquerque, NM. They lived at 3294 Michigan in South Gate, Los Angeles County, CA.
She died in Los Angeles on Jan. 10, 1958, and is buried in Englewood.
Son Robert Asa French Sr. (1920-1987) was born on Jan. 3, 1920 in Alameda, CA. After his parents' marriage dissolved, he was sent to live with his grandparents in Cunningham, Kingman County, KS. Then by age 15, circa 1935, he resided in Los Angeles. He was joined in wedlock with Estrella Vierra (1908-1980), a native of Hawaii who was a dozen years his senior. One son born to the couple was Robert Asa French Jr. The federal census enumeration of 1940 shows the pair living in Los Angeles, with him working as an usher in a theatre. When required to register for the military draft circa 1941, their address was 351½ West 66th Street, with Robert now employed as a grocery clerk at Safeway. He is known to have served in the U.S. Armed Forces, enlisting on Aug. 30, 1944 and receiving his discharge on Feb. 16, 1946. Robert later married Mary T. ( ? - ? ). They divorced in L.A. on May 14, 1980. He passed way in the South Gate section of Los Angeles on June 22, 1987. Former wife Estrella died in South Gate on July 11, 1980, at the age of 72.
Grandson Robert Asa French Jr. (1941- ? ) was born on Jan. 13, 1941 in Los Angeles. At the age of 21, on Aug. 16, 1962, he entered into marriage with 22-year-old Diana J. Miller ( ? - ? ). Their nuptials were held in Los Angeles. The pair divorced in November 1974, after a dozen years. He died in California on Feb. 16, 1998, with burial in Rose Hills Memorial Park in Whittier.
Copyright © 2001, 2011, 2013, 2021-2022 Mark A. Miner