Zalmon Knight
(1843-1865)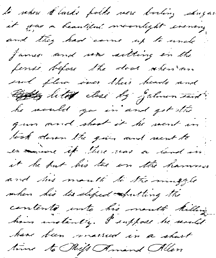 Ella Knight's letter about Zalmon's death
Zalmon Knight was born in 1843, likely near Ursina in what then was considered Turkeyfoot Township, Somerset County, PA, the son of James and Susanna (Imel) Knight Sr.
Little is known of his life, except for the details of his violent death in young manhood.
Zalmon's mother died when he was a young boy. The federal census enumeration of 1850 shows Zalmon at age seven residing with his father, stepmother and full-and-half siblings on a farm in Lower Turkeyfoot Township.
Then at about age nine, in 1852, Zalmon moved with his father to Marshfield, Athens County, OH. There were Knight cousins of his father's living in that area during that time period.
When the United States Census again was made in 1860, on the eve of the Civil War, Zalmon at age 15 dwelled with his family in Lee Township, Athens County. Residing next door was the family of his uncle and aunt, William and Catherine (Knight) Younkin.
Tragedy struck on March 6, 1865, when Zalmon accidentally was killed in a freak shooting accident. There was no known newspaper coverage.
The only existing documentation of the horror was in one letter which fortunately has survived to today. Zalmon's cousin, Ella Knight, living nearby in Marshfield, described the details in a letter to her sister, dated March 23, 1865:
A very sad accident happened in uncle James' family on the 6th inst. Zalmon shot himself dead. He and David had been down the run to where Clark's folks were boiling sugar. It was a beautiful moonlit evening and they had come up to uncle James' and was sitting on the fense before the door when an owl flew over their heads and lit close by. Zalmon said he would go in and get the gun and shoot it. He went in, took down the gun and went to examine if there was a load in it. He put his toe on the hammer and his mouth to the muzzle when his toe sliped putting the contents into his mouth, killing him instantly. I suppose he would have been married in a short time to Miss Amand Allen, daughter of Caty Simms.
Zalmon's burial site is not known. Nor is the fate of his intended bride, Amanda Allen.

Excerpt of Ella Knight's letter
Copyright © 2001, 2021 Mark A. Miner