Home

Eva Jane (Krick) Plumley
(1868-1967)
Eva Jane (Krick) Plumley was born in June 1868 on the family farm near Monroeville, Allen County, IN, the daughter of Emanuel and Sarah Elizabeth "Betsy" (Minerd) Krick. She was a twin with her brother James Alfred Krick, lived to be 99 years of age, and at the time of her death, the number of her living offspring numbered more than 190.
On June 18, 1890, in a double wedding ceremony, the 22-year-old Eva Jane married 23-year-old James Plumley (1867-1947), while her twin brother married his sister Nellie B. Plumley. The nuptials were celebrated at the residence of John W. Plumley, northwest of Convoy, OH along the Lincoln Highway. Rev. Lawrence H. Lindsay, of the Convoy Methodist Church, officiated. Both couples eventually reached their golden wedding anniversaries.
James was the son of John W. and Elizabeth (West) Plumley, sometimes misspelled "Plumbly," and a native of Muskingum County, OH, who had come to the Monroeville/Dixon area at the tender age of nine months. For just about all of his years, he lived in Convoy and Tully Township.
Their children were Imogene Hertel, Rev. Owen W. Plumley, Orah Blanche Brown, George "Dewey" Plumley, James Ransom Plumley, Mary E. Leamon, Franklin H. "Frank" Plumley, Clarence "Dale" Plumley and one who died in infancy during the 1890s.

Tully Street in Convoy. Note the men in the windows.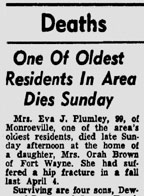 Van Wert Times, 1967
They resided in Convoy, Van Wert County, and were longtime farmers on a farm that they owned. When the federal census was taken in 1900, the Plumleys resided just a few houses away from Eva Jane's brother and sister in law, James "Alfred" and Nellie (Plumley) Krick. By May 1910, when the census again was taken, their brood had swelled to eight children ranging in age from 17 years to nine months.
The 1920 census shows the family living on John Reed Road in Tully Township, Van Wert County.
Late in life, James suffered from anemia for two years, and died of its effects at the age of 75 on Feb. 4, 1947.
Eva Jane survived her husband by two decades. On April 4, 1967, at the age of 99, she fell and fractured her hip. Her health declined rapidly, and she passed away on less than three weeks later, on April 23, 1967. Following her funeral led by Rev. Robert Barkley, she was laid to rest beside James in the Convoy IOOF Cemetery. The Van Wert Times published an obituary calling her "one of the area's oldest residents." Dewey Plumley, their son, was the informant on John's death certificate.
~ Daughter Imogene (Plumley) Hertel ~
Daughter Imogene Plumley (1892-1985) was born on June 5, 1892 in Convoy, Tully Township, Van Wert County. Her name also has been misspelled over the years as "Ima Jean" and "Imagene."
At the age of 19, on May 7, 1912, she was united in holy matrimony with 18-year-old farmer Clifford Alfred Hertel (1893-1982), son of William Nelson and Emma (Crabill) Hertel. Imogene's grandfather, justice of the peace John W. Plumley, officiated at the wedding ceremony. The farm of Clifford's parents was in Convoy, and to get to their farmhouse, one had to travel a gravel road from Convoy into the country, turning onto a lane and passing an apple orchard and a field of sheep.
Their children were Mildred Meyer, Rev. James William Hertel, Emanuel "Dale" Hertel, Alfred Hertel and Velma Manuel.
The Hertels made their residence in Monroeville. In late August 1915, they attended the 10th annual Chapman family reunion held at the home of John W. Chapman at Hoagland, IN.
By 1940, they had moved off the farm into the city of Fort Wayne. Clifford obtained employment with the Pennsylvania Railroad, and Imogene was a baker and cook for Fort Wayne restaurants. She also kept a gardener's drive in stand. They were members of the Society of Friends Church. Imogene traveled to visit her son Rev. James Hertel at the various communities where he was assigned, and would arrive with an armful of books for their daughter Martha ("Marti").
In the late 1940s or early '50s, they relocated to Terre Haute, Vigo County, IN. Imogene volunteered her time there with a rescue mission, organizing after-school activities for children and preparing meals for adults who were homeless or destitute. She also accumulated a collection of 45 rpm records featuring gospel music. Her cooking feature recipes of duck, goose, fried potatoes, chicken and pies.
Clifford died in Van Wert on Jan. 14, 1982, at the age of 89.
Imogene passed into eternity in Convoy in May 1985, at the age of 92. She rests beside Clifford in the Odd Fellows Cemetery in Convoy. [Find-a-Grave]

Main Street in Fort Wayne, west of Calhoun Street
Son Rev. James William Hertel (1915-2014) was born on Oct. 19, 1914 in Dixon, Van Wert County. He grew up on his parents' farm as a conservative fundamentalist and as a young man studied for Society of Friends ministry at the Westfield Union Bible Seminary. At age 22, on June 5, 1937, in Lebanon, IN, he was united in marriage with Martha L. Hine (1917-2014), daughter of Olas and Eula Edna "Doll" (Henderson) Hine, and a fellow student at the seminary. After the wedding, they hitched a trailer to their car and became traveling evangelists, with Martha playing accordion and James a guitar. They had two children -- Martha Ruth "Marti" Strader Eicholz and Rev. James "Wesley" Hertel. James became ordained in the Pilgrim Holiness Church, and spent 62 years in Christian ministry. When the federal census was taken in 1940, the young family lived with Martha's parents on a farm in Center Township, Boone County, IN. James' first assignments were twin churches in Elnora and Epsom, IN. Then in about 1943, he was transferred to English, IN. In about 1947, he was voted out of the congregation so accepted a new position at a church in Columbus, Bartholomew County, about 40 miles south of Indianapolis. From there in 1951 they relocated to a church assignment in Evansville in southern Indiana. There, he attended Evansville College and took a six-week missionary trip to South America and the West Indies. Over the years, he made 30 trips to the Holy Land. He was named president of Frankfort Pilgrim College in 1959, where his daughter had been a student, and served there for seven years, until 1966. Martha obtained her nursing education later in life and went on to a career as a nurse, retiring in 1984. On June 5, 1987, the couple celebrated their 50th wedding anniversary with an open house at the Olde Mill Clubhouse in Indianapolis. Articles about the anniversary were published in the Indianapolis Star and the Columbus (IN) Republic. At the time, James was in the midst of a 12-year term on the staff of Salem United Methodist Church of Zionsville, IN. They spent their final years in Greenwood, Johnson County, IN, where they died three months apart, ending their marriage of 77 years. James went first, at age 99, on July 20, 2014. Martha joined him in death at the age of 98 on Oct. 29, 2014. They were survived by seven grandchildren and 23 great-grandchildren. James and Martha rest together in the Gardens at Olive Branch Cemetery in Greenwood. [Find-a-Grave] Their story is told in the book Martha Ruth, Preacher's Daughter: Her Journey Through Religion, Sex and Love, authored by their daughter Marti Eicholz (2015).
Marti Eicholz and her book

Granddaughter Martha Ruth "Marti" Hertel (1939- ? ) was born on Dec. 10, 1939. She grew up in what she called a love-starved home and in a church community of drama and dogma "obsessed with behaviors that had nothing to do with living a Christ-filled life." In that environment, one was to be kept small and under control, and to wear hair a certain way and clothing of a conservative nature. At the age of 15, she began attending Frankfort Pilgrim College and then at 16 transferred to Indiana State Teachers College. She has been married twice. Her first husband was James Strader, a Purdue University graduate, Army veteran and salesman with Chicago Casket Company. They were wed in Frankfort on Dec. 19, 1959. Marti got a job teaching at East 10th Street School in Indianapolis and studied at Butler University, where she obtained a master's degree. She then accepted a position at Franke Park School in Fort Wayne. She spent time teaching at Indiana University's Fort Wayne campus, Purdue University and St. Francis College, and was appointed to the Indiana State Curriculum Development Program. After a decade of marriage, they divorced. She then married Robert "Bob" Eicholz and produced two sons, Robert Eicholz Jr. and Alan Eicholz. Over the years, she worked as an elementary school teacher, curriculum development supervisor, multi-ethnic middle school administrator and a university instructor. She and Robert reside in California, where she writes, listens to music, researches human behavior, travels and plays bridge. Marti also is the author of

Knowing Yourself ... Or Not

, which examines how specific traits shape and impact behavior, relationships, personal satisfaction and success.
Grandson Rev. James "Wesley" Hertel (1945- ? ) was born on July 12, 1945. As a high school student, he lost a thumb in an industrial arts class accident. Circa 1967, he married Rebecca S. "Becky" (?). He became a Methodist clergyman. Later, in 1997, he was united in wedlock with Patricia (Liles) Rudicil (1947- ? ), daughter of Maurice W. and Katie (Bridges) Liles of Franklin, IN. In all, Wesley spent 48 years as a preacher, including a quarter century of service as senior pastor to Mt. Auburn United Methodist Church in Greenwood, IN. He retired on June 28, 2015.
Son Emanuel "Dale" Hertel (1916-1997) was born on June 11, 1916 in Convoy, Van Wert County. In his early 20s, Dale obtained employment with Ray Magnet Wire in Fort Wayne and lived with his parents at 1407 Green Street. On Aug. 24, 1940, when he was 24 years of age, Dale married 20-year-old co-worker Bernetta Lucinda Miller (1920- ? ), daughter of farmers Louie and Elizabeth (Skinner) Miller. Rev. H.E. Wiswell officiated. Born in Kalamazoo, MI, Bernetta worked with Dale at the time at Ray Magnet Wire and lived in Fort Wayne. The couple had a son, with the family residing in Fort Wayne. When the marriage broke up, Dale relocated to San Francisco. His brother James and family paid a visit there in the 1940s or '50s, and found him making his home in a Victorian house. He and his girlfriend Doris produced twin sons. The twins went on to jointly own a roofing business. Dale died on July 13, 1997, with burial in Forest Lawn Memorial Park in Covina, Los Angeles County, CA.
Daughter Rev. Velma Hertel (1918-2012) was born on July 6, 1918 in Dixon, Van Wert County. She graduated from Central High School in Fort Wayne and received her higher education at Union Bible Seminary in Westfield, IN. Velma became a traveling minister, otherwise known as an "apostle." At the age of 32, on Feb. 16, 1951, she was wedded to World War II naval flight veteran Roy H. Manuel (1913-2001). The ceremony took place in Terre Haute. "Roy was a jolly, fun-loving creature, and he made my aunt smile," wrote their niece Marti (Hertel) Eicholz in her book Martha Ruth, Preacher's Daughter. The couple never reproduced. They relocated to East Enterprise, IN, where Roy continued his career as a banker and Velma had charge of the East Enterprise Pilgrim Holiness Church. From 1951 to 1973, she also served as pastor of the East Enterprise Wesleyan Church and from 1973 to 1981 as pastor of the Versailles Wesleyan Church in Ripley County, of which she was a member for 39 years. Velma remained active in retirement as an evangelist and with help from Roy preached and sang at funerals in the Switzerland County region. "Roy & Velma will always be remembered for their love of serving the Lord & lending a helping hand when someone or a family was in need," said a newspaper. Sadly, Roy passed away after a half-century of marriage on March 16, 2001. Velma survived him by 11 years and died in Osgood, Ripley County on April 30, 2012. Her funeral service was conducted by her brother J. Wesley Hertel along with Rev. John Hundley at the Vevay Cemetery in Switzerland County. [Find-a-Grave] She is not to be confused with Apostle Velma Manuel, daughter of Smith and Hettie Manuel, who authored the 2014 book S-I-P God: Stand, Increase, and Pursue in God.
Daughter Mildred Hertel ( ? - ? ) was born in (?). She married (?) Meyer.
~ Son Rev. Owen W. Plumley ~
Son Rev. Owen W. Plumley (1893-1956) was born on Feb. 26, 1893. He grew up on his parents' farm and worked in this occupation as a young man.
His first wife was Ada Blanche Brown (1892-1915), daughter of John F. and Clara Bell (Basore) Brown of Convoy and later of Fort Wayne. The couple was wed in Van Wert on Sept. 7, 1911, when both were 18 years of age. Owen's father, a justice of the peace, officiated at the ceremony.
They resided in Dixon, Tully Township, Van Wert County and had at least one son, Gerald R. Plumley.
Tragedy broke apart this young family in the mid-summer of 1915. Ada contracted typhoid fever and also suffered some sort of perforation. The July 29, 1915 issue of the Fort Wayne Daily News said she was "improving slowly." She was treated for a month but could not rally, and succumbed at the age of 22 on Aug. 9, 1915. Her remains were lowered into repose in the Odd Fellows Cemetery in Convoy, OH. The Daily News noted in an obituary that she was survived not only by Owen but by "two small children, her father and mother and two brothers."
In 1916, five-year-old son Gerald fell from a hay ladder in their barn and broke his right arm, with the news printed in the gossip columns of the Fort Wayne Journal-Gazette. Circa 1924, Owen served as secretary of the Church of the Nazarene mission in Monroeville, and advertised in the Breeze that an election of three trustees was to be held.
Owen married again to Bertha (?) and migrated to Cincinnati, where he had become a pastor with the Church of the Nazarene and worked planting new churches in and around the city. Their home circa 1931 was at 515 Ringgold Street in the Mount Auburn section.
Sadly, Bertha passed away on Aug. 25, 1931. Funeral services were held at God's Bible School at the corner of Young and Ringgold Streets. A death notice was printed in the Cincinnati Enquirer.
Now widowed for a second time, Owen pressed on and busied himself in work. Circa December 1933, he established a new Nazarene church in Cincinnati at the corner of State and Warsaw Streets in a building formerly used by the Congregational Church, and was named its first pastor. Reported the Enquirer, "Organization of another local Church of the Nazarene by the Ohio District Superintendent, Rev. Charles A. Gibson, Columbus, has been accomplished through efforts of Rev. Owen Plumley and a series of revival meetings being conducted by Rev. C.W. Perry.... This makes nine Churches of the Nazarene in Greater Cincinnati."
Owen apparently married a third time, to Martha Gladys Brownfield (1902- ? ). They initially made their home in Cincinnati and then, sometime between 1935-1937, moved to a new home in West Virginia. After a short time in West Virginia, they relocated again, back to Ohio, making their residence along the National Road in Jacksontown, Licking County, OH. The couple produced these known children -- Donald O. Plumley, Helen R. Plumley and Delmar L. Plumley.
By 1938, he had changed his affiliation to the Methodist church, where he was accepted as "local deacon" and asked to serve as a supply pastor.
In June 1939, he provided guest preaching at the Trinity Methodist Church in Zanesville. His name often was printed in Zanesville and Logan newspapers for weddings and funerals he officiated and baccalaureate services he led. He is believed to have taken a position by 1946 in the New Straitsville Apostolic Church. In 1946, their home was in Athens, Athens County, OH, and in 1955 in Nashport, OH.
Martha Gladys was a member of the Womens Society of Christian Service.
Owen died in 1956 at the age of 62. His remains were brought back to Convoy to rest beside his first wife Bertha, reunited in death after a separation of 41 years. [Find-a-Grave]
Martha Gladys' fate is not yet learned.
Son Gerald R. Plumley (1912-2003) was born on New Year's Eve 1912 in Van Wert County. As a young man, he was employed as a salesman in Steubenville, OH. The identity of his first wife is not yet known. At the age of 35, on Oct. 5, 1948, he was married to his second wife, 25-year-old bookkeeper Loraine (McWilliams) Stamper (1923- ? ), daughter of William and Provey (Clay) McWilliams. Rev. J. Lloyd McIneen officiated. At the time, both resided in the community of Empire in the suburbs of Steubenville. She had been married and divorced previously. They made their home in Wadsworth, Medina County, OH, where Gerald was employed as manager of the Watkins Products Inc. district office in Barberton. He died on Aug. 26, 2003.
Son Donald O. Plumley (1934- ? ) was born in about 1934 in Cincinnati. He graduated from high school in New Straitsville and attended Ohio Northern University for two years and Ohio University for a semester. When the Korean War broke out, he joined the U.S. Armed Forces. In 1954, he became engaged to Patricia Ann Juniper of Nelsonville, daughter of Robert L. Juniper.
Daughter Helen R. Plumley (1935- ? ) was born in about 1935 in Cincinnati.
Son Delmar L. "Dell" Plumley (1937- ? ) was born in about 1937 in West Virginia. In 1955, following the end of the Korean War, Dell served in the U.S. Army and was posted in Boston.
~ Daughter Orah Blanche (Plumley) Brown ~
Daughter Orah Blanche Plumley (1896-1998) was born on Jan. 28, 1896 in Convoy, Tully Township, Van Wert County, OH.
At the age of 18, on March 4, 1914, Orah married 39-year-old widower Joseph Newton "J.N." Brown (1874-1952). He was a farmer and the son of John H. and Sarah Jane (Heath) Brown. Rev. E.F. Gamble officiated. There was a 21-year gap in their ages.
Joseph's first wife Lydia (Shaffer) Brown had died in 1911, and he brought three young children to the marriage -- Ivan Shaffer Brown, Ferol DeFrain and Guy Brown.
They went on to produce a large family of children -- John James Brown, Hazel E. Little, Joseph Malen Brown, Mary Jane Kendall, Mabel M. Brown, Dorothy "Dotty" Brown, Roy D. Brown, Beaulah Farnsworth, Eileen D. Gerardot and Bonnie D. Witmer. Sadly, son Joseph died in infancy in 1918.
They lived on a farm near Monroeville in 1930-1940. In 1940, the 66-year-old Joseph was employed as a laborer by the Works Progress Administration (WPA).
Joseph passed away at the age of 78 on Sept. 5, 1952. His remains were interred in Monroeville Memorial Cemetery.
Orah survived in widowhood for 46 years. She moved from the farm to Fort Wayne by 1967.
She died in Allen County on Aug. 8, 1998. Interment was in Monroeville Memorial Cemetery. [Find-a-Grave]
Stepson Ivan Shaffer Brown (1906-1968) was born on Aug. 13, 1906 in Monroeville. He was only five years old when his mother died. He married Helen Freewald ( ? - ? ). They lived in Lima, Allen County, OH, where Ivan was employed in the post office. The couple did not reproduce. Ivan was active as a member of the Fort Amanda Lodge of the Masons, Chapter 49 RAM, Lima Shrine, Scottish Rite Valley of Dayton, El Karan Grotto and Eastern Star. After suffering a lengthy illness, Ivan died at home on Sept. 11, 1968, at the age of 60. Burial was in Lima's Memorial Park Cemetery and Mausoleum, and an obituary was published in the Lima News. [Find-a-Grave]

General Electric's sprawling works in Fort Wayne -- © W.C. & N. Co.
Stepson Guy K. Brown (1908-2000) was born on March 31, 1908 in Monroeville. He was only age three when his mother died and would have had little memory of her. He married Fannie Winkler (1936-2008), a native of Bell County, KY and the daughter of Taft and Gertrude Winkler. They dwelled in Fort Wayne and had these children -- Bill R. Jones, Ricky A. Dye, Peggy Weber, Betty L. Oroway and Cathi L. Rybolt. They were members of the First Baptist Church of New Haven. In about 1965, Fannie obtained employment with General Electric Company as a forklift operator, and remained in this position for 26 years, retiring in 1991. She was a member of GE's Quarter Century Club. Guy passed into eternity in Fort Wayne on April 22, 2000. His remains rest in Covington Memorial Gardens in Fort Wayne. Fannie survived her husband by eight years. She died on Jan. 7, 2008, at the age of 72. At her death, she was survived by 10 grandchildren and 14 great-grandchildren.
Stepdaughter Ferol Brown (1910-1996) was born on April 7, 1910. She married Edward C. DeFrain (1903-1980). He served in the U.S. Navy at some point in his life. By 1968, the couple had relocated to St. Petersburg, Pinellas County, FL. Edward died in St. Pete at the age of 77 on Oct. 14, 1980. Burial was in Sunnyside Cemetery. Ferol joined him in death in St. Pete on May 25, 1996, at the age of 86. Only a small metal plaque marks her final resting place.
Son John James "Johnny" Brown (1915-1932) was born on Oct. 10, 1915 near Monroeville. At the age of 16, tragedy struck when he became deathly ill when his appendix burst, causing a toxic infection of peritonitis. He died on Aug. 29, 1932.
Daughter Hazel E. Brown (1916-2014) was born on Sept. 2, 1916 near Monroeville. Drawn to the call of Christian ministry, she attended God's Bible College in Cincinnati. There, she met her future husband Eugene M. Little (1914-1979), a native of New Straitsville, Perry County, OH. In 1936, when she was age 20, they married. The Littles produced six known children -- Roy Little, Roger Little, Ron Little, Rochelle Dana Shiffer, Roberta Cross and Richard Little. They made their home in Almont and Williamston, MI. Hazel served as a substitute pastor over the years at various churches as needs arose. Reported a newspaper, "She worked with Gene at the family-owned Almont Times Herald Newspaper, at the Champion Mobile Home, Inc., and was employed by the State of Michigan working for the [Department of Natural Resources] until she retired. They moved to the Barryton area and became members of the Weidman Baptist Church. Hazel was very involved in the church community, always helping the church and its members. She moved to Rodney with her son Ron and began attending the First United Methodist Church in Big Rapids." The family enjoyed taking fishing trips to Canada. Sadly, Eugene died in Grand Rapids, Kent County, MI on April 12, 1979, at the age of 65. As a widow, Hazel made her home in Barryton, MI and crocheted afghans for every one of her 52 grandchildren and great-grandchildren. She died in Okemos, Ingham County, MI on July 21, 2014. Burial was in Flake Cemetery in Flint, MI, following a funeral conducted by Pastor Rebecca Morrison at the First United Methodist Church in Big Rapids, MI. [Find-a-Grave]
Granddaughter Roberta Little married Donald Cross ( ? - ? ). Sadly, Donald died sometime before 2014. Roberta lived in Lansing, MI.
Daughter Mary Jane Brown (1919- ? ) was born in about 1919 near Monroeville. She married (?) Kendall and dwelled in Monroeville.
Daughter Mabel M. Brown (1921-1993) was born in about 1921 near Monroeville. In 1940, at the age of 19, she lived at home but attended college. She was wedded to (?) Seitz and resided in Fort Wayne. At the age of 72, she died on April 11, 1993.
Daughter Dorothy Marie "Dotty" Brown (1922-1937) was born in about 1922 near Monroeville. Adding to her parents' heartbreak, she suffered a fractured skull and died as a result of a tragic accident at the age of 15 on Aug. 8, 1937 while in Decatur, Adams County, IN. Reported a newspaper, "The fatal buggy-auto accident occurred one-half mile south of Monroeville on state road 101 when a buggy driven by the victim's father, Joseph Brown, was struck by an automobile driven by Norbert Diver, 18, of near Monroeville. Both vehicles were headed south, according to authorities. Diver who failed to see the buggy until too late to avoid the accident. He suffered only slight injuries." Her remains were brought back to Monroeville and placed into eternal repose in Monroeville Memorial Cemetery, following a funeral service led by Rev. J.W. Dickison of the East Liberty United Brethren Church. [Find-a-Grave]
Son Roy D. Brown (1924- ? ) was born in about 1924 near Monroeville. He lived in Monroeville in 2009.
Daughter Beaulah Brown (1927-2009) was born on Jan. 6, 1927 near Monroeville. In Corpus Christi, TX, during the waning months of World War II, she was united in wedlock with William O. Farnsworth ( ? - ? ). Their children were Joy D. Klinker, Bradford D. Farnsworth, Douglas E. Farnsworth and Jeanne Ragland. The couple settled in Monroeville where Beaulah was a member of the East Liberty United Methodist Church and active in its Ladies Society. In about 1955, she went to work for International Harvester, retiring with 30 years of service in 1985. She then spent 10 years volunteering with the Village of Heritage Nursing Home in Monroeville. Sadly, Beaulah died at home at the age of 82 on Aug. 18, 2009. Rev. Barry McCune and Beaulah's son in law Rev. Harold Klinker officiated at her funeral service, followed by burial in Monroeville Memorial Cemetery. [Find-a-Grave] An obituary said she was survived by 17 grandchildren, eighteen great-grandchildren and one great-great grandchild.
Daughter Eileen D. Brown (1928- ? ) was born in about 1928 near Monroeville. She married Wilmer Gerardot (1926-2014), son of Ralph and Nora (McCoy) Gerardot. They made their residence in Fort Wayne and produced four children -- David M. Gerardot, Brenda Arnett, Cynthia Ellenberger and Thomas Gerardot. During World War II, Wilmer served in the U.S. Navy aboard the U.S.S. Intrepid. Later, he was employed for 24 years by Phelps Dodge and then for a time in a maintenance job by Superior Powder Coaters. They were members of St. Therese Catholic Church, and Wilmer belonged to the Veterans of Foreign Wars, American Legion and U.S.S. Intrepid Association. At the age of 88, Wilmer died in Kingston Residence on April 9, 2014. He left behind 11 grandchildren and "many" great-grandchildren, reported the Fort Wayne newspapers. Following a mass of Christian burial at the family church, he was interred at Highland Park Cemetery.
Daughter Bonnie D. Brown (1932- ? ) was born in about 1932 near Monroeville. She was united in matrimony with Grayston Witmer ( ? - ? ), son of Joseph and Sylvia Witmer, and resided in Fort Wayne. In younger years, Grayston was a baseball player and traveled to tournaments across the nation. During one tournament in 1953 in Altoona, PA, the Fort Wayne squad beat teams from Dayton and Youngstown, OH, and he was quoted in the Altoona Tribune saying "Altoona is not quite as large as I expected, since the national tournament was coming here." In later years, they lived part-time in Sarasota, FL.
~ Son George "Dewey" Plumley ~
Son George "Dewey" Plumley (1898-1969) was born on July 2, 1898 in or near Convoy, Tully Township, Van Wert County. In 1918, he made his home in Dixon, OH.
On Dec. 18, 1918, when both were age 20, Dewey married Luella Dot Gilbert (1898- ? ), daughter of Martin J. and Rosa Ellen (Lehman) Gilbert of Dixon, Van Wert County. Justice of the peace C.F. Manship performed the nuptials.
The Plumleys were farmers. In March 1924, the Monroeville Breeze reported that both he and neighbor Elzey Sponseller had lost sheep to a roving pack of killer dogs. "They with a number of farmers have been devoting some time in gunning for the worthless canines the past week, but as yet have failed in correlling them."
Tragedy broke apart the young family when Luella died in 1925, at the age of 27.
He married his second wife, Michigan native Mary "Esther" Johnson (1906-1952) in July 1926, when he was age 27 and she 19.
In all, Dewey fathered 10 children -- Harold Plumley, Russell Plumley, Robert Plumley, Dean Plumley, Chalmer Plumley, Eva Mae Rambo, Richard Plumley, Loyd Plumley, Joyce Plumley and Mary Plumley. They also helped to raise a nephew, Gale Plumley. The Grim Reaper was not sparing with this family and over a nine-year span carried away four of the children -- Richard in 1934, Loyd (1937), Joyce (1938) and Mary (1943). The foursome of children rest under a single barré-granite stone in the IOOF Cemetery in Convoy.
The Plumleys resided on a farm for a period of years in Convoy and then in Decatur, IN. Said the Van Wert Times Bulletin in 1969, "He had been a resident of the Van Wert area for the past 10 years, and was engaged in farming prior to his retirement. He was a member of the Mt. Victory United Brethren Church and of its board of trustees. At one time, he served on the Decatur, Ind., school board." On weekends, they enjoyed returning to Monroeville for visits with family, including his sisters Eva Jane Plumley and Ora Brown.
Sadly, Esther passed away in 1952.
He married his second wife, Ferne Iola (Conley) Adams Alexander ( ? - ? ) in November 1965. She had a son and foster son from her previous marriage to James Thurlow Adams (1891-1961) -- Tom Alexander and James Adams.
The Plumleys lived on Route 3 near Van Wert in 1967. In 1967 and again in 1968, Ferne assisted in a local Red Cross fundraising effort to "purchase contents for Christmas bags to be sent to servicemen in Vietnam," said the Times Bulletin. She "expressed appreciation to Van Wert County residents for their spirit of cooperation in last year's drive and said it was hoped the same spirit would prevail this year (1968)."
During the winter of 1968-1969, Dewey and Ferne vacationed in Tucson, AZ.
Having been in ill health for two years, Dewey suffered a heart attack and died in Tucson on Feb. 16, 1969, at the age of 70. His remains were returned to Convoy for burial. At the time of his death, he was survived by 24 grandchildren. [Find-a-Grave]
Ferne survived by more than three decades. She died on April 6, 2000, and rests beside her first husband in Van Wert's Woodland Union Cemetery.
Son Harold Plumley (1927- ? ) was born in about 1927. He married Opal ( ? - ? ). They lived in Paris, TN in 1985; in Muncie, IN; and by 2013 were in Ocala, FL.
Son Robert W. Plumley (1928-1985) was born on June 15, 1928 in Van Wert County. On July 27, 1947, when he was 19 years of age, he wedded 24-year-old Lois Cress (1923-1986), daughter of Fred and Farry Neoma (Thompson) Cress. They made their home near Monroeville in Adams County, IN and produced these children -- Larry Plumley, Jerry Plumley, Sharon Grace and Beverly Foster. The Plumleys were farmers, and, reported a newspaper, Robert "had driven truck for Adams County Co-op of which he was a member and had been a mail carrier. He was a member of Monroeville Nazarene Church and had served on the church board." Lois also was active with the Monroeville Church of the Nazarene, as a board member and Sunday School instructor. Heartache shook this family in May 1985, when Robert was age 56. While grading farm fields with a tractor north of Decatur, he suffered a heart attack and died. Rev. James Wolford led the funeral service followed by burial in the Odd Fellows Cemetery in Convoy. [Find-a-Grave] Further sadness visited this family the following year when Lois died at age 63. Among the pallbearers at her funeral was a cousin, John Minerd of the family of John Reuben Minerd of Monroeville.
Son Russell L. Plumley (1935-2013) was born on June 17, 1935 in Van Wert, OH. At the age of 19, on Sept. 4, 1954, he was united in holy wedlock with Dorcas E. Sautbine ( ? -2006). Their children were Marilyn Cress, Judy Hook, Stuart Plumley and Thane Plumley. The Plumleys lived in Monroeville, where Russell owned R.L. Plumley Inc., a farm drainage contracting business. They were members of the East Liberty United Methodist Church in Monroeville, with Russell serving as an adult Sunday School teacher and youth group leader, and as president of the finance committee. He also was a member of the Monroeville Lions Club and liked to fish and hunt. Sadly, Dorcas died on Oct. 4, 2006. Russell survived her by six-and-a-half years. He joined her in eternity at the age of 77 on April 20, 2013. His cousin by marriage, Pastor Ralph Klinker and Pastor Bill Farmer officiated at his funeral, with burial in the Monroeville Memorial Cemetery. Survivors included eight grandchildren. Obituaries appeared in both Decatur and Fort Wayne newspapers.
Son Dean Plumley ( ? - ? ) lived in Monroeville, where at one time he was a registered sales agent for Miami Brass Company Inc. Later, by 1985, he had relocated to East Chicago, IL.
Son Chalmer Plumley ( ? - ? ) married Susan "Sue" ( ? - ? ). They resided in Sherwood, IN and later in Fort Wayne.
Daughter Eva Mae Plumley ( ? - ? ) married Phillip D. Rambo ( ? - ? ), son of Glenn and Ruby (Ladd) Rambo. Their home was in Bloomington, IN and by 2013 in Ellettsville, IN.
~ Son James Ransom Plumley ~
Son James Ransom Plumley (1900-1999) was born on New Year's Eve 1900 near Convoy, Tully Township, Van Wert County, OH. He grew up learning the farming business.
In December 1933, he and his brother Dewey and cousin Orlan Krick were elected officers of the Monroe Council of the Junior Order of United American Mechanics, as reported in the Van Wert Daily Bulletin.
When he was age 21, on Oct. 5, 1921, James married 20-year-old Ilo Neadstine (1902-1981), daughter of Henry and Myrtle (Gilbert) Neadstine. Rev. C.D. Chiles of the Methodist Episcopal Church officiated.
They had at least one son, Norman Plumley. Death took their son at the age of two in 1926.
The Plumleys made his home in Fort Wayne in the 1960s and '70s.
Sadly, Ilo died in Fort Wayne in April 1981, at the age of 79.
James lived for another 18 years. He may have married again, to Sara H. Maxheimer.
He passed away on March 15, 1999. He rests with his wife and young son in the International Order of Odd Fellows Cemetery in Convoy.
~ Daughter Mary E. (Plumley) Leamon ~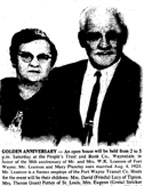 Van Wert Times Bulletin
Daughter Mary E. Plumley (1904- ? ) was born in about 1904.
At the age of 19, she married W. Kenneth Leamon.( ? - ? ) on Aug. 4, 1923. They lived in Fort Wayne, where W.K. was employed by the Fort Wayne Transit Company.
They had 13 children -- Frieda Lacy, Joan Patton, Greta Strickler, Naomi Jewett, Martha Powers, Donald Leamon, Paul Leamon, Joseph Leamon, Joshua Leamon, Rev. David Leamon, Pauline Leamon, Dale Leamon and Frank Leamon.
At their golden wedding anniversary in August 1973, their children hosted an open house at the People's Trust and Bank Company in Waynedale. The Van Wert Times Bulletin ran their photograph portrait and a short article, seen here. At the time, the Leamons had 31 grandchildren and five great-grandchildren.
~ Son Franklin H. "Frank" Plumley ~
Son Franklin H. "Frank" Plumley (1906-1973) was born on May 6, 1906. As a young man, he lived and worked in Convoy as a salesman.
At the age of 23, on Feb. 4, 1930, Frank married 28-year-old Ethel F. Davis (1901-1991), daughter of J.H. and Jessie (Young) Davis of Sugartree Ridge, OH. The ceremony was held in Hillsboro, OH, with Rev. J.A. Hoffman officiating.
They resided in the 1940s-1960s in Fort Wayne.
Frank died in September 1973, at the age of 67. His remains were placed into repose in the IOOF Cemetery in Convoy, OH.
Ethel survived as a widow for 18 years. She spent her final years in Lincolnton, Lincoln County, NC. She succumbed on Oct. 27, 1991. Her remains were brought back to Ohio to rest beside her husband.
~ Son Clarence Dale Plumley ~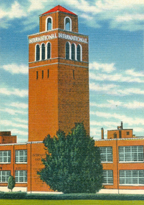 International Harvester
Son Clarence "Dale" Plumley (1909-1974) was born in about 1909.
He married Helen B. Fortney (1915-1990), daughter of Earl and Mabel M. (Miller) Fortney.
They produced two daughters -- Elaine Mumma and Vivian Thompson Eldridge.
Dale and Helen made their home in Fort Wayne, where he "was a foreman at International Harvester in Fort Wayne before retiring after 41 years of service with the firm," said the Van Wert Times Bulletin. (Seen here is International Harvester's famed tower, a landmark in Fort Wayne.)
He was a member of South Side Church of the Nazarene and Three Rivers Lodge of the Masons.
Dale died at home at the age of 66 on Oct. 16, 1974. His funeral was held at Klaehn's South Anthony Chapel in Fort Wayne, followed by interment at the Convoy IOOF Cemetery. [Find-a-Grave]
As a widow, Helen lived for another 16 years. She passed into eternity on Feb. 24, 1990.
Daughter Elaine J. Plumley ( ? - ? ) was born in (?). On Aug. 30, 1958, she married Russell T. Mumma ( ? - ? ). They resided in Fort Wayne. Russell has been affiliated with the Northeastern Indiana District of the Church of the Nazarene
Daughter Vivian Plumley (1940-2005) was born on April 22, 1940 in Fort Wayne. She first was wedded to (?) Thompson and made their residence in Indianapolis. They produced three daughters -- Michelle Jones, Christina Tarrant and Cheryl Moore. Later, Vivian married Charles Eldridge ( ? - ? ). She obtained master's degrees in education and social work from Indiana University-Purdue University Indianapolis (IUPUI). Reported the Indianapolis Star, Vivian "was a third grade teacher for John Strange Elementary School for 15 years. She then went into private practice as a psychotherapist, specializing in Play Therapy with children and became an advocate for children in the community and court system. Vivian was instrumental in starting 'Brooke's Place' and served as President of the Board. She supervised other play therapists and trained workers at Brooke's Place as a Registered Play Therapist Supervisor." Vivian died in Indianapolis on Jan. 10, 2005, with an obituary printed in the Star.
Copyright © 2009, 2016 Mark A. Miner