James Alfred Krick
(1868-1954)
James Alfred Krick as born in June 1868 on the family farm near Monroeville, Allen County, IN, the son of Emanuel and Sarah Elizabeth "Betsy" (Minerd) Krick. He was a twin with his sister Eva Jane Plumley.
The family moved from Decatur to Monroeville during that time, but it is not known precisely enough to establish his birthplace.
James sometimes went by his middle name -- "Alfred" or "Alpha."
On June 18, 1890, in a double wedding ceremony, at the age of about 22, James married 18-year-old Nellie B. Plumley (1872-1953), while his twin sister Eva Jane Krick married her brother James W. Plumley. The nuptials were celebrated at the residence of John W. Plumley, northwest of Convoy, OH along the Lincoln Highway. Rev. Lawrence H. Lindsay, of the Convoy Methodist Church, officiated. Both couples eventually reached their golden wedding anniversaries.
The Kricks went on to produce five children -- Goldie R. Feasby, Viola "Mildred" Noll, Harold E. "Harry" Krick, Francis Alvin Krick and an one who died in infancy. They were members of the Simpson Methodist Church.
Early in the marriage, they made their home in Indiana, but in the mid 1890s moved across the state line into Ohio.
An article in the Fort Wayne Weekly Gazette (Dec. 5, 1895) suggests that after James' parents died, he and his brother Elijah sued their other siblings in a suit of partition. The court ruled that the old home place be sold, with proceeds to be distributed among the heirs. David Martin, of Monroe township, was appointed commissioner of the process. In February 1896, James and family lived on his parents' old farm, three miles northeast of town, and were preparing to sell James' personal property.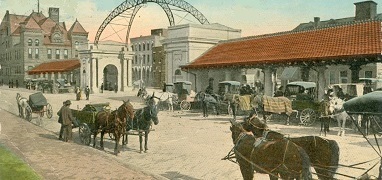 Farm market buildings in Fort Wayne
James obtained employment in about 1915 with the Capehart Company in Fort Wayne. He worked there for more than 25 years.
By 1920, the Kricks made their home along the Lincoln Highway, or what is known today as U.S. Route 30, near Van Wert. Son Francis and his wife Duella and young daughter Viola lived next door. During the 1920s, they retired from farming for good, and relocated into the city of Fort Wayne.
The federal census of 1930 shows James (age 61) and Nellie (58) in their household on Hamilton Drive in Fort Wayne. Married daughter and son in law Mildred and Kenneth Noll lived under their roof. James was employed as a stock man in an electric factory, while Kenneth Noll was a chauffeur for a local business.
On June 18, 1940, James and Nellie celebrated their 50th wedding anniversary with a double reception for his sister and brother in law Eva Jane and James Plumley, held at the Plumley home near Dixon. An article in the Monroeville Breeze reported the details of their lives along with a count of their living offspring, and said a "delicious dinner was served at the noon hour for the immediate families."
Circa 1947-1954, James and Nellie made their home on 1820 Pemberton Drive in Fort Wayne.
James died at the age of 86 on April 24, 1954, in Parkview Memorial Hospital, where he had been a patient for nine days. Following the funeral, led by Rev. Robert J. Yunker, he was laid to rest in the Odd Fellows Cemetery in Convoy, Van Wert County, OH. At his death, reported the Fort Wayne Journal Gazette, he was survived by eight grandchildren and 11 great-grandchildren.
~ Son Francis Alvin Krick ~
Son Francis Alvin Krick (1893-1975) was born in 1893 in Indiana.
He married Duella Krauter ( ? - ? ) on Jan. 25, 1917, when he was 23 years of age. They resided in Dixon for many years, where they made a living as farmers.
They had three children -- Nina Dealey, Viola Krick and Perth Ada Krick. Sadly, daughter Perth died at the age of just under two months in 1917, of marasmus (progressive emaciation), while daughter Viola died at two years, 10 months of acute meningitis, in 1921, having accidentally been burned. The angels were laid to rest in the IOOF Cemetery in Monroeville.
The Kricks belonged to the Convoy United Methodist Church. In June 1940, they made their home in Tully Township and attended the golden wedding anniversary of his parents at a reception in Dixon, OH.
Francis died at the age of 81, at Van Wert County Hospital, on Feb. 5, 1985, "after an extended illness," said the Van Wert Times Bulletin. He was laid to rest in the IOOF Cemetery in Monroeville, following a funeral led by Rev. Gary Exman.
~ Daughter Goldie Rebecca Krick ~
Daughter Goldie Rebecca Krick (1899-1944) was born on Aug. 15, 1890 in or near Tully Township, Van Wert County.
She was united in holy matrimony with Frank Feasby ( ? - ? ).
In 1940, the Feasbys dwelled in Dixon, Tully Township, OH, where they had moved in about 1899.
Stricken with colon cancer in about 1941, Goldie endured the disease for three years. She passed away at the age of 45 on May 27, 1944. Interment was in the Convoy IOOF Cemetery.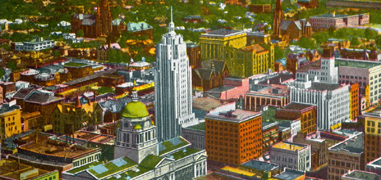 Bird's-eye view of downtown Fort Wayne
~ Daughter Viola "Mildred" (Krick) Noll ~
Daughter Viola "Mildred" Krick (1910-1997) was born on Sept. 10, 1910 in Ohio.
She married Kenneth A. Noll (1906-1989) and lived in Fort Wayne in 1935-1954. They were members of the Catholic Church.
When the 1940 census enumeration was made, the Nolls made their home in Fort Wayne, on Kentucky Avenue. Kenneth, who had obtained a year of college education by that time, was employed as an assistant superintendent at a retail millinery store, while Mildred was a clerk in a similar and perhaps the same store. The couple had not reproduced by 1940 and may never have had children.
Kenneth died on April 22, 1989 in Fort Wayne.
Mildred passed into eternity in Fort Wayne at the age of 87 on Dec. 4, 1997. They rest together in the Catholic Cemetery in Fort Wayne.
~ Son Harold E. "Harry" Krick ~
Son Harold E. "Harry" Krick (1904- ? ) was born in 1904.
He made his home in the 1940s and 1950s in Dixon, Van Wert County, OH.
Copyright © 2009, 2016-2017 Mark A. Miner