Rev. Amos Potter Leonard
(1835-1895)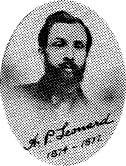 Rev. A.P. Leonard
Rev. Amos Potter Leonard was born on July 14, 1835 in Fayette County, PA, the son of Benjamin and Sarah (Harbaugh) Leonard. He served as a Methodist minister for 40 years, and played a role in serving the religious needs of soldiers immediately following the Civil War. At his death, he was eulogized as "one of the best known ministers in the Pittsburg M.E. conference…."
At the age of 25 in 1860, when he was not yet married and employed as a carpenter, Amos made his home near Farmington, Fayette County with his parents and younger siblings.
He attended Sunday School in a meeting house near Meadow Run, Fayette County, with his father serving as superintendent of the school. The building was erected circa 1860 under the leadership of Rev. Joseph Hill. In 1882, at the time Amos and the Sunday School were mentioned in the History of Fayette County, was "weak in numbers, [but] has some active, faithful workers."
In 1866, when Amos was age 31, he married 29-year-old Clarissa "Clara" Hunter (1837-1901) of Greensburg, Westmoreland County, PA, daughter of Judge James A. Hunter. The parents were natives of Ireland.
Amos and Clarissa had one known son, James Brown Leonard, born in 1869.
A Methodist-Episcopal publication provides remarkable insights into Amos's early life:
He was brought up to work on the farm and in his father's shop. During the winter he attended the schools of the neighborhood. When about nineteen he was soundly converted, and, as he believed, divinely called to the ministry. This call, however, he earnestly resisted, and went to Canton, O., where he found employment in the car shops of that city. For nearly five years, he worked there, giving but little thought to religious questions.
Amos first began preaching in 1855 when he was was 20 years old. It was not until the age of 24, however, that he responded to the calling once and for all. His extensive obituary, in the Minutes of the Annual Conferences of the Methodist Episcopal Church for the fall of 1896, stated:
... in company with a companion he went into an evening prayer meeting. While listening to the prayer of a devout layman the old love was rekindled and the call to the ministry renewed. The struggle was short, sharp, and decisive. He conferred not with flesh and blood, but immediately began to prepare for his lifework.
After obtaining five years of experience, he then became "licensed" to preach on May 8, 1859 after the "church very soon recognized his sterling merit. " He was admitted to trial the following year in the Pittsburgh Conference of the Methodist Church. His first congregation was in his home area of Meadow Run near Ohio Pyle. In 1860, he built a small log church there, and was its first pastor. Upon this church's 75th anniversary, in 1935, the Uniontown Morning Herald reported that Amos "was interested enough in the spiritual welfare of his community to erect a little church, even though it was made of logs and later on weather boarded and lined inside. This community has always kept alive this sentiment and although the congregation is small members always help support a minister and maintain an up-to-date Sunday School."
As he progressed in his work, he was ordained as a deacon by Bishop Janes in 1863, and as an elder in 1865 by Bishop Morris.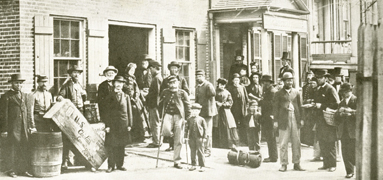 U.S. Christian Commission officials in Washington, DC during the war -- providing "hot coffee, prayers and general good cheer" -- originally copyright 1911 Patriot Publishing Company.
Christian Commission crate
During the Civil War, Amos was serving a church at Sardis, Westmoreland County, but felt the call to patriotic duty. Reported the Uniontown Daily News Standard, "When General Grant took possession of Richmond [during the war], Rev. Leonard was given charge of the Christian commission of that city."
Richmond would have been in ruins at that time, as the Union Army substantially burned the city in April 1865, at the close of the war.
His service on the commission also took him to Philadelphia, Baltimore, Castle Thunder and Richmond's Libby Prison, one of the most notorious prisons in the Confederacy with a reputation for filthy sanitation and living conditions. At the time, Amos could not have known that at least four of his extended Minerd-Minard-Miner-Minor cousins had been held there, all of whom left the experience with shattered health -- Albert Miner, Thomas M. Miner, Isaac Van Horn and William J. Burditt.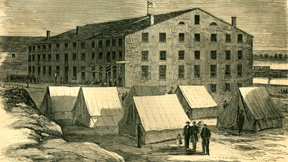 Libby Prison, Richmond
The deceptively peaceful Libby Prison is seen here in an eyewitness sketch from Harper's Weekly.
Re-establishing humanitarian services for citizens in war-torn sections of the country would have been critical for restoring order. The work entailed distributing stores of goods to army camps and hospitals, circulating reading matter to sailors and soldiers, visiting the sick and wounded to instruct, comfort and cheer them, and help in writing letters to their family and friends back home. He also would have helped military physicians in the care of movement of wounded to hospitals and assisted chaplains in their ministries. Amos is mentioned in the 1868 book, Annals of the United States Christian Commission, authored by Rev. Lemuel Moss.
Amos returned to Western Pennsylvania after the war and resumed his preaching. According to records published in Dr. Wallace Guy Smeltzer's 1969 book, Methodism in Western Pennsylvania, he moved frequently, as he was never stationed at any one church more than a few years, if that. Another of Dr. Smeltzer's books, the 1951 Methodism on the Headwaters of the Ohio, the official history of the Pittsburgh Annual Conference of the Methodist Church, states that Amos's annual salary in 1876-1877, when he was pastor at Jacob's Creek, was $800. His congregation that year numbered 197 parishioners.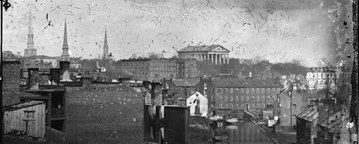 Church steeples on Richmond's skyline during the Civil War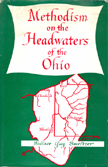 Book naming Amos
When the federal census again was taken in 1870, Amos, Clarissa and nine-month-old son James lived in Indiana, Indiana County, with Amos employed as a "Gospel minister."
During the period of 1874 to 1877, when responsible for the Ligonier church, Amos also served as the very first pastor of the Trinity United Methodist Church of Scottdale, also located in Westmoreland County. His photograph appears on an advertising page for the church in the 1974 booklet, Scottdale's Centennial Anniversary, Scottdale 100 Years, published by the Scottdale Centennial Association, Inc.
According to one booklet (not yet identified), Amos left the Jacob's Creek church and came to Scottdale circa 1874, when the town's name was changed from "Fountain Mills."
Here was the seat of the empire for coal, coke and steel, for many years to come. Our religious-minded forefathers, realizing that God must have a place to dwell in the community, and that there must be a headquarters from which to spread the Gospel, set about to establish centers of worship. In the same year, Rev. A.P. Leonard at the Jacobs Creek branch of the Methodist church, organized a society of 10 members who were of a mind to form their own society. The first task was to find a place in which to hold services. Early meetings were held in homes, school houses and churches until 1881, when a wagon maker's shop on Pittsburgh Street was used. Here a revival service was held which resulted in so many additions to the membership that it was decided to undertake the erection of a church home.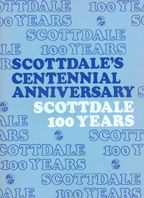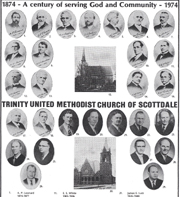 Above: Scottdale centennial publication in which Amos is pictured. Below: Methodist churches Amos served in Indiana (left), Jeannette (center) and Ligonier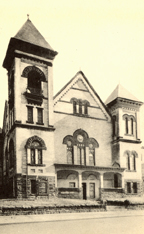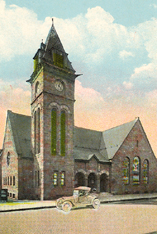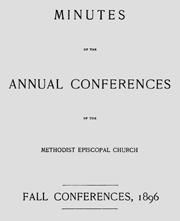 Book naming Amos
A complete list of Amos's assignments included churches in the following communities:
New Florence and Bolivar 1861-1862; Farmington 1862-1863; Elderton 1863-1865; Burrell and Apollo 1865-1866; Marchand 1866-1867; Saltsburg and Hopewell 1867-1868; Saltsburg 1868-1869; Indiana 1869-1871; Butler 1871-1872; Ligonier 1872-1875; Jacobs Creek 1875-1877; Mt. Pleasant 1877-1880; Belle Vernon 1880-1883; Verona 1883-1884; Freeport 1884-1887; Janes 1887-1888; Simpson and Hoboken 1888-1890; Simpson 1890-1891; Jeannette 1891-1893; Morrellville 1893-1895; [and] McKees Rocks 1895.
Amos's abilities as a clergyman were clearly evident -- as highlighted in his obituary in the Minutes:
He was much more than an ordinary man. As a preacher he excelled. His sermons were clear, practical, and at times eloquent. He was passionately fond of history. He had accumulated a large and interesting local traditional history. Naturally retiring, only those closest to him could understand him. He trusted his friends implicitly. His nature was intense. His soul was sensitive, capable of profound emotion and intense suffering. He was always manly and honorable, and his word was to him an oath of confirmation.
The federal census of 1880 shows the family in Mount Pleasant, Westmoreland County, PA, with Amos's occupation again shown as "Minister."
In late July 1885, he preached in Mill Run, Fayette County. The news was covered in Connellsville's Keystone Courier, which said "Our pulpits have been occupied by eminent-divines during the summer, amongst whom was Rev. A.P. Leonard and others of celebrety."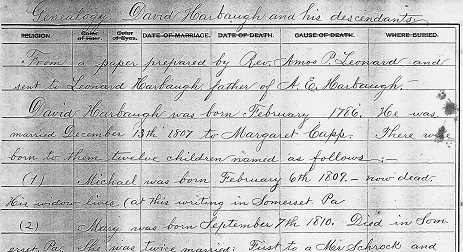 Manuscript by Allen Edward Harbaugh, the "Mountain Poet," transcribing Amos' paper on the genealogy of David Harbaugh (1786- ? ).
From a paper prepared by Rev. Amos P. Leonard and sent to Leonard Harbaugh, father of A.E. Harbaugh
David Harbaugh was born February 1786. he was married December 13th 1807 to Margaret Capp. There were born to them twelve children named as follows:
(1) Michael was born February 6th 1809. -- now dead. His widow lives (at this writing) in Somerset, Pa.
(2) Mary was born September 7th 1810. Died in Somerset, Pa. She was twice married: First to a Mr. Schrock and then to a Mr. Durst.
(3) Christina was born June 21st 1812. She married a man named Butterbaugh. Both died in Dayton Ohio.
(4) Barbara was born November 11th 1813. She married a man named McBride. She died in Bluffton, Indiana.
(5) Hannah was born October 14th 1817. She married Hamilton Turner. Mr. Turner is dead. She still lives (at this writing) in the old home at Salem, Montgomery Co. 12 miles north of Dayton Ohio.
(7) Margaret was born August 1st 1819. Married to Thomas Osborn and lives in San Jose California.
(8) Phebe was born March 16th 1822. Married to John Clemmer and lives near Eaton, Preble Co. Ohio.
(9) Leah was born January 22d 1824. Married Henry iddings. Is a widow and lives in Jefferson Co. Indiana.
(10) Rachel was born July 4th 1828. Married Albert Hadder. Is a widow and lives in Mitchelville, Polk Co. Iowa.
(11) David died in infancy.
(12) Solomon also died in infancy.
David Harbaugh lived near Dayton, then at Liberty in Montgomery County, then at Salem in same county. He then went to Wisconsin, and then to Attica, Indiana and died there in 1859. His widow returned to Salem, Ohio, where she died in 1873.
Amos seems to have had an interest in the Harbaugh family genealogy. At one point in time he prepared a paper and sent it to his uncle Leonard Harbaugh Jr. in Mill Run, Fayette County. In turn, Leonard's son Allen Edward Harbaugh -- the famed "Mountain Poet" -- handwrote excerpts from the paper in his own genealogy notebook.
As he approached the age of 60, Amos became ill, of reasons not yet known. An observer noted that "disease had prayed upon his once vigorous body and left him prematurely old." He accepted a pastorate at McKees Rocks in Pittsburgh, where "a kind people greeted him cordially, and he promised himself the best year's work of his life." But he was not to last the year. While re-arranging the furniture in the church parsonage, he received "a slight abrasion on his hand [which] resulted in pyemia, and all that could be done proved of no avail; the end had come."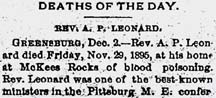 Rev. A.P. Leonard
Amos died unexpectedly of blood poisoning of his hand on Nov. 29, 1895 in his home at McKees Rocks. As was reported in his Minutes obituary:
When told by his physician a few days prior to the crisis that he was dangerously ill he said, "I do not think so; surely my work is not yet done;... how I long to be in my pulpit again, to preach the unsearchable riches of Christ, my Lord!" A few minutes before his departure the physician asked him, "What of Christ; what is he to you now?" With a voice that betokened quiet confidence he replied, "I am resting, sweetly resting, on the everlasting arm." A moment later he was not; for the Lord took him.
Amos was only age 60 at the time of his death, and despite the delay in starting his career, had been serving the church for 36 years. His remains were sent by rail to Uniontown, "to the residence of the late Judge Hunter, where funeral services [were] held…," said the Uniontown Daily News Standard. The death was front-page news in the Greensburg Daily Tribune.
Burial was in Saint Clair Cemetery in Greensburg.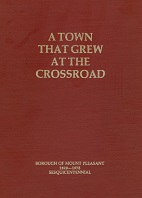 Book naming Amos
Clara outlived her husband by six years. The 1900 census shows her, at age 63, widowed and living alone in Greensburg, Westmoreland County, PA. The census taker recorded that her only child was still living at that time.
She passed away on Aug. 9, 1901, at the age of 64. She rests beside her husband and is memorialized in the Methodism book in a roll of deceased wives of ministers of the Pittsburgh Conference.
Amos was remembered in an article about his first church in Meadow Run in the Aug. 9, 1935 edition of the Uniontown Morning Herald. The article named him as "brother of Reuben and Christmas Leonard.... [He] was an uncle of Attorney H.P. Leonard; also Homer Leonard of Stewart township, and Chauncey Leonard of Connellsville. Mrs. R.G. Manley of Cardale is a niece of this man...."
He is named in a list of pastors of the Wesley United Methodist Church in the book A Town That Grew at the Crossroad: Borough of Mount Pleasant 1828-1978 Sesquicentennial.
~ Son James Brown Leonard ~
Son James Brown Leonard (1869-1904) was born in 1869.
He died in 1904 at the age of 35 and rests for eternity in Saint Clair Cemetery in Greensburg.