Hiram Maylee was born on Nov. 14, 1888 in Doddridge County, WV, the son of Richard Z. and Mary (Minard) Mayle.
His parents and older siblings had migrated to Doddridge in 1884 from Barbour County, five years prior to his birth.
Hiram was married twice. His first wife was Annie Pratt (1887- ? ). They were wed when Hiram was age 21 and Annie age 22, on Nov. 19, 1908. The ceremony was conducted by Rev. William Fallen at the parsonage of the Methodist Episcopal Church in West Union, Doddridge County.
Annie is believed to have died within a year or two of marriage, although this is not confirmed.
In 1910, when the federal census was enumerated, the widowed Hiram boarded with his widowed mother, unmarried brothers Hezekiah and Warner and sister Phoebe in the Grant District of Doddridge County. The census-taker recorded his occupation as railroad laborer.
At age 28, he married again, to 18-year-old Pearl Johnston (1899-1987) of Wetzel County, WV. Their nuptials were performed in West Union on July 29, 1915, led by Rev. John T. Hickman of the Methodist Episcopal Church. There was an 11-year difference in their ages.
They produced at least five children -- Robert Mayle, Glenn Mayle, Lavonne Mayle, Betty Bode and Roy Vance Maylee.
Sometime in the early 1920s, the family relocated to north-central Wisconsin, taking up residence in Cleveland and Medford, Taylor County. There, daughter Lavonne and son Roy Vance were born in the late 1920s. When the federal census was enumerated in 1930, in Cleveland, Hiram worked as a woodsman in his "own woods." Son Robert, age 16, was listed as a "worker."
The Mayleses later returned to West Virginia, and made their home in Harrison County.
Circa 1937, the family resided "as tenants on the Englewood Country club property two miles from Bridgeport on the Grasselli road," reported the Clarksburg Sunday Exponent-Telegram.
Hiram resided in Bristol, Harrison County circa 1950. Hiram died in January 1982 in Bristol and was laid to rest in the Knights of Pythias Cemetery in nearby Salem.
Pearl survived her husband by five years. She passed away in March 1987. Their flat bronze grave marker is spelled "Maylee."
~ Sons Robert and Glenn Mayle ~
Clarksburg Sunday Exponent-Telegram headline about the tragic deaths of Robert and Glen Mayle
Tragedy struck the family in the dead of winter 1937, when sons Robert Maylee was 22, and Glenn Mayleem 18, and both were employed as lumbermen for the West Virginia State and Lumber Company of Bridgeport.
On Jan. 16, 1937, while riding in together in their mother's 1930 blue Chevrolet sedan, on the "newly constructed Philippi pike into Elk creek at Nutterdale," they failed to "take a curve in the road, [and] the auto plunged straight ahead over a six-foot embankment." While passengers Ralph Freshour and John Barnes escaped, and swam to shore, Robert and Glenn could not escape their submerged vehicle, and drowned.
The accident generated top headlines in the Clarksburg newspaper, which spelled their names "Maylee." The brothers were laid to rest in the Stanley Cemetery after a double funeral at the Victory Baptist Church. News was carried statewide, including in the Bluefield Daily Telegraph.
~ Daughter Lavonne Mayle ~
Daughter Lavonne Mayle (1925- ? ) was born in about 1925 in or near Cleveland, Taylor County, WI.
~ Son Roy Vance Maylee ~
Son Roy Vance Maylee (1928-1993) was born on April 18, 1928 in Medford, Taylor County, WI.
In his youth, he migrated back to West Virginia with his parents and siblings.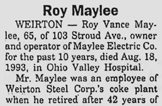 Obituary, 1993
On June 5, 1952, at the age of 24, Roy married 18-year-old Glenda Sue Huffman (1934- ? ), a native of Tyler County, WV, and daughter of Fred and Dorothy Huffman. At the time of marriage, Roy resided at 3028 Elm Street in Weirton, while Glenda Sue lived on the state line in Cove Station, Weirton. On their marriage license, they were marked as "white." Rev. Howard Warwick, of the Nazarene Church, officiated at the nuptials, held in Hancock County, WV.
They had two daughters, Brenda Miller and Cathy White.
Roy was an "employee of Weirton Steel Corp.'s coke plant when he retired after 42 years of service and a U.S. Navy veteran," said a newspaper. "He was a member of Masonic Lodge 171, where he was past master; 25-Year-Club of WSX; and Cove United Presbyterian Church, where he was an elder."
In retirement, he owned and operated Maylee Electric Company in Weirton for a decade.
He died at the age of 65 in Ohio Valley Hospital on Aug. 18, 1993.
Daughter Brenda Maylee married (?) Miller.
Daughter Cathy Maylee ( ? - ? ) wedded White.
Copyright © 2005-2008, 2011, 2014, 2021 Mark A. Miner